November 2, 2021
---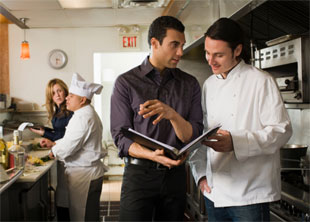 Service Relationships, Not Service Calls
Most people in the foodservice industry think of equipment repairs as "service calls." While that's not wrong, it is limiting. The companies that maintain and repair equipment are not just businesses to call, but firms to build relationships with.
Sponsored Content
What to Include in a Gas Convection Oven Planned Maintenance Program
The upcoming holiday season demands gas convection ovens be in top shape. Learn which key tasks service companies can offer as part of a helpful planned maintenance package.
A Guide to Brick Ovens
Brick ovens provide theater in the front of the house since visible hearths and flames add a measure of drama and visual appeal. A certain skill level is involved in using these ovens, and the learning curve can be somewhat high.
Choosing a Dough Mixer
Like with all equipment, operators will first need to consider the application before choosing the type of mixer best suited for an operation – here are some factors to keep in mind.
Maintaining Warmers and Merchandisers
Keeping warmers/merchandisers clean and properly maintained will enhance customer appeal as well as the appearance of food displays.
Service Tips: Clamshell Grills
With labor shortages in the foodservice sector, these items are almost certainly growing in importance. Here's how to properly maintain clamshell grills.
Click here to subscribe to more of our e-newsletters!
You received this e-mail as a subscriber to Foodservice Equipment & Supplies or one of its e-newsletters.

View past editions of Service Insights in our online archive.

Please direct advertising questions to:


This email address is being protected from spambots. You need JavaScript enabled to view it.

, Vice President.

Please direct editorial questions to:


This email address is being protected from spambots. You need JavaScript enabled to view it.

, Editorial Director.

Subscription Support:
630-739-0900 (ext. 53) or e-mail

This email address is being protected from spambots. You need JavaScript enabled to view it.