Advertisement

May 6, 2020
---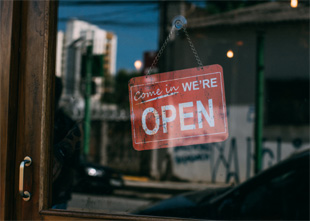 Georgia Offers an Early Look at Reentry
As the conversation gradually shifts toward reentry and what that could potentially look like, the foodservice industry may have gotten a glimpse of what's to come last week when Georgia allowed restaurants to open their dining rooms.
Advertisement
Foodservice by Design
Much of the pandemic-related industry conversation has focused on how mandated dining room closures have hamstrung restaurants. Juan Martinez of PROFITALITY makes note that some restaurant chains continue to survive — and even thrive — in the current environment.
Restaurants Remain on Road to Recovery
For the second consecutive week the restaurant industry has some positive news on which to chew.
This Week in Foodservice
Restaurant industry performance plunges in March. One chain strives to avoid bankruptcy, while another receives a significant investment. Here's what you need to know.
The Caring Side of the Industry
If there's any one heartwarming aspect related to the equipment and supplies industry around the COVID-19 pandemic, it's the way operators, consultants and other members of the industry continue to come together in support of one another.
COVID-19's Impact on Hospital Foodservice
A frontline look as one hospital foodservice team adapts to service during a pandemic.
Cini•Little Names New CEO
Kathleen Held was promoted from chief marketing officer to chief executive officer for Cini•Little International, a Maryland-based foodservice consulting firm.
Boston Market Nets New Owners
Through its affiliate Engage Brands, the Rohan Group of Companies has acquired Boston Market from Sun Capital Partners.
Industry Event Changes
The novel coronavirus continues to cause numerous industry groups to reschedule or cancel upcoming events. FE&S continues to update this list as more information becomes available.
You received this e-mail as a subscriber to Foodservice Equipment & Supplies or one of its e-newsletters.

View past editions of Flash News in our online archive.

Please direct advertising questions to:


This email address is being protected from spambots. You need JavaScript enabled to view it.

, Publisher.

Please direct editorial questions to:


This email address is being protected from spambots. You need JavaScript enabled to view it.

, Editorial Director.

Subscription Support:
630-739-0900 (ext. 53) or e-mail

This email address is being protected from spambots. You need JavaScript enabled to view it.