February 9, 2021
---
We at FE&S magazine strive to deliver you the most authentic and original foodservice E&S insight that's out there. Thus, we collaborate with leading suppliers to provide you with the latest trends, innovations and solutions for your operational challenges.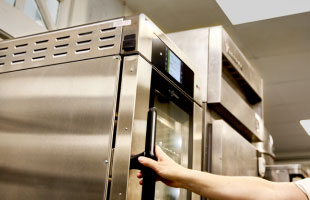 Guide to Choosing Ventless Equipment
With space at a premium, ventless equipment provides added flexibility in terms of kitchen design. Explore how the latest ventless and waterless equipment can boost your profits by minimizing labor and space requirements.
Evolve. Real Talk. Real Solutions.
Evolve is for the bar & restaurant community, no matter if your venue is shut down, closed for the winter, or open at 20% capacity. Hear ideas about where the industry is going, discuss what is and is not working, and learn how it is still possible to hold onto your dream and provide hospitality services. Evolve is free for owners and operators in the bar and restaurant industry.
Pizza Expert Relies on Polar King Walk-Ins
Which walk-in cooler is dependable, can be customized to your needs, and lets an operator convert and maximize inside space previously occupied by an inside walk-in? That would be a Polar King outdoor walk-in cooler. For his outdoor walk-in cooler needs Pizza Hut franchisee, Dave Ritenour explains why he turns to Polar King walk-ins.

Advancing Takeout Webcast
Live: Tues., Feb 23rd at 1:00PM (central)
Takeout — and other forms of off-premises consumption — are poised to play a larger role in operators' ability to successfully serve customers. How does an increased emphasis on takeout impact flow, space allocation and more? This hour-long presentation will strive to tackle these issues and more.
Click here to subscribe to more of our e-newsletters!
You received this e-mail as a subscriber to Foodservice Equipment & Supplies or one of its e-newsletters.

Please direct advertising questions to:


This email address is being protected from spambots. You need JavaScript enabled to view it.

, Vice President.

Subscription Support:
630-739-0900 (ext. 53) or e-mail

This email address is being protected from spambots. You need JavaScript enabled to view it.