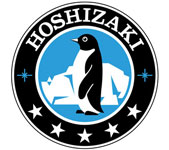 Bartender and Co-Owner, Jenner Cormier of Bar Kismet, shares his award-winning bartending techniques and cocktail recipes using Hoshizaki ice.
Explore Hoshizaki's six types of ice from our world's famous crescent cube and cubelet ice to our new sphere shaped ice.
Built to withstand the chops, slams, spills, and kicks of a well-used kitchen. Hoshizaki's Steelheart Refrigeration Series is engineered to meet the tough demands of commercial kitchens.