Sixty-three percent of chefs view home meal delivery kits as a continuing trend for 2016, according to the National Restaurant Association's What's Hot 2016 Culinary Forecast. Add to that $1.5 billion — the predicated sales figure for the meal kit delivery market this year.
The expanded commissaries and retail spaces built to support these new-wave delivery companies offer opportunities for consultants and foodservice equipment and supplies professionals.
Here's a look at three different approaches to the home meal delivery concept.
Snap Kitchen
Co-founded in Austin, Texas, by Martin Berson, president, and Bradley Louis Radoff, Snap Kitchen offers a wide selection of breakfast, lunch and dinner meals designed by a classically trained chef and made from scratch daily that can be warmed for quick eating. The portioned meals also cater to those seeking Paleo, gluten-free, vegan and carb-counting diet options.
A fall menu has featured almond butter and maple pancakes, beef bibimbap and quinoa bowls and chicken tikka masala. The shop also carries a wide selection of snacks, cold-pressed juices and desserts. David Kirchhoff, a health and wellness guru and former CEO of Weight Watchers International, serves as CEO. Snap Kitchen operates 43 stores in five cities: Austin, Houston, Dallas, Philadelphia and Chicago. The company recently partnered with Whole Foods to offer its meals at an in-store kiosk in Chicago, Dallas, Houston and Austin.
Healthy Meal Kits: My Fit Foods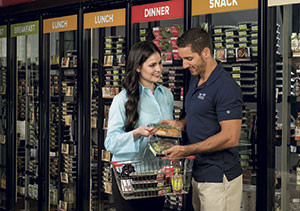 Houston-based My Fit Foods, a retail store concept offering made-from-scratch, grab-and-go meals, has expanded across the country with more than 50 locations throughout Texas, Oklahoma, Arizona and California. Founded in 2006 by David Goronkin, a former personal trainer, the company aims to make healthy eating more convenient through its menu of more than 75 meals and snacks.
One of the more popular items is the My Fit Foods roasted shrimp tacos with crunchy broccoli slaw, mango pico de gallo, creamy avocado sauce and corn tortillas for 280 calories. There are also gluten-free, vegan, vegetarian, reduced sodium and other diet-specific dishes. The meals are most popular among young professionals and couples with smaller households who don't want to cook every meal but appreciate having a healthy and flavorful alternative to traditional take-out options. The company also caters to the tech-savvy crowd by offering an online ordering program to plan out meal purchases ahead of time. For the health-conscious crowd, an on-staff dietician helps customers navigate choices.
Chef Kits: Meez Meals
While some chefs look to cookbooks and signature retail products for alternative revenue drivers, others have jumped on the home meal kit bandwagon, including celebrity chef Art Smith (owner/chef of Art and Soul in Washington, D.C.).
The Meez Meals home meal delivery program, co-founded by Smith three years ago, focuses on healthy recipes and ready-to-cook, prepped ingredients for families looking to quickly and easily put together a nutritious and tasty meal. All ingredients are prepared at the Meez Meals commercial kitchen in Evanston, Ill. Smith also offers Meals for Good recipes to help support Common Threads, his non-profit venture.
Trending Home Meal Delivery Companies
Blue Apron — meal deliveries with a focus on sustainable and local
Chef'd — recipes and meals developed by a team of chefs
Freshly — prepare-your-own and fully-cooked options
Hello Chef — meal prep delivered in a box for the week with easy recipes
HelloFresh — healthy-focused meal plans with recipes by celebrity chefs
Home Chef — highly customizable meal plans for low-carb, low-calorie and other special dieters
Kitchfix — focuses on quick and healthy pre-packed meals
Meez Meals — meal parts prepped and delivered to the customer's door
Plated — healthy-driven meal delivery service with easy-to-use app
Snap Kitchen — made-from-scratch meals designed for reheating