Success in business doesn't require some grand plan. Treating the customer right, using good common sense and making the most of the opportunities that come your way can lead to great things.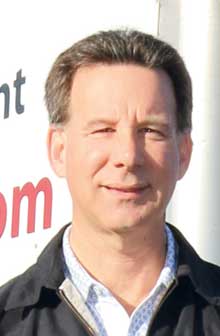 Steve DicklerChefs' Toys is a perfect example of this. The real growth started just 13 years ago through the merger of two small, relatively young dealerships. Since then, it has grown into one of Southern California's most prominent equipment and supplies distributors, racking up more than $69 million in sales in 2015. According to Foodservice Equipment & Supplies' 2016 Distribution Giants report, it is now the 25th largest foodservice equipment dealer in the nation.
And none of this was planned. In fact, Chefs' Toys president and founder Steve Dickler, FE&S' 2016 Top Achiever — Dealer, got involved in the E&S sector by accident.
A trained chef, Dickler was working at a Southern California yacht club in the mid-1980s. That's when he encountered a simple problem that would change the direction of his life. "We couldn't find anybody to sharpen our knives, so I started doing that, goofing around on my days off," he says. "That turned into a nice business, and I started selling knives and gadgets. Soon, I just quit my job as a chef and started doing that."
While Dickler makes it sound simple, his company, Accusharp Sharpening Services, actually had an innovative business model. Instead of working out of an office park, Accusharp operated out of a Snap-on Tools truck. Along with his knife-sharpening equipment, Dickler filled this truck, not with tools for auto mechanics, but with items for professional kitchens, such as uniforms, smallwares, supplies and gadgets.
This business model worked. It made life easier for chefs who just needed a new can opener, more aprons or extra pastry bags. They also found it fun. After all, who wouldn't like a mobile store that brings tools and gadgets that make life easier right to your door? "People kept saying that it felt like a candy store or a toy store for cooks," Dickler says. "When we heard that, we changed the name to Chefs' Toys."
As the company grew in those early years, Dickler saw two big opportunities arise. One, customers wanted to buy from him more than the one time he visited each month. After hearing this enough, he decided to open up a small storefront at his warehouse. Two, just before Dickler opened this store in 2003, he met another small dealership's owner, Mike Krepistman. The two clicked almost immediately.
"Up until that point, all the people I hired were former chefs, so we concentrated on selling everything to the kitchen," says Dickler. "When I met Mike, he was selling a lot of tabletop items and things to the front of the house. We got along really well. He wanted to sell his business, and I talked him into just merging it with mine instead of selling it. We became partners, and he helped teach my guys about selling things to the front of the house. We helped [Krepistman's team] with our expertise in the kitchen."
Not only did the two companies' operational strengths complement each other, but the merger also led to a major breakthrough on the business front. With the combined volume, the new firm was large enough to get into a buying group. According to Dickler, buying group membership gave the fledgling company some financial breathing room.
Chefs' Toys used this breathing room to make its next big move. In 2008, the company decided to go nearly all-in on a new cash-and-carry location, moving into a 34,000-square-foot facility in Fountain Valley. "We had no idea how we were going to pay for it, but we did it anyway," Dickler recalls.
Since then, the company has grown its cash-and-carry business, adding five locations in Southern California. One
of these locations came through the 2012 acquisition of Star Restaurant Supply. The company's second major acquisition, of design consultancy Michael Blackman & Associates, expanded Chefs' Toys' model and happened just a few months ago.
"Everything we've done has revolved around relationships," Dickler says. "We bought Star Restaurant Supply because of Les Birken, who was in our buying group. We were good friends, and it was just a natural thing. When he wanted to retire, he just called me. It's the same thing with Michael Blackman. We're friends. I didn't plan anything. I just looked at the opportunity. How will this work? Will it be a positive move?"
The success of Chefs' Toys cash-and-carry stores rests on just these sorts of practical considerations, adds Dickler. First are the locations. On average, each store sits about 20 miles away from another location. Dickler also chooses easily accessible real estate, typically right off the freeway, where drivers can see the Chefs' Toys sign from a distance. The area should also be underserved and preferably have plenty of foodservice operations nearby. Finally, Dickler looks for locations near a warehouse club or even a Restaurant Depot outlet, which can help customers get two jobs done in one easy trip.
Once in the store, customers are served by friendly, engaging employees — qualities Chefs' Toys looks for in its hiring processes. Most important, these employees take customer issues seriously. This comes naturally to many of the company's staff, says Dickler. Since so many have worked in professional kitchens, they understand how badly a customer can need a new refrigerator or fryer, giving them a sense of urgency.
Dickler also empowers his employees to put the customer's best interest first, knowing that success will naturally follow. When an employee comes to him with a customer issue, "I just look at the employee and ask, 'What would you expect if you were the customer?' Whatever their answer is, I say, 'That's the right answer. You don't need to ask me. Just do what's right.' That's really helped us grow. Customers trust us and know that we're going to be there if they have any issues with anything."
The success of Chefs' Toys cash-and-carry operations has helped the company grow in other areas. As it built its customer base, the company's clients asked for services that at the time weren't provided. With enough requests, the company has expanded. On top of its cash-and-carry locations, Chefs' Toys now has outside sales, bid work, construction management and design-build divisions, all of which are big contributors to the company's bottom line. The company's growth is also a factor in one of Chefs' Toy's latest initiatives, a new e-commerce site set to launch later this year.
"The greatest thing about our industry is that our customers take us wherever they go," explains Dickler. "That's true for all dealers. You form a great customer relationship. That person leaves his job, goes to another establishment and calls you because of that relationship."
Get to Know Steve Dickler
Name: Steve Dickler, president of Chefs' Toys
Age: 56
Hometown: Baltimore
Hobbies: Playing the drums, golfing, swimming, cooking
Education: Bachelor of Science in Hotel and Restaurant Management/Business Administration from the University of Nevada, Las Vegas; culinary arts certification from the California Culinary Academy, San Francisco
Favorite Food: Street food
Favorite Social Platform: Personal contact
Favorite Accomplishment: Maintaining a balance of work, family and hobbies
First Job: Cook at the 19th Hole, Chestnut Ridge Country Club, Baltimore
First Client as a Dealer: Balboa Yacht Club, Corona Del Mar, Calif.
Industry Involvement: CFSP certification; member of FEDA and PRIDE
Personal Info: Wife of 27 years, Stacy; daughter, Sarah, 25