The Great Recession changed how many foodservice executives thought about their companies. Perhaps no one embraced these changes as much as Drew O'Quinn, vice president of Fayetteville, N.C.-based Thompson & Little and FE&S' Top Achiever-Dealer for 2014.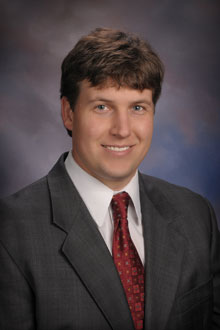 Drew O'QuinnAt the onset of the recession, Thompson & Little had focused almost exclusively on contract/bid jobs for decades. Not surprisingly, much of that work disappeared as businesses and institutions alike cut back on new construction and renovations. Looking at the company's top line, O'Quinn realized it was time for a change in how the 68-year-old business operated.
"I'm sitting there thinking that we've been focusing on just one type of business, the contract world, and when the recession hit, tough times hit, too," he says. "It's kind of like the stock market: You want your investments to be diversified. It was a good lesson for me that we wanted to diversify our company, our portfolio, so to speak."
And diversify Thompson & Little did. Drew, along with Lynne O'Quinn, his mother and company president, created a new business model with two new divisions — street sales and design/build — and spearheaded its efforts to win General Service Administration (GSA) certification, essentially putting the dealer on the short list of companies allowed to compete for large chunks of federal government business.
The results have been stellar. From $9 million in annual sales during the recession, Thompson & Little closed 2014 with more than $15 million in sales, and soon hopes to eclipse the $20 million revenue mark with the growth of its new departments.
O'Quinn credits much of Thompson & Little's recent success to his parents and grandparents, who built the company from scratch and have helped it thrive since its founding in the 1940s. "My grandparents came up through the Great Depression and saw a lot of hard times and were tough as nails. I heard their stories and all the sweat and tears they put into this place. They built the foundation for us to build on. There's a lot of pride that comes with walking into this building every day." he says.
With such a strong family history in the industry, O'Quinn always knew he'd end up working for the family business. In fact, he began working at Thompson & Little long before he graduated from college. He wasn't treated like the heir-apparent from a young age, though. O'Quinn's father, Dan, who stepped down as president a few years ago and is now semi-retired, insisted that O'Quinn get to know the business through hands-on experience. Over the years, O'Quinn loaded trucks, installed equipment, worked in the company's stainless steel fabrication shop, managed projects and more.
Those experiences have served him well, O'Quinn says, by providing an understanding of the challenges each job faces and being able to speak of them from experience. Of course, as a result of Thompson & Little's recent growth, O'Quinn now works with more employees and customers than ever.
The addition of the design/build division was perhaps the most natural change for Thompson & Little. As a contract/bid firm, the company already had much of the infrastructure needed, including CAD software, installation crews and the software to help coordinate bids and manage projects. In this case, O'Quinn says, expansion was a matter of hiring talented project managers who could design facilities and explain the ins-and-outs of a kitchen's layout to end users.
The move into street sales officially started in 2010, and the firm now has seven full-time employees handling these accounts, according to O'Quinn. In large part, the division focuses on selling replacement equipment to restaurants, churches and other end users.
While entering a new niche in a competitive market is always a challenge, the company has managed the change well. It has turned to its partners in the manufacturing and manufacturer's rep community to help spread the word and drum up business. It has also relied heavily on sales training offered by its buying group, SEFA, to get its new sales staff up to speed.
Thompson & Little also relies on internal synergies to build its street sales arm. "Let's say our contract department installs a new kitchen. Well, they'll need smallwares, they'll need a toaster, they'll need stuff in the years to come. So we're trying to follow-up with clients we have in one department to grow sales in the others," O'Quinn says.
Despite all the effort that went into establishing these two new units, earning GSA certification may have been the most trying. The process is time consuming, expensive and generally frustrating. So much so, that a cottage industry has sprung up around helping firms win approval. The questions asked in the application process include fairly direct inquiries into the business such as the age of the company, its sales volume and what type of customers it typically works with. Certification also required that the firm agree to submit to audits by the GSA and guarantee that it will sell to government customers at its lowest prices.
"You typically have to hire a consulting firm to get you in the door and help you fill out your application because it's so tedious and mind-blowing," he says.
After roughly 18 months of work that included probably a dozen revisions to its application, Thompson & Little finally earned certification in July of 2012. With the certification, the company can now bid on various federal government jobs — such as military bases, government agencies and any other facility with a kitchen — that are only available to GSA-certified companies. It can also sell goods through a GSA e-commerce website. As this division ramps up, O'Quinn hopes it will reach $3 million to $4 million in annual sales in the next few years.
With all the changes Thompson & Little has undergone since the recession, it would be far too easy for the nuts-and-bolts operational aspects of the firm to suffer. O'Quinn, though, takes steps to ensure its smooth operation for years to come. He maintains direct oversight of the company's contract/bid division, which still accounts for half of Thompson & Little's revenues, and has brought in new talent to focus on certain important day-to-day operational duties.
No doubt, though, the biggest step O'Quinn's taken to ensure Thompson & Little's operational excellence was the implementation of a new back-office/operating system in March. He purchased the system from a software company that specializes exclusively on the foodservice sector. It includes point of sale functionality, inventory, project management, order tracking and more. "We're excited," O'Quinn says. "It's going to pull our whole company, all our divisions, together."
With the early successes of these new divisions and the need to fully ramp them up while keeping operations smooth, O'Quinn couldn't be faulted for taking a breather. That's not how he works, though. While he declined to offer details, Thompson & Little's next project will be ramping up its e-commerce capabilities.
Given the lessons he learned so well during the recession, it's no surprise that O'Quinn continues to look for ways to improve his firm.
"Coming out of college, I felt blessed. I've got this company, the debts are paid off, it's a long-running company and that's great. Maybe I soaked that up too much, but you come to realize as a leader you've got to change and adapt and grow your business. Walking in the door every day, you've got to think of ways to evolve it into something bigger and better than your parents or grandparents could have imagined."
Name: Drew O'Quinn
Title: Vice President, Thompson & Little
Age: 34
Hometown: Fayetteville, N.C.
Hobbies: Soccer, basketball, biking, working out, volunteering
Education: BSBA from UNC-Chapel Hill; MBA from UNC-Chapel Hill
Favorite food: Pizza
Favorite social media platform: LinkedIn
Favorite accomplishments: Finishing UNC's MBA program at night while working full time and helping lead Thompson & Little through the great recession without any layoffs.
First job: Loading trailers and performing equipment installation for Thompson & Little the summer before his junior year of high school.
First client as a dealer: UNC Chapel-Hill (installed the Rams Head Dining Facility, which had a $2 million equipment package for a project that won FE&S' Facility Design Project of the Year honors in 2006.)
Industry involvement: Member of SEFA, National Restaurant Association, and FEDA; NSF Certified and General Services Administration certified.
Personal Info: "I got engaged in November to the love of my life, Amanda Hurley, and we are set to be married this July. We will be living in Fayetteville, N.C., where both of our families reside. I am lucky to have such wonderful and supporting parents, Dan and Lynne; a beautiful sister, Heather; and her two sons, Ethan and Cole."