Thirty years ago David Stafford Sr. bought Stafford-Smith Inc., a Kalamazoo, Mich.-based foodservice equipment and supplies dealership, from his father, and the company has been on the rise ever since. Under Dave's leadership the company has expanded the services it offers and has steadily extended its reach throughout the country.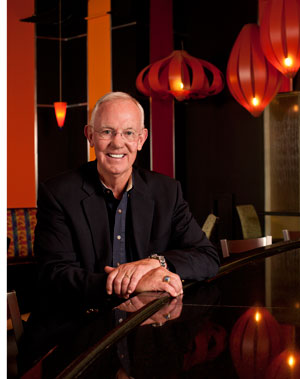 David Stafford Sr., CEO, Stafford-Smith Inc.As a result Stafford-Smith is known for being able to effectively and efficiently handle some of the industry's biggest and most complex jobs. Last year Stafford-Smith reported annual revenues of $105 million, making it the tenth-largest dealer in the country, according to FE&S' 2012 Distribution Giants Study.
And it is Stafford's steady, focused demeanor that sets the tone for the entire company. When things are going well, he never seems to get too high. And when times are tough, he never seems to get too low.
While still very active within the business, Stafford's done a terrific job of cultivating a new generation of leaders at Stafford-Smith, who are primed to take the company to the next level.
Stafford is known as a tough but fair negotiator by his peers and suppliers. Simply put, those who come to meet with Stafford better have all of their i's dotted and t's crossed because they can rest assured he's done the same.
Stafford is also known as a man of tremendous faith, compassion, humility and integrity. These traits have earned him the respect of his peers and colleagues who regularly seek his advice and counsel on any number of matters.
As a result of his integrity and willingness to share all he's learned over the years, Stafford has emerged as one of the industry's statesmen.
The term "hall of famer" invokes images of people who have left indelible marks on their industries through their hard work and ethical treatment of others. These people are the standard bearers by which their industries will judge future leaders. We at FE&S can think of no better way of describing Dave Stafford Sr.
So, in recognition of all he has done and all he continues to do, FE&S proudly presents David Stafford Sr. with its 2012 Hall of Fame Award.
Slow and Steady Wins the Race
David Stafford Sr. attended Michigan State where he earned a bachelor's degree in business personnel. After graduating, he took a job as a full-time supervisor in the university's foodservice department while waiting for his wife, Linda, to graduate.
After about a year of working for Michigan State University, Stafford took a position at Oakland University in Rochester, Mich., where he steadily worked up to director of foodservice, a position he held for a couple of years. "This is a guy who does not know anything about cooking," Stafford jokes about himself. "After a couple of years, I called my dad to see if I could come to work for him again."
Stafford had previously worked for his father while growing up. "I had worked in the business as a grunt for years. I started when I was five years old; my mom wanted me out of the house so she could have some peace and quiet. So I went to work with my dad, and I enjoyed it," he recalls with a smile. "They called me the cardboard king. I would always get the jobs on the construction sites cleaning up the cardboard and doing the other things nobody else wanted to do."
Although he worked at the low end of the business while growing up, Stafford has always had fond recollections of the company. And ultimately, that played a significant factor in his decision to return to the family business. "I enjoyed the reputation of the business, the respect customers had for the company and the feeling that comes from doing a good job," he says. "Like a lot of men I like to build things from nothing to something and the admiration that you got from the customers. Hard work has never been a dirty word in my mind, and my dad was all about hard work."
Despite his fond childhood memories of the business, Stafford says his parents did not presume he would eventually join the family business. "My parents thought I might be a coach because I was a pretty good athlete growing up," he says. "They also thought I might be a priest. I went to a Catholic elementary school and then to a military school. I have always had a strong feeling of faith."
Upon receiving Stafford's call, his father welcomed him back into the business, and David and Linda moved to Kalamazoo.
Stafford joined the company as a salesman and promptly hit the road. At that time, Stafford-Smith's product mix consisted primarily of refrigeration and grocery store fixtures. "My job was to visit the independent grocery stores, of which there were many at the time, and try to sell them our merchandise," he says. "We had a great reputation that my dad had established over the years. My dad started the company in the 1940s selling refrigeration equipment, and the technology in this segment of the business was pretty barbaric back then. By the time I joined the company it had gotten better but was still pretty barbaric — tough, dirty work. It was not easy to do or sell, but we did it. The reputation of the company and our track record helped make competing in this business and delivering for our customers easier."
It did not take long for Stafford to get up to speed and make an impact on the business. For example, when a large convention center was getting ready to break ground in Kalamazoo, Stafford saw an opportunity to expand the business by participating in the project's foodservice component. "I wanted to bid on that, but my dad was concerned about it," he says. "We got the job, and it became the impetus for us to move on to do other things. From that point on we started doing school work in southwestern Michigan."
In 1982, Stafford bought the business from his father and that was the beginning of a growth spurt for Stafford-Smith. Shortly after Dave took ownership of the company, the dealership went on to buy four similar businesses in a relatively short period of time. "We were kind of on our way to covering the states of Michigan and Indiana," he says. "Three of the four companies we purchased sold a complete foodservice package, including smallwares. That was pretty new to me and our company."
While growing a company through acquisition can be a pretty enticing proposition for many business leaders, it proved to be a learning experience for Stafford. "Acquisitions can be a pretty slippery slope. It does give you geographic and financial growth, but it does not necessarily mean you are acquiring the jewel you thought you were buying. Nor does it mean that it fits your business model," he says. "We found that out over a period of time and had to make some changes with the companies we acquired."
Over time, the smallwares component of the business continued to expand and then eventually contracted before Stafford-Smith eventually dropped it completely. "It was not our core competency," Stafford Sr. says. "Some companies are pretty good at it, and they were regularly kicking our butts."
Despite scaling back on smallwares, Stafford-Smith continued to extend its reach and has evolved considerably. Today the company has 14 locations and can service jobs throughout North America and the Virgin Islands, Stafford says. "We've gone from a company of about 12 people when I started to one with 160 people today. And refrigeration is still part of our business, but it only represents about 15 percent to 20 percent of what we now sell. Now most of the work we do is foodservice equipment only."
And the type of work Stafford-Smith can handle encompasses a pretty wide spectrum. "We are very capable of doing design-build work and logistical work, where we bring in the equipment and do the installation," Stafford says. "We can handle a spectrum of projects that start with those in the multimillion-dollar range that span three years all the way down to installing a single ice machine."
The company may have evolved considerably during Stafford's 30 years of ownership, but its value proposition remains consistent with that of his father's era. "We are a very competitive company. We value our customers and work hard to deliver value," he says. "And I hope they feel they receive value from working with us and that what we do for them has a competitive price. Our customers can depend on us to deliver and have honest communication throughout a project. And hopefully, when that happens, they will come back to do business with us again."
While the value proposition remains the same, being able to deliver on it can be a little more complex than was previously the case. This is particularly true of the large stadium projects such as the Miami Marlins' new ballpark in southern Florida, which has a $7.3 million foodservice component, and the three-year renovation of New York City's Madison Square Garden, which had a $24.1 million foodservice contract. "They always depend on us to be done on time, and sometimes that's not easy to do. But we are there for our customers, and I think our customers and the people we work with understand that," Stafford says. "We are pretty much available to anyone in the industry, and hopefully they will come back to work with us again."
A Natural Leader
Throughout the course of his career, Stafford has naturally migrated to positions of increasing leadership — not only within his company but outside of it, too. Stafford has served as a member of the Foodservice Equipment Distributors Association (FEDA) board of directors and as president of three different buying groups over the course of his career. "I enjoy the industry," he says. "It is a joy to offer leadership and be able to mentor people and be an honest steward for the organization. I probably have more time to do it now compared to earlier in my career, but it makes no difference. I don't know that I would want to run the ship, but I do like offering my honest thoughts and guidance on how to move things forward."
And as his career has evolved so has his outlook on this business. "I have become a better listener over the course of my career. And I have calmed down a little in the sense that I now understand that what we do is a lifetime business," he says. "It's not what happens at a specific point in time that matters. It's the entire package that matters most and the entire ride that matters. So it is a lifetime project to deliver and develop valuable relationships."
Cultivating those relationships with the dealership's employees has taught Stafford plenty over the years. "They have taught me to have humility and that, obviously, I don't have all the answers," he says. "They also have taught me that it is a team sport. Without them, I probably would not be sitting here talking to you. They are my support, and hopefully I am their support. It is a great experience to work with our people. I am sure a lot of business leaders would say the same about their people, too. But they are enjoyable to work with, and the relationship is there to help us work through any issues that may arise."
Integrity — both his and the company's — represents the one area where Stafford won't compromise. "It is important to me. It was important to my parents, too. They made a lot of sacrifices, as did Linda and I, to grow the business," he says. "So when we all pass away, which will happen one day — hopefully later rather than sooner — the money stays above ground. It's the integrity that goes with you. So I think that's important."
Family Matters
Although Stafford-Smith has grown considerably in terms of size and scope of work during the past 30 years, the dealership very much remains a family business at its core. For example, Stafford still abides by many of the lessons his father taught him over the years.
"He taught me to stand up for myself, defend myself and to deliver what you say," Stafford says of his father, also named David. "Basically, he taught me, if you are a good businessperson, everything will work out. But he also taught me it is okay to work hard and to care about your family — your wife especially because she is a big partner in what you do. She has to be understanding, and there will be times when she spends the majority of the time with the children because you are off working on a job at night or something."
Indeed, Stafford affectionately refers to Linda, his wife of 46 years, as his big boss or the CEO of their household. Although she may not have held a position in the company, Linda has played a significant behind-the-scenes role in the dealership's evolution. "She is the glue that kind of holds it all together," Stafford says. "Linda's my sounding board and is not afraid to offer a rebuttal. She is not afraid to tell me I am full of baloney, either. Sometimes, she said 'What are you doing that for?' when we would be in the midst of making a big decision, like acquiring another company. In retrospect, she was right on in some instances. So she is not afraid to speak up and give an honest opinion. Plus, she's a competitor. So for me Linda is such a great resource. It is like having your dad back and looking over your shoulder. She is always there and supportive."
Despite his undeniable impact on the business and his son, Stafford doubts that his father, if he were alive today, would recognize the company he started 72 years ago. "After I bought the company, he still had an office to come and work in anytime he wanted. I hope I have that one day, too. But my dad eventually said it was too busy and that the business was moving too fast for him and it was time to leave," Stafford recalls. "Keep in mind that when he started, he used a slide ruler. Nobody today knows what that is. It is an antique to most young people. But that is an indication of what things were and how they have progressed. Given the electronic communication we use today, things are moving even faster than ever before. So I think he'd say the same thing."
Does electronic communication help move the business forward? "Certainly, it has its advantages. But things move so fast that sometimes you don't have the chance to build relationships to the extent that you did before," Stafford says. "You knew the people you used to work with and you knew your customers more in-depth. Now people come and go more frequently. Customers' positions change. Factories change. Things happen very fast."
Stafford-Smith: The Next Generation
When Stafford assumed the role of CEO several years ago it paved the way for his son, David Stafford Jr., to become the dealership's president. "It is a lifetime business, and we are in our third generation with my son Dave serving as the company president," Stafford says. "He does a great job and really runs the company. I am just his conscience. And that's really rewarding to see him evolve into that role."
Like his father, Stafford Jr. did not immediately join the family business upon graduating from college. Instead, he joined the Marine Corps. "It startled us when he told us he joined the Marine Corps," Stafford Sr. recalls. "But it was a great experience for him. When he got out of the Marine Corps and said he wanted to come work for us we started David out as a salesman in Indiana. He did a great job and eventually moved back to Kalamazoo. One thing led to another, and his career just progressed. He continues to get his education and experience in the business. But he has not arrived yet. I have not arrived yet. It is a process, and every day brings us challenges and opportunities. But he's doing a great job."
Although Stafford Sr. has stepped up to the CEO role and Stafford Jr. is the president, this does not mean Stafford Sr. is a mere figurehead within the company. In fact, he remains quite in touch with the business. "I still work a lot, and I enjoy it. This is a family business, and that's something to be proud of. It has the Stafford name on it," Stafford Sr. says. "The communication between Dave and me is often and sometimes loud, but that's kind of the Stafford way. There's never any angst or anything like that. It is just honest, open communication. We know what we want to do. And he's someone you can trust with anything, and I am very proud of that."
Just as he learned some basic life lessons from his own father, Stafford Sr. hopes his son will do the same. "I go back to being honest, hardworking and deliver value. It is pretty simple," Stafford Sr. says. "Those are the basics of trying to deliver a good product. If you do that you can be proud of who you are and what you do and it allows you to stand up for yourself."
Of course, bringing the next generation of leadership into the business has been somewhat of a learning experience for him too. "I find that with your children you can become their mentor, their teacher, conscience at times and disciplinarian. But you owe that not only to your children but to your employees and vice versa. It is a two-way street. We are here to help each other."
One trait that Stafford Sr. wants to pass along to his son and others is to avoid being complacent. "I always tell Dave don't leave early on Fridays because if something's going to be amiss, it will happen at 4:30 p.m. or 4:45 p.m.," Stafford Sr. says. "And because of the fact that we are in service and refrigeration and our customers are from throughout the country, it is important to stay alert. It's just the nature of our business. Every day is a new day, and every day is a new challenge. So if you get complacent you lose your swing."
Despite all of the success the company has enjoyed under his leadership, Stafford Sr. remains pretty well grounded. "I always get nervous when I feel I have arrived," he admits. "Over the years I probably have had more moments where I was thinking, 'Oh, what did I just do?' But I have found it to be historical that when I feel to a degree that we have arrived or things are going well, before I know it, all hell breaks loose. When we get to a point where the projects are going well and cash flow is good and our customers are happy, I always wait for something to happen, and it always does. There's certain humility to what we do, and it just takes your legs out from underneath you. When I get that feeling of 'things are going well,' I start looking over my shoulder waiting for things to happen."
That sense of humility and a willingness to embrace new challenges will keep Stafford Sr. engaged in the company for the foreseeable future. It will also define his legacy to his company and the foodservice industry. "We care about our people. We care about our customers. We provide good value. We provide a good product," he says. "It is something to be proud of, and this is not just about making money." FE&S