When Kathleen Seelye speaks, people listen. When she's listed on a panel or presentation, it's easy to make a point to attend.
The 35-year-plus industry veteran is a prolific designer and businesswoman, pioneer in foodservice sustainability, industry instructor, regular speaker, mentor of many, mother of two and grandmother of six under seven.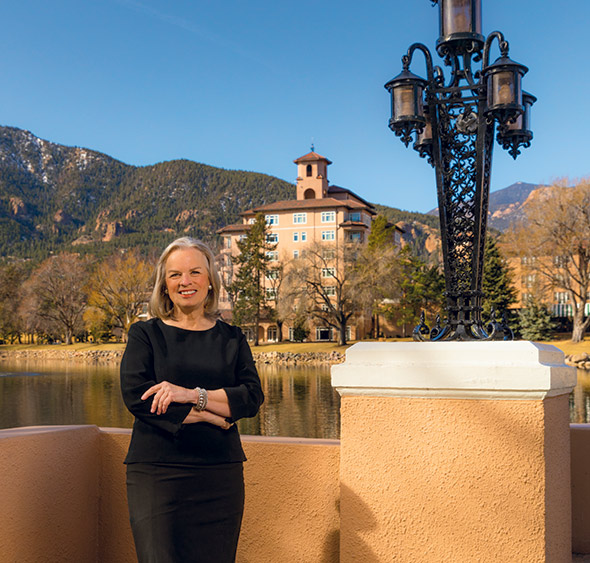 Photo by Paul Brokering
As Ricca Design Studios' CEO and managing partner, these days, she can be heard through the halls, chatting with the firm's up-and-comers as she guides the organization's ongoing business and succession planning. Let's be clear, though: Seelye is nowhere near retiring from the profession. In fact, she continues to work harder than ever, not only on large-scale, key projects around the country and abroad, but also in nurturing the next generation of consultants and other foodservice professionals.
"A lot of my focus over the past few years has been on strategic growth and the transition of leadership in our company," Seelye says. "We are on our fourth generation of ownership and leadership, which gives us all a great sense of pride in this team."
Seelye also concentrates on business development and planning to drive Ricca Design Studios forward in an increasingly competitive industry. "We have been very strategic in the growth of the company and in our services, our office locations, and the types of projects we seek out, though I still get to do a considerable amount of project design work, which is my true passion," she says.
Seelye has covered all segments of the foodservice industry, from trendy restaurants and high-end hotels to major healthcare facilities, colleges and universities, business and industry concepts, and much more. But you probably knew that already. She has a way of influencing people beyond her daily network.
The Early Days
Seelye began her career in foodservice as a server at the iconic Broadmoor hotel, a five-star luxury resort in Colorado Springs, Colo., that was just blocks away from her childhood home. She didn't know then that her career would bring her back full circle to work once again on the property, this time as a designer and consultant on several of their signature restaurants. That connection to The Broadmoor is something Seelye will cherish forever.
Working at The Broadmoor meant hotels and operations quickly got into Seelye's blood. After that experience, she went on to work for Westin Hotels &
Resorts before landing her first job as a restaurant designer for Gardner Restaurant Equipment and Planning in Houston. She also spent time as a manufacturer's rep with companies specializing in highly engineered restaurant systems.
When Seelye sold a contract to design the restaurants for the Hyatt Regency La Jolla at Aventine in La Jolla, Calif., she asked her friend Tom Ricca to partner with her. After the successful venture, Ricca hired her in 1983 to join Ricca Design Studio's 11-person team and to run a new Houston office. The two built a strong bond right out of the gate. Seelye's operational, dealer and manufacturers' rep background helped round out her experience and continue to offer value in her role as a consultant.
Fast-forward to today. Ricca Design Studios now includes 9 partners, totaling 47 staff members across 7 U.S. offices. Another office in Shanghai adds 21 staffers to the mix. Ricca Design Studios has completed projects in all 50 states and around the world.
For the last 12 years, Seelye has been at the helm of the business, handling everything from contractual issues to cash flow management, marketing, human resources, strategic growth and more. This comes in addition to her role as lead designer on multiple key projects, 11 of which have earned national awards.
As if this were not enough, Seelye has also been also very active in various foodservice industry organizations. She served as president of the Foodservice Consultants Society International (FCSI) in 1995, served on FCSI's Education Foundation Board and was inducted into FCSI's Council of Fellows, the group's highest honor, in 2001.
Seelye's industry involvement also includes having been a judge for the National Restaurant Association's (NRA) Kitchen Innovations Awards as well as speaking at many NRA conventions. She especially enjoys teaching at the National Association of College and University Food Services' (NACUFS) Facilities Management Institute (FacMI). She was also the first LEED-accredited foodservice consultant in the industry.
"Kathleen has taken more on her shoulders than I ever imagined anyone could manage," says Ricca, the firm's founding executive partner. "This, of course, is on top of the role she cherishes most of being an active grandmother and mother to her family. I am amazed that, with all else going on, she manages to always be there for her family. And maybe most astounding to me — she lives on a ranch in the Colorado countryside, where she tends to her horses, helps to harvest her own hay, handles a snowplow to get out to work in the winter, and, with her sisters, climbs 20,000-foot-high mountains for fun."
Seelye has climbed Mount Kilimanjaro — and continues to climb many others — after recovering from a devastating head-on car accident that left her in casts and unable to walk for many months. Eleven foot surgeries later, she remains an avid hiker, something she picked up from her father, who climbed with the 10th Mountain Division of the United States Army.
The Climb
Mount Kilimanjaro provides a clear metaphor for Seelye's climb up the ranks of the industry: It's a lot of hard work, is different for everyone and requires adapting along the way.
"Tom and I often think about when we first became partners and merged with another company. It was only five days before the horrific 9/11 attacks in 2001," Seelye says. "It was such an unconventional circumstance, such that suddenly so many of our projects fell off the map or went on hold as the hospitality market plunged. We had to wonder if we were going to be able to hold the company together, quickly learning that no matter how much planning or preparation you do, you can never really know what will happen."
The Broadmoor holds a special place in Seelye's heart. She was once a server at the hotel, then returned many years later as a designer and consultant for several of the resort's signature restaurants. Photo by Paul Brokering
Ricca reiterates those thoughts. "Kathleen possesses an ability to have a vision of the future that allows her to guide us through rough waters like the financial crisis in 2008 and 2009 so that we came out of it healthier than we were before," he says. "She was able to bring five disparate partners into a cohesive group of leaders that gives us both confidence in the future of our company and allows me to sleep easily."
Seelye says the experience has taught her and her team the importance of planning not just for the good times but also for the worst times.
Seelye's son, Trevor, notes the empathy and compassion his mother has, not just for him and his sister, Jocelyn, but for clients as well. Trevor traveled with his mom to many FCSI conferences and other industry events. "I am continually amazed at the time and resources she expends on helping other people. Whether it is through mentoring a younger colleague or helping someone through one of life's challenges, she is constantly up to the task. It is in her DNA."
Seelye's daughter, Jocelyn Phipers, says her mother is "one of the hardest-working people I know, and she has instilled that work ethic into her children. She has taught us the importance of honesty, integrity, humility and accountability."
At Ricca, Seelye continues to mentor many of the up-and-coming associates and partners, including Principal Tarah Schroeder. "I should write a book on all the teachings I have learned from Kathy," Schroeder says. "These three stand out the most: Learn from your network of people, be a good partner and be nimble. Kathy has also always encouraged me to be my authentic self and to embrace a leadership style that allows me to showcase my own strengths and persistence for excellence, despite that everyone wants to be like Kathy."
Foodservice Sustainability Leader
Seelye takes great pride in her work on the first LEED-certified foodservice operation in the country at Harvard University in 2006. She has since added many LEED-certified projects and has written sustainability books for higher education and healthcare operators. She even created sustainable operations guidelines for Disney's massive Shanghai project with Martin Cowley, then the global director of foodservice at Disney. He has since joined the Ricca team to serve as executive director, design and technical support.
The path to becoming the first LEED-accredited foodservice consultant with the U.S. Green Building Council (USGBC) began in the early 2000s and quickly expanded through a chance meeting with Don Fisher during a MUFSO conference. At the time, he was principal of Fisher-Nickel and was in the process of growing the Food Service Technology Center in San Ramon, Calif., and she had just spoken on a panel for the USGBC. The fateful meeting proved a learning session for both — Seelye had reached out to Fisher to learn more about his work in energy-efficiency testing, and Fisher needed to learn more about consultants and their work.
"I'll never forget, one of the first things Don said to me was, 'What's a foodservice consultant?' '' recalls Seelye. That was nearly 20 years ago. Little did they realize, the meeting would not only impact each of their professional lives but also the foodservice industry as a whole. This was far before terms such as "sustainability" and "green" became commonplace.
After approaching the FCSI board about Fisher, Seelye and Fisher wrote a white paper on ventilation together. That was the start of many joint presentations and panels, educating operators, architects and other consultants about the role of foodservice professionals in LEED projects and energy-use planning. Their influences gave credit to the value of energy-efficient foodservice equipment. Fisher's efforts simultaneously supported the growth of the Energy Star program and its standards, while Seelye began work with the Department of Energy. She was soon invited to join the National Renewal Energy Lab's leadership team.
Seelye's involvement in the USGBC and sustainability communities culminated in another accomplishment of which she remains very proud: publishing the NACUFS and Healthcare Food and Nutrition Services Sustainability Guides with Peg Rodger, FCSI, RD. The extensively researched guides provide important tools operators can use to create sustainability programs involving energy, water and waste management. This came after Seelye established Ricca e2, a division of Ricca Design Studios that continues to foster many sustainability projects.
"That one conversation with Don Fisher felt like such an awakening moment to some of the things that were really important but had no clear educational path at the time," Seelye says. Her work in sustainability quickly blossomed in the consultant community as more got on board with LEED and energy-efficiency efforts.
Consultant Connections
Seelye has been an FCSI member for more than two decades — with one memorable FCSI-connected skit kicking things into high gear.
The skit took place at a Manufacturers' Agents Association for the Foodservice Industry (MAFSI) conference, where Seelye and the late Bob Pacifico of Romano Gatland were speaking on behalf of FCSI. "Back then, consultants didn't have strong relationships among manufacturers' reps, and they were looked at as being stringent and overbearing — if that's the word for it," says Seelye. The duo decided to lighten up the room with a skit where Pacifico was the voice of God, aka the consultant, speaking in a deep voice, where the audience could not see him from above the ballroom floor. Then, Seelye entered the picture, fully garbed in an angel costume with massive wings and a huge set of fake stone tablets — a self-deprecating spoof on the "10 commandments of consultants" in the vein of any rep's perception at that time. "It was hysterical — we had the whole room roaring in laughter," she recalls. "It broke down many barriers for us and showed others that consultants are just people — that we make mistakes too, but above all, we value the education manufacturer reps provide for us and we can collaborate on projects."
The skit was a moment in time, and Seelye certainly doesn't take credit for changing the entire nature of the rep-consultant relationship. She does, however, concede there were some dramatic differences in conversations post-skit. "We tried to show that consultants really do want to create a relationship that's respectful on both sides and not demanding or derogatory," she says. "We really wanted to create positive, connected and lasting relationships."
Seelye went on to form strong friendships and partnerships not just with other consultants and reps but also with manufacturers, dealers, and others inside and outside the immediate equipment and supplies industry. She played a major role in building the FCSI brand for women and raising the standards for industry education — and subsequently that of FCSI consultants in general — higher and higher.
Seelye also played a key role in getting the NRA's Kitchen Innovations Awards program off the ground. After judging for eleven years after the program's 2004 inception, Seelye passed the baton to her New York partner, David Chislett.
Forever an Educator
Another accomplishment Seelye remains proud of is her involvement with FacMI, which makes sense, given her natural role over the years as a mentor and industry educator. The institute brings together as many as 50 college foodservice operators in one room for an intense three-day program. They spend that time learning more about the best practices of the design and equipment selection process.
Seelye views the role of the foodservice consultant in a very specific, slightly less conventional way. "For foodservice consultants today, it's more about people and communication skills, which create a vision for the project and challenge operators to feel courage in executing that vision," she says.
The prior role of consultants, Seelye believes, wasn't as closely connected to operators as it is today. "Today, we see operators who are truly developing an innovative path as they reinvigorate their facilities and redefine what 'dining services' should mean," she says. "I think that comes from the continued growth of the general public's new relationship with food and culinary experiences that are closely tied to the advent of the Food Network and celebrity chefs. Today's operator has a much stronger voice, and that has challenged and elevated projects to a whole new level. And it's exciting to be a part of those."
As the consultant community continues to evolve, Seelye remains steadfast on growth within her own firm and the continued collaboration among her partner group. "We've had both successful and failed efforts in the past, but we have always ended up learning so much from them," she says. "Most
importantly, we've learned to spend time concentrating on our company's culture and to assess a potential new staff member's impact, or even a merger, with the notion that anything can go sideways and break down years of what our team has built. We are much more protective of that today than ever."
Now, with any potential merger and every new project acquisition, Seelye and her team thoroughly think through not just the business opportunities but also the mixing of cultures and personalities before making a decision to move forward. This, she says, has helped Ricca Design Studios remain strong from the inside out.
Outside of the bustle of regular business, Seelye enjoys quieter moments, riding her horses on her 100-acre Colorado ranch, where she's lived for the past 15 years, and spending time with her grown daughter and son and her grandchildren. "All of the kids love to be at the ranch and have their own cowboy boots, which they grab as the first thing they do. It's off with their shoes, into their boots as they run out to feed the horses and pony," she says. "They wear those boots day and night, even in their pajamas. I bought this property because it sits next to an 11,000-acre green space with plenty of room to ride as a family. It's a truly wonderful experience."
---
Pioneer Woman
Seelye's ranch provides solitude for her and her family. Dillion is one of three horses that help her unwind. Photo by Paul Brokering
"I'm not one to focus on being a woman,'" Seelye says. "However, it's important to recognize that this is a changing time, and I am truly honored to be the first woman Hall of Famer for FE&S."
There were only two other female design consultants in the industry during the early years of Seelye's career, she recalls — one in Canada and one in the U.S. "Today, at least 25 percent to 30 percent of our community is comprised of young women, and that's so exciting to see," she says.
Kristin Sedej, FCSI, president, S2O Consultants Inc., has looked up to Seelye for years. "As a young woman starting out in this crazy, male-dominated industry, Kathleen stood out as a role model and represented everything I hoped I could be," she says.
Schroeder looked up to Seelye, even before joining the Ricca Design Studios team. "I can remember the first time that I met Kathy at a national NACUFS conference prior to starting at Ricca," she says. "She was walking the showroom floor with a small entourage, all vying for her attention, and I thought to myself, 'This is someone that I want to meet.'
When she presented later that day, it was clear even then that she captivated her audience with a natural charisma and quiet confidence that has earned everyone's highest admiration over the years. "
Seelye cites some of the men in the industry, including Tom Ricca, Bill Eaton, John Cini and the late Bob Pacifico, as helping to break down barriers. "What I have appreciated is that these men were not just gender blind; they went far beyond that attribute," she says. "They recognized the abilities and strengths of women on their teams and made distinct efforts to help push their female peers forward. They have always thought strategically about how women can make a difference in our industry. This has helped create the fabric of the consultant community today, and I want to thank the people who created those bridges. Without those men, and the wonderful mentorship and early leadership of women like Louise O'Sullivan, Carol Wallace and Deirdre Flynn, there would be far fewer opportunities for women in our industry today."
---
Timeline
1969 Takes summer job as a server at The Broadmoor in Colorado Springs, Colo.
1972-75 Attends both Colorado State University and Syracuse University, majoring in food management
1983 Joins Thomas Ricca Associates and leads the Houston office
1984 Joins FCSI
1995 Is appointed Worldwide FCSI president, the society's first woman president
2001 Named president of Thomas Ricca Associates
2001 Thomas Ricca Associates merges with Newmark Diercks
2001 Inducted into the FCSI Council of Fellows
2004 Joins the NRA Kitchen Innovations team of judges for an 11-year period
2006 Promoted to managing partner, Ricca
2007 Earns USGBC LEED accreditation, the first consultant and the first foodservice industry professional to achieve that status
2008 Joins the National Renewable Energy Laboratory's leadership team, representing the restaurant industry
2008 Launches Ricca e2, a WBE specializing in sustainability planning and development
2009 Promoted to Ricca Design Studios' CEO, USA and Asia operations
2009-10 Publishes healthcare sustainability books
2010 Joins the NACUFS Facilities Management Institute education program, teaching design for foodservice facilities
---
Memorable Projects
Colorado Springs, Colo.
Time frame: 1990s and 2000s
Summary: Seelye led the design team for multiple signature restaurants at this five-star resort.
Cambridge, Mass.
Time frame: 1990s and 2000s
Summary: Seelye collaborated with Ted Mayer, the foodservice director on multiple residential and retail dining facilities, and Lenny Condenzio, then Harvard's assistant director, now a partner and COO at Ricca Design Studios.
Manhattan, Kansas
Time frame: 1980s to 2018
Summary: Working with KSU Dining's Senior Director and IFMA Silver Plate winner John Pence and IFMA Gold Plate winner Dr. Mary Molt, these residential and retail dining projects have created transformative experiences for KSU students. This project was named FE&S' Facility Design Project of the Month, June 2017.
La Jolla, Calif.
Year completed: 1981
Summary: An introduction to a career-long venture with Tom Ricca designing hotels, resorts and non-commercial facilities. Ricca is an FE&S Hall of Fame recipient and Seelye's partner.
Shanghai
Year completed: 2016
Summary: A collaboration with Martin Cowley, an FE&S Hall of Fame recipient, on the development of the hotels and park restaurants. He is now part the Ricca staff and is a lifelong friend of Seelye.