From foodservice to the farm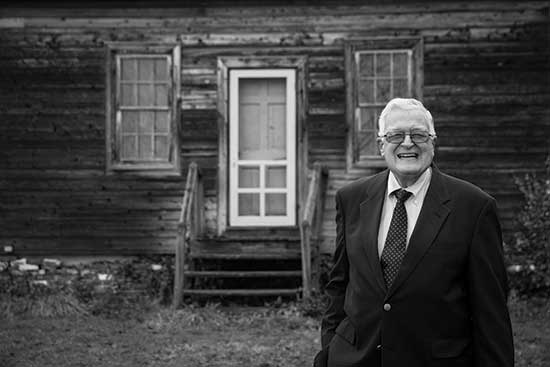 Photo by mk Photography
These days, renowned foodservice designer and long-time Cini-Little executive William V. "Bill" Eaton spends much of his time on his farm on the eastern shore of Maryland. He alternates between there and his family's beloved home of 47 years about 30 miles away. No question — after four and a half decades in the business, he's earned the downtime.
"I have made hundreds, if not thousands, of friends over the years in this industry, from dealers to manufacturers, consultants, installers and more," Eaton says. "All of these people really have one focus, and that's 'let's get the job done and do it right.' It's fun work, and that's why it's so hard to let go."
While Eaton may have "officially" retired from Cini-Little last year, don't be fooled — he remains active as chairman of the board for the worldwide consulting firm. During the same week as his interview for this article, in fact, Eaton had two conference calls scheduled with Cini associates about various projects — and a site visit planned for the next. Plus, he continues to mentor and coach up-and-coming designers at the firm and even outside of it. Throughout the year, Eaton also devotes countless hours collecting and reviewing entries for the National Restaurant Association's Kitchen Innovations (KI) Awards. In fact, he's been part of the process since the inception of the awards more than a decade ago.
In talking to Eaton's colleagues for this article, many quickly offered their congratulations and support, reiterating that this recognition was well deserved. In fact, that's an understatement, folks told us.
Eaton's life story begins outside Detroit, where he was born when his father, a chemistry graduate, worked at a chemical company in the area. For 12 years, Eaton lived in Trenton, Mich., where his father went on to develop two major inventions: an oderant for natural gas "so we don't die without knowing what we're smelling" and non-ionic 218, the main ingredient of Joy dish detergent.
Clearly, Eaton's father passed down the innovation gene to his son, who went on to invent the designs for some of the most complex kitchens and foodservice facilities in the country and the world. Ironically, when he was a child, all the younger Eaton wanted to do was farm the land.
"Our home backed up to a hay field, and all I wanted to be was a farmer," says Eaton. "I made friends with our neighbors, who would let me bail the hay and ride on the tractors."
Eaton's family later moved to Pennsylvania, where he finished high school and applied to the engineering physics department at his father's alma mater, Cornell.
"They only took 62 students, and I was lucky to be one of them," he says. "My first class at Cornell was calculus at 8 a.m. Monday morning. At public high schools in 1957, you didn't have calculus. The teacher asked how many of us went to Brooklyn Tech, a high-quality math and science school in New York, and half the class raised their hands. So she said turn to chapter 12, page 22, and that's where we start. I now had 12 chapters to catch up on."
Just like he always has in life and work, Eaton jumped in 100 percent. What began as an initial dream of building rocket ships changed once the reality set in. An ongoing recession at the time made it difficult for Eaton to find a summer job at engineering firms, so he reached out to a fraternity brother, who put him in touch with The Statler Inn in Ithaca on the campus of Cornell's School of Hotel Administration. Eaton applied for and got a job as a bellhop. While toiling in that role, he struck up a friendship with Professor O. Ernest Bangs in the hotel school, who would later become one of Eaton's closest mentors.
The Mitsitam Native Foods Café at the Smithsonian's National Museum of the Native American Indian remains one of William Eaton's most enduring designs and it won FE&S' 2007 Facility Design Project of the Year award. Photo by mk Photography"He probed into my background and learned how I was in engineering, not satisfied with the program and afraid of the thought of being trapped in a lab the rest of my life," Eaton recalls. Realizing this, Bangs introduced Eaton to a new program he was spearheading: Food Facilities Design, sponsored by a professional organization called the Food Facilities Engineering Society (FFES). Founded in 1952, this organization would later go through various mergers and change names in the late '70s to become Foodservice Consultants Society International (FCSI), one of the most important organizations in Eaton's career. (More on that later.) "I made the decision to change schools and had the honor of taking three years, or six semesters, of courses with Professor Bangs," Eaton says.
Meanwhile, Eaton continued to learn the ropes at The Statler, moving through the ranks as front desk associate, dining room manager, banquet manager and sales manager. He also joined FFES as a student member and continued as an active member of what is now FCSI.
Eaton's roster of classmates reads like a who's who of the foodservice consulting industry. "In Professor Bangs' course were Dewayne Grissom, Ron Kooser, Richard Swartz and Carl Vail, all of whom became members of the consulting firm Cini-Grissom Associates, now Cini-Little International. And all, of course, were also members of FFES, were also members of FFCS (Food Facilities Consultants Society), ISFSC (International Food Service Consultants Society) and eventually FCSI over the years," Eaton recalls.
Coincidentally, the late Jim Little, another important figure in Eaton's life, had served as the last president of FFCS, and Eaton became the first president of FCSI in 1979. Later, Eaton's daughter, respected industry consultant Pam Eaton, would also eventually matriculate at the Cornell program and become active in FCSI.
Working in various positions at The Statler helped Eaton learn the operational side of the foodservice and hospitality industry, something he combined with his education to easily find a niche in the foodservice consulting and design community. "I don't know how I would be the consultant I became without having worked every job in the hotel, including doing a whole lot of dish washing," he recalls.
Upon graduation from Cornell in 1962, Eaton sent out 62 letters to different professionals and firms, including the founding members of FFES. He eventually obtained a job as a draftsman with Horwath and Horwath, a Chicago-based accounting and management consulting firm for the hospitality industry. The company had recently added kitchen design to its scope of services.
A year later, though, Eaton was enticed to move back to the East Coast — Maryland specifically — to run the Santa Maria Hotel in Ocean City for a fellow Cornell hotel school alum who was a professor and had been a general manager at The Statler. After a short stint there, a recruiter from a restaurant group, Hot Shoppes in Washington, D.C., contacted Eaton about a design job with the company. Hot Shoppes would later fold into what is now Marriott International.
Here's where the plot thickens.
"I was walking into the parking lot on the first day and happened to meet up with another gentleman also walking in on his first day," Eaton says. "I introduced myself, and he asked what department I was in. I said kitchen design, and he laughed. 'I'm the new head of kitchen design.' Turns out it was John Cini, and two of my classmates were already inside working for the company."
Eaton spent four years at Hot Shoppes, working his way up to assistant director of the design department. In the meantime, he met Phyllis, a fellow Marriott employee in the operating division, who would become the love of his life. They were married in 1966.
After reaching his limit in the Foodservice Design Department, he examined other opportunities within Marriott, including moving into the accounting departmentof the Hotel Division. When that did not materialize, an opportunity to join another operating company, Macke Vending, in the Washington area, appeared and Eaton joined Macke as director of design for their kitchen facilities department, handling their newly acquired cafeteria division in the East and Midwest.
"Sixteen months later, an interviewer from Marriott called me and said, 'How would you like to come back to Marriott? We have an opening in the in-flight feeding division as director of engineering and standards," Eaton recalls. The year was 1969.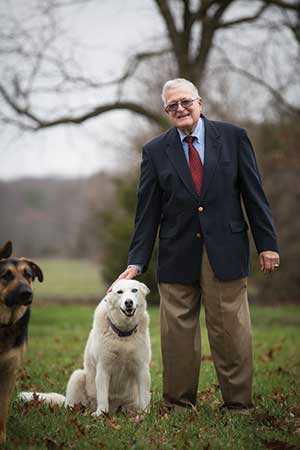 William Eaton, pictured with his dogs Chief (left) and Star, on the farm he shares with his wife Phyllis in Centreville, Md. Photo by mk PhotographyIt was a good job with good pay, and Eaton got the chance to fly all over the world to help design in-flight kitchens and develop operating manuals for this growing business. When the airline industry stalled — no pun intended — a year later, Eaton found himself in a similar but slightly different job at New York's John F. Kennedy Airport, working for the in-flight services division of what is now Aramark.
The commute was brutal. "I made the commute from my house in Maryland, where we still live now, going up Sunday evenings and staying Monday nights, then driving home Tuesday night, flying to various flight kitchens on Wednesday and doing the same round trip Thursday and Friday." That went on for one whole year. Enough was enough.
The year was now 1970, two years after former Hot Shoppes boss John Cini had founded Cini-Grissom Associates with fellow Marriott and Cornell alum F. Dewayne Grissom.
Through his connections with Cini and fellow alum Kooser, who had gone to work for Cini-Grissom, Eaton was recruited to join the five-person firm. This became his home for 45 years and counting. During those four-plus decades, Eaton has gone from one of the first CAD system operators in the country to president and COO in 2002, the first president after Cini's retirement, to chairman of the board.
It was in 1984 that John Cini and Jim Little started conversations that would ultimately result in a merger to become Cini-Little, the largest foodservice design firm in the world, headquartered in Germantown, Md., with offices in Chicago, New York, Los Angeles, San Francisco, Ft. Lauderdale, Toronto, Tokyo, and London.
At Cini-Little, Eaton has focused primarily on corporate design (35 percent), followed by hotels, colleges and universities, and some large, full-service restaurant chains. By his own account, Eaton has worked on a whopping 1,192 projects, to be exact.
"We did all of the work on Capital Hill, from remodeling both the Senate and House dining facilities to the botanical gardens and basically anywhere there was food and beverage served," Eaton says.
Other major projects have included cutting-edge, state-of-the-art foodservice restaurants and operations at the National Gallery of Art in Washington, D.C.; the Rockefeller and Lincoln Centers in New York City; and countless other museums, institutions and national landmarks.
The Madison Square Garden renovations proved to be particularly challenging because of the circular design of the arena and because Eaton's team had to work even as events continued. He and the firm went on to renovate 50 or so other stadiums and arenas worldwide.
"These spaces were symbols of the industry, which made the work so exciting," says Eaton. At one point, Eaton spent time in Saudi Arabia at King Abdullah University, where he designed the kitchen and dining facilities using a limited range of equipment. Further complicating matters was the fact that the kitchen had to accommodate many different styles of cuisine for the international students.
Eaton credits Joe Baum, the former president of Restaurant Associates, as one of his other main mentors. It was Baum who brought the Cini-Grissom firm into one of the most memorable and later emotional projects of Eaton's career: the World Trade Center with its many foodservice facilities, including Windows on the World. To give an idea about the scope of this work, this late-'70s project would account for 20 percent of Cini-Little's annual fees today. The firm continued to manage the design and equipment needs for the restaurant and center for over two decades. Eaton was scheduled for a meeting at the North Tower (Building One) on September 11, 2001.
"We flew into LaGuardia at 5:30 a.m. on one of the most beautiful flying days I've ever recalled," Eaton says. Luckily, they were early and would work out of Cini-Little's New York office on Park Avenue before the meeting. "Someone in the office answered the phone and told me a plane hit the World Trade Center," Eaton says. Thinking it was a smaller plane, he looked out the window to see Tower One in flames. As he walked out to the street, the South Tower came down.
"Our close friend, one of the owners of the restaurant, wasn't in the building, but he lost 35 employees that day," Eaton says. "It was tragic from every aspect, having spent 30 years working on the building but also seeing so many lives lost. I don't think a day goes by I don't think about it."
Eaton sets himself apart from other foodservice facilities designers through his strong operational background and firm grasp of management advisory consulting, even if he doesn't focus on that area. "You can't design without understanding foodservice management," says Eaton, who has helped clients with some of the initial concept development work.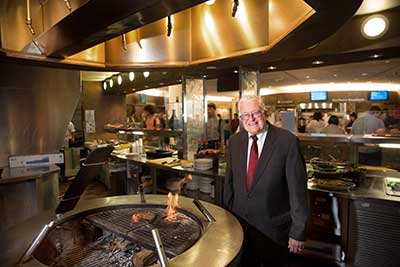 One of the innovative features at the Mitsitam Native Foods Café is the fire pit, which staff use to prepare traditional Native American fare. Photo by mk Photography It was through collaboration with others in FCSI that he was able to learn more about the MAS side of the consulting business and forge close bonds with other designers. Throughout his many years of membership, Eaton has served on almost every committee in the association and has helped plan many conferences, seminars and events. Eaton was nominated as an FCSI Fellow, a highly coveted and respected title, on September 18, 1987.
When asked how he views the nature of changes in the foodservice industry, Eaton points to the Kitchen Innovations Awards.
But Eaton's most important endeavor outside of work has been family, he notes. Eaton and his wife have four daughters and 11 grandchildren. Pam Eaton, as noted earlier, has become a highly respected foodservice consultant in the industry, helping to guide newcomers just as her father did.
Eaton admits he didn't encourage his daughter, then a veteran restaurant manager, to come to work for Cini-Little. Determined, she got hired by Dan Bendall without Eaton's knowing. "One Sunday night, she called and hung up the phone saying, 'I'll see you tomorrow.' Well, she did, and we made it work, and she's made me so proud."
Nowadays, Eaton continues to mentor newer designers at the firm through project work but also through Cini-Little University, a series of weekly interactive webinars that helps new recruits work through complex design problems to find solutions. For two decades, he even taught courses during Cornell University's two-week summer professional development program.
He gives the up-and-comers advice similar to what he received. "Joe Baum always taught me you have to do your work right, and if you have to spend more time doing it right, so be it because there won't be any reward if you don't," he says.
When working with clients, Eaton has always made it a priority to listen carefully to their ideas. He also points out the realities of what might not be a great idea and works with his clients to find solutions for how the idea could work better.
"It's about having the client see through your eyes why we design equipment in a kitchen the way we do," says Eaton. "We have to show them, 'Here's what happens if you put the range here but don't have any workspace next to it.' The cook has to be able to put a hot pan down somewhere."
These days, Eaton's hobbies all pertain to maintaining the farm, his early childhood dream. With the assistance of a farmer, he manages 54 acres of crops and 34 acres of wild grass to help bring back the quail population. He and Phyllis continue to make updates to the centuries-old house on the property. The Eatons also make regular trips to the Blue Heron Café, a Maryland restaurant renowned for its oyster fritters and managed by fellow Cornell alum Paul Hanley. And they spend plenty of time with their children and grandchildren.
As he has his whole life, Eaton gives 100 percent.
Kitchen Innovations
For the last decade, the National Restaurant Association's Kitchen Innovations (KI) Awards have recognized some of the most innovative foodservice-related equipment, technologies and supplies. From its inception in 2004, Bill Eaton has had an integral role in the development of the Awards program, which showcases the winners each year during the annual National Restaurant Association Restaurant Hotel-Motel Show in Chicago.
In fact, it was Eaton and Alan Plassche, partner of BP Partners Consulting and a former executive with the Culinary Institute of America, who came up with the idea for the KI program during an FCSI event in Toronto. They viewed KI as a national platform through which to elevate standards of excellence in the field. Ever since, KI has kept manufacturers on their toes, pushing them to think even more outside the box and create products that could help foodservice operations reach higher levels of success. Past winners have included equipment and other products that help operators save on energy, water and waste to meet sustainability and cost-cutting goals. Some have demonstrated innovations in food safety and sanitation.
In the early years, Eaton and Plassche recruited a handful of volunteers, including Kathleen Seelye, FFCSI, LEED, of Ricca Newmark Design; Robert Marshall, vice president, U.S. operations for McDonald's; and Robert Forrester, then of Quizno's and now principal of Restaurant Industry Solutions, to help build the KI program.
Eaton has also remained a judge and coordinator for the program, spending hours throughout the year collaborating with other judges to review and vet the applicants. Judges must be in unanimous agreement to award the KI honor.
"At first, we struggled to find innovation, and the reason why is because innovation costs money," Eaton says. "But every year has gotten better and better. We're seeing more applications, more ingenuity and more innovation. The biggest change I've seen is in the way these products continue to strive to answer operator problems."
Eaton has even coached applicants that didn't make the cut so they could make improvements that might get them to the finals the following year. "We have sent some manufacturers back to work on a project if we think they have a great idea but need to finish the execution," he says.
One of the best things about KI? The coming together of industry experts and peers. "The collaboration is just amazing," Eaton says. "I have made such close friends through KI, and it's been wonderful to share ideas and help our industry move forward."
Letter from Bill's Daughter: Pam Eaton
Even though I worked with my father at Cini-Little for 20 years, the work together began long ago as a child. As one of four daughters and no sons, we were "adopted" for some of the boy stuff. I was the Redskins football fan and did a lot of the yard work and repairs around the house with my dad. It was a relatively easy transition to later go into a real work environment with him and anticipate what was coming next. In fact, people are surprised how well we work together. Now that he's not in the office as much anymore, I realize how often I popped into his office down the hall for a few minutes of advice.
What I learned most from my dad was not as much from his words, but from his actions — he has such dedication to the client and such a drive, not just to design a successful facility, but to anticipate what they don't know they need to ask of him.
He taught me and many others how to continue pushing so you have all the information from the client, and then do as much with that information as you possibly can, never settling with the easy answer.
Looking back, one of my earliest memories was watching him work on the dining room table with all the drawings spread out before him. When I asked what he was doing, he said "Designing the greatest bar in the world." Little did I know at the time he meant the one at Windows on the World at the World Trade Center.
Words About Bill
Nick Valenti, President and CEO, Patina Restaurant Group
I have worked closely with Bill on a number of high-profile projects, including Rockefeller Center and Lincoln Center in New York, several restaurants at Disney, the Kennedy Center in Washington, D.C., and even the U.S. Open back in the '80s when it was held in New York. Bill was quite instrumental in these types of projects and always a go-to guy for particularly difficult ones. He excelled at large, complex cases that required considerable coordination between back-of-the-house planning and execution. I enjoy working with Bill because he's creative, but at the same time, he has a practical side and understands these restaurants need to function and work, even after all the consultants and architects and planners are gone.
Steven Follett, CEO, President and Owner, Follett Corporation
Bill is a true gentleman, professional and leader in our industry. I've interacted with Bill in a number of different ways. In all of these relationships, Bill was the ultimate professional, gentleman and source of wisdom. I always know when talking with Bill that he is caring and honest, and his smile and sense of humor add warmth and sincerity to the substance of his words. I greatly value our long-term relationship and truly know that Bill has made our industry that much more professional and fun with his leadership and passion.
Don Follett, Former Chairman Emeritus, Follett Corporation
I have known Bill for close to 50 years as a customer, personal friend, an industry colleague and fellow Cornell alum. Even though we were 10 years apart in school, we have both remained active in Cornell affairs and both received the Frank H.T. Rhodes award for outstanding alumni. I also worked closely with Bill on joint programs for NAFEM, FCSI and SFM. Bill epitomizes the phrase "a class act." He has always put 150 percent into whatever he got involved in and always did an A+ job. His praises are well deserved.
Chuck Sperry, Senior Vice President, Baring Industries, Inc.
I have had the pleasure of working on many foodservice projects with Bill for over 30 years. During that time, I have witnessed his dedication, patience and persistence in solving the clients' problems and offering them the most professional services possible. He has been a mentor to many, and he has made my many years of experience in the foodservice equipment industry truly enjoyable and memorable.
Ken Gill, CEO, The Gill Company, and 2015 FE&S Hall of Fame Award Winner
Bill is an outstanding consultant. He understands how restaurants work and the flow and mechanics of a kitchen beautifully. As a result, he's had a huge number of prestigious jobs. We always find when we work with Bill and Cini-Little that their attention to detail is outstanding; you can understand what they want and expect. Personally, Bill is a wonderful family man — he's a great husband, father and grandfather, forever dedicated to his family — and his personality and ethics not only reflect his success in life but in his profession.
Mike Fitzgibbon, President, Baring Industries, Inc.
In our experiences, we find that an organization is a reflection of its leadership. Cini was not the exception. Bill invited our company to their headquarters so we could share our process. He did this so the Cini folks would have a better understanding of the challenges we faced executing as a contractor. That's strong leadership, in my opinion. Bill listens to what people say, and he is not above someone else having a better idea. He is talented and humble at the same time. With Bill, what you see is what you get. He is in his personal life as in his professional life. Anyone that Bill touched was most likely better for it. We can only wish him and his wonderful wife glorious years ahead.