Page 1 of 3
Meet Ken Gill, FE&S' 2015 Hall of Fame Award Winner. During the course of Gill's illustrious career he sold grocery store equipment; opened and ran a successful, multi-location restaurant and started one of the foodservice industry's most successful and respected equipment dealerships, among many other business ventures. Along the way Gill earned the respect of his colleagues, competitors and even suppliers. Even today, he shows no signs of slowing down. What makes FE&S' 2015 Hall of Famer tick? Read on to find out.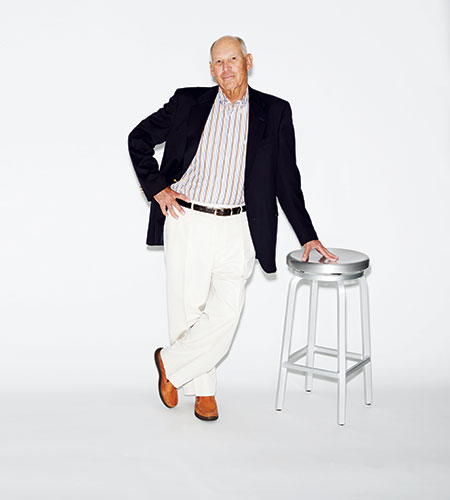 Ken Gill. Photo by Aaron FallonJump out of an airplane. Check. Zip line through the jungle in Costa Rica. Check. Learn how to scuba dive. Check. Start your own business. Double, triple, quadruple check. Make $1 million before 40. Check.
"That last one I just made by six months — Sara Lee helped." (More on that later).
This was just part of the bucket list Ken Gill, founder of The Gill Group, drew up while a student in college. By age 40, he had accomplished every single item on that yellow-lined paper, at which point he says he entered a "deep depression." (He's exaggerating a little, of course.) But little did Gill realize his life was far, far from over.
"I tried retirement — it was the only thing I failed at twice," he says. "Someday I'll hit a wall."
The "start your own business" item is an ironic one, but only because by age 40, Gill had not only started his wildly successful equipment dealership and fabrication company, he had also previously opened his own restaurant company, two more restaurant locations, and a financial planning house — and this was all ahead of more businesses to come.
Along the way, Gill found time to serve the foodservice equipment and supplies industry as a president of the Foodservice Equipment Distributors Association (FEDA), as a mentor to many accomplished professionals and as a friend to countless others. He did all of this with a sense of style and grace that was second to none. So for these reasons and many more that will become evident as you read on, FE&S has chosen Ken Gill for the 2015 Hall of Fame Award.
A Serial Entrepreneur
Given his business track record, it's no surprise that Gill has earned the nickname, "serial entrepreneur." I asked him if he likes that title.
"I love it," says Gill, his signature wide smile flashing the pearly whites that match the sheen in his now silver hair. Gill admits he's financially conservative, but more the dreamer than the execution type, which is precisely why he's partnered with many master taskmasters over the years, including his own daughters. He jokes that when they were young, they had to beg him not to buy or start another business. "Dad, no more businesses!" they would say.
Becoming a successful "serial entrepreneur" requires a few key attributes, Gill notes. "I think an entrepreneur is a person who takes an investment and can grow it and grow personnel, and end up with an acceptable ROI based on the money and time you put in," he says. "You also can't fall in love with your inventory, and you should have a solid exit plan." Makes sense, then that he's seen the massive, multimillion dollar sale of Gill Company not once, but twice, during his career.
The "personnel" Gill talks of includes two of the most important people in his life — daughters Kimberly Gill Rimsza and Laura Gill Pastrana
— now running the dual companies Gill Group and Gill Marketing, respectfully, under the TriMark brand. Getting back to that bucket list, it's no wonder he says "family" when I ask him what has been his greatest experience so far.
Add to that, getting married. Oh, and maybe seeing his college's new football stadium bear his name three years ago. So much to cover (deep breath). Let's begin.
The Early Years
Kenneth R. Gill was born in 1938 in West Virginia where he lived with his family for a short period prior to his father's transfer to Pittsburgh as an engineer during the Great Depression. After serving in War World II, his father became vice president of government sales for a commercial laundry equipment manufacturer. Only years later would Ken realize commercial equipment sales must have been in his blood.
A natural athlete and an all-state player in Maryland as a high school senior, Gill went to Western Maryland College on a football scholarship, playing tight end and starting for three years. A number of years later Gill was inducted into Western Maryland's football Hall of Fame. During college, Gill was also a member of the ROTC and graduated as a commissioned second lieutenant.
After graduating with honors in 1961, Gill briefly enrolled in an MBA program at NYU only to see his paratrooper dream (Bucket List Item #2) become a reality during the Cuban Missile Crisis, when he was called into service. "I did that for two years," he says humbly almost with a shrug. No, the story is, he let go of his fear, held his breath and leapt from an airplane at nearly 2,500 feet to train in service of his country. Gill talks about how at Fort Campbell the Airborne Division would conduct heavy training sessions in the afternoon when they were already exhausted from their morning five-mile run and "light" PT workout. The idea is that in war, you learn to react to emergencies by instinct, regardless of how tired you are. Sounds like good preparation for life too.
"Where you really learn discipline is going through Airborne training," says Gill, even more so than in football. "It was harsh training, but I loved every minute of it — because I worked hard and could do it. It was a real honor to wear the badge in the 101st." Though he never saw combat, the experience was challenging enough to earn a checkmark on that bucket list.
"Ken Gill has a laugh that makes you smile and a smile that draws you to him. I have had the privilege of working closely with him over the years, and although he taught me so much, I learned even more by watching his deeds and actions. He has a deep sense of fairness, which is seen in all his business and personal dealings. He has a leadership quality that you can't help but recognize; always making others feel important and part of the team. Dad is always ready to lend a hand and help friends, business associates and family whenever they need assistance or someone to talk to as a sounding board. My father, Ken, has been my mentor in business and influential in so many aspects of my life. He has taught me humility, leadership and, mostly, the importance of family." — Kimberly Gill Rimsza, TriMark Gill Marketing.Photo by Aaron Fallon"I will never accept defeat." "I will place the mission first." These are the words of the U.S. Army and things Gill subscribes to — regardless of whether he even realizes it. Disciplined. Fearless. Adventuresome. Hardworking. It makes perfect sense that all of these traits Gill honed on the field and in the sky would form the foundation for a successful work and family life. In fact, it was at Fort Campbell that Gill, then married to wife Joanne, saw the birth of his first child, Kim.
"I'm not afraid to work 7 days a week," says Gill. Maybe that's because it's not work to him. It's just living a full life.
Into the Restaurant World
When discharged from the Army in 1964, Gill landed a job at a California-based supermarket equipment manufacturer as the East Coast sales manager in the Washington, D.C., market for a couple of years. Three years later he accepted a position as a commissioned dealer sales rep for a local restaurant equipment company, a position he held for nearly a decade.
Somewhere in the back of Gill's head, though, was another bucket list item — open a restaurant. "In 1968 my former college roommate and I had a little too much to drink one night and decided to open a restaurant — it was a 300-seat steak and lobster restaurant," Gill says.
Magically, the plan worked. "I was president of the corporation because I had $250 and my friend had $200. We borrowed the rest and poured a quarter of a million dollars into this thing," says Gill. "We started off with a negative cash flow. But we ended up doing extremely well and eventually opened two more restaurants because that's the only thing entrepreneurs can do. So we borrowed more money, and signed a third or fourth mortgage on the house." He chuckles.
In the meantime, Gill had his second child, son Kenneth Jr., aka "Rick," now a schoolteacher and father of two in Colorado. That said, restaurant work was becoming too much for the elder Gill. "My wife told me, 'You're son's now in third grade, and you haven't seen him yet,'" Gill jokes. But he knew the seriousness of taking time away from family, so instead he worked days as a commissioned sales rep, only working the night shift every other day. Eventually, they sold all three restaurants.
Then, because, as he says, "This is what serial entrepreneurs do," Gill opened another business with two college friends and teammates, who also had a background in finance and economics. The successful financial planning house is still in existence today — in fact, Gill serves on its board.
By the late '60s Gill became father to his third child, Laura. By 1975 Gill and Joanne moved the family to a horse ranch in Great Falls, Va., which goes hand in hand with his appreciation for country-western music and "I Love This Bar" by Toby Keith.