This new build is part of a mixed-use project with apartments, retail elements, a gym, private club, hotel and offices to create community, living and workspaces all in one area.
With this restaurant, Lettuce Entertain You Enterprises set out to become a neighborhood destination and meeting place. The design team made the inside space feel large and connected with the outdoors. The outdoor space allowed the restaurant to function well during the height of COVID-19, although it was not fully open. It now operates at full capacity.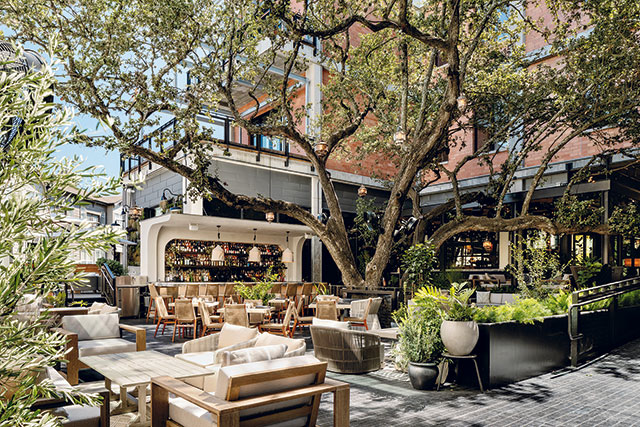 Photos courtesy of Aba, Lettuce Entertain You Enterprises
---
FE&S appreciates the following professionals for generously contributing their time to judge this year's competition:
Bill Davis, regional sales manager, Edward Don & Company, Woodridge, Ill.
Stuart Davis, principal, Stuart Davis Design, Park Ridge, Ill.
Kristin Sedej, owner, S2O Consultants Inc., Chicago
Editor's Note: Facility Design projects featured each month become eligible for the Facility Design Project of the Year competition. If you would like to submit a project for consideration, please contact Joseph M. Carbonara at This email address is being protected from spambots. You need JavaScript enabled to view it..
Why It Won: The Judges' Comments
You can try to find a hole in this design but there is not one.
The project team started with the front of the house and worked its way back, which was a very interesting approach.
Even though the kitchen is small there's not much crossing of paths.
The design nails efficiency.
There are two ways in and out of the dish room so clean and soiled wares don't cross.
The service bar in the kitchen contributes to speed of service and keeps staff away from the bar. This allows for more seating and better service at the bar.
A well-placed ice machine helps to enhance the flow throughout the restaurant.
The design is so lush that even when guests are inside they feel like they are outside.
An indoor and outdoor trellis brings greenery to the paseo, over the bar and inside the dining room. Photo by Chase Daniel
About the Project
Opened: Oct. 1, 2020
Scope of project: New build in Austin, Texas
Size: Kitchen, just under 1,500 sq. ft.; dining room, 2,000 sq. ft.; outdoor patio/paseo, 3,000 sq. ft.
Seats: Approx. 226
Hours: 11 a.m. until 10 p.m., Monday through Thursday; 11 a.m. until 11 p.m., Friday; 10 a.m. until 11 p.m., Saturday; 10 a.m. until 9 p.m., Sunday
Average check: Dinner, $46; brunch, $28; lunch, $28
Daily transactions/covers: Approximately 200 to 250 for lunch; 250 to 300 for lunch/brunch; 300 to 350 for dinner; additional for carryout/delivery
Menu concept: Mediterranean restaurant incorporating chef CJ Jacobson's lighter style of cooking with influences from the Mediterranean, including Israel, Lebanon, Turkey and Greece.
Menu specialties: Crispy short rib hummus, Muhammara, Jerusalem bagel with smoked salmon spread, slow-braised leg of lamb wrapped in eggplant and black garlic shrimp scampi. The menu also supports a gluten-free
lifestyle and includes many vegan and vegetarian options.
Staff: 90
Equipment Investment: $700,000
Website: abarestaurants.com/austin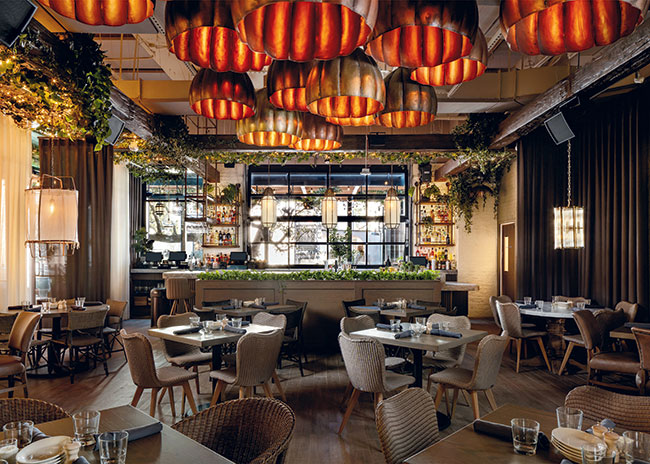 Dining room lighting is varied and includes copper, bronze and gold dome pendants and fixtures. Photo by Chase Daniel
Aba-Austin Team
Owner: Lettuce Entertain You Enterprises (LEYE) Inc.
President, LEYE, Chicago: RJ Melman
Executive partner and divisional president, LEYE, Chicago: Marc Jacobs
Senior chef partner, LEYE, Chicago: John Chiakulas (deceased)
Chef/partner, LEYE, of Aba and Ema, Chicago: CJ Jacobson
Architect of record: Sixthriver Architects, Austin, Texas: Stephanie Guariglia, senior associate (The firm worked in conjunction with John Cinelli, LEYE's director of architecture, to stamp/prepare drawings for approval by the city.)
Interior design: LEYE: Marc Jacobs, executive partner and divisional president; Avril Zayas, director of interior design; Variant Collaborative, Chicago
Foodservice consultants: Equipment Dynamics Inc., Chicago: Beth Kuczera, president
Equipment dealer: ADE Foodservice, Addison, Ill.; Steve Schoop, president, and Phil Rivera, project manager
Construction: Rand Construction, Austin, Texas
Project Objectives
First created in the emerging Fulton Market District of Chicago in 2018, Aba was met with positive reviews. LEYE felt the concept was strong enough to work in other markets, particularly Austin with its growing dining scene and a community of people with an appetite for new, creative food and drink. Lettuce Entertain You Enterprises (LEYE) accepted an offer to be part of Music Lane, a mixed-use project.
Aba's menu incorporates chef/partner CJ Jacobson's lighter style of cooking with influences from the Mediterranean, including Israel, Lebanon, Turkey and Greece. The Aba team prepares a full menu made in-house using fresh ingredients prepared daily. The bar focuses on cocktails with ingredients that harmonize with kitchen menu items as well as rare finds and selections of Mediterranean-inspired wine and spirits.
Best of the Best in Foodservice Facility Design
"Many little things, not one big thing, contribute to Aba-Austin's design," says Marc Jacobs, executive partner and divisional president, LEYE, Chicago.
The design team reviewed inches to secure all required prep stations for a made-from-scratch menu. "We planned for traffic patterns from dual-point kitchen service entries, and made sure there were no dead ends," says Beth Kuczera, president, Equipment Dynamics Inc., Chicago. Every station, including the line, dish area and prep area contributes to a continuous flow so the culinary team can move around easily, which makes a tight kitchen more efficient and manageable.
No space was wasted. The very tight footprint allows menu diversity and consistent quality. "We are efficient and compact, and all walls are utilized to their fullest extent," Jacobs says.
The warm space transports guests to summer in the Mediterranean and creates an oasis and escape-like atmosphere for guests and employees. "The guest experience is where the ultimate measurement of success resides," Jacobs says. "We are humbled by the favorable feedback, and we are now booking out two months in advance for reservations. We are grateful for the support of the Austin community to help us navigate today's new normal."
Equipment placement supports staff efficiencies.
Financial Aspects
The design team rigorously studied all kitchen and front-of-the-house design decisions before contract sign off. "We were poised for a tight project with great team members," Jacobs says. "The early COVID construction offered challenges we never had a previous glimpse of. The commitment to the landlord and the resources already put into the project were leveraged against other challenges historically weathered, but this time it was a different future uncertainty."
"Austin COVID metrics have been better than many areas of the country, and so the restaurant design with heavy outdoor seating allowed us opportunities for continued volume, while required social distances for both indoor and outdoor dining have impacted the bottom line," Jacobs says. "However, with many outdoor patio reservation requests due to COVID concerns, unpredictable Texas weather forced outdoor reservations to be cancelled."
Aba could not house everyone in its smaller indoor dining room, though. This experience led to another update to the design slated to debut this month. "We are excited to share the addition of a covered bar and dining area," Jacobs says. "This will bring 40 additional dining and bar seats and allow us to better service our guests with Texas weather conditions."
"It has been issue by issue, challenge by challenge, as we have navigated today's hospitality experience," Jacobs says. "While at times grueling, as a team we have stayed focused on delivering a unique hospitality experience. Today, we are generating twice the lowest level of our revenue pro forma and are confident to beat our initial projected payback."
Preparation/Cooking/Holding Area Design
The loading dock and receiving area sit on the third level below ground in a parking structure. "To support the square footage and food handling, we secured a remote area for walk-in coolers and dry storage, but with no direct connection possible to the restaurant space," Kuczera says. Staff bring deliveries to two walk-in coolers and dry storage on this level.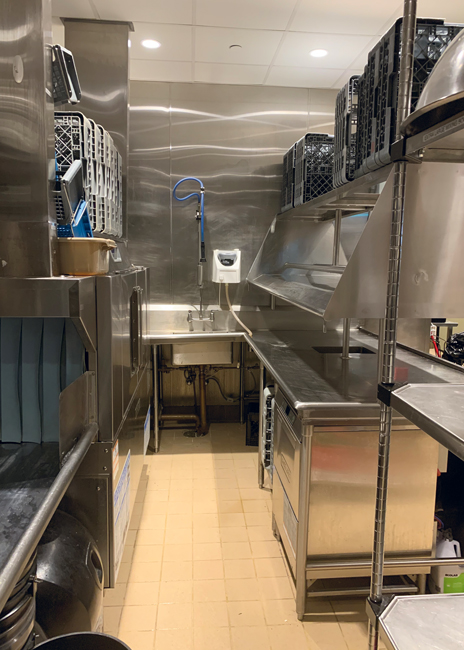 The dishwashing area contains a dishwashing machine and pot-washing space, which allows for wet areas to be contained and provides space for staff to share job tasks and for two people to work in a shared space.Before service begins at 11 a.m., staff use an elevator to bring most deliveries up to the main floor where the restaurant resides. Refrigerated space here includes a walk-in cooler, an upright reach-in refrigerator, upright freezer and chef line refrigeration, all of which sit adjacent to the prep and cooking areas giving staff easy access to prepped ingredients and proteins.
Guest entry and seating were the initial priority for plan development, and with the emphasis on outdoor seating, the kitchen areas were defined along the rear wall.
Designers reviewed every inch of the relatively small prep space to incorporate all stations, including bread production, pastry, butchery, braising, hummus and spreads, and kebabs/vegetable prep, for the made-from-scratch menu. The prep stations sit adjacent to the line to allow both the line cook and prep cook to service and share the same equipment.
The hot and cold cooking lines allow for fast kitchen entry and food exit. The made-to-order bread station sits perpendicular to the cook line and allows team members to add the signature warm bread to orders of hummus and spreads. The development of the station for throughput utilizes undercounter tray storage, a conveyor oven and basket storage above. On busy days, the restaurant is producing more than 1,000 pieces of house-made bread. A small hot holding and staging area was designed to support peak
periods while upholding quality.
The staff produces a diverse menu with consistent quality in this tight footprint. They prepare only the food necessary for a particular shift. "The large amount of menu items that are served cold allow us to control food cost and waste," says Jacobson.
The dishwasher is strategically placed so that the dishroom is accessible for line, prep and service staff. The dishwashing area combines with pot washing to allow for wet areas to be contained, and for shared labor for business peaks.
In addition, tight trash storage within the space required the team to create an attractive garbage cart to allow transport through the dining areas to the remote garbage space during service.
In support of the cocktail program and business volume, and to ensure drink order delivery quality and efficiencies, an indoor bar, an outdoor bar and a tight service bar in the kitchen were programmed, supported by cocktail runners.
While carryout and delivery expectations were programmed to come off the hot and cold line, the COVID curveball required the development and implementation of a stand-alone carryout/delivery program. Working within the tight space, the design team created systems that allowed the team to efficiently prepare, cook and deliver food and drink to guests. They took over a piece of the kitchen and added a carryout/delivery printer, POS, sticker machine and phone. They re-zoned carryout containers and lids into hot and cold cooklines, and supported storage on the expo side. They developed a carryout and delivery runner to label and put the order together, with a triple-check system to make sure the right items are going in the right package and are secured to avoid tampering. They secured spaces in the building's parking garage to be able to provide the guests quick and contactless pickup. They also designated a bar counter area inside the restaurant for carryout and delivery pickup.
This back-of-the-house setup accommodates the restaurant's signature hot bread program.
Cooking Equipment Highlights
Before prep begins, staff clean ingredients and place them in clear containers. In doing so, they note on the side of the containers the quantity of the items inside each storage vessel. Staff take what they need for preparing mise en place to the cold prep area and use a 40-quart mixer, two food processors and immersion blenders to prepare the ingredients for the main cookline and assembly of cold menu items.
The hot cookline contains a tilting braising pan that culinary staff use to make short ribs and garbanzo beans for hummus. Double-stacked combi ovens allow the staff to place proteins such as lamb in the oven overnight to cook. The ovens are also used for roasting proteins and vegetables and warming up hummus.
"We use the double-stacked combi oven and a blast chiller extensively," Jacobson says. "The capability for multiple preparations is contained in a small footprint, and the blast chiller ensures quality production standards."
Staff use a heavy-duty, high-Btu, 36-inch grill to cook kebabs served with basmati rice; cauliflower with medjool dates, red onion, turmeric and tzatziki; and chicken with a yogurt marinade, sweet pepper and zhoug. The culinary team also prepare fish on the grill and use a six-burner range to heat sauces. Convection ovens beneath the range and griddle support production. A salamander heats slow-braised leg of lamb wrapped in eggplant, as well as shrimp for escargot dishes and cheese covering short ribs. Staff use a fryer battery with a right splash and pan holder — which also supports fast hot line execution — to cook falafel, Brussels sprouts and Halloumi cheese, a Greek cuisine staple.
A frozen yogurt machine dispenses the restaurant's house-made frozen Greek yogurt.
"We installed high-end, trusted and durable kitchen equipment to perform at high levels for our projected business for the next 20 to 30 years," Kuczera says. "Every piece was analyzed for today's menu and in support of tomorrow."
Design Challenges and Resolutions
Challenge: Bringing the culture of Chicago-based LEYE and Aba to Austin, Texas.
Resolution: LEYE moved an operating partner to Austin to establish roots in the community. To further support the opening, additional partners were on-site every week for the first year.
Challenge: The footprint for Aba Austin is smaller than Aba Chicago. Additionally, Aba Austin includes two points of entry for guests.
Resolution: Rely on an effective and efficient kitchen design and bar program to support both the indoor dining room as well as the larger outdoor dining and paseo areas.
Challenge: Make the smaller indoor dining room space feel bigger while maintaining a constant energy in the dining room through all volumes of service.
Resolution: An operable garage-door-style window wall sits behind the bar and tucks into the ceiling with the push of a button, thereby connecting the outdoors with the interior. Designers created a warm, inviting glow by sourcing many unique fixtures as key design elements in the dining room. A mirror also helps make the space feel larger. Designers also brought natural greenery to the inside dining room with a trellis, hanging plants and lots of ivy.
Challenge: In the outdoor dining space, the design team had to build around a native 100-year-old heritage oak tree situated in the center of the patio.
Resolution: The tree is incorporated into the dining space. Also, an arborist safely added lighting in the tree and worked with Aba's design aesthetic.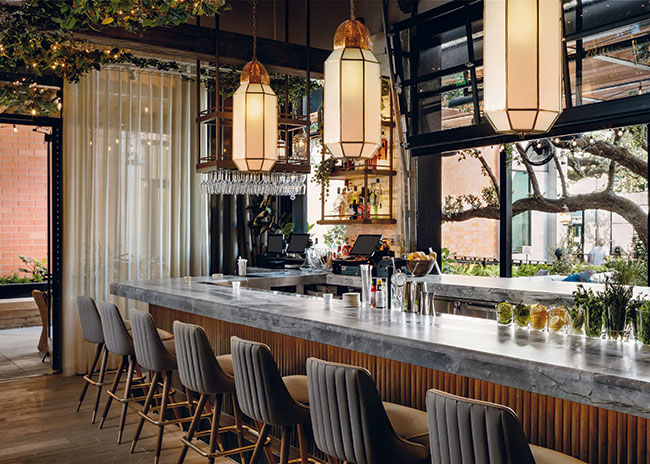 Challenge: COVID-19.
The Aba design team began working on drawings for this location in June 2019. Plans moved quickly and were submitted for permitting in October. Construction began in December with a projected June 2020 opening date. Then COVID-19 prompted a total shutdown in March 2020. Securing materials, furniture and fixtures became immediately challenging.
"The restaurant world as we knew it changed during our construction," Jacobs says. "We were committed to the project, the community and the landlord. We studied, debated and strategized for the best way to move forward, but it was not business as usual."
Oversight of a construction project of the magnitude of Aba Austin, and doing it in a new city for LEYE (not part of a chain restaurant rollout) with a new general contractor and architect of record brought many challenges, including finalizing millwork, tile selections and detailing. "We also had to be strategic in our site visits as the project and relationship was new to both parties," Jacobs says. In addition, travel restrictions and evolving work conditions and guidelines added to the degree of difficulty.
Resolution: All options were reviewed and studied. Construction didn't resume until April 2020, with restrictions. A limited number of workers were allowed to be on-site at the same time and all were required to wear face masks and social distance. The foodservice equipment provider had to coordinate all details and required field measurements and verification through the general contractor.
"With careful thought and oversight of the design process and detailed selections, we entered the construction poised for success," Jacobs says. "Through successful management of operations, employee training and guest services we have surpassed our initial projection and our ROI is anticipated quicker than initially targeted."