Montana State University takes another leap into foodservice excellence with Rendezvous Dining Pavilion.
Facts of Note
Opened: August 13, 2018
Scope of project: The new residential dining venue replaces the existing Hannon and Harrison dining halls. The space features eight serveries, indoor and outdoor seating and a full-service kitchen
Size: 50,000 sq. ft., including a mezzanine and basement with offices and support spaces
Seats: Approximately 830, including 100 outdoor seats
Average check: $10
Daily transactions/covers: 6,000
Hours: 7 a.m. to 7 p.m.
Themed concepts: One Eleven (bakery, espresso, crepes); The Nook (breakfast bar and beverages); Razz (smoothies); Forge 406 (smoker and rotisserie); 89'er Diner (burgers and milkshakes); Etcetera (soups, salads, sandwiches); XO (regional cuisine, wok, pho); De La Mesa (Mexican, burrito bar, build-your-own burrito); Soups; Crossroads (vegan, vegetarian, gluten-free, dairy-free); Rosso (pizza and pasta)
Staff: 281 employees
Total project cost: $19.5 million
Equipment investment: Approximately $1.8 million
Website: montana.edu/culinaryservices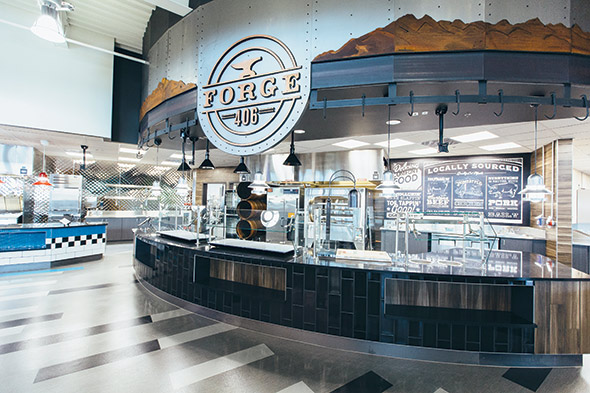 Forge 406 features barbecue and smoked foods that staff prepare in a large-capacity smoker and double-stacked, open-front rotisserie.
Rendezvous Dining Pavilion Team
Owner: Montana State University, Bozeman, Mont.
Director, MSU Culinary Services: Richard Huffman, MBA; Todd Jutila (now retired)
Associate director, MSU Culinary Services Dining Halls: Michael Kosevich
Operations Manager: Paul Mineau
Executive chef: Jill Eva Flores
Architect: Mosaic Architecture, Helena, Mont.: Jeff Downhour, AIA, NCARB, principal; Matt Aune, ALA, NCARB, project architect
Interior design: Mosaic Architecture: Matt Aune, ALA; Eleven Eleven Design Studio LLC: Kelly Livingston, partner and principal; and Prime Incorporated, Bozeman, Mont.: Jason Johnson, creative director for signage and branding design
Foodservice consultants: Porter Khouw Consulting Inc., Crofton, Md.: David Porter, FCSI, president and CEO; Albin Khouw, senior vice president of design and operations; Cezanne Grawehr, executive vice president; Carolyn Watkins, business development; Russell Vaughan, senior design project manager
Equipment dealer: TriMark Gill Group, Hamilton, Mont.: Mike Giuliani
Construction: Langlas & Associates, Billings, Mont.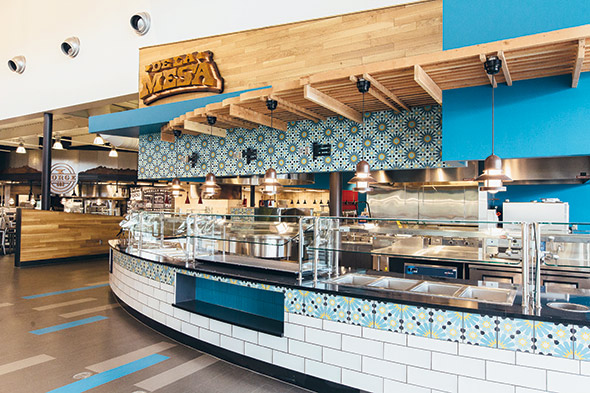 De La Mesa staff cook on a rotating tortilla grill.
Worth Mentioning The Judges' Comments
Great flow of food from dock to dining
Innovative placement and use of various food stations
Stations are unique and look great
Strong sustainability attributes, including the elimination of single-use plastics
De La Mesa staff cook on a rotating tortilla grill.
Objectives
Address growing enrollment numbers at MSU
Establish a flagship building on the north side of campus
The original plan called for remodeling three campus dining halls. After the first renovation in 2015, due to budget concerns, learnings after the first remodel regarding renovating a 50-year-old buding, and the university's goal of establishing a culinary arts program, the plan changed. One former dining hall became part of the culinary arts school and the brand-new Rendezvous Dining Pavilion replaced the other building originally planned as a remodel.
Various table sizes and styles of seating offer customers choices to dine alone or with friends.
Goals Set and Met
Increase seating capacity: The new facility expanded seating beyond the prior building with a mezzanine, outdoor terrace and sitting walls on the east end.
Encourage more faculty/staff/student meal plan participation: The number of off-campus meal plans purchased jumped from 450 a year to 2,100 a year.
Complement the new 530-bed residence hall nearby: The campus masterplan placed the walkway directly in front of Rendezvous Dining Pavilion as people enter the center of campus.
Address the lack of dining options on the northeast side of campus: The five residence halls on the east side of campus now have dining within one to two blocks. Rendezvous is located near four of the major academic departments on campus, which helps increase off-campus meal plans and cash sales tremendously.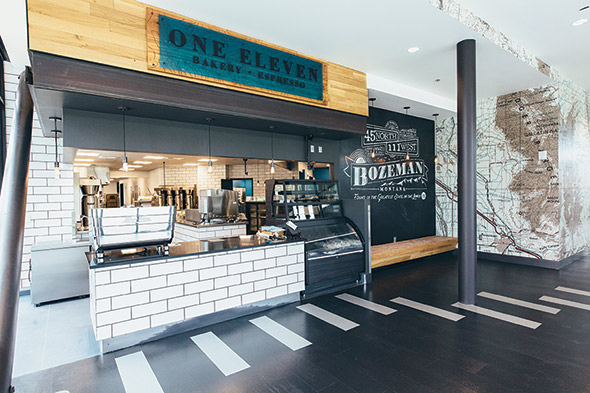 Customers can access One Eleven for baked goods and beverages from within and outside the main dining hall.
Design Challenges and Features
The original footprint of the building was reduced due to budget constraints, which forced the design team to reexamine the building's concept designs. The number of stand-alone concepts were reduced; most now connect to the kitchen.
The loading dock, trash and compost areas sit in the back of the building but within proximity to the kitchen for efficient flow both in and out of the building.
Staff easily unload products into either the upstairs coolers/freezers/pantry or use the elevator inside the dock to bring them down to the coolers/freezers/pantry in the basement. Chefs or the warehouse manager access products here and bring them to the kitchen for production. Staff in the kitchen either prep food for kitchen stations or to support cook-for-service concepts attached to the kitchen.
Main aisleways throughout the kitchen provide general circulation. Major preparation and production centers sit perpendicular to the main travel path. The various preparation and production centers sit in conjunction with washing and sanitizing elements such as the scullery and dish room. The clockwise flow from the point of receiving to hot production is further enhanced so staff have direct access to the servery where finished goods are served.
The central cooler's placement makes it accessible to the salad bar, De La Mesa and Crossroads areas, which supports restocking and cooking efficiencies.
The dish drop window sits close to the path of egress so customers can deposit dirty dishes on the way out. The elevator going to the mezzanine deck sits in front of the dish-drop area, which provides just enough of a barrier to screen off the dish-drop area.
Customers see a large portion of the bakery.
Kettles allow the staff to produce large quantities of food that support menus at several stations.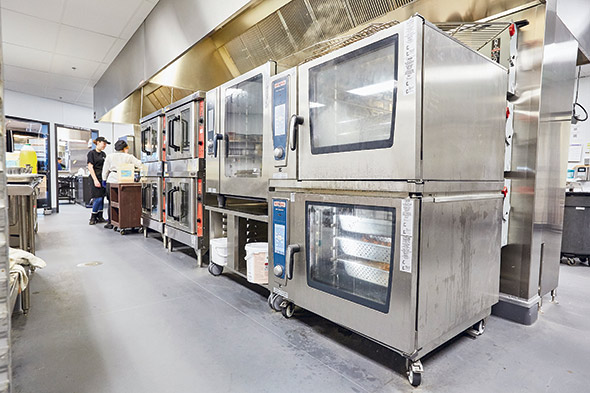 Combi and convection ovens cook menu items such as lasagna, ravioli, vegetables and steamship roasts.
Green Initiatives
Rendezvous eliminated all single-use disposable serviceware from its operation. This effort was extended into the ONE ELEVEN coffee shop, which is the first and only coffee shop on campus, and within Montana, to only serve beverages in reusable mugs. "BYOM" (Bring Your Own Mug) is displayed prominently on the outside of the coffee shop.
Customers are served with reusable mugs only; they can bring their own mugs or take mugs that have been donated from the campus community.
The dish drop area contains squared funnels and a liquid grate for easy composting.
The restructured lawn area allows for gardening herbs and indigenous plants, as well as keeping beehives.
The building achieved LEED Silver certification.
Since the Renovation
Rendezvous has become an integral part of campus life and the overall college experience at MSU, according to Mike Kosevich, associate director at MSU. He notes the facility offers not only a repertoire of various cuisines, cooking styles and flavors, but a comfortable atmosphere where students can meet friends, study and simply relax.
Due to the central location that feeds into the main campus, the facility has become a hotspot in the MSU community. The university's president uses the conference room regularly for leadership team meetings and brings visiting guests to Rendezvous for lunch.
Rendezvous has even become a recruiting tool as high schools around the state bring students in for a meal and student athletes visiting from out-of-state schools also stop in for a meal.
While much is going well, Kosevich notes the facility could benefit from more room for storage and prep. Also, seating capacity will max out in the fall when a new residence hall comes on line.
The facility earned the Loyal E. Horton Dining Award for Residential Dining Facility from the National Association of College & University Food Services in 2019.
As of March, due to COVID-19, Rendezvous offers only grab-and-go menu items until on-site classes resume.