Scott Taylor's knowledge of and passion for the foodservice industry has kept him on the road to success. And now, that drive and determination to serve foodservice operators of all shapes and sizes has taken TriMark's Taylor to yet another destination: FE&S' 2011 DSR of the Year.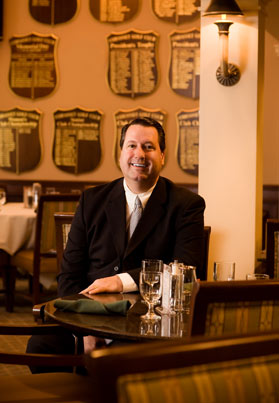 Much like the roads in many of the sleepy New England towns that comprise his current sales territory, Scott Taylor's rise to become one of the foodservice equipment and supplies industry's elite salespeople was full of twists and turns. "All the moves got me to another level faster than if I had stayed in one place," says Taylor, who works for TriMark United East in South Attleboro, Mass. "I always knew what I wanted to do and if the right opportunity presented itself, I grabbed it."
Taylor's diverse background, tireless work ethic and his ability to keep his eye on the prize has earned him recognition as FE&S's 2011 DSR of the Year.
Like many people, Taylor's introduction to the foodservice industry came in the form of the various entry-level jobs that adolescents typically secure to generate pocket money or save for college. Upon graduating from high school, Taylor enrolled in the University of Connecticut, where he earned a degree in economics. "That's a pretty clear career path. Everyone needs a degree in economics to be successful in foodservice," Taylor says with a laugh.
After graduating from college, Taylor was recruited to work at Lincoln Financial Service Corp., then a little-known company in the finance field. After four days on the job, Taylor realized that a career in finance was not for him. "My jobs had always been in restaurants, and there was always a certain excitement in that market," Taylor says.
So Taylor left the finance field to take a position as a host in a hotel restaurant. After one month on the job, the restaurant manager was fired, and Taylor was bumped up to that position. From there, he was lured away to work at the Cherry Hill Inn located in, you guessed it, Cherry Hill, N.J. Taylor spent the next six years of his career at the Cherry Hill Inn.
Being from Connecticut, Taylor wanted to get closer to home. So he took a job with a Marriott in Farmington, Conn., where he would spend the next 10 years. Taylor started at the Marriott as an assistant restaurant manager before eventually moving up to the positions of restaurant manager and director of restaurants.
From there, Taylor made the jump to work for a T.G.I. Friday's franchisee, where he spent the next four-plus years. "I was not there a real long time but long enough to realize that I wanted to make a change," he says.
This was 13 years ago; and, at the time, Taylor and his wife Claudette had a young family. Like many before him, Taylor realized that his career as a restaurant professional was in direct conflict with his emerging role as a father. Simply put, for Taylor, spending time with his growing children — Mckenzie and Zak — was a lot of fun. "I realized that I did not want to spend every holiday, weekend and night at work," he recalls. "But that's the restaurant industry and to be successful you have to be there. So I started looking for another opportunity that would give me the best of both worlds. The biggest thing for me was to get out of the day-to-day running of restaurants while getting to stay in this business."
As part of his role in working for the Friday's franchisee, Taylor bought smallwares from TriMark United East. So he asked his rep, Corrine Gotta Tawa, if there were any sales positions open at the South Attleboro, Mass.-based dealership.
Taylor was hired on as an inside sales rep in TriMark's Connecticut showroom, which also served as a facility where the dealership would stage equipment for jobs. While anxious to prove himself, Taylor's role as an inside salesperson meant spending a lot of time in the branch office, learning the ropes, helping other reps in the area and any customers that came through the door.
Prior to Taylor's joining the dealership, TriMark had hired Scott Johnson as an inside salesperson. Working in the proverbial sales bullpen, the two Scotts, sharing similar backgrounds, developed a bond that remains strong to this day. Also during that time, Taylor became friends with then TriMark DSR Brian Morehead, who would eventually leave the company to take a similar position with Singer Equipment Co., a Pennsylvania-based dealership.
First, Johnson would leave the bullpen to assume responsibility for his own territory. And then, roughly nine months after joining TriMark, a small territory opened up, and Taylor assumed responsibility for it.
Previously, the sales rep had spent about two days a week working the territory, but TriMark decided to have Taylor work it full time. Once running his own sales territory, Taylor's diverse operations background began to pay dividends. "I knew a little bit about everything because I had to do most of it, so my previous experience helped me become acclimated to being a salesperson," he says.
Still, despite a solid background in restaurant operations, Taylor had his share of learning experiences in the early going. "In this business, quite often you learn by trial and error," Taylor says. "Back then we did not have regional managers to ride along with you for weeks at a time. So back then when you ran into something unknown, you found out what you were really made of."
And one of those telltale moments came relatively early on for Taylor during a cold call at a place known as the Guilford Tavern. Taylor walked into the tavern, introduced himself to the owner and asked if there was anything the restaurant needed. The owner told Taylor he was in need of an upright broiler. As luck would have it, Taylor had seen a product demonstration about an upright broiler at a recent TriMark sales meeting and knew he could get it for the operator right away. Taylor was able to close the sale, and the operator got what they needed.
"That told me I could explain myself well enough to get a sale and that my pricing was good enough," Taylor says. "It really pumped me up for quite some time. It was a good feeling to go out there to sell something and come back with the order."
Before long Taylor found his groove and grew the territory to $2 million in annual sales from $500,000. And after five-plus years in the territory, TriMark made Taylor a regional manager, responsible for sales territories in Connecticut, western Massachusetts and Rhode Island. As a regional manager Taylor would now train new sales associates, look for new sales opportunities for the company and get involved with customer complaints.
So how did such a high-energy salesperson used to running his own territory take to having to manage 15 salespeople? "It was actually better than I thought it would be," Taylor says. "Prior to taking this role, I did not know anything about this business. So being a regional manager helped me better understand what it takes to make money in this business."
While Taylor learned a lot working as a regional manager, being a salesman for TriMark was his truer calling. "I missed sales. I felt I had learned what I needed to learn," he says. "I needed to get back into sales."
So when his current territory opened up, Taylor jumped at the opportunity to get back into sales despite the fact that he lives some two and a half hours away from the territory. "I was very excited about getting back into sales but a little nervous about the ride," he admits.
But Taylor knew the territory was a good one, featuring a very diverse client mix that includes contract feeders, high schools, country clubs, single-unit restaurants, banquet halls and even Gillette Stadium, home to the National Football League's New England Patriots. "The mix is good because when one client slows down another one always seems to pick up," he adds.
New to the mix is a New England car dealer that put in a '50s-style diner to feed customers while their vehicles get serviced. The car dealer's employees eat there, too. By keeping employees on-site the car dealer has been able to increase productivity, according to Taylor, who has thus far sold some new plates and a fryer into the fledgling account. "You should never underestimate an account because you never know where it can lead," he says.
Taylor offers this cautionary tale based on experience. Early on in his career, he recalls walking into one customer's location and having relatively low expectations. "I remember thinking I did not want to be there because it was so small," he says. Taylor was surprised to learn this so-called small operator generated $3 million annually in off-site catering revenues.
When Taylor re-entered the field as a salesperson, his experience as a regional manager served him well. "What keeps Scott ahead of the game is that he's seen the game from both sides of the fence, as a salesperson and as a manager," says Joe Christie, TriMark's senior vice president of sales and marketing. "This has made him a spectacular salesperson because Scott knows what to do in any situation based on the experience he picked up working in management and in the territory."
The depth and breadth of Taylor's contacts, among customers and factories, had grown significantly during his tenure as a regional manager. "I went from being the new guy who was trying to figure things out to being the new guy with some weapons," he says. "I had become more self-sufficient and had an even better idea of how to find answers for customers."
In addition to having to get up to speed on a new and diverse client roster, Taylor also needed to brush up on his product knowledge upon entering his territory. "There just seemed to be a lot more new products on the market, but I was able to pick it up pretty quickly," he recalls. "Maybe these products were only new to me, but I felt like I was learning a lot more."
As a result of these efforts, Taylor was able to take the territory to approximately $4 million annually from $3.5 million and has it holding steady despite the challenging economic environment. "The customers benefit because they get my knowledge and the best price out there at the time. It may not always be the lowest price, but it will be the best price," Taylor says. "I can come in with the lowest price all the time and get all the sales, but the company won't make any money and neither will I. There has to be a balance."
Customer Focused
The fact that Taylor's focus on his customers never wavers and the fact that he knows his role are two of the defining traits of his success. "I can provide knowledge, guidance and price, but I don't make anything," he says. "There are a lot of people out there selling the same thing."
Taylor's detailed knowledge of TriMark's product catalog and his customers' inventory of foodservice equipment and supplies is on display during most every sales call. For example, upon entering one customer's location in Foxborough, Mass., Taylor heads straight to the kitchen's whiteboard where an order is taped up for him. Next to it is a list of additional items. Taylor takes the list and heads to the bar, which becomes one of several makeshift office spaces he will create that day. (One of the more colorful instances occurred earlier in the day when Taylor used a blue recycling bin in a hotel storeroom as a desk while waiting for a customer.)
With the order in hand, Taylor begins to enter the various items the restaurant needs into his system. Then he goes back to the whiteboard to review the additional items the restaurant needs, one of which is listed as a squiggle plate. "You have to know their lingo because I don't think squiggle plate is the proper name for it," he says. So Taylor reviews the operator's china collection and finds what he believes to be the squiggle plate. Before ordering it, though, Taylor confirms with the chef that he is in fact holding the aptly named "squiggle plate," which the factory refers to as a wave plate because of its curved sides.
But chatting with the chef and several other restaurant staff members along the way does more than allow Taylor to ensure his order will be accurate. It allows him to develop and maintain multiple points of contact within an organization and, along the way, make himself and TriMark a more valuable resource for the restaurant. "You have to make them understand that you are their guy, a one-stop shop for everything they need," he says. "If they don't rely on me that way I might not get their order."
On the opposite side of the ledger, Taylor's clients see the value in his immersive approach. For example, when Cohasset Golf Club ordered a new portable bar and some chairs, these separate orders each brought with them some unique challenges and details, and Taylor stayed on top of them all to help meet the customer's expectations. "I know that I can rely on him to get it done," says Tina Ricci, clubhouse manager for Cohasset Golf Club. "I can call Scott to tell him about a problem I have, and he will make the problem his."
Drawing from his vast experience on the operator side of the business, Taylor seems to have a very sound grasp on his customers' sense of urgency when it comes to tracking orders, replacing existing items or even researching something new. "He gets the information to the customer, and if they are hot for it, he won't make them wait. He is in their face getting them what they want," Christie says.
In fact, his customers trust his knowledge about their supplies consumption so thoroughly that roughly 70 percent allow him to manage their orders. This can prove to be a more efficient approach for both the customer and Taylor. The customer benefits from his detailed knowledge of their inventory because it helps Taylor anticipate their needs and it allows the foodservice operators to focus on what they do best: serving customers. And having the ability to be more proactive within a particular account allows Taylor to make more effective use of his time by reviewing the inventory before conferring with the client. "When they are ready to talk, you know what they need," he adds.
And that understanding of what a client needs applies equally to equipment and supplies sales. When a reach-in refrigerator at the Massachusetts Institute of Technology's Endicott House blew, Taylor was asked to find a suitable replacement. After researching replacement options, Taylor came back to his customer with a couple of ideas, including replacing like for like and switching to an undercounter unit that would provide the same amount of cold storage space while increasing the facility's usable counter space.
"He listened to us instead of trying to sell us something," says Mike Fitzgerald, general manager of MIT's Endicott House, which is in a 78-year-old building. "I deal with people that know their products and Scott knows his products. When you ask him about a product, he knows which model is better. This is a unique place, and not every solution is right for us. So if we bring something to him, Scott will be honest in letting us know whether it will work for us."
Of course, not all conversations begin on the happiest of notes. During a visit to a banquet hall, a client informs Taylor they received an incorrect order of dinner forks. Taylor calmly sits and listens to the customer's concerns before offering to correct the situation. As the conversation continues to unfold, however, Taylor uses his industry knowledge to point out some trends in tabletop that could lead to a better presentation for the operator. The net result of the conversation is that the operator decides to change its dinner forks, and Taylor arranges a follow-up appointment to discuss updating their china.
"You have to take ownership of a problem and find a happy medium," Taylor says after the meeting. "It is all about the customer perceiving value in what they purchase. So when you ask them if it was worth it, the answer should always be yes."
But it is the thrill of serving the customer and the hunt of securing new business that drives Taylor¬ — or at least keeps him driving through his expansive territory. (One year, the odometer on his company car clicked off more than 249,000 work-related miles.) "At any moment one of my customers can toss a new menu project at me to research and that's exciting. It's the fun part of the business," he says.
It is also easy to see that Taylor is a true student of the
industry by the way he interacts with everyone in the business. "He listens and adapts what he needs to do," Christie says. "Customers have taught him as much as manufacturers reps and factories in the industry. As a result, he has taken his performance to a different level."
With respect to how his career has evolved at TriMark, Taylor cites several factors that have allowed him to continue to serve customers well. Chief among these factors is his relationship with the company. "Everything they have told me in terms of their expectations of me and what they expect have always been spot on," he says.
In addition, Taylor says Christie continues to be an important resource due to his wealth of knowledge about the foodservice industry, sales and his network of contacts. In an odd coincidence, 21 years ago when Christie joined TriMark as a salesperson he first landed in the same territory that Taylor handles today. Eight years later, when Taylor joined the company, Christie made the jump to manager, which meant the two were growing into new roles simultaneously. Taylor attributes this, in part, to the strong working relationship they have developed over the years.
"We sort of came through the company together — him as a manager and me as a salesperson," Taylor says. "He has worked with me and helped me get to where I am today."
Taylor feels fortunate to have such strong support from the entire TriMark team. "I don't kid myself to think that I can do this without them," he says. "But it is tough to single out any one person or department because they are all so important." When pressed, Taylor points to Kerri Meehen and Vanessa Valois in TriMark's customer care department as his go-to people.
And, as a result of his ability to leverage his experience and product knowledge, Taylor has become the go-to resource for his clients.