At the inception of Avanti Restaurant Solutions 19 years ago, owner Mark Rossi included earning the title of FE&S Dealer of the Year as part of the strategic plan. Almost 20 years later when he received the phone call that the company was receiving that recognition, his initial reaction was, "Not yet."
The phone call caught him off guard. The company was not precisely where Mark Rossi thought it would be when he envisioned Avanti as Dealer of the Year. He had a few more milestones to achieve, including a growth path to substantiate and a precise revenue number to hit.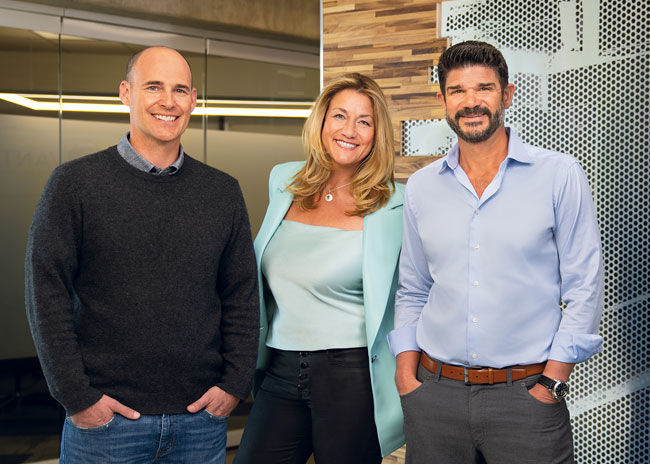 Avanti Restaurant Solutions' Shareholders (from left): Rory Clarke, president; Lisa Rossi, chief of staff; and Mark Rossi, CEO and founder. Photos by Jim Purdum, Jim Purdum Productions Inc.
It was a genuine reaction. One that mirrors Mark Rossi's entire approach to his company and the authentic nature of the people who work there. He leads the team with passion for the business and integrity in all regards. He likewise lives each of the company's core values: connect and communicate, insist on integrity, think long term, see it through and desire to grow. Beyond the internal team, this translates to relationships with Avanti's customers, vendors and other partners. To date, the company has been a quiet disruptor, immersed in the chain restaurant business, and Avanti now sits on the verge of a quantum leap forward as the California-based dealer chases a larger chunk of the operator community.
Many attributes define Avanti, from the way it conducts business (full transparency), to how it recruits team members (deliberately) and even how it markets itself (prioritizing educational content instead of aggressive sales messaging).
There is no question: The timing is right for Avanti to earn the 2022 FE&S Dealer of the Year award. The award is not a destination — it's part of the journey. And it will now forever be part of Avanti's coming-of-age story.
Mark Rossi, founder and CEO of Avanti Restaurant Solutions, characterizes the company as a "this-generation dealer," meaning it started in the 2000s, specifically 2003. It's an uncommon claim for foodservice equipment and supplies dealers, who operate in a very mature industry segment filled with multigenerational companies and founding dates a solid 50 years prior to Avanti's. Suffice it to say, few newly created equipment dealers emerge on the FE&S Distribution Giants chart, which ranks the top 100 foodservice equipment and supplies dealers in the U.S. by sales volume. Avanti claimed its first spot on the chart after 8 years in business, eking in at No. 100 on the 2011 FE&S Distribution Giants study with sales revenue of $8.51 million.
Fast forward to the 2022 FE&S Distribution Giants study and Avanti sits at No. 45 with $35 million in annual equipment and supplies sales revenue. It's a number Rossi expects will grow significantly this year, although he hesitates to make a definitive projection. He divulges that the company is "on pace for a record-breaking year" and quickly credits the restaurant chain business — Avanti's stronghold — with bringing significant gains this year. "Chains are back in full development/growth mode," he notes. "Our design-build business has also helped, and we have had a bunch of contract business signed."
Expanding the contract side of the dealer's business, in addition to enhancing the design-build department, will not only add scale but will likely shift the perception of Avanti as a boutique company to that of a larger, holistic dealer. "We are growing and positioned to carve out a larger piece of business," says Rory Clarke, president of Avanti. He adds that the company's intense focus on developing chain account business will remain. Two-thirds of Avanti's revenues come through the restaurant chain segment, largely fast-casual chains, and some independent restaurants.
"We are definitely known in the chain world already," Clarke says. "Now it's about diversifying our portfolio."
The initiatives and strategies are all lining up, says Rossi. "We have to now execute against what we built." Three keystones going forward will be margin, culture and training, he explains, adding, "We've already built out objectives around those items."
To date, the contract side accounts for one-third of Avanti's business and includes a recent big win: a corporate dining project in a new Google office in San Jose, Calif. The dealer has set out to cut a wider swath in contract sales, including construction projects, corporate foodservice programs, and schools and universities, with Clarke quarterbacking that division out of Roseville, Calif. He opened a new office there in April where 10 Avanti team members now work. It reestablishes Avanti's presence in the Sacramento, Calif., metropolitan area after the dealer closed that location in 2020 during the peak of the pandemic. In fact, the company was first founded in Sacramento and expanded into Costa Mesa nine years later to better pursue the chain restaurant business. The two locations solidify Avanti's presence on both ends of California: Northern California, colloquially known as "NorCal," and Southern California, "SoCal."
"We are a tech-forward company." Jay Schlarb, Director of Marketing
In terms of growth through an e-commerce platform, Mark Rossi says Avanti will not pursue an open-to-all e-commerce website. Instead, the company will increase its online ordering options through customer-specific web portals.
Other avenues that generally put a company on a fast growth trajectory include acquisitions and taking on private equity investors, both of which have become more common among foodservice equipment and supplies dealers, factories and even service agents. But growth through either of those means is also not part of Mark Rossi's plan, at least not at this juncture. "The right opportunity has not presented itself yet," he says, about the possibility of making an acquisition. "Part of my plan is to ensure we have our house in order before we bring in someone else's house."
Avanti began getting its personnel house in order prior to COVID-19, adding to its labor force in preparation for a significant business uptick. The company hired 19 people in 2019, effectively doubling its workforce. The intentional over-hiring was meant to ensure everyone was properly trained and immersed in the unique Avanti culture before a fresh wave of business came into the mix, Mark Rossi says. Unfortunately, that did not turn out to be a sustainable labor pool during the height of the pandemic. The effects of the pandemic on his business eventually forced him to lay off 17 people on March 23, 2020, a day Mark Rossi describes as the worst professional day of his life.
By the summer of 2020, Avanti started to hire back many of those employees as the company set out to refire its growth engine. "We went back to that base of personnel first," Mark Rossi says, "to invite whoever hadn't moved on back to Avanti." The company roster now totals 45.
The leadership team is now keenly focused on implementing its weightier strategic direction. At the same time, however, that team maintains a sense of trepidation as to how scaling up may alter the culture they revere. The awareness and concern around that is exactly what characterizes Avanti. "We don't want to lose the core," Mark Rossi says, "but the culture has to evolve." The question becomes how to preserve it — how to change yet also remain the same.
DNA Deep Dive
The leadership team at Avanti would happily chatter on about the intrinsic components of its culture all day. It's an integral part of what both defines and differentiates the company. Indeed, it's the kind of conversation the bulk of Avanti's staff openly have on a regular basis and something far less commonplace at other corporations, within or outside of the industry. Have a conflict with a colleague? If you are part of the "Avanti tribe" (the internal lingo), it's a cue to set up a meeting with that person to discuss it, with an expectation that it will happen within 24 hours.
"We are both employee-centric and culture-oriented," Mark Rossi says. "We want our employees to feel comfortable and taken care of — the same as we want for our customers. There is some artistry to it."
Potential new employees experience their first taste of the Avanti culture during the closely curated interview process spearheaded by Lisa Rossi, chief of staff. (Mark and Lisa are husband and wife). The approach leans heavily on the principle of finding employees whose "DNA" matches the organization, as mapped out in the book "Recruit Rockstars." Mark Rossi was drawn into it at an event he attended years ago hosted by Avanti's buying group, SEFA. This book sparked the company's hiring method.
On a granular level, the process to becoming part of the Avanti tribe starts with four internal employees interviewing potential new hires to determine if they have the three most desired traits: They must be bright, genuine and determined. "You need all three," Lisa Rossi notes. At the end of the day, those involved in the process debate the potential new hire. While it sounds a bit abstract, she says "it's a system that works and gains complete buy-in from everyone."
Have there been a few hiccups? Of course, says Mark Rossi. "We are not immune to mistakes or turnover. In a growing organization that's moving fast it's tough to get it all right, but we are committed to working at it," he says.
Avanti has such a solid reputation throughout the industry for its personnel that the company's peers take notice. In fact, Lisa Rossi is well aware of the occasional jesting that happens, along the lines of "Let Avanti train them — then we'll hire them." As far as she's concerned, Avanti intends to maintain its roster. "We want people to stick around. Our employees make our business work. We believe in them 100%."
Interestingly, Avanti rarely pulls people from other equipment dealers. "We've tried to hire from within the industry," Lisa Rossi says. "It hasn't really worked. We've found it's more effective to bring people in who are from other related industries."
Training and onboarding, then, have become areas of acute focus as of late. "By the nature of starting small, everyone kind of knew everything," explains Lisa Rossi. "We know that will be a challenge as we grow." To that end, Avanti is in the process of establishing a more formalized training department. "We want to be really intentional in hiring and training," she adds. "We know it won't work to be as organic with the next level of growth we are experiencing, so we are working to master more intentional training."
For Keeps
Avanti plays for keeps, both with employees and customers. Its business model largely follows that of the dominant dealerships in terms of a traditional sales approach, yet it steers off course slightly to favor a micro niche the company carved out for itself with chain restaurant accounts.
Like many at Avanti, Mariah McManaman, business development manager, came up through the chain side of the business. Her background includes working at fast-casual chain Noah's New York Bagels and then with an independent manufacturers' representative firm. She's tasked with bringing new business into Avanti, including contract sales and chain accounts.
"Communicating and being upfront with potential partners between hope and reality on project timing is important today." Mariah McManaman / Business Development Manager
McManaman adds that she is very careful in setting clear expectations these days. "Communicating and being upfront with potential partners between hope and reality on project timing is important today," McManaman says. "Quotes are challenging at the moment because of the lead times, but we just keep going.
"It's about being really honest about the expectation," McManaman adds. "Then, when I hand it off to the operations team, they are able to execute what was promised."
Currently at Avanti, projects are being scheduled almost a year in advance now, says Shawna Snyder, director of chain accounts, a backlog induced for a variety of pandemic-related reasons, including supply chain issues. She uses a very throwback California term to describe what she's experiencing today managing the chain department through the supply chain crisis: "It's gnarly." Consider "gnarly" to mean every impossible situation being thrown at the team — and their clients — at the same time. In that scenario, Snyder naturally defaults to three of Avanti's core values: Connect and communicate. See it through. Think long term. "It comes down to open communication with both the customer and my team so that everyone is on the same page with a possible solution," she says.
"It comes down to open communication with both the customer and my team so that everyone knows what I know as soon as I know it." Shawna Snyder / Director of Chain Accounts
The end goal is for the restaurant to open. Consistent questions that Snyder says now come into play with customers include: How much is custom? Do we have the right piece of equipment? Can we order the equipment now to meet dates? Can we change anything? "There is a loyalty to the factory, and we don't want to spec them out," she notes, "but often now we are having to find an alternate solution to meet delivery dates." That's the reality in this era of supply chain woes.
This level of transparency keeps clients acutely aware of the details today as they realize never-before-seen challenges in opening restaurants. "It's complicated today on big rollouts," says Brad Mignone, vice president, development and construction, Gordon Ramsay North America. "I'm already seeing we may have to pivot on certain things, perhaps a walk-in manufacturer."
"Design-build really completes the circle of services at Avanti: chain, contract and now design-build." Michael Jernigan, Senior Director of Design-Build
Mignone has a long-standing relationship with Avanti that dates back to his days at Del Frisco's Restaurant Group from 2015 to 2019. The relationship continued when Mignone transitioned to Shawmut Design and Construction, where he worked with Avanti's contract department. "There is a lot of transparency with Mark, and his energy filters down through his people. They are always trying to find a better way."
Likewise, Ron Stokes, president and CEO of Roaring Fork Restaurant Group, has a similar admiration for Avanti's transparency and work ethic. Avanti carries a brand relationship at the chain headquarters level with Qdoba Mexican Eats and piggybacks on that with Roaring Fork Restaurant Group, a Qdoba franchisee group with 58 locations as well as a Dave's Hot Chicken location, with an agreement to open the fast-casual chicken concept in 14 locations in Wisconsin.
Stokes credits Avanti with thoughtful, forward-thinking advice when it comes to opening restaurants in a disrupted supply chain environment. "Fryers are taking forever," he notes. "We followed their advice and ordered a bank of fryers even though the site hasn't been approved yet. We know we can repurpose it anyway if that site doesn't happen."
Even prior to the pandemic, Stokes valued the relationship with the Avanti team. "They are gritty and resourceful," he says. "I trust them. I don't have to think about whatever we are dealing with. They solve problems, pick up when we call and are very reliable." The depth of the relationship connects up to the headquarters level with both Qdoba and Dave's Hot Chicken.
Tiffany Vassos, vice president of design and construction for Dave's Hot Chicken, has experience working with Avanti on multiple brands, including Dave's Hot Chicken and Blaze Pizza. She has been working closely with Mark Rossi and the Avanti team since 2012, in the early days of Blaze Pizza. While franchisees can select from three different equipment partners, Vassos says, "Avanti lands 95% of our business."
"They are more than a vendor," Vassos explains. "They completely immerse themselves in our brand, know the intricacies of how we operate and why we do things a certain way. It's very rare. It's less about landing an equipment sale and more about partnering together."
Design-Build Booster
With the addition of Michael Jernigan, senior director of design-build, earlier this year, Avanti placed fresh emphasis on its design-build department. "Design-build really completes the circle of services at Avanti: chain, contract and now design-build," Jernigan says. "I think a lot of dealers that include design see foodservice design as a necessary evil to move the equipment. We see it as a complete turnkey package where design is equally important."
Another value-added service that functions as an extension of the design department comes by way of Avanti VirtualCapture Technology Services (VCap). This part of the business goes hand in hand with design, offering clients a virtual view of a space. "We are a tech-forward company," marketing director Jay Schlarb says, admitting this particular technology is a bit ahead of the curve. He sees the tool as an opportunity for any chain in the franchising space to take its brand deck into a digital space that houses components such as training videos for equipment or engineer-grade details for construction. A vast array of custom options exist, Schlarb says, where clients own the content and Avanti hosts the product.
"We want the client to maintain access to the designer." Trey Hoang, Director of Design
The technology service adds one more option as Avanti seeks to expand the company's clientele, both with depth and breadth. Jernigan says he is up for the challenge and looks forward to bringing new design projects on board. He acknowledges that the larger chain accounts that serve as a foundational piece of Avanti's business have little need for outsourcing design. Higher-end full-service restaurants provide a better target for the design work, he adds, an expertise Jernigan developed through more than 35 years of experience across an array of projects, including high-end custom work.
Jernigan, together with Trey Hoang, director of design, will move forward with a different working approach to melding design services into the equation after identifying a weak link in the hand-off from design to build. The revamped approach will keep the designer looped into the process as it moves from design stage to build stage, Hoang explains, adding that they are still tweaking the approach. "The go-forward plan is to keep the designer intertwined with the project instead of a hard hand-off to an account manager or project manager," he says. "We want the client to maintain access to the designer."
If anyone understands the full scope this tactic implies, it's Hoang. He's been with Avanti for 15 years and worked his way into his current position after spending his first five years as a project manager. In fact, Mark Rossi and Clarke both wholeheartedly supported Hoang when he approached them about learning more about the design side. "It's been an evolution, both for me personally and the company," Hoang says.
Hoang actually played a role in Jernigan coming aboard after they collaborated on a couple of projects last year. "We knew we wanted to grow the department," Hoang says. "And I already know Mike doesn't hold his knowledge close to the vest. I want to learn from him."
With the number of new people and some changing roles internally, Avanti held a leadership meeting at the end of March 2022 to reengage everyone. It's the kind of thing that happened more routinely prior to the pandemic. "A lot of us are natural managers, but certainly when you grow there is a lot of change," Hoang says. "Keeping the core of what the culture is built on is difficult. It's hard to stop the progress of moving so quickly to address it."
A self-described introvert, Hoang says that, for him, understanding the culture in context guides him in how to train others. It's an internal shift that's happening because some of the day-to-day components that created the culture cannot happen now with a staff of 45. For example, 7-minute meetings used to include the whole company and a round of everyone sharing two words that described their mood for the day: one on the professional side and one on the personal side. "It provided a gauge of where everyone was at," Hoang says. That was hard to sustain with a larger group and broke off into smaller group sessions following the same principle. Hoang now leads those smaller 7-minute meetings for the design-build department.
"I'm very specific with these meetings," Hoang says, which happen daily with the eight people in the design-build department. For example, he does one round of obstacles, where each member of the team cites a specific obstacle they are trying to move forward. "It works because others can help. Someone might be more engaged with factories, for instance. It also helps pull everyone in."
Furthering that idea, project managers will now cross-train as account managers, and vice versa, as part of the larger internal realignment. On top of that, outside consultants will add additional resources. A recently revamped internal culture barometer will also engage employee feedback. "I want a genuine perspective of how everyone is doing," Mark Rossi says.
All told, Mark Rossi holds an unwavering vision for both the company he created and the people he's drawn into the Avanti universe, what he calls the "Avanti-verse." He intends to maintain a culture that everyone can be proud of as the company expands. "I want to prove that quantity and quality can coexist," he says. An ambitious goal that Avanti is no doubt on track to achieve.
Members of the Avanti tribe in its home base of Costa Mesa, Calif.
Avanti by The Distribution Giants Numbers
The numbers paint the picture of the pattern of growth (and one pause point) for Avanti Restaurant Solutions. Now that the company is past the pause and making its way through the other side of the pandemic, owner Mark Rossi's revenue projections for 2022 will likely bump the company further up the FE&S Distribution Giants chart, a study of the largest foodservice equipment and supplies dealers in the U.S.
In the 11 years since Avanti's first appearance on the list, Avanti has climbed from No. 100 to No. 45. Avanti's highest ranking to date is No. 39, which represents year-end sales from 2018. "That was a huge year for us with chains," Rossi says, although he adds that margins were not strong. "We made a decision to change that," he says, which explains the deceleration on the following year's Distribution Giants data.
"We made an intentional decision to hit the pause button in 2019, took a step back and reinvested, relaunched two departments — design-build and contract — and brought our margins up," Rossi says, noting that the first quarter of 2022 closed as Avanti's strongest quarter in history.
President Rory Clarke is not bothered by the up-and-down movement of Avanti on the FE&S Distribution Giants chart. He notes Avanti has steadily ranked in the middle revenue spot on the last three Distribution Giants charts. Clarke and Rossi both take stock of the rankings, benchmark against them, and certainly note how industry consolidation has been reflected in the mid-tier category. "Companies our size are getting bought up," Clarke notes.
For now, Rossi says Avanti will continue its trajectory through organic growth.
Given the company's current position, Clarke foresees a big opportunity for growth on the horizon. "I didn't necessarily feel like this on the way here, but it feels like it now," he says.