A lot has changed at Stafford-Smith Inc. since 2001, the year FE&S first recognized the Kalamazoo, Mich.-based company as Dealer of the Year.
David M. Stafford, CEO, Stafford-Smith Inc. Photos by Grant KessleThe second generation of family leadership passed the reins to the third, major new customer segments were added, investments in facilities and personnel were made to enable broad geographical expansion, and operations were centralized. Sales, which hit $55 million in 2000 due in part to acquisitions, reached $224 million in 2020, a fourfold increase achieved entirely organically.
In 2001, Stafford-Smith was Midwest-centric, operating from 8 facilities, including 6 in Michigan and 1 each in Indiana and Wisconsin, and fielded 26 sales reps and 2 estimators. Today, the company's reach extends nationally and beyond, with 87 account executives (AEs), a dozen estimators and a 290,460-square-foot footprint comprised of 19 office and warehouse locations across the Midwest, Southeast, Southwest and Northeast. Two home-based satellite offices also now operate, in California and St. Louis.
While much has changed, however, it is the many things that have remained constant at Stafford-Smith since its founding in 1940 that contribute most to its ongoing success. For more than a decade, these staples have kept it ranked among the top 10 dealers in the nation. First and foremost, Stafford-Smith remains a family-owned and -operated company with a strong family-oriented, customer-focused business culture. Since officially taking the reins in 2006, third-generation president and CEO David M. Stafford has forged his own path and taken new risks, but he's done so firmly guided by life and business lessons instilled in him by his father and grandfather before him.
Like his father, David J. Stafford, a 2012 FE&S Hall of Fame inductee, and grandfather, David D. Stafford, David M. takes pride in running a tight, financially stable ship. He and his team subscribe to a "just do it" approach to sales and customer service. "It's really pretty simple," he says. "Get the work, run the work, finish the work, collect for the work. We stay focused on that, put systems in place to enable our people to do it, and just try to do it better than anyone else out there."
To that end, employees, now 200 strong, are expected to work hard, compete aggressively and honestly, and do whatever it takes to take care of customers. The company, in turn, does whatever it can to take care of them.
"When I started in the business, my grandfather talked to me about his rule of three," Stafford says. "He'd say, 'If you have three employees working for you, you need to think of them not as three but as nine, assuming each one will have a spouse and a child. You have to start every day with that in mind, and if what you accomplish by the end of the day has only three in mind, you need to get back out there and work harder.' I had to agree to that mindset and philosophy before I was allowed into a management role, and it's a rule that I share with everyone who gets hired here. I tell them that I live by that rule of three and ask them if they can as well. It's part of our culture."
The COVID-19 crisis shined a spotlight on the strength of Stafford-Smith's commitment to its employees. Throughout 2020, a year in which the dealership's sales dipped by $17 million due to shutdowns in some customer segments, all employees were retained, their health savings accounts were fully funded for the year, and no salaries or benefits were cut. "That's something I'm really proud of," Stafford notes. "And it's exactly what my father and grandfather would have done and expected as well. We've always operated in ways that keep us financially viable, and we meet our obligations, whether to employees, customers or supply chain partners."
Next-Gen Vision
For many family businesses, transitioning from one generation of leadership to the next can be challenging, but Stafford says the handoff from his father to him was gradual and relatively smooth (if not without a few heated discussions along the way). The two men are close and alike in many ways — opinionated, hardworking, competitive, fond of good-natured teasing and pulling pranks. But they're not carbon-copy leaders. Since assuming the CEO role, Stafford says his goal has not been to run things the way his dad did, just as his dad's wasn't to run them the way his grandfather did. Rather, each generation works to continually improve the company, to take new risks and build on the successes achieved by its predecessor, something Stafford anticipates his children will eventually do as well.
The first of the fourth Stafford generation to join the family business, 26-year-old David R. Stafford is following in the footsteps of his father, grandfather and great-grandfather. He serves the company as a sales account executive. He's laying the groundwork for them to do just that. Stafford's oldest son, 26-year-old David R. Stafford, recently joined the company as an account executive and intends to make the family business his career. Daughter Shelby, 23, and son Drew, 20, are still in college and considering career paths but may also be part of the fourth Stafford generation to operate the business founded by their great-grandfather.
Established in 1940 by Stafford's grandfather as a refrigeration contractor and a foodservice equipment and supplies dealer to taverns and bars, Stafford-Smith had grown to sales of $5 million by the time his son, David J., joined the business in 1969. In the interim, a vending division had been added, and after earning a business degree and gaining outside work experience, David J. was initially put to work in the vending business. He drove routes and restocked vending machines before moving into sales, calling mostly on grocery stores. (The company sold the vending business in the 1970s.)
The vision David J. saw for the company's future, however, differed from his father's. He wanted to focus on expanding its foodservice equipment and supplies distribution business. His father eventually relented, and David J. put together a successful bid on a large kitchen project at a new convention center being built in Kalamazoo. It was the first of what would be many major foodservice sales successes for him and the dealership. By the mid-1970s, Stafford-Smith had gained momentum and emerged as a particularly skilled partner for large contract projects as well as for local restaurants, supermarkets and noncommercial foodservice operations.
In 1982, David J. bought his father's shares to become owner and CEO. Over the next two decades, he steered the company's growth to more than $50 million in annual sales, honing its expertise in bid business and complex multimillion-dollar projects, servicing local markets and undertaking a series of acquisitions. In 1987, he purchased a refrigeration company that did sales and service in Indiana. In the late 1990s, the company purchased three additional Michigan-based dealers: Lansing Food Equipment Co. (1997), Brothers Restaurant Supply in Lansing and Jackson (1999) and Kirchman Brothers Inc. in Bay City and Traverse City (1999).
In addition to market share and new opportunities for growth, the purchases added smallwares to the company's portfolio of products and services. By 2005, however, father and son together decided to exit that category. "It wasn't our core competency," Stafford says. "The economies of scale didn't make sense for us. We're equipment guys; that's what we're best at. We still sell some smallwares, but we don't have the traditional route sales aspect of it anymore."
For his part, Stafford, now 53, joined the family business in October of 1992 after earning degrees in organizational communications and medieval history from Western Michigan University. Football was a major part of his college experience: At 6 feet, 4 inches tall and 270 pounds, he was a standout defensive tackle before an injury sidelined his hopes of pursuing a professional football career. After college, he spent three-and-a-half years in the U.S. Marine Corps active duty and 6 months in reserve duty before marrying his wife, Ronda, whom he credits as his best sounding board and biggest supporter. Forced to leave active duty due to a chest injury, he reached out to his father for an opportunity to begin building his career at Stafford-Smith.
Like his dad, Stafford started in sales and quickly discovered he not only enjoyed it but was good at it. He was soon promoted to sales manager before moving up the ranks to vice president of sales and marketing, president and, in 2006, CEO. As his dad turned more of the day-to-day management of the company over to him, Stafford's own vision for how the company could continue to evolve came into sharper focus. Seeing Stafford-Smith's well-established strength in bid and negotiated sales as a springboard, he envisioned further diversifying the customer base to include national accounts and significantly expanding the business's geographic footprint. Having experienced the challenges inherent in absorbing and integrating competitors, Stafford wanted to focus instead on growing organically. And he had clear ideas about internal changes that he felt would be necessary to do so and that would better suit his leadership style.
That style includes maintaining hands-on, in-the-trenches roles for himself and the senior management team as well as an accessible, open-door company culture that's big on transparency, accountability and camaraderie. A believer in the importance of structure, process and centralized operations, Stafford integrated all branches and acquired companies into a single computer operating system. He reorganized the sales management team and changed a few semantics early in his tenure as CEO. He retired the term "contract sales" in favor of "bid," for example, and "sales rep or project manager" for "account executive." He took AEs off of traditional commission-based compensation in favor of salaries and bonuses, shepherded the company's service division through a vote to become non-union and shifted management reporting structures to facilitate stronger focus on sales.
Today, the company's sales management team includes three vice presidents, one each in the Michigan cities of Lansing, Kalamazoo and Traverse City. "All are equal; there's no pecking order here," David M. says. "One leads bids, one leads national accounts, and one leads negotiated sales/design-build and marketing. They no longer have any line of responsibility for our regional managers, general managers or purchasing like they used to. Rather, all of those other disciplines and the VPs report directly to me. To use a sports team analogy, it's like I'm head coach, GM and owner, and the VPs are offensive coordinator, special teams coach and defensive coordinator. I pushed to centralize our structure. I didn't want duplication of functions and reporting as we grew. I wanted one location giving direction to the players in the field and support functions handled out of the main office."
Additional management personnel include a chief financial officer, 4 directors (national accounts, information technology, service/construction and accounting), and 13 regional managers, 3 of whom are also general managers handling more than one office. Stafford's father, although retired, continues to offer counsel to his son.
Stafford feels that the internal reorganization, introduced roughly 15 years ago, helps to keep the VPs focused on big-picture selling within their disciplines. And the new structure also helped pave the way for growth, he says. "If you go back through our revenue figures, we really started to grow after the reorganization was implemented," he notes, adding, "My dad never resisted making these changes. He knew I had a vision and a goal, a place I wanted to get to. We're not even there yet, but in order to move forward, we had to make some changes."
Indeed, his dad couldn't be prouder. "My son and his team have done a great job," David J. says. "Their hard work, the broadening of their customer reach and the sophisticated strategies they've used are very impressive. I marvel at the multitasking abilities of all of our employees. From fulfilling the smallest of our customer's needs to managing many of the largest projects in North America, Stafford-Smith has expanded to become a worldwide presence. In 1940, when my father founded the business, the first year's profits were less than $100. It makes me extremely proud to see where David has taken the company through 2020."
Diverse Products and Services Fuel Growth
Stafford-Smith's catalog of products and services has remained broad and diverse over the years. There's very little the dealership can't do for a customer, whether it's a single-unit operator in need of a fryer or a large contractor seeking a design-through-installation partner for a massive professional sports stadium. It markets itself as a one-stop shop, offering design and engineering, sales, project management, delivery and installation.
Cris Gross, vice president of sales and marketingCris Gross, vice president of sales and marketing, says the range of products and services Stafford-Smith provides has long been one of its strongest selling points. Based in Traverse City, Gross joined the company when his former employer, Kirchman Brothers Inc., was acquired in 1999. A standout sales rep who was promoted to vice president of the negotiated sales/design-build and marketing department in 2018, he earned recognition as the FE&S DSR of the Year in 2009.
"Our Traverse City office is really a microcosm of the company and a good example of the breadth of service we offer," Gross notes. "We may meet with a customer who's doing a new restaurant, for instance, and with our team here and support from the Kalamazoo office, we're able to do the design, equipment, furniture, ventilation, walk-in refrigeration, custom fab and millwork. You don't get that level of service from most dealers. Operators and GCs [general contractors], many of whom we work with over and over again, love the fact that they can get all of those things from us — and get them reliably."
Robert Kirma, director of new store development at Zoup! Eatery, a fast-casual chain based in Farmington Hills, Mich., agrees. Kirma has worked with Stafford-Smith for more than 12 years and says the dealership has been instrumental in Zoup!'s growth to more than 70 units.
"From the start of our partnership with Stafford-Smith, we both had clear expectations and a common goal to simplify, value engineer and provide best-in-class service," Kirma says. "They go above and beyond on every project. Their knowledge of equipment and their relationships with manufacturers and reps have helped us make the right purchasing decisions. And they don't just provide options but take the time to educate us on the differences between equipment pieces and the pros and cons of each. From the start of a project to well after installation, they follow up to ensure that everything is working properly and that our franchise owners have no questions or issues. Regardless of working on 2 or 15 projects at a time, their level of commitment and customer service remains consistent."
For Rick Loftus, director of facilities at Olga's Kitchen, a casual-dining chain with 24 units in Michigan and 1 in Illinois, reliability is a key word in his brand's relationship with Stafford-Smith. Since winning its first bid for the Olga's business some 15 years ago, the dealer has handled all equipment and installation for all new units.
"They're a really good, reliable partner in ways that go beyond specific project execution," Loftus notes. "They're a gold sponsor for our company's managers conferences, for instance, and their CEO, Dave Stafford, has attended those events, which to me shows a high level of commitment to our relationship. When COVID hit last year and everything shut down, we had one unit in the early stages of construction, and Stafford-Smith held our equipment for a year. They take good care of us, and we're loyal to them."
Gross says Stafford-Smith's high level of engagement with customers and its mission to provide comprehensive, hands-on service sets it apart, particularly as internet-based purchasing options proliferate. "We do a small amount of online sales, but we don't pretend to be or market ourselves in any way as a web-based company," he notes. "We're very much the opposite of that in terms of the kinds of services we offer to customers. We're in person and personal, which is in stark contrast to what they find on the internet."
On the contract side, Stafford-Smith's diverse capabilities and reputation for quality work delivered on time and on budget have led to the company winning bids for some of the largest and most high-profile public and private projects in the nation. Led by vice president Rich Harrison, bid sales have grown to more than $74 million last year from $15 million 2001.
Rich Harrison, vice president of bid salesHarrison joined the company in 1993 as a project manager, initially handling K-12 school projects before moving into larger corporate venues and then arenas and stadiums. In 1999, he was promoted to vice president of the bid department.
Harrison's team's success in nurturing stadium and arena business has been particularly notable, setting Stafford-Smith apart for its ability to service that uniquely challenging segment and providing a platform for the company's expansion. "As we expanded our business in the stadium and arena areas, we needed to add people and offices," Harrison says. "For example, we were awarded projects for the Green Bay Packers, so we opened an office in Wisconsin. We were awarded the Houston Rockets arena and opened an office in Houston. Same thing in Florida, where we now have two offices after winning stadium bids for the Florida Marlins and Miami Dolphins, and in North Carolina, where we did the work for the NBA's Charlotte Hornets arena. Once the projects were finished, we had established a foothold in those markets and were able to stay and grow those offices into full-fledged branches."
Bid projects in the works before the pandemic have continued unabated, Harris adds, and he foresees continued strong demand for Stafford-Smith's services as venues and offices open back up. Some of the stadium projects the company completed years ago are now beginning to plan remodels. Harris sees newer bid targets, such as Major League Soccer (MLS) stadiums, casinos and high-end resorts as strong emerging segments for the company. Recently, projects were completed at the Baha Mar resort and casino in the Bahamas and a Hard Rock Casino Hotel in Florida. Work is currently underway on the new Columbus Crew MLS stadium in Ohio, Seattle's KeyArena (being rebranded Climate Pledge Arena, which will feature green initiatives), and a new arena at Arizona State University.
Newest Frontier: National Accounts
The company's biggest move to diversify has been customer-based. Slightly more than 14 years ago, Stafford-Smith added national chain accounts to its customer mix and has flourished on that new frontier. Since becoming a strategic sales focus, that segment has grown to contribute one-third of total revenues.
The foray into national chain business is part of Stafford's vision for what he calls a "three-legged stool" business model, one in which bid, national account and negotiated/design-build sales contribute and are supported equally. The model is intended to ensure revenue-stream diversity for financial stability should one leg temporarily falter. The leadership team works to ensure that every branch sells and services all three and that AEs are well-versed in each.
"Taking on chain business was a huge change for us, and my dad was pretty nervous about it," Stafford says. "A lot of people tried to talk us out of it, saying we'd be spreading ourselves too thin. But my feeling was, if we could do five national league stadiums in one year, how could we not do chains? A stadium has anywhere from 5,000 to 10,000 items on multiple levels. It's incredibly complex, and we're really good at it. I knew we could do it without hurting our existing business."
Tom Ziolkowski, vice president of national accountsTom Ziolkowski, formerly president of Brothers Restaurant Supply in Lansing, came to Stafford-Smith as part of its acquisition of Brothers back in 1999. He's now vice president of national accounts, working from Lansing. Dedicated sales support for chain business has been added to that location, and Ziolkowski collaborates and works with Don Smith, director of national accounts. Smith joined the company in 2011 as a national account executive, working from his home office in Oklahoma City. He helped to build Stafford-Smith's mission-critical Oklahoma City branch, which handles logistics for all of the company's national account sales, before moving four years ago to the Dallas office.
"Prior to 2011, we had a handful of account executives selling a handful of items to regional franchisees in the Midwest," Ziolkowski notes. "It wasn't much, but we had some exposure. Eventually, we got opportunities to connect with their national headquarters to provide some equipment, quote work and get tested at the corporate level. Ultimately, we were approved nationally with some accounts, and our national accounts efforts got underway."
Ziolkowski credits Smith as a major catalyst for the company's rapid sales growth in national accounts. Before joining the dealership, Smith had experience from a previous position with the QSR concept that became its first national account, helping to ensure its successful onboarding. Smith also focused hard on selling and helping to build the necessary infrastructure for further growth with national accounts. That included working with Ziolkowski and Stafford to add and train account executives and to get the 75,000-square-foot Oklahoma City branch up and running.
"Dave took some big risks and made big investments in Oklahoma City," Smith notes. "From a logistics perspective, the location there is key. It enables us to ship to pretty much anywhere in the U.S. quickly, which is important to customers if a piece of equipment goes down. Inventory has been a major investment, too. We stock customer-specific inventory there as a service to them and to help them be more successful."
Additional offices were added around the country as well, some started by transplanted employees and some by experienced account executives who reached out to Stafford with an interest in working for the company. "That's how we opened offices in Austin, New Jersey, North Carolina, Florida, Oklahoma City, Houston, Indianapolis, Dallas, Atlanta and New York," Stafford says. "These people had heard great things about us. They knew we were financially strong, that we had a good culture, took care of our people and weren't afraid to take risks. Many of them were focused on chains before joining us, and they've helped us grow our national account business. We've since trained them to handle bid and negotiated sales, too. With very few exceptions, we want every office and all AEs handling all three legs of the stool."
Included in Stafford-Smith's roster of national chain accounts for the past 11 years is Sonic Corp., operator of the SONIC Drive-In, acquired by Inspire Brands in late 2018. The Inspire portfolio also includes Arby's, Buffalo Wild Wings, Jimmy John's, Dunkin Brands and Rusty Taco. Peter Cryan, senior director of equipment innovation and R&D for Inspire, says his work with the dealer began last summer, when Sonic was integrated into his team.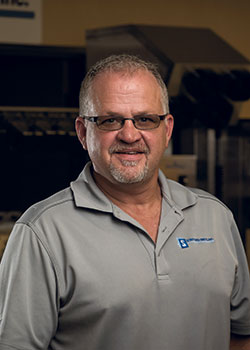 Don Smith, director of national accounts"I quickly found out how supportive the Stafford-Smith team was to the Sonic brand," Cryan says. "They've been a great resource to me and to our franchisees, especially during a difficult COVID year in which other kitchen equipment suppliers and manufacturers cut back. Our support from Stafford-Smith never missed a beat, nor were there any staffing cuts. Almost all of my other suppliers are now trying to get caught back up — but often with fewer resources and long lead times. Not only has Stafford-Smith been stronger during the pandemic, they also rose to the challenges of working with a new Inspire team as we transitioned Sonic into our portfolio. They always put the end user first, and if an issue or problem comes up, they focus first on solving the problem and getting the operator up and running versus looking around to find who might be at fault. That takes guts and risk. Sometimes, they end up eating part or all of an error made by another supply chain partner or even the operator, but rather than argue about fault, they spend their energy solving the problem. Their commitment to customers sets them apart, and they're real about it."
That commitment, and the dealer's ability to stick to it and live by it, promises to keep all three legs of Stafford-Smith's proverbial stool strong and secure — and the company growing well into its fourth generation of family leadership. So, too, does its aggressive sales culture and willingness to continue to take risks.
"Look at any aspect of our business, and you get the idea that we don't shirk opportunities or wait for the phones to ring. We go after what we want, and we follow through. That's true in negotiated sales, in bid and in national accounts," Stafford notes. "We've grown a lot in a relatively short span of time, and it's the attention to detail and the hard work, time and effort that our employees and leadership have put in to make it happen. I keep telling everyone, 'This is an easy business. You just have to work at it.' That's what we do."
---
Snapshot
Headquarters: Kalamazoo, Mich.
2020 sales: $224 million
2021 FE&S Distribution Giants rank: 8
10-year CAGR*: 7.87%
Primary revenue streams: Equal split between bid, negotiated sales/design-build and national accounts
Products: 90% heavy equipment; 10% light equipment
Additional divisions: Refrigeration, service
Total employees: 200
Account executives: 87
Locations: 19
Industry involvement: David M. Stafford is the new president of CPG/XYZ buying group and serves on the Foodservice Equipment Distributors Association executive committee
*compound annual growth rate
---
A Champion for Young Leaders
Stafford-Smith Inc. may be 81 years old, but the dealership stands out for its success in bucking the notion that bringing young people into and up through the foodservice equipment and supplies industry is tough. President and CEO David M. Stafford, himself a relatively young leader at 53, simply doesn't buy that.
"We don't sit around worrying about it; we just get out there and hire the people we want to hire. We now have 83 Millennials and 11 Gen Z's working with us," Stafford notes. "One thing we've learned is that when we do hire them, it's important to give them a lot of structure, to set clear expectations and provide training so they can meet those expectations. I also personally keep a very open-door policy. They can and do call me at any time. I listen to them, get their input, treat them like adults and try to help them grow and develop while reminding them that the only two things they're entitled to in life are death and taxes. They have to work to succeed."
Stafford-Smith today employs Millennial leaders throughout the company, from human resources and information technology to accounting supervisors and regional managers. Its efforts to hire and promote young people netted the dealership the 2020 Gold Award: Champion for Young Leaders from the Foodservice Equipment Distributors Association (FEDA).
In accepting the FEDA award, Stafford noted his philosophy is to promote based on ability and performance, not on longevity, and that the company nurtures new hires in part by appointing them a mentor to help them acclimate and become engaged. "Transparency and an emphasis on teamwork are keys to deeper employee engagement," he adds. "We allow the team to see the big picture, so we all know what effect each and every individual has. Everything is based on the team; everyone, management or not, has the same pull to get the job done."
---
Then and Now: Sales, Always in Focus
In 2001 Stafford-Smith Inc. was named FE&S Dealer of the YearTwenty years ago, when Stafford-Smith was first recognized as the FE&S Dealer of the Year, the company's profile painted a portrait of a strongly sales-focused organization. Today, that focus is as sharp as ever. Indeed, Stafford-Smith's culture and structure are carefully nurtured and managed to keep the collective attention centered on sales. It's a focus that starts with the owners.
Back in 2001, second-generation owner David J. Stafford said the company's objectives were "to continue to dominate E&S sales in Michigan and the surrounding area, to be good stewards of what we've built and to those who work with us, and to keep on winning large, complex projects because we're best qualified."
His son, then-34-year-old David M. Stafford, at the time vice president of sales and marketing and now third-generation president and CEO, was already crystal clear on the importance of sales as a corporate priority. He'd followed in his grandfather's and father's footsteps as a salesperson, after all, and had already been steering Stafford-Smith toward an even more sales-focused organization that lets sales management and salespeople alike focus strictly on selling and taking care of customers.
At the time, in the FE&S 2001 story, David M. Stafford noted, "By taking away all the paperwork and follow-up duties from the sales teams and giving them to sales support, we increased our efficiency and allowed our DSRs just to concentrate on selling and acquiring new business.
"What I tell our people in HR and administration as well as sales, is that we've got to perceive our jobs as hunters, not farmers," Stafford continued. "Farmers just harvest what they've already planted, but hunters search out and bring back new business and are always looking for new ways of making us more efficient and to embrace change. Working here part-time as a boy, I had a chance to watch my dad and grandad sell, so I learned my approach to sales from two masters."
About that approach today, Stafford says, "My dad was a salesman. I'm a salesman. That's what we do and who we are. It's never been our philosophy to sit back and wait for the phone to ring. I get a lot of ribbing for that 2001 hunters and farmers quote, but we're still hunters, not farmers. That's the way we work as a company, and it came from two generations ahead of me. We still use that analogy around here. Our people have wholeheartedly adopted it and we've built our systems to support it."