Picture this: In 1997, just 23 years ago, Mobile Fixture & Equipment Co. Inc. operated out of a retrofitted car dealership building with low ceilings and not so much as a forklift to move inventory. Sales were $5 million, the majority of which was generated by one rep. In a rapidly changing industry in which pressure to modernize and grow or die were becoming ever stronger, death — or at least acquisition — might have seemed imminent.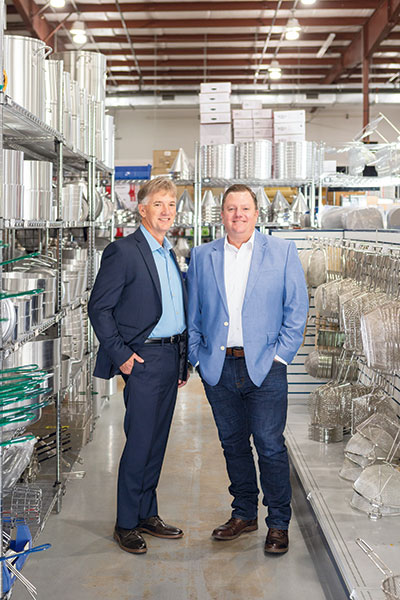 Walne Donald Jr., chairman and Ben Whitlock, president. Photos by Brad Puckett/ BP PhotgraphyNow, shift your gaze to Mobile Fixture today. You'll see a startlingly different picture.
Operating from six physical branch locations — two each in Alabama and Tennessee, one in Georgia and another in Florida — with large, modern warehouses, four showrooms and three test kitchens, plus a busy government sales division, Mobile Fixture is vibrant and valued by customers in virtually every industry segment. Over the past two decades, the company has cut a wide swath in the Southeast and beyond, taking sales from $7.9 million in 2000 to nearly $68 million in 2019. Particularly strong in design-build and contract sales, and with nearly 60% of sales coming from heavy equipment, Mobile Fixture is now the 28th largest dealership in the nation, according to the 2020 FE&S Distribution Giants study.
The company's trajectory is all the more notable for the fact that it has yet to make a single competitive acquisition or sell a single share of company stock to private equity investors. No major changes have been made to products or services offered — everything nonfood except paper and chemicals — and go-to-market strategies have remained consistent. Rather, Mobile Fixture's long history of organic growth and the momentum its team has generated in recent years has everything to do with simple fundamentals: hard work, smart management, a do-whatever-it-takes spirit and an unwavering commitment to fairness and respect in its dealings with customers, employees and supply chain partners.
Along with a willingness to invest in people and infrastructure, it's an approach that has served the nearly 100-year-old company well. And it's one that chairman Walne Donald Jr. and Mobile Fixture's next-gen leadership team members, who recently became co-owners, continue to embrace as they chart a course for the future.
The Evolutionary Road
To be sure, Mobile Fixture's road to success and prominence in the Southeast has been a long one. Founded in 1927 by J.L. Bedsole on Water Street in downtown Mobile, the company, from the start, had the same basic business model as it does today.
"Back then, they called E&S inventory 'fixtures,'" Donald Jr. says. "Initially, they delivered by hand, cart or bicycle and later by truck, taking care of restaurants, bars, hospitals, schools, churches — whoever needed commercial foodservice products in the city of Mobile."
As Alabama's oldest city and the Gulf Coast region around it continued to grow, particularly during and after World War II, Mobile Fixture & Equipment grew with it. Sales reps were added to call on accounts from Gulfport, Miss., to Panama City, Fla. In 1960, the company moved to larger quarters, taking over the old automobile dealership building nearby, from which it would operate for another four decades.
Upon Bedsole's death in 1975, ownership of the company passed to his nieces and nephews. They soon opted to sell. Local businessman Walne Donald Sr. was one of four partners who bought in, taking ownership of the company in 1979. Donald Sr. served as president and William Drew, another partner, as sales manager. The remaining two partners, both attorneys, served as legal advisors.
While the company had become a fixture in the marketplace, it would be many more years before its transformation into a strong and growing regional presence. The driving force behind that transformation was Donald Sr.'s son, Walne Donald Jr.
Like many kids in family-owned businesses, he started working summer jobs at the company in high school, unloading trucks, sweeping the warehouse, putting table bases and other stock items together. A future in foodservice equipment and supplies wasn't necessarily what he had in mind at the time, but ultimately a future in the city of Mobile was.
"I was a baseball player, and I ended up signing a baseball scholarship in 1981 to play for the University of South Alabama," Donald Jr. recalls. "I played with a number of guys who went on to the major leagues. That didn't happen for me, but I really enjoyed those years."
Walne Donald Jr., chairman: " The people here are very knowledgeable, they're competitive, they have a strong desire to serve and take great care of our customers. None of the rest happens without that."The day after graduating in 1986 with a marketing degree, Donald Jr. joined his father at Mobile Fixture, turning down job offers in other cities for significantly more money. "I realized that I didn't want to leave Mobile," he says. "My roots are here. So I stayed, starting on the sales floor, learning the products and how to take care of customers."
He soon transitioned to outside sales. Calling first on accounts along the Mississippi Gulf Coast, Donald Jr.'s route transferred in 1990 to the Mobile market. Over the next few years, he proved his value in sales and customer-relationship management. He also became convinced that his decision to build a long-term career at Mobile Fixture was the right one. In 1995, when Drew retired, Donald Jr. bought his 25% stake in the company and in 1997 was promoted to president. Four years later, he began buying out his father's share of the company, and by 2006 he had purchased the remaining shares from all partners to become sole owner.
Of his progressively more serious roles in the company, Donald Jr. notes, "As I got a little older and contributed a larger and larger percent of sales, they started to take me more seriously and actually listen to my suggestions." Once the reins were in his hands, it didn't take long for him to begin setting strategy and putting some of those suggestions into play.
Paving the Way for Growth
Ask anyone at Mobile Fixture today what sets the company apart, and they'll say it's the people and the company's relationship-based approach to business. People, Donald Jr. says, was in fact his first priority — taking care of existing associates, vendors and customers, but also working to build a strong sales force to kickstart growth.
"I knew we needed to hire quality men and women who could help us grow," Donald Jr. says. "We had to aggressively recruit people who had experience and ability in this industry and really focus on being a sales company. We had decent infrastructure in place — accounting, warehouse, install teams, etc. — but without sales, those folks don't have much to do. We had to build sales."
Between 1997 and 2004, Donald Jr. tripled the number of employees on Mobile Fixture's payroll, from 22 to 66. Sales began to grow, quadrupling from $5 million to $16.5 million during that period. With the exception of a recession-induced drop in 2009, revenues have grown slowly and steadily every year since — from $26.5 million in 2010 to $67.7 million last year. The company now employs 135, including 43 sales professionals.
With wind gathering in its sails, Mobile Fixture began to expand its footprint in 2000 as well. That year, it moved into a new facility in Mobile and, soon thereafter, began entering additional markets.
"I don't know how we managed in the old building for so long," Donald Jr. says. "The ceilings were low, and we did everything manually. I ended up getting a contract for about $2 million in 1999, which had been a record year for us, and convinced my father that we needed a new building. We purchased property near the interstate and built a 40,000-square-foot building with a showroom that made it easy for customers to shop."
Between 2003 and 2015, the company added facilities and staff to seize opportunities and/or support growing sales in five additional cities: Destin, Fla. (2003); Nashville, Tenn. (2006); Knoxville, Tenn. (2011); Columbus, Ga. (2013); and Tuscaloosa, Ala. (2015). The Destin location was later relocated to Freeport, Fla., and, at 58,000 square feet, is now Mobile Fixture's largest facility, serving customers in Pensacola, Destin, Panama City and Tallahassee.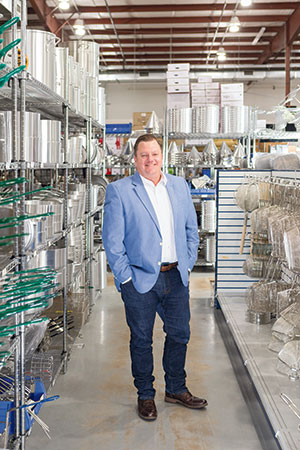 Ben Whitlock, PresidentHistorically, Mobile Fixture uses a combination of market evaluation to assess potential risk/reward, and intrepid sales efforts to drive physical expansion to new markets. Ben Whitlock, now president, developed strong sales in the Mississippi Gulf Coast territory before transferring in 2006 to establish the Nashville branch. Chris Pacey, now director of sales and one of four senior management co-owners, built most of the initial market in and around Destin. He joined the dealership directly out of college like Donald Jr., starting in 1996 as a commissioned sales rep in Baldwin County. Knoxville branch manager Mike Slemp started that market out of a spare bedroom in his home. It's now a 15,000-square-foot, full-service branch with 15 employees.
Whitlock made the move to Nashville following Hurricane Katrina, which wiped out his entire Gulf Coast customer base. "I went from having a lot of sales to zero sales," he recalls. "At that time, Walne was in the process of building the Nashville location. We were talking about it over lunch one day, and I asked who was going to run the new branch. He hadn't thought about it yet, so I volunteered. I'd never even been to Nashville, but two months later we were residents of Nashville and I was starting to build business there."
At the time, the company's only presence in Nashville was one employee working from home with a handful of chain restaurants. Everything was drop-shipped or "haphazardly" delivered, according to Whitlock. Mobile Fixture secured a 20,000-square-foot facility on the interstate in La Vergne, Tenn., between Nashville and Murfreesboro. By 2015, with sales having outgrown the building's capacity, the company purchased an additional 35,000-square-foot warehouse across the interstate.
In building the market, Whitlock says he followed the long-established Mobile Fixture mantra of keeping customer needs and relationships as top priorities. "Walne instilled in me that clients come first, no matter what. We do whatever it takes to make them happy and exceed their expectations," he says. "I took that mentality to heart when building the Gulf Coast territory and in Nashville as well. We just tried to get our foot in the door with any restaurant that would allow us to walk in and sell our goods. A few took a chance on us, and we did a good job. They started telling their friends and counterparts in the industry, and one thing led to another. All of a sudden we had a nice portfolio of business in Nashville, with mostly design-build and relationship-driven clients."
One of those spreading the word on the street was chef Andy Little. He moved to Nashville in 2013 to helm the kitchen at Josephine, a modern American restaurant in the city's popular 12 South neighborhood. Part of Community Hospitality restaurant group, Josephine was in development when Little came on board, and his partners, who had worked with Mobile Fixture on other concepts, introduced him to Whitlock.
"Our relationship started there," says Little, a James Beard Award semifinalist for Best Chef Southeast in 2017 and 2018. "Since then, we've used Mobile Fixture for multiple design-build projects as well as for ongoing account maintenance. When other people in the industry ask me who we use for equipment, or to design and build out kitchens, I refer everyone to them. They're competitive, but what really differentiates them is their commitment to building relationships. Everyone who works there has the attitude that they're an extension of the restaurant. They actually pick up the phone, which sounds so simple, but which anymore is rare. They check in to make sure everything's working the way it's supposed to, and they provide training opportunities. What's more, they support us by being frequent guests in the restaurant. It's a relationship that doesn't end after the sale, and it's tough to put a value on that."
Building Relationships, Growing Sales
While commercial restaurants remain Mobile Fixture's bread and butter, the company maintains a multichannel customer base, including contract sales, schools, healthcare facilities, stadiums and other noncommercial operations. Some branches are stronger in some segments than others, and each adjusts its operations and its sales strategies to the local market.
In every branch, sales reps receive wide latitude and strong support to enable them to build and maintain the types of long-term, win-win relationships on which Mobile Fixture rests its business and its reputation. Typically calling on all types of accounts, reps whose customers expand beyond their original territories maintain the business, even when it takes the rep and/or company well beyond the original territory. Personal relationships established in its home markets have led Mobile Fixture to work on projects for clients in locations as diverse as California, New York, Indiana and Jamaica.
Keith Murray, Chief Operating OfficerMany of those projects are design-build, which constitutes a majority of overall sales. It's facilitated by a three-person, Knoxville-based design and engineering team that works as an extension of the sales staff companywide.
Design-build, in fact, is exactly the type of sale that Donald Jr. and his team feel lets the company's core strengths and relationship-driven culture shine through. With many customers being local independents and emerging chains or multiconcept restaurant groups, seizing opportunities to partner from dream stage through opening day and beyond is a priority.
Will Fusaiotti, co-founder of Foosackly's Chicken Fingers, a QSR chain based in Mobile, began working with Mobile Fixture with the Foosackly's third unit some 15 years ago. "Walne was a regular customer and kept asking me what he had to do to get my business," Fusaiotti says. "He was relentless. When I first met him, I remember thinking that he was either full of crap or that he could be fantastic for us. The latter has certainly been the case."
Now at 13 units, with several more in the pipeline, Foosackly's relies on Mobile Fixture for everything from kitchen and dining room design through installation, including all smallwares and supplies. "They package up all of the design elements and hand it to our architectural firm," Fusaiotti says. "They've been instrumental in helping us make changes and modifications to tighten up our prototype, save us money, get us open quicker and make us more efficient."
Fusaiotti adds that in a business in which vendors routinely toss the word "partner" around, Mobile Fixture truly does partner with clients and puts their needs first. He cites a recent visit from his long-time Mobile Fixture rep Dale Greenstein as an example. Greenstein wanted to make sure that Fusaiotti knew about a company in Mobile that was going out of business. It was likely to have some good used equipment for sale at low prices.
"We had purchased an independent restaurant, separate from Foosackly's, and were redoing it," Fusaiotti says. "Dale was basically talking himself out of a potentially big sale by telling us about this opportunity, but he knew it could be good for us. They always look at business from our perspective and put our needs first, whether it's the salesperson, the warehouse manager or the person running the showroom counter. They're straight with us, laying out the facts and letting us make the decision instead of pushing us toward one manufacturer over another. And they advocate for us with manufacturers, making sure our mission-critical equipment meets our standards and that we're taken care of if issues come up. I wish all of our suppliers took their approach to partnership."
Chris Pacey, Director of SalesRelationships are a priority at Mobile Fixture, Pacey says. "As we move into new markets, that's where we see our most exciting opportunities for growth," he says. "We dig deep into building relationships. We brainstorm with clients and try to figure out the best ways to create their concepts and design their facilities. We help find them great locations. We get emotionally involved and vested in their success. Being a part of successful restaurants that then go on to expand really affirms why we do what we do and we're able to grow along with them."
That same sort of emotional investment and focus on relationships extends to Mobile Fixture's contract business, handled primarily out of Mobile, Knoxville and Columbus, and centered largely in higher education and K-12 markets. Like design-build, it's both a strength and a growth opportunity, says Keith Murray, chief operating officer.
Murray has played a strong role in building the contract side of the business. A former baseball player like Donald Jr., he returned home to Mobile in 1996 looking for work after spending two years with the Texas Rangers' minor league team. The two met on a local softball field, and Murray joined Mobile Fixture as a sales rep soon thereafter.
In 2005, he was tapped to take over the contract sales department in Mobile, and later was made general manager and vice president of that location, still continuing to lead the contract effort. In 2017, Murray became COO and part owner.
"We have 8 to 10 employees involved in contract sales. It's a growing part of the industry, as more owners are turning purchasing power over to general contractors," Murray says. "Just as with every type of sale and every type of customer, we do everything we can for our GCs. The owner may be managing the specs and the bidding, and there's likely also a consultant and architect involved, but we start with the GC and nurture those relationships. They need to know they can trust us to lead with products that everyone will be happy with and that we'll come in and do our job the way it's supposed to be done."
Merging Old School and New
Mobile Fixture's overall approach to building business could in many ways still be considered old school. Its leaders firmly embrace a "feet on the street" culture, opting for face-to-face interaction whenever possible.
Internally, the senior leadership team keeps a regular schedule of meetings and conference calls with branch managers to ensure open lines of communication and collective strategizing. In addition to individual visits to branches, the team also does occasional "road shows," driving together to visit each branch over the course of a week.
"It's good bonding time for us, and it's helpful for all of us to be at the branches together at the same time," Whitlock notes. "We can visit with different departments while we're there and get broader perspective on concerns, problems and opportunities. It's very productive."
On the sales side, Pacey continues to work as a "boots on the ground" management team member. He strives to visit a different branch every other week, working with individual sales reps to help with challenges and find opportunities to increase sales.
Strong and consistent communications with vendors is a priority as well, and the company is heralded by supply-chain partners for its honesty and transparency.
"We like being transparent with our vendors, as with our employees and our clients," Whitlock says. "If we're having trouble growing with a particular vendor, we spell out the reasons why and what we feel needs to change if they want to help our relationship and grow with us. Likewise, if we're not doing business with a vendor, we're going to talk about it. I'd rather tell them, 'Hey, these are the three reasons why we're not doing things with you. If you can help me with these things, maybe we can grow together,' than to sugarcoat things."
The newest member of the senior management team, Leigh Thompson, chief financial officer, believes that sort of transparency is central to Mobile Fixture's approach to win-win relationships. "Our legacy is built on the fact that we say what we mean and stand behind what we say, even if it's not what you want to hear," she says. "We're not in the business of just going out and selling a walk-in. We want to build relationships and do so honestly. Do we look for the best opportunity with our vendors? Sure. But we also work hard to build long-term partnerships."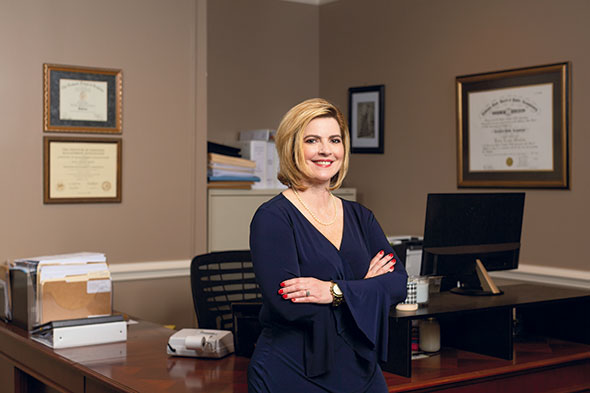 Leigh Thompson, Chief Financial Officer
Thompson came on board in 2014 as the company's first CFO. Along with Whitlock, Murray and Pacey, she's now a co-owner. Bringing considerable financial expertise gained through years working as a corporate certified public accountant and banker, she represents an important piece of a succession-plan puzzle that Donald Jr. began assembling several years ago.
"When I joined, Mobile Fixture didn't have extensive financial reporting and forecasting systems in place," Thompson says. "One of my first priorities was to implement those types of systems. Since then, I've learned what works and what doesn't for our management team and can provide timely information for better decision-making."
As the company has grown from a small, local dealership into a large, regional corporation, it has also invested in new technologies that are helping to position Mobile Fixture for the future.
The design team, for instance, is transitioning from traditional drafting software to a building information modeling system. Donald Jr. expects to complete the changeover later this year. And Mobile Fixture has recently implemented a new enterprise resource planning software and customer-relationship software system companywide. While still a work in progress, it has already greatly enhanced visibility into inventory among branches and the company's ability to share and work with real-time sales and financial data.
"We now have more current numbers than our manufacturers have when we start talking about sales, open orders, orders to ship, etc.," Donald Jr. says. "We can drill down to find out what we're doing right, what we're doing wrong and what we can do better versus having to crystal-ball things."
The company does offer e-commerce, but in Mobile Fixture fashion, it's treated primarily as a way to support and build relationships. "We have a secure online portal through which clients can purchase, and a division of our company handles e-commerce," Whitlock notes. "But we don't market e-commerce, per se. We treat it as a relationship-driven hybrid of our traditional sales model and an e-commerce model. We're much more about partnerships than about internet-based sales."
Maintaining strong and open lines of communication is in the company's cultural DNA, but it's also critical because of Mobile Fixture's largely decentralized operational structure. Accounts payable and payroll are handled by the headquarters office in Mobile, and all branches share the design team; but each location has a general manager and most handle all of their own purchasing, inventory, installation and accounts receivable.
"There are parameters in terms of company policies and procedures, of course. But we have very few things that are truly centralized," Whitlock says. "We talk a lot about whether we could improve certain things by centralizing some functions, but I'm not sure we'll take that route."
A Plan for the Future
Viewing the past as a window to the future, Donald Jr. continues to insist that Mobile Fixture's greatest asset, and its most important investment through the years — more than new facilities and more than new technologies — is always its people. "We have a lot of ability," he says. "The people here are very knowledgeable, they're competitive, they have a strong desire to serve and take great care of our customers. None of the rest happens without that."
His knack for attracting talent and providing a pathway to personal career growth, as well as to company growth, has been proven time and again. Whitlock, Pacey and Murray are prime examples. All three started as sales reps more than 20 years ago and now lead the company that they helped to build. But there are many more examples through the ranks of long-tenured, career employees for whom Mobile Fixture isn't just a place to work — it's family.
In Nashville, for example, Yesenia Elliott started as a receptionist/customer service representative just as that branch was about to open in 2006. She soon progressed to a purchasing position and eventually began taking on some office management. Today, she's general manager of the 21-employee Nashville branch, a position she's held since 2014.
"I've always believed that if you teach me, I can do it. This company has been great to do just that — to let me grow into the position that I have now," Elliott says. "Everyone's supportive, especially senior management. I remember meeting Walne for the first time as we were setting up the Nashville showroom. I was nervous to meet the owner, expecting a 'boss' in a three-piece suit, but there he was in basketball shorts and a T-shirt assembling shelves and putting stock away. That was amazing to me, and it's still that way — he and the management team are always available to help."
In recent years, the moves that Donald Jr. has made to put Mobile Fixture's next generation of leaders in place offer a lesson in strategic succession planning for family-owned companies with no heir apparent. With a growing desire to pull back without sacrificing the Mobile Fixture family to acquisition, he turned to the source of the company's growth and success — its employees.
"Six or seven years ago, I spent a lot of time thinking about the future and seeing what was going on in the industry," Donald Jr. says. "I'm 57, but I've been working here since I was a teenager. It was time to start planning. Everyone kept asking, 'When are you selling?,' but I knew I wanted this company to go on as Mobile Fixture and do what I felt was best for our employees. I don't begrudge other companies for taking the acquisition route, but it wasn't what I wanted."
Rather, he doubled down on four key employees — Whitlock, Murray, Pacey and Thompson — to take the company forward, not just as managers but as employee-owners. Three years ago, the foursome transitioned to senior leadership roles and quietly acquired equal shares of one-quarter of the company. Employees learned just this January of the change in ownership, per Donald Jr.'s desire to give the team time to settle into their new roles and responsibilities and to avoid causing concern.
"I wanted them to run the business like I still owned 100% of it," Donald Jr. says. "I wanted employees to be able to see me backing off and the senior management team taking over well before we announced their ownership."
The next step is a bigger one. If all goes according to plan, by January 2021 Donald Jr. will have completed the sale of all shares of Mobile Fixture to his management team. He'll serve as chairman, continuing to consult and advise as necessary. And he'll continue to marvel at the capacity of hard-working people with a commitment to relationship-based business to excel as the company heads into the future.
"If anyone told me 20 years ago that we'd be where we are today, I'd have said there's absolutely no way," Donald Jr. marvels. "Technology will continue to change things, and this team will mold the future for Mobile Fixture in their own way. But when I look ahead, I see in my crystal ball maybe 6 to 12 more new locations throughout the Southeast, with more good people continuing to do what we've always done to be successful. I'll be cheering them on, and I'll go to war with anyone who messes with them. They're my family."
---
Next-Gen: Eyes on the Future
Mobile Fixture's senior management team consists of a young foursome who, three years ago, not only took on leadership roles, but also became equal co-owners of the company. They bring different and complementary strengths to the party, and each admits that transitioning to ownership and taking responsibility for Mobile Fixture's future is both exciting and daunting. Here, they share how it's going and discuss their priorities for the company going forward.
Ben Whitlock, President
Age: 45
Year hired: 2001
Leadership challenges: Not getting bogged down in the problem right in front of you and working together as one unit instead of four leaders trying not to step on top of each other. We have to stay focused on our goals collectively. We're doing a good job of keeping each other accountable for that, and we're very respectful of each other's boundaries.
High priorities: 5- and 10-year growth plans, including trying to find the next branch location and/or the next diamond-in-the-rough salespeople. Build a stronger digital and social media presence and figure out how to monetize that. And ensure that we continue to make this something special, not just for us as a new ownership team but for future generations of Mobile Fixture families.
Keith Murray, Chief Operating Officer
Age: 53
Year hired: 1996
Leadership challenges: Maintain growth and strengthen what we've built by focusing on relationships with reps, customers and manufacturers. With the four of us in place, we can cover more ground, have more conversations, answer more questions and nurture more relationships as we continue to grow.
High priorities: Continue to invest in technology to enhance our speed, quality and efficiency. Also, make sure that Mobile Fixture continues to operate as a straightforward, honorable company that always takes care of its customers and treats its supply chain partners fairly.
Leigh Thompson, Chief Financial Officer
Age: 48
Year hired: 2014
Leadership challenges: Walne often says it's our turn to find the "next us." When we come to the end of our tenure as the management of Mobile Fixture, I hope that we hand a very strong company off to the next generation of employee-owners. Our big challenge as a group is to do exactly what he did to ensure the future of the company.
High priorities: Continue to achieve steady growth and ensure that we have the funds, ability and structure in place to invest when opportunities are identified, whether new markets, new customers, new talent or acquisitions.
Chris Pacey, Director of Sales
Age: 49
Year hired: 1996
Leadership challenges: Three of the four of us are sales guys, and we're figuring out how to let go of some things, to work effectively as a leadership team and be more forward-thinking. I'm still in the trenches with the sales reps, strategizing, making cold calls, seeing what we could be doing better. But sometimes we're running sales reports two or three time a day just to see where we are.
High priorities: Continue to build new markets and more design-build projects. Maintain the strong family feeling that we all value so much here at Mobile Fixture.
---
Snapshot
Founded: 1927
Headquarters: Mobile, Ala.
Owners: Walne Donald Jr., Ben Whitlock, Keith Murray, Leigh Thompson, Chris Pacey
Locations: 6, plus remote government sales division
Showrooms: 4 (Mobile; Nashville, Tenn.; Tuscaloosa, Ala.; and Columbus, Ga.)
Test kitchens: 3 (Mobile; Nashville; and Knoxville, Tenn.)
Employees: 135
Buying groups: CPG-XYZ
Sales & Customers
Total sales (2019): $67.7 million
Active customers: 3,000-plus
Commercial business: 65% (75% independents; 25% chains)
Noncommercial business: 35%
10-year compound annual growth rate: 9.8%