Through a mix of shared traditions, in-depth training and strategic foresight, Ace Mart has managed to cultivate a careful balance between old and new without forsaking either.
Ace Mart Restaurant Supply is the kind of company you think you know. It's a family- owned business with a great backstory about a cash-and-carry retail outfit that didn't offer credit but kept a deep inventory. But, like so many things in life, just when you think you have Ace Mart all figured out, it turns out you've only scratched the surface.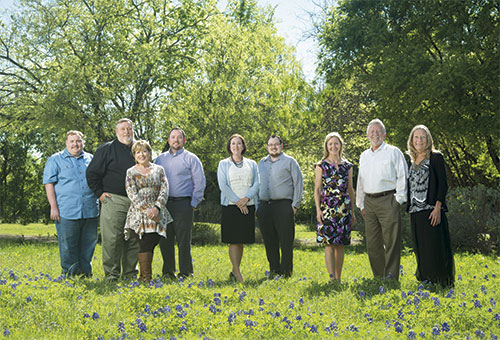 The Gustafson family (left to right): Cody, Paul, Judie, Jonathan, Stephanie Bean, Grant, Phyllis, Carl and Norma
When Norman "Gus" Gustafson purchased Ace Mart in 1975, it was a one-man operation in San Antonio, Texas, located in a 2,000-square-foot space with annual sales totaling $120,000.
An obsessive focus on customer service led Ace Mart to grow to 14 locations across five Texas cities with more than 330 employees. In 2014, the company topped $100 million in sales for the first time, and is now ranked as the country's 15th-largest foodservice equipment and supplies dealership, according to FE&S' 2016 Distribution Giants Study. True to its roots, today Ace Mart carries $17 million in inventory.
Gus's zest for people — from customer service to training the newest employee to talking to vendors and even making friends of competitors — remains a pillar on which the company still stands. But Ace Mart has recently undergone a reorganization that carefully considers both the past, specifically how to incorporate the company's founding principles, and the future.
It's not the first time Ace Mart's team has tackled succession planning. Gus and his wife, Fran, transferred ownership to their children, Paul, Norma and Carl — who now serve as co-owners — in 1995. From there, the company continued to expand, including building new corporate offices and a distribution center in San Antonio in 1998.
Paul Gustafson, PresidentAce Mart acquired a 40-year-old wholesale distributorship in 2000 and purchased a second distributorship located in Dallas in 2011. Shortly thereafter, the two companies merged to form Associated Distributors, Inc., headquartered in San Antonio.
In 2012, Ace Mart entered the private-label business with the debut of the Gusto brand. In 2014, a new company was formed, Supreme Products International, which oversees a growing private-label business. They've since added eight more house brands.
Through all of this, Paul, Norma and Carl have sought to maintain the same work and management philosophies that had driven their father, including his famous open-door policy.
Norma Gustafson, Secretary Treasurer"We still discuss our business model openly," says Paul Gustafson. "We've had a large number of dealerships over the years come and visit our Ace Mart stores. It's always come natural to the family to share our enthusiasm for this business model. There are no deep secrets about how to succeed, and we've been open about sharing many of our basic operating principles: Find a great location at the right price, hire and train the best people possible, stock the stores and offer customers the highest levels of service you can provide. But keep in mind, it's the daily execution of these basics that many find challenging."
Norma Gustafson agrees. "We take customer service training very seriously," she says. "Whether it's sending 50-plus associates every two years to the NAFEM Show or taking advantage of factory training sessions, we view these opportunities as investments in our associates." Customer service is the cornerstone of every transaction at Ace Mart.
Going Forward
In January 2016, Carl Gustafson defined a new organizational structure to position Ace Mart for the future.
Carl Gustafson, Vice President"Our leadership team had been discussing for some time that we needed to make some internal changes and adjustments. A year ago, we began to lay out the process of preparing people for change and emphasized the importance of succession planning in every department," says Carl. "In a sense, it wasn't a radical reorg but simply the exercise of identifying who we had become over the last decade."
The leadership team recognized that distinct divisions had emerged. "It was then vital to clarify and empower individuals with proven leadership for each of the distinct revenue streams or divisions," says Carl. "While in the early years we were singularly focused on our cash-and-carry stores, a revised operating principle today would be: We are one Ace Mart, serving our customers through multiple divisions and channels of distribution."
During the previous decade, Ace Mart's core cash-and-carry business thrived. In fact, Ace Mart's stores processed 665,000 transactions in 2015, a significant increase over 2014. At the same time, customer demand drove the company in new directions. Today, Ace Mart has a much wider reach and a more diverse base of clients: Credit and leasing terms are still tightly managed, but 30 percent of total sales are on account, 20 percent of total annual sales come from special orders, and demand for commercial kitchen design services is on the rise, as are the number
of large multiple-unit accounts and e-commerce sales.
Ace Mart now consists of four distinct divisions — Retail Sales, Strategic & Bid Sales, E-Commerce and Wholesale Sales — with the corporate office serving as the newly christened Shared Services Department.
Rick Klipp, Director of Key Accounts; Jim Pieper, Director of Retail SalesRetail Sales, overseen by 22-year company veteran Jim Pieper, includes all brick-and-mortar storefronts. "In the last year, we realized that we needed to be more proactive. Before, we thought, 'If we build it, they will come.' But it's a very competitive world out there," Pieper says. "So we brought in a new sales manager and director of business development, Lance Alvarez, who specifically challenges our sales force's mentality of waiting for the sale to come in and then providing great service when it does."
Pieper expects this new strategy will help the Retail Sales division lead the pack, but he says, "If a customer goes from one of our stores to another or to another division for what they need, who cares? We're all one Ace Mart, and what's best for the customer is ultimately best for us."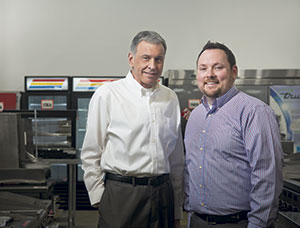 Bud Herrmann, Director of Operations; Jonathan Gustafson, Director of Strategic & Bid SalesStrategic Sales is overseen by Jonathan Gustafson, Paul's son, and includes the bid department as well as design-build projects. "Bid work is very different from cash-and-carry. It's a lower-margin business, and it involves a lot of calculated risks and relationship building," says Jonathan. "We've done well with customer service in the past, so we're applying the same strategy to bid work. For example, we're finding that we have a lot of schools that like our people, and they like being able to take advantage of the retail stores. We find that they come back to us and buy a lot more through us instead of putting things out to bid. That 'right now' mentality has helped us immensely. When they need it, they need it quick, and nine times out of ten, we can get it for them and in the quantities that they actually need."
E-Commerce, overseen by 17-year company veteran Ray Garcia, includes everything online. "It was never enough to build a website and expect customers to buy from us," says Garcia. "To compete with other online dealers, we needed more competitive shipping rates, faster shipping turnarounds, SEO optimization, competitive prices, a bigger social media presence, a broader selection of products, smarter marketing tools and fully developed content written to anticipate customers' questions." To that end, the IT team set about creating software that streamlines many of the company's processes.
Rob Vetter, Real Estate & Property Manager; Ray Garcia, Director of E-Commerce; Anthony Salemi, Director of Purchasing and Wholesale Sales"We were able to build new features that help customers, such as checking live stock at their local stores or signing up for email notifications when out-of-stock products are back in stock," says Garcia.
Anthony Salemi, with the company just four years, is the director of the 12-person team that oversees purchasing, procurement and store transfers. He is also the director of the Wholesale Sales division, which includes Supreme Products International and ADI Associated Distributors, Inc. "We started with Gusto about four years ago, which is a play on words honoring Gus," says Salemi. "It's mostly equipment, and it's mostly built by U.S. manufacturers. We have a brand called DisposaBull, which are disposables sold exclusively in the stores. We also have a high-end china brand called Francessa, which pays homage to Gus' wife, Fran, who loved to entertain and throw parties."
The division directors meet weekly and participate in Ace Mart's Operations Council, which includes Paul, Norma and Carl as well as Director of Operations Bud Herrmann, Controller Dave Russell, and CFO and Director of Shared Services Chuck Bridgman.
Dave RusselL, Controller; Chuck Bridgman, CFO and Director of Shared Services; Jerry Higgins, Manager of Information SystemsThe reorganization also formalized the mission of the corporate office by forming the Shared Services Department, which provides direct support to the four divisions by handling purchasing, procurement, inventory transfers, accounting services, human resources, information technology, distribution and real estate.
"Our focus is all about supporting the operating divisions," says Bridgman. "It's early on, but we can already see positive momentum in each of the divisions. The owners are empowering the division managers to make decisions and take a little bit of risk. And what's neat about this is that the Gustafsons are still reinvesting back into the business — back into the people, resources and facilities. They have a passion for our people, and I see that every day."
Shared Traditions, In-Depth Training
Passion for its people is one of the key drivers of Ace Mart.
"We are one Ace Mart" is something of a mantra for the company's executive team. It's a reminder that despite being spread across five Texas cities, the company has only one goal, to serve the customers, and internal competition is not the way to reach the goal.
Gilbert Davila, Assistant Distribution Manager; Jeff Carpenter, Distribution ManagerThough the number of stores and the number of people in his department have doubled since he started with Ace Mart 20 years ago, Distribution Manager Jeff Carpenter says the company still feels the same. "We've grown and have other channels of business, so that part of the company is very different, but the part that feels the same is that you still have the Gustafsons here, and you still see them every day," he explains. "We haven't grown to the point where there is any real separation between the senior management and the ownership. To me, it still feels like a small company."
Scaling Gus's legacy (see sidebar on page 48) to create the culture of a large, diverse company is not a simple task. And despite presenting themselves as simple folks, Ace Mart is a bit more complicated, and its team is a good deal savvier than a mom-and-pop, cash-and-carry business template would imply.
"Ace Mart is what it is because of what my grandfather started, and then my dad, my aunt and my uncle built on," says Paul's daughter Stephanie Bean, head of human resources development. "Then, we've also got key people who have been here forever, who live and breathe Ace Mart."
Ace Mart has used its history to create something special. The Ace Mart Academy is a key component in the company's commitment to training new associates. At least twice a year, up to 20 associates gather for training and presentations from each major department. The associates spend time working in the distribution center and get ServSafe certification and product demos from reps before graduating from the Academy.
The goal, according to Bean, is to ensure new hires understand the big picture and the processes and get to meet key team members. "Some people say that when you're finished with the Academy, you come back to your store 'drinking the Ace Mart Kool-Aid,'" Bean says, laughing, but the combination of in-depth training, cultural immersion and living history turns Academy graduates into loyal, long-term employees.
The company is in the process of implementing performance management software that will allow management to provide meaningful and timely feedback to every employee and share corporate and individual goals. Putting key people in place and developing their talents is a key element in long-term succession planning as well, says Bean.
Finding the right people has always been a key ingredient in Ace Mart's success, and keeping them has never been very difficult. More than 100 Ace Mart associates have been with the company over 10 years, 70 have more than 15 years of service and 30 have more than 20 years with the company.
Loyalty, both internally and externally, is another major component in Ace Mart's ongoing success, but the real secret — even though senior management insists there isn't one — is that nobody at Ace Mart is content to rest on their laurels.
"One of my favorite authors is William Taylor," says Carl. "And he made an astute observation that is relevant to our industry: In a fiercely competitive business environment, playing it safe is not a winning formula. While some companies work hard to avoid risks that might 'sink the boat,' winning companies and great leaders are more concerned with 'rocking the boat' — finding better, faster, more efficient ways of serving their customers. I hope Ace Mart rocks the boat in the years to come."
A LEGACY OF RELATIONSHIP BUILDING
Norman "Gus" Gustafson was well known for caring about people. He treated customers as he wished to be treated, and he extended that same courtesy to employees and business partners. He wasn't afraid of hard work, and he was wary of a man in a tie.
"When he first started, he didn't know anything about this business, but my dad could talk to anybody about anything at any time," says Paul Gustafson. "So I learned the ropes in-store while Dad went to the NRA Show and visited as many dealers as he could to learn more and more about the business."
Gus also believed in industry organizations. "He joined FEDA [Foodservice Equipment Distributors Association] right at the get-go," says Norma Gustafson. "And we've been going to FEDA ever since."
He reached out to people in the industry. He made real friendships with other dealers in other towns. His desire for sharing knowledge in the dealer community started early, and his legacy is reflected in Ace Mart's well-known open-door policy today.
Gus believed that inventory on hand would be the key to success. If you wanted three or four of a given item when you showed up, his stores had them. And if you needed a thousand or more, he could get those for you quickly. "He felt you could invest money in inventory or in accounts receivable, and he chose to invest in inventory because he carried no accounts receivable. So we slowly built up inventory, and we now have over $17 million in inventory," says Paul.
Building a large inventory was no easy feat. Gus was convinced reinvesting in the business was the best course of action. As a result, he drew no salary for the first five years in business.
"It's a good thing our mom was working," says Norma. "She supported us." Frances "Fran" Gustafson served as director of volunteers at Baptist Hospital in San Antonio for 20 years.
After outgrowing its first location, Ace Mart relocated across the street to a 4,500-square-foot building that had no air conditioning. "Fridays were cleaning days," Norma says. "Everything got dusty, and we had to sweep and clean."
The work was often backbreaking. "There were no forklifts. So we'd back my truck up to the 18-wheeler and load it, and then I'd drive to the door and unload it into the store. It was quite a manual process back then," says Paul.
And nobody worked harder than Gus. "I just recently heard a story about him: There was a clogged toilet, and one of the guys who was helping with maintenance just couldn't do it, so my grandfather rolled his sleeves up and put his hand in and did what he needed to do to make the toilet work," says Paul's daughter Stephanie Bean, head of human resources development. "So that's it — nobody is better than any task here. Those stories perpetuate our culture."
"Our company is based on customer service. It's in our mission statement; it's what we've tried to hold on to," says Bud Herrmann, director of operations. Herrmann joined the company in 1988. "It's what we consistently teach. The first day I met Gus back in 1981, when I was a manufacturers' rep, I drove into the parking lot, and he was out there with a dolly loading beer mugs into a lady's car. That's just how it is. Anywhere else, you can buy all this stuff, but what we're selling is customer service." Paul, Norma and co-owner Carl Gustafson note that no one has played a more important role in the company's growth than Herrmann, nor is anyone more respected at Ace Mart.
Gus would tell reps that parked in front of the store to move their cars — prime spots were for customers. Every Friday, Gus would buy a couple of cases of beer and sit on the loading dock to talk to sales reps and employees, learning about them and considering the business from every angle.
"That's where a lot of our best ideas came from," says Norma. "And as we added people, they brought ideas with them. Dad believed strongly in product knowledge and training and relationship building."
Norma introduced the first computer to the company. Like so many employees over the years, she introduced a good idea, and it was adopted and incorporated accordingly.
"Gus believed in people," says Steve Henley, store manager in San Antonio, who has been with the company in a variety of capacities since 1983. "I remember him telling me, 'We'll go as far as our people take us.' He believed in giving people second chances and took pride in finding diamonds in the rough. As we grow and change, it's all about trying to develop talent."
The ways in which Ace Mart has managed to both codify Gus' core business beliefs while also plotting a course for growth is key to understanding Ace Mart today.