From its broad sustainability initiatives to its designated peanut-sensitive dining hall, from its kosher meals to halal meat alternatives, and from its partnerships with celebrity chefs and the Culinary Institute of America (CIA) to its strong commitment to local and organic foods (40 percent of purchases), Stanford Dining has for many years and on many levels been on the cutting edge of campus feeding. Its new Arrillaga Family Dining Commons and Performance Dining program, however, take Stanford's knack for setting trends to new levels.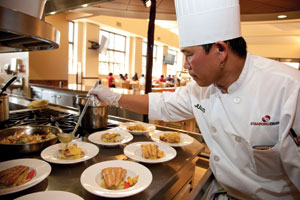 Stanford students enjoy fresh, upscale entrees such as halibut with saffron beurre blanc produced in the Arrillaga Family Dining Commons' educational Culinary Studio. Credit: Stanford DiningStanford students enjoy fresh, upscale entrees such as halibut with saffron beurre blanc produced in the Arrillaga Family Dining Commons' educational Culinary Studio. Credit: Stanford DiningThe first dining facility built on the campus in almost 20 years, Arrillaga Family Dining Commons opened in September 2011. In concept development for seven years, the 31,000-square-foot, two-story building is primarily the home dining hall for students in two nearby residence halls. Faculty, graduate students and staff also now frequent it more than any other dining hall on campus and it's no wonder why.
Designed to be far more than just a dining hall, Arrillaga is as much about academic enrichment and providing a food- and wellness-focused student lifestyle center as it is about providing another place on campus to grab a bite. A mix of cozy, soft seating on the first floor invites students to relax. Large community tables accommodate convivial gatherings. Those looking for a private, quiet place to study or collaborate can access one of several conference/study rooms with state-of-the-art multimedia capabilities. Flat-panel screens throughout entertain with broadcasts of cooking demos taking place in the upstairs culinary studio as well as news coverage, sporting events and movies. Inspired by top-tier culinary schools, a large viewing window along the lobby wall gives students a behind-the-scenes view of the production kitchen in action.
Continuous service at Arrillaga enables those who are unable to make the traditional meal times to eat a full meal. The off-hours service, from 9 a.m. to 11 a.m. and again from 1:30 p.m. to 5 p.m., accounts for 15 percent of meals served in the facility. After hours, students can refuel at The Dish at Arrillaga, serving standard fare like pizza and wings, as well as a new Fit & Healthy menu from 9 p.m. to 2 a.m. Developed to increase energy and brain power, it includes options such as a high-protein berry yogurt parfait and pesto turkey wraps.
The design of the facility's main serving area allows for maximum flexibility and culinary sophistication. Counters are fire onyx and drop-in recessed warmers allow for gourmet market-style menu service. Custom induction display cooking stations feature menu concepts that change from one meal period to the next, from panini to pad Thai. Designed to allow for several different equipment configurations to "plug-and-play" the stations create flexible platforms and maximize students' ability to customize their meals.
A signature Wall of Fire includes a four-foot chargrill and a huge gas-fired deck oven for roasted meats and seafood, slow-cooked braised dishes, and flatbreads and paninis. Next to the deck oven sits a custom-designed eight-spit rotisserie, which slow roasts a variety of meats, poultry and fish that staff hand-carve to order. Just beyond the Wall of Fire, a culinary demonstration suite hosts cooking classes, and staff use this space to prepare foods for meal service and late-night dining.
Each dining room upstairs contains a large projection system (including one 233-foot screen) used for both entertainment and educational programming. The South dining room features an award-winning cooking suite that serves as the centerpiece of Stanford's Culinary Studio. It includes a "chef's counter" that gives a handful of students front-row seats from which to view the action. Here, Stanford Dining hosts classes and demonstrations that can be televised throughout the dining rooms, engaging a large student audience in the cooking process but maintaining the intimacy of a studio production. Partnerships with the CIA and access to its training programs, as well as Stanford's many connections to celebrity chefs, help ensure the topics and guest presenters are contemporary and dynamic.
The suite is outfitted with refrigerators and freezers, high-efficiency fryers with footprint filters and direct plumbing to a remote used oil tank in the service dock, from which it is recycled and converted to biofuel. Adjacent to the cooking suite is a specialized cold preparation area that includes a glass-door walk-in where fresh raw ingredients and finished products alike are displayed.
"My vision for the Arrillaga Family Dining Commons was to create a design that focuses on academic enrichment by enhancing the student living-and-learning experience with equally unique, innovative, educational and sustainable dining experiences," says Shirley Everett, senior associate vice provost, a long-time campus dining innovator and former IFMA Silver Plate winner. "This design will foster a sense of community, encouraging intellectual and social engagement that supports individual or group studying and a robust academic speaker series by integrating service, production and seating with continuous, dynamic flow."
"I am extremely pleased that the Arrillaga Family Dining Commons brings a new level of innovative dining experiences, community building opportunities and unprecedented spaces to work, study and relax," adds Eric Montell, executive director of Stanford Dining.
Performance Dining Debuts
The Arrillaga Family Dining Commons also hosts Stanford's new Performance Dining program. Developed by Montell, director of operations Gary Arthur, and wellness and performance dining nutritionist Elaine Magee in partnership with Stanford Athletics, the School of Medicine and the CIA, the program marries great flavors with nutritionally optimized dining. It was designed, says Montell, "with synergistic food and nutrient combinations and performance themes in mind to help students perform at their mental and physical peak."
Performance Dining, available in hot and cold food selections at the Performance Bar station in Arrillaga, consists of six main categories: enhanced immunity; anti-inflammatory components; food synergy, or how foods work together for maximum health benefit; brain performance; sports performance; and antioxidants. Its goal is to educate students about the relationship between food components, energy output and ability of the body to use food components to improve mental and physical performance. "We were able to leverage the incredible resources of the Stanford faculty and our partnership with the CIA, which ensured our food would always look and taste great and be good for you," Montell says. "We also want students, staff and faculty to develop new eating habits that improve their well-being throughout their lifetime. Affecting change in their dining habits through a program of this nature will influence a lifetime of eating behaviors and the eating habits of those within their future influence."
Campus Dining Snapshot
Stanford University, Stanford, Calif.
Operation: Self-operated
Profile: 11 undergraduate dining halls, Schwab Executive Dining, 2 late-night dining operations, athletic training table, summer conference dining
Students on campus: 6,850 undergraduate, 8,400 graduate
Students on meal plans: 7,850, plus 1,400 staff
Average meals served per day: 12,000
Dining staff: 32 exempt and non-exempt staff, 140 bargaining unit employees, up to 200 casual staff
Stanford Project Team
Shirley Everett, senior associate vice provost for residential & dining enterprises
Eric Montell, executive director
Gary Arthur, director of operations
David Lenox, director of campus planning, university architect and planning
Mark Bonino, program manager, department of project management
Reggie Futch, project manager for dining projects
Cynthia Liu, administrative program manager
Matt Rothe, dining sustainable food program manager
Curie Sevilla, interim business support and assessment coordinator
Performance Dining Team
Ron DeSantis, CMC, former Culinary Institute of America director of consulting
Christopher Gardner, associate professor, School of Medicine
David Lott, executive chef
Elaine Magee, wellness and performance dining nutritionist
Brandon Marcello, director of sports performance
Victoria Virasingh, undergraduate and wellness intern
Taylor Winfield, undergraduate and wellness intern