Located in picturesque Burlington, the University of Vermont (UVM) is a leader on many sustainability fronts: One of the first universities to end the sale of bottled water, UVM's Sodexo-operated dining program also touts extensive pre- and post-consumer recycling, trayless dining, composting of food scraps, a student-run organic garden, steadily increasing purchases of locally produced "real" foods, sustainable seafood, biodegradable disposables and a partnership that recycles nearly 200 gallons of used fryer oil into biofuel each month. In early 2011, the school added another important element to its sustainability program: Eco-Ware, a reusable takeout container initiative that, after extensive pilot testing, appears to be taking hold.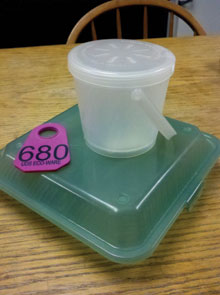 Eco-Ware containers are heavy-duty, recyclable, BPA-free, NSF-approved and microwave- and dishwasher-safe. When dirty containers are returned, staff run them through the dish machines with the regular dishes and restock them behind the serving lines for reuse by other students.Since its official launch at the start of spring semester in January 2011, 7 percent of the total UVM student body has signed on to participate in the program and more than 10,600 meals have been served in Eco-Ware containers campus-wide. "When I consider what that would look like if it was packaging, it's astronomical," says Jay Taylor, a UVM grad who helped start the program along with retail operations staff and a number of UVM Honors College students. Taylor now serves as media outreach and sustainability coordinator for Sodexo at UVM. "Of those meals, 7,000 to 8,000 were just in the most recent semester alone, so the increase in participation has been significant."
To participate in the program, interested students purchase their first Eco-Ware takeout container for $7.50. Originally available in just two locations, customers now can get the reusable takeout containers at 10 different foodservice venues across campus. When students return their dirty container to a participating venue, they drop it off near the cash register and are given a "cow tag" — chosen over ordinary tokens in honor of Vermont's dairy culture and drilled through for easy hanging from a backpack or belt loop. As part of their next takeout meal purchase occasion, customers then exchange the cow tag for a clean container. (Incidentally, Taylor says the cow tags have become quirky fashion statements on campus.) At any given time, someone who's participating in the Eco-Ware program has either a reusable takeout container or a cow tag. Each time they exchange their cow tag for a reusable container, they receive a 15-cent discount at the cash register.
The program's financial model was honed after three semesters of pilot testing and shaped with input from other Sodexo campuses working on a similar program called "Choose to Reuse." UVM's version is slightly different, Taylor says, with heftier, more costly containers and a higher price tag to participate. That higher price tag, however, helps ensure the people using the program cover the costs of the containers, cow tags and warewashing. "When someone asks why they have to pay $7.50 for it, the answer is the containers are expensive, they last a very long time and if you use it 50 times and get a 15-cent discount each time you use it, you'll pay back the cost. Most students eat between 300 and 350 meals a semester. If just one meal a day is takeout, you'll pay it off many times over the first year. For our size, the percentage of takeout meals on our campus is very high relative to other schools, so payback is quick and then the savings kick in every time you use it."
Although UVM has for many years used almost exclusively compostable disposable products, the cost on those items remains high and the Eco-Ware program ultimately helps to mitigate that. "In some cases, a compostable clamshell might cost 32 cents and a recyclable box might be 18 cents. Even if we are only saving a couple of cents and the students were saving 15 cents, over time we knew it would be advantageous for us, not just from an environmental standpoint but also from a packaging cost perspective," Taylor says. "Our goal is to break even on the container investment and then save money on paper. We're not in the business of selling these containers just to move them. Our interest is really in having people continue to use and reuse them to bring their cost and our cost down and at the same time help the environment."
Once returned, dirty Eco-Ware containers — which are heavy-duty, recyclable, BPA-free, NSF-approved and microwave- and dishwasher-safe — are run through the dish machines with the regular dishes and restocked behind the serving lines for reuse. Originally limited to a standard-sized, three-compartment clamshell takeout container, a reusable soup cup was added to the program this March. It is currently offered in five campus dining locations.
Taylor says repeated requests by environmentally aware students and staff to use their own plates and bowls instead of disposable packaging were partly behind the development of the program. "For health purposes, we can only serve in containers that we have cleaned in-house. Part of the reason Eco-Ware is so important is that there were a lot of people who were interested in using their own plates and bowls, but that's strictly forbidden by us and the health department," he says. "So our solution is that we as the foodservice provider manage and maintain the program. You come in with a dirty container, exchange it for a tag and then take that tag to one of our chefs who has a clean container behind the line for you to use. The people behind the serving line don't touch the dirty containers and maintaining that separation is critical."
Initial concerns UVM's dining services staff had with the Eco-Ware program were three-fold: theft of containers, insufficient space near the cash registers to collect dirty containers, and overwhelmed dish rooms. None has been a significant issue, according to Taylor. He notes that while space is limited near the registers, staff members who regularly float through the dining areas to collect dirty pots or change garbage or recycling bins simply collect any dirty Eco-Ware containers as part of their routine. "I'd say that if the program gets significantly larger the dish room capacity will be the fist thing that may be a limiting factor, but we're definitely not there yet," he says.
Nonetheless, UVM expects participation to continue to increase steadily and, indeed, has seen the greatest increase among younger students. That's by design. The university informs all incoming students about the program and encourages them to participate the first time they set foot on campus, through orientation, the school's welcome picnic in the fall and through "eco reps," or peer sustainability educators who regularly speak to classes and students groups on campus. "What we're trying to do is make it part of the campus culture the same way using a water bottle or recycling is," Taylor says. "By doing that from day one, four years in every single person on campus will have been introduced to Eco-Ware from the get go." Ultimately, a higher capacity dish washing solution may be in order.
Campus Dining Snapshot
University of Vermont, Burlington, Vt.
Operation: Sodexo Education
Profile: 3 residential dining halls, 12 retail venues
Students on campus: Approximately 10,000, 50 percent live on campus
Students on meal plans: 55 percent
Average number of meals served per day: 10,000
Dining Services employees: 250 full-time, 100 part-time
Key Players
Melissa Zelazny, general manager
Melanie Young, unit controller
Paul Bahan, marketing director
Ron Chasse, operations director for resident
Jim Rodgers, operations director for retail & catering
Brian Roper, district chef
Jay Taylor, media outreach & sustainability coordinator
Sarah Alexander, student sustainability coordinator