The increasing popularity of breakfast paired with the efficiencies of a single-shift operation have these limited-service restaurants, which specialize in breakfast and lunch, rising and shining.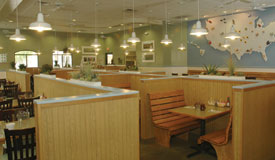 U.S. Egg RestaurantBreakfast is booming in restaurants. This daypart was one of the few bright spots in the foodservice industry during the recent economic downturn.
"There aren't a lot of full-service, mid-scale chains that are growing and improving, but breakfast-focused concepts are increasing," explains Mary Chapman, director of product innovation at Technomic, a Chicago-based foodservice research firm.
If not for the breakfast daypart faring relatively better than lunch and dinner, restaurant visit declines over the last two years would have been steeper, reports the NPD Group, a market research company based in Port Washington, N.Y. NPD's foodservice market research shows that, for the year ending March 2010, there were more than 12 billion morning meals served at U.S. restaurants, and 80 percent of restaurant morning meals were purchased from quick-service restaurants. Over the past five years, morning meal traffic increased an average of 2 percent per year, comparatively, while lunch visits were flat, and supper traffic declined by 2 percent per year on average.
"The only area that is growing is the breakfast segment," says Bonnie Riggs, NPD's restaurant industry analyst. "Yet, eggs as a product are down about 3 percent for the year due to the decreased traffic in full-service restaurants."
Yet, NPD forecasts strong growth for breakfast through 2019. Specifically, NPD projects breakfast sandwiches to grow at double-digit rates. "The restaurant industry is predicted to grow less than 1 percent a year, not even keeping pace with population growth, while QSR breakfast is forecasted to grow at double-digit rates," Riggs says.
One reason for the anticipated success of breakfast is the more casual way consumers look to use full-service restaurants. "More families are going to brunch, since this is a less expensive meal than dinner and offers good value for the money," Riggs says. "We will see more of these types of offerings."
Despite being an area of growth for restaurants for the past few years, the breakfast daypart segment has yet to reach a point of saturation, which means ample opportunities remain within this category, according to Technomic's 2011 Breakfast Consumer Trend Report. Consumers increasingly look to trade at-home breakfast occasions for away-from-home purchases. Eighteen percent of consumers indicate they purchase breakfast away from home more often now than they did one year ago, due to the need for convenience, Technomic reports.
Breakfast sandwiches have been central to driving the growth of the breakfast daypart within the limited-service segment. In fact, since 2009, limited-service restaurants (LSRs) added 45 breakfast sandwich items to their product mix, promoting convenience and affordability to make their morning menus more appealing to consumers, according to the Technomic report. Bacon, egg and cheese sandwiches represent the leading variety of breakfast sandwich at limited-service restaurants, appearing on 26 of the top 250 LSR menus and on 31 next 250/emerging LSR menus. In 2011, breakfast sandwiches on LSR menus were more likely to feature biscuits or bagels; sausage or bacon; and cheddar or American cheese than in 2009.
The breakfast-starch entrée group was the second most frequent menu category at mainstream LSRs, with 70 offerings, up from 54 items in 2009. Regardless of operator segment, the most prevalent entrée ingredients on breakfast menus include eggs, cheese, breakfast meats such as bacon and sausage, and potatoes, according to Technomic.
As the central component of egg dishes, eggs naturally lead all other ingredients at the top 250 and next 250/emerging chains, at 71.4 percent and 76.1 percent, respectively, according to the Technomic report. Rounding out the top five egg-dish ingredients are cheese, onion, cheddar cheese and potato — which ranks as the second most frequently listed egg-dish ingredient among the next 250/emerging FSRs, at 48.4 percent.
Consumers indicate that while restaurants are getting better at offering quick, convenient breakfast options, operators can boost incremental traffic and sales by offering craveable options and speedier service, according to Technomic. More than two-fifths of consumers who skip breakfast during the week cite a lack of hunger and time. Additionally, a quarter of consumers cite a lack of time as a reason why they skip breakfast on the weekend.
About a third of consumers who purchase breakfast at limited-service concepts strongly agree that these restaurants do not offer enough healthy breakfast choices, according to Technomic. More than two-fifths of consumers strongly agree that they would be likely to purchase breakfast foods in lieu of lunch or dinner foods if full-service restaurants offered breakfast all day. A third of consumers said the same for limited-service concepts.
Consumer demand for breakfast offerings at varied-menu restaurants continues to rise. Health-conscious consumers are about three times as likely as convenience-driven and cost-conscious consumers to report an interest in breakfast offerings at varied-menu restaurants, according to the Technomic report. In addition, 18 percent of consumers indicate a willingness to pay more for natural or organic breakfast food ingredients, up from 12 percent in 2009.
Two in five consumers who purchase breakfast at LSRs say they are more likely to visit these locations for breakfast if breakfast sandwiches, wraps or burritos are on the menu, Technomic reports. This is up from one third of consumers polled in 2009, signaling the increased ability for breakfast sandwiches to drive traffic.
As a result of breakfast's increasing popularity, the restaurant industry continues to see new egg-focused concepts appear — and with good reason from an operational perspective. "From an operator standpoint, there are many benefits in having to schedule and manage only one shift each day," Chapman says. "The quality of workers improves when staff has late afternoons and evenings free. Also, operators don't have to worry about serving alcohol."
Key Equipment:
Flattop grill
Fryer
Range
Salamander
Walk-in
Prep table
Waffle maker
Toaster
Coffeemaker
E&S Considerations
Durability: With shorter hours, LSR egg-based restaurant equipment handles high volume in a more compressed amount of time. Units must be durable for these operations.
Reliability: Due to smaller menus, equipment such as flattop grills is in constant use.
Operators should seek reliable units that emphasize speed of service.
Cleanability: Because equipment used in breakfast/lunch applications is heavily used, it should provide easy cleaning and maintenance to keep downtime to a minimum.
---
Case Study: Scrambler Marie's Breakfast Bistro, Cleveland, Ohio
Q&A: George Gebran, owner U.S. Egg Restaurant, Chandler, Ariz.