The atypical foodservice climate, with record-high inflation, unprecedented labor challenges and lingering supply chain disruptions, continues to impact today's menus.
"In terms of trends, it's a strange market out there right now, as operators are still dealing with a lot of headwinds," says Mike Kostyo, trendologist and associate director, publications, for Chicago-based Datassential.
According to Datassential's July 2023 Table Stakes Tracker report, 66% of operators say rising food costs represents a key challenge, 40% remain concerned about inflation and 38% continue to deal with rising labor costs. "So, as an operator, you still have a lot of challenges you have to deal with while trying to leverage new trends that consumers want," Kostyo notes. "We've seen some evidence that average uniqueness scores have gone down at major chains, which means there is work to be done to keep consumers excited."
Consumers and operators continue to deal with the aftereffects of the pandemic, too. "Trends exist in a new world now," Kostyo says. "[Menus] have to be easy for an operator to execute, but they have to wow consumers to make a meal out worth their while. This is where we see a lot of suppliers stepping in to help out. This is also where we see an interest in equipment and technology that can help assist in labor savings while also helping them create a wide range of attention-getting dishes."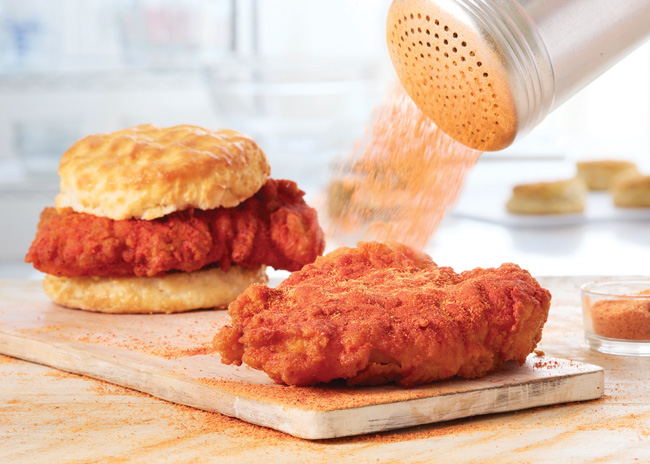 Hardee's turned up the heat on its menu by adding Nashville Hot Chicken. Part of the chain's Hand-Breaded Chicken platform, the new offerings include Nashville Hot versions of Hardee's hand-breaded chicken sandwich, chicken tenders and chicken biscuit.A number of notable trends are impacting menus, according to Chef Rob Corliss, three-time James Beard House guest chef. Corliss' career spans more than 30 years and includes running hotels, launching new concepts, working in marketing agencies and owning the Nixa, Mo., culinary consultancy ATE (All Things Epicurean) since 2009.
Several broader consumer trends catching Corliss' eye these days include plant-curious palates with balanced flexitarian lifestyles and mindful eating; experiential eating and aligning personal tastes and principles with restaurants to earn one's trust. Industry trends include quality maintaining affordability, drilling down into deeper storytelling of ingredients, micro cuisines, cultures, heritage as a connection point with guests and craveable health and personalized immunity approaches. Another trend of note are foods and beverages that evoke a sense of happiness, fulfillment and comfort.
Looking specifically at menu trends, Corliss says flavorful wellness, along with cooking techniques and a renewed focus on impactful presentations, spark a sense of culinary adventure and cross-functional food/beverages top the list. He also sees contemporary breakfast iterations and components served throughout the day, in addition to a return of shareables to menus, being very popular at the moment.
"The path of traditional trend cycles (from emerging to becoming popular to mainstream acceptance) feels accelerated," Corliss says. "Flavors move faster through the cycles, especially when menu innovation is focused on the taste preferences of the early adopter younger generations. Within this, there is a greater opportunity for operators to embrace a more robust lineup and frequency of seasonal LTOs, introducing enticing trending flavors (rooted in a mainstream tie-in for a sense of familiar)."
He adds that smart flavor, texture, and sensory complexities have become the norm, as consumer expectations are setting the bar high for foodservice operators. "Operators are responding with their original interpretations of trends, creating a point of menu differentiation," Corliss explains. "Flavor innovation does not have to be complicated, but it does need to be impactful."
Fast-casual plant-based chain Veggie Grill made some recent updates to its menu featuring plant-based meat options. Examples include a steak fajita quesadilla with a grilled tortilla stuffed with marinated Beyond Steak, melted shredded cheddar and grilled fajita vegetables, served with a side of lettuce, pico de gallo, guacamole and salsa; Sonoran Bowl with ancient grains topped with Beyond Steak, ranchero beans, grilled carrots, tortilla strips, avocado, pico de gallo, Fresno peppers and roasted red pepper sauce; and classic romaine Caesar salad, which includes romaine hearts topped with Beyond Steak, parmesan and flatbread croutons, served with signature Caesar dressing and a grilled lemon.
New Developments
According to Kostyo, innovation is happening in entrees, desserts and beverages.
"Operators are first focusing on entrees and the core of their menu, making sure that they are crave-worthy and exciting; they have to earn that higher price," Kostyo says. "When we asked consumers which menu categories they find most craveable, consumers put entrees at the top, with 44% choosing the category, so it's a good place to focus innovation efforts. We're seeing an interest in creating unique desserts again, particularly as younger consumers gravitate toward on-trend dessert flavors, often from global cuisines. It's a category that gets consumers excited and can boost check averages. Nonalcoholic beverages are still a key innovation category showcasing a wide range of flavors."
Global influences remain on trend with today's menu items. "North African and Middle Eastern influences are rising to the surface," says Daniel Carpenter, managing director and partner, culinary, Sterling-Rice Group, Boulder, Colo. "Consumers will consider ordering a menu item that includes an ingredient that they would not necessarily use at home. This creates a cascading effect of discovery that is exciting and organic feeling."
Experts say that operators are being more strategic with menus, which was initially driven by pandemic-related issues such as variable traffic, supply chain issues, labor constraints, etc. "These tighter, more thoughtfully curated menus are easier to manage, less stressful on labor and more flexible when either labor or supply chain issues arise," says Maeve Webster, president, Menu Matters, Arlington, Vt. "It is unlikely operators will return to the overly expanded menus that dominated the early 2000's. We're also seeing higher margin, non-entree items become significantly more important on the menu."
These include beverages but also expanded side and dessert offerings, which drive up check averages.
While functional foods were a hallmark of menus prior to the pandemic, there has been a resurgence of comfort foods in the mix. "I find that menu trends come at polar opposite ends so we're seeing people incorporate healthier offerings but also meal replacers and meat replacers," says Liz Moskow, principal, Bread & Circus Ltd., Denver. "People are moderating everything, with no strict paleo or low-carb diets but instead incorporating healthier items that they enjoy."
Growing Interest
Datassential reports that the single fastest-growing item on menus in the past 12 months is barbecue chicken wings, which grew 373%.
"It surprises a lot of people, but we're seeing chicken wings menued so often overall that now many operators are specifically calling out barbecue chicken wings as an option to differentiate themselves," Kostyo notes. "Also, everything from Korean barbecue to Carolina gold barbecue sauce is driving barbecue growth on menus overall, so you see those being used in barbecue chicken wings."
Other menu items showing substantial growth in the last year are hard kombucha, up 68%; mocktails, up 65%; birria (a Mexican meat stew), up 64%; and bergamot (a citrus fruit from Italy), up 60%. With the labor issues, many ingredients that were formerly prepped are going by the wayside.
"A lot of operators hung their hat on scratch-only and are now opening their minds to value added products," Carpenter says. "With today's labor market, they can justify spending more on prechopped vegetables and get the benefit of consistency so they can focus more on other areas."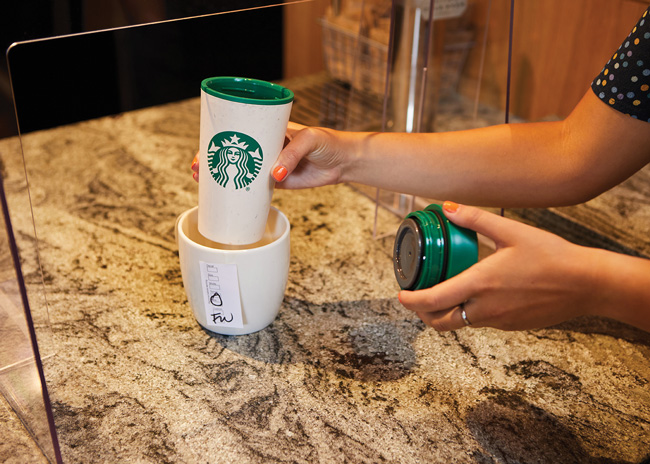 Some consumers will choose restaurants and other foodservice operations that will align with their personal beliefs and practices. For example, environmental stewardship remains important for many consumers. Along those lines, Starbucks continues to test reusable cup programs. In some instances, consumers bring in a reusable cup to their Starbucks location and they may receive a discount off their drink purchase. Practices like this can help reduce the amount of waste that goes into landfills, etc. Along with a sensorial nostalgia trend, where people are responding to scents or flavors that bring up positive past memories, there has been more of a focus on investing in higher integrity ingredients as opposed to costly proteins, Carpenter notes.
Non-premium cuts of meat, like chicken thighs and skirt steak, are less about luxury preparation and more about authenticity and minimizing food waste. "Concurrently, we're seeing marquis proteins coming down in price with more consistent availability," he says. "This had led to menu diversification and cross-utilizing ingredients."
Webster notes that Asian cuisines and flavors continue to see increased menu penetration. "Vietnamese is growing in impact. Sauces and spices are expanding in their use across sweet and savory as well as beverages," Webster says. "Flavor profiles are skewing far more savory overall, and spices are expanding across a wider spectrum of heat."
Moskow has noticed an influx of mushrooms in dishes and beverages as well as fruits and vegetables. Ingredients or combinations that add depth of flavor and character are sure to resonate on menus, Corliss notes.
"In today's food-obsessed world, flavor is the focus and desired end result," Corliss says. "Flavor is the thread that connects the overall experience for guests and is the cornerstone of menu development."
Corliss says five ingredients to watch are chiles, black tahini, Mexican cheeses, dates and Sichuan peppercorn. In beverages, botanicals; guava or passionfruit paired with anchor flavors like strawberry, mango and vanilla; berry spice blends, hojicha tea; and new ferments like tepache have been making inroads.
For many years, spice blends have helped chefs take their current menus to new heights and that is continuing. "Adding a punch of flavor that's labor saving with a cravable intent is big," says Charlie Baggs, president, Charlie Baggs Culinary Innovations, Chicago.
"One is using dressings, aioli and spreads in a new way. We can take a chicken sandwich with provolone and marinara for chicken parm or Cajun blackened seasoning with arugula and have a Southern sandwich. Using the same fried chicken matrix, we can do an Asian twist with hoisin or sweet and sour sauce. There is more versatility with mainstay menu items."
Veggie-Centric
Although not a new trend, plant-forward menu items continue to expand and evolve. According to Datassential, 53% of consumers show an interest in plant-forward eating. Naturally, fruits and vegetables represent the key ingredients when executing plant-forward menus.
"Some categories, like plant-based milks, are doing well, while there are some headwinds for plant-based meat alternatives," Kostyo notes. "Consumers overall told us they mainly tried plant-based meat alternatives because they were curious about the category. However, the flavor didn't always compare to traditional meats and they were too expensive, so manufacturers still have some work to do."
Vegan and vegetarian terminology on menus has been on the rise. The term vegan now appears on 24% of menus, which represents a 43% increase from four years ago. The term vegetarian now appears on 4% of menus, up 17% from four years ago.
"It's still a small portion of the population who consider themselves to be vegan or vegetarian (2% for each, respectively), so the growth is obviously in the larger consumer population who simply want to eat more plant-forward and plant-based options," Kostyo says.
Part of the reason for the increase in popularity of vegetarian and vegan menu options is that the approach to preparing plant-based foods has evolved considerably in recent years. "We're seeing more authenticity and respect for ingredients, along with leveraging raw materials and ancient grains," Carpenter says. "There's the excitement of optimizing whole grains and root vegetables for flavor and texture and to see the area opening up for global exploration."
"Though the vast majority of U.S. consumers are not looking to eliminate animal protein from their diets, they are certainly incorporating more plant-based ingredients and seeking out satisfying and craveable options that incorporate less meat or no meat as alternatives," Webster says. "There's a greater focus on designing these types of dishes to be more satisfying and craveable in a way animal protein and products can be but without those ingredients. This includes heft, texture and flavor complexity."
Corliss sees the plant-based movement enhancing and opening doors for menu innovation. "Operations can implement plant-forward menu items, leaning on plants as the star, center of plate feature or using plants as a flavoring for grains and meat/seafood-centric dishes," he says. "The seasonality factor of plant-forward offerings, endless varietal explorations, wellness benefits and the anticipation of the next big flavor discovery all provide launching points for building excitement across the menu."
Mediterranean dishes remain popular among consumers. Taziki's harissa sauce is made of red peppers and chiles blended with a variety of herbs, spices and olive oil. The Spicy Harissa Hummus is Taziki's traditional hummus blended with a special harissa sauce and topped with spicy chili oil for extra bold flavor and is served with pita or chilled veggies. Rather than a strictly vegetarian or plant-based approach, Corliss sees more of a flexitarian evolution. "Meaning contemporary consumer palates are evolving to encompass a blended approach to match their weekly dining preferences and overall lifestyle needs," he says. "While vegetarian and vegan have most definitely positively impacted foodservice operations, food and beverage choices have more attitude when allowed to naturally ebb and flow versus being defined by strictly vegetarian or vegan. A flexitarian approach is more about being mindful of what works for each person on an individual basis."
The flexitarian approach taps into wellness menu trends, which are about quality. "Consumers understand that healthful can now denote delicious," Corliss explains. "Great food and beverage does not have to be expensive, as demonstrated in the rapid growth of the fast-casual dining segment and the quality showing up in QSRs. Menus have been creatively showcasing more vegetables, fruit, grains and seeds, plant proteins, alternative milk
options and plant waters, and natural sweeteners."
This has morphed into more creative plant-forward dishes. "Plant forward is a big momentum but turned into utilizing more whole food vegetables," Baggs says. "We can take broccoli florets, blanch them, put parmesan and seasoning and bake them off to create a crispy and good hand-held appetizer; there has also been an increased usage of side dishes to round out the meal."
In addition, meat has been used as a secondary ingredient to season veggie-forward dishes. "An example is Southern cuisine that incorporates smoked ham hock into greens," Baggs says. "We can turn veggies delicious, not vegetarian, but definitely plant forward."
Equipment Innovations
Back-of-house equipment plays a critical role in supporting menu innovation and trends.
"Obviously the equipment that an operator has back of house impacts what they put on the menu, so it impacts food trends," Kostyo says. "We certainly see a lot of interest in technology and robotics that are aimed at labor savings."
Equipment technology also has had to conform to the changing foodservice industry. "Operations are still divided between off-premises and on-premises occasions, so you still see a lot of interest in equipment and technology that can make managing those two different occasions easy to execute," Kostyo says. "There is a lot of interest in technology, equipment and design that can adapt with an operation because pivoting is still so essential, both within any given day or week and over longer periods of time."
Other trends continue to affect equipment packages.
"We see operators looking at going all-electric, partly because of sustainability concerns and new regulations around venting, but also because it opens up more locations for them to operate in," Kostyo explains. "There is a lot of new technology being released right now, but at a time when operators are pretty crunched economically, they really have to know that the equipment will be relevant for years to come."
According to Datassential's 2023 PULSE report, the piece of equipment that operators want the most is a speed oven. "To call out an opportunity for operators, 21% of them say they have an air fryer in their kitchen. Consumers also enjoy air fried foods, with 65% saying they love or like them," Kostyo says. "Yet very few operators call out or use the term air fried on their menus, less than 1%, in fact. There is an opportunity to call out that trend on the menu. But we see a number of trends driven by the type of equipment that's available, from flattops driving smashburger growth to fryers being used for the fried chicken sandwich trend."
Finding new ways to utilize equipment has become more commonplace in today's commercial kitchens. "Combi ovens are an effective tool for sous vide and dehydrating," Carpenter says. "It's also about the element of consolidation, where multipurpose equipment can do a lot of heavy lifting for prep and service."
Carpenter predicts rapid-cook technology will continue to evolve, which is already fast and versatile enough to accommodate menu diversification. "Decreasing fire times for orders is the goal, while equipment simplicity and programmability help with labor challenges," he notes. "In addition, tracking equipment cycles between maintenance to gauge how it's performing is key; diagnostic tools create value for operators, who can stay proactive and minimize equipment downtime."
Given ongoing labor issues, it makes sense that operators seek equipment technology to help solve the challenges of a lack of labor and skill. "While robotics may be accessible to large chain operators, equipment innovation that reduces complexity, eliminates menial tasks, mitigates accidents and injury, increases consistency and quality, and allows for more labor management flexibility will be critical going forward," Webster says.
Corliss sees operators using more equipment that helps them deliver on a specific global food trend or authenticity that they want to replicate. "Space-saving equipment packages and technologies that expand efficient productivity while reducing labor costs and improving safety are key," he says.
Multifaceted equipment will continue impacting menu trends moving forward. "Combi ovens that provide dry heat or steam with the push of a button offer versatility, while multichamber ovens can save labor, create consistency and optimize quality," Baggs says.
Experiences/local culture and community
Fried chicken sandwiches and chicken sandwiches 3.0 (i.e., spicy and sweet-heat fusion flavors on chicken, etc.)
Charcuterie boards
Comfort fare
Flatbread sandwiches/healthier wraps
Menu streamlining
Sriracha variations
Globally inspired salads
Zero waste/sustainability/upcycled foods
Southeast Asian cuisines (Vietnamese, Singaporean, Philippine, etc.)
Source: National Restaurant Association 2023 Trends Report
On the Horizon
As part of its 2023 What's Hot Culinary Forecast, the National Restaurant Association identified some emerging food trends worth monitoring. What follows is the top five items from that list. Note that global influences play a strong role in many of these potential up-and-comers. Diners, especially Gen Zs who are starting into their earning years, like to sample — and post about —breakthrough foods and flavors.
Globally inspired sandwiches (Chinese Rou Jia Mo or jianbing, Argentine choripan, etc.)
New sandwich carriers (paratha, roti, pastry buns, crepes, etc.)
Amazake (Japanese drink made from fermented rice)
Alfajor (sweet made of almond paste, nuts, breadcrumbs and honey)
Balkan (Croatian, Bulgarian, Turkish, etc.)
One for the Road
As a survival tactic, many operators started offering alcohol to go during the pandemic. The following shows the percentage of operators who say their restaurant offered the option of including alcoholic beverages with takeout or delivery options.
Family dining – 64%
Casual Dining – 71%
Fine dining – 63%
Limited-service restaurants – 59%
Source: National Restaurant Association, June 2023.
Quick Fact
42% of adults age 21 years or older say the availability of alcohol beverages such as beer, wine or cocktails makes them more likely to choose one restaurant over another similar restaurant, per the National Restaurant Association's 2023 On The Menu report. Millennials are choosiest with 57%, reporting they would make a restaurant choice based on the availability of alcohol beverages.