As the last stop before serving, expediting station design relies on efficiency, speed and space.
The design of an expediting station, considered the central switchboard of the back of the house, can make or break an operation.
Diners can view the expediting station at Cap City Fine Diner and Bar in Dublin, Ohio."As the heart of the operation, it sets the pace, energy, flow and communication among the various other stations," says Arlene Spiegel, president, Arlene Spiegel & Associates, New York. "A good expo station enables the expediter, who serves as a traffic cop, to make sure the food is exactly how the restaurant wants it."
With speed of service and production timing critical elements of any successful back-of-the-house, an expo station's design can either be a help or a hindrance.
The Main Objectives
Columbus, Ohio-based Cameron Mitchell Restaurants operate close to two dozen concepts; the main goal for expediting stations is efficiency. "We want to be able to make the team flow as efficiently as possible," says Randy Roberty, Cameron Mitchell Restaurants' director of design and architecture. "[With our designs,] we look at how can we make it as simple and easy for our team as possible to walk through the expo line and grab items guests need. We are constantly trying to reinvent it by integrating other features for storage space as there is never enough."
When designing these stations for one of her clients, Spiegel first creates a checklist that details everything that happens at the station based on the menu. "It's not the sexiest area, but is the most critical," she says. "Expediters are responsible for working with front-of-house managers to anticipate reservations, specials and any customer requests to be able to make good decisions during service. Expediters communicate to all the various stations, and when the kitchen is backed up, this person can tell servers to let guests know there is a delay."
The expediter helps guide both front- and back-of-the-house staff through busy meal services without either group having to leave their stations or the floor, thus helping ensure a smooth flow of food from the kitchen to the guests. "We don't want the expediter to take many steps since that's the control person," says Matt Schuler, director of culinary development at SCOPOS Hospitality Group, Ephrata, Pa. "And there's always lots of action in the expo station; just like a chef building a recipe, there are aspects with expediting that need to match the service and menu."
According to Steve Starr, AIA, FCSI, president and chief at StarrDesign, Charlotte, N.C., the station's main objectives include timing, scheduling and order accuracy. "Expediters are the last person to check orders before they go out, making sure all components are together and everything goes out to the table simultaneously," he explains. "The secondary job at this station [in some operations] is finishing or garnishing the meals."
At Hudson 29, an expediter checks the kitchen display system to ensure orders are accurate and served as quickly as possible.
FOH/BOH Differences
The primary differentiator in expo station design is whether it's exposed to the dining room or relegated to the back of the house. "If it's in the front of house, the expediter side is more finished, with stone tops rather than stainless," Schuler says. "There also is more induction warming equipment to hold sauces hot, rather than portable hot wells, which don't look as nice. With visible expo stations, we like to install ticket rails on a flat surface as opposed to hanging so it's out of view; here, it's important to look intentional and not like an afterthought."
The expo station at The Pearl includes an abundance of storage for plates, trays and other tableware and accessories. When designing an expo station that's visible to customers, light and sound bleeding are two of the biggest challenges to address, Roberty adds. "Dining room lighting levels are typically low and warm, whereas kitchen lighting is the exact opposite, being whiter and harsher," he says. "When opening an expo station to the front, we'll build soffits and use screens and shelves as shields to mute the lights."
With open kitchens, baffles also can act as sound barriers. "Whether it's screens, glass or ceilings, these become acoustic materials that reduce sound bouncing into the dining room," Roberty explains.
By contrast, a back-of-the-house station typically focuses less on appearance and more on efficiency. "If it's primarily back of house, we use stainless steel to be durable and more functional, along with open shelving below counters," Roberty notes.
Although expo station equipment is similar whether it's in the front or back of the house, it's important to note that external expediters don't have access to all areas of the kitchen, Spiegel says.
In some operations, these stations have been further delineated as handling either on-premises or takeout orders. "Some restaurants divide the expo station in two, so there is both a dine-in and to-go expediter," Starr says. "Typically, there would be one station with two employees, with dine-in orders going to the station on the right and to-go orders to the station on the left."
Station Standards
Whether or not the expo station is visible to customers, the equipment and supplies necessary to support these areas depend on the menu. "What's really important for meal consistency is creating an expo station planogram," Spiegel says. "This shows where everything lives and how much is needed for each daypart. When you have a well-organized planogram, no one has to leave the floor during service."
Along with timing, an expediting station's primary objective is keeping food at proper temperatures as well as maintaining the meal's quality and appearance. "We are seeing more opportunity for flexible and retractable heat lamps that can be raised up out of the way when not in use," Schuler says. "Also, we see heated dipper wells that hold tweezers, tongs, spoons and other utensils used to finish dishes."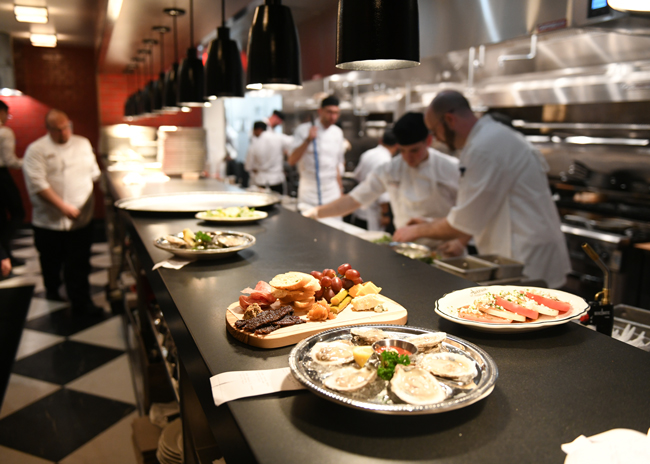 Multiple heat lamps at this expo station keep food at optimum serving temperatures. Keeping order tickets organized is also critical. "One stays with the order, while the other goes to the expediter," Starr says. "Ticket rails, minders or keepers are key tools in this station."
Logistics are another main consideration with the design of an expediting station. Roberty treats Cameron Mitchell's expediting stations as a highway, with constant circulation that provides a consistent flow. This way, people know where to go and how to move. The equipment at its restaurants includes heat lamps above the counter with refrigeration beneath it. Beverage lines are typically included opposite the expo aisle.
Some concepts use trays, while others do not. "If we're doing a tray-type concept, there is a 36-inch counter on the expo side with a tray rail," Roberty explains. "The expo station length tends to correspond to the length of the hood and pantry line, which varies from 20 to 40 feet long."
Cameron Mitchell has established set heights for its expediting lines. Countertops are 48 inches tall for pass-through counters, with overshelves mounted about 16 to 17 inches above this area. This provides room to mount heat lamps on the other side and keep shelves accessible for chefs. In front-of-the-house expo stations, pendant heat lamps are hung at 16 inches. "There's a science with the heights and dimensions," Roberty says. "It all has to be ergonomic to function and keep food warm like a finely tuned machine."
Starr notes the dine-in expo stations he designs tend to measure between 36 and 40 inches tall with shelves and cabinets underneath that hold plates and specialty items like steak knives.
Expediting station design takeout follows its own rules. "We lowered the to-go expediter station to roughly 30 inches off the floor because it's important to see what's going into the bag," Starr explains, adding that this positioning provides more visibility.
Storage for hot and cold items is another factor to weigh when designing an expediting station. Depending on the menu, expo stations may have countertop cold wells for garnishes, such as lemon wedges or olives. Separate hot wells hold sauces, gravies, soups or chocolate toppings for desserts.
"These stations need built-ins or countertop hot and cold wells, depending on complexity of operation," Spiegel says. "There may be ramekins for salad dressings, but these need to be kept cold. And if the overpass has heat lamps, nothing cold should be stored near that."
Cameron Mitchell restaurants often utilize upper shelves for storage, with one new concept including ladder slides above the expo line for holding wine. "In another restaurant, the bar backs up to the expo line, which is an extremely successful orientation and configuration," Roberty says. "This lets beverage and bar service dump into the expo line. Having a bar jutting out of the kitchen lends a different feel but is more efficient."
For expo stations handling to-go orders, the holding considerations become more complicated, says Starr. "Now, we need to double up everything [to accommodate those orders], plus add to-go packaging and utensils as well as a labeling system," he says.
Supplies are a main consideration in this station and with storage. "Operators need to think about bowls, scoops, gloves and ramekins for garnishes," Spiegel notes. "In addition, there may be cheese graters and clean and wet wipes for plates."
The design can designate drawers or slots for storing extra silverware and plates. Schuler says slots specifically for trays allow these items to be vertically inset under the expo station. "Not only are these easier to grab, but the trays won't be stacked wet, which can harbor bacteria," he says.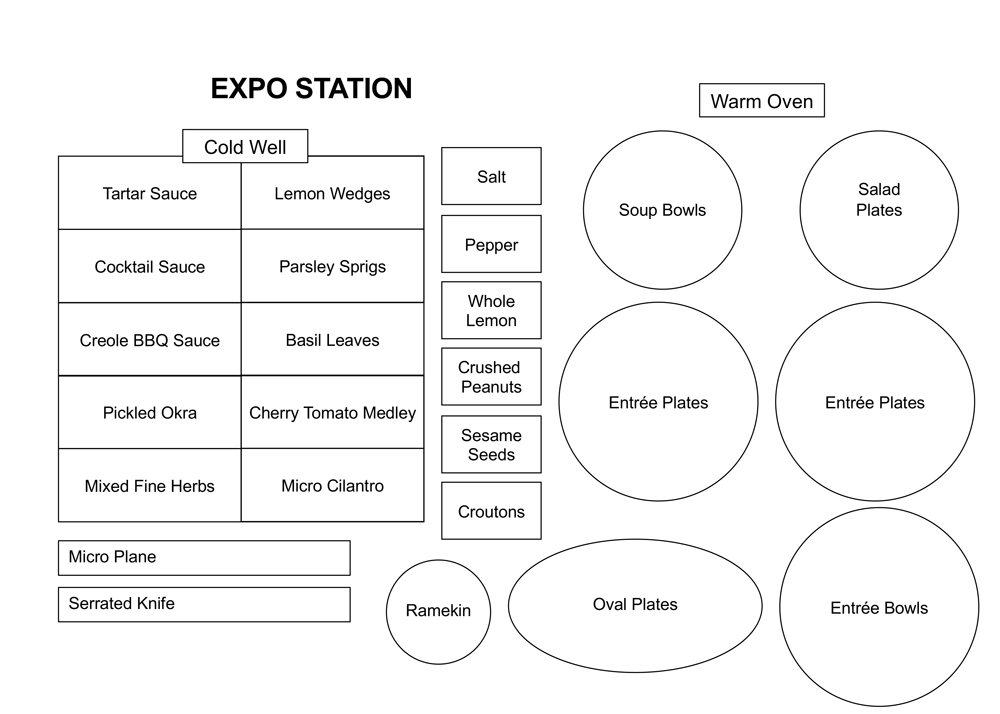 An ideal expo station setup segregates cold and hot items to maintain temperatures.
Recent Developments
Expo station flexibility has been enhanced partly due to lessons learned from business interruptions during the pandemic. "Knowing what we now know, it's about building flexible, modular, efficient expo stations," Spiegel says. "For instance, when all cooking was prepared to go, we switched from plates and silverware to disposables, takeout containers and bags."
Technology has increased efficiencies of expo stations. For example, more of Schuler's projects are moving toward using kitchen display system screens. "This has made the expediter's job a whole lot easier," he says. "Instead of looking at physical times on tickets, the KDS screen tells the expo person what's happening by way of color — green is good, yellow is iffy and red is 'food needs to get out immediately.'"
These stations have come a long way since carbon-copy order tickets were a mainstay. "[Since the emergence of point-of-sale systems,] we are now able to break down the order by station," Starr says. "Now the expo station is more focused on order accuracy rather than distributing meal assignments since the timing is automated."
Increased automation, including robotics, can add even more efficiency to the expo station. "In this case, expediters don't have to wait on a pair of hands," Schuler says. "The robot serves as the food runner and can take food to the table with or without the server."
Whether new technologies are incorporated, an expo station design should be based on the menu and center on speed, efficiency and storage needs. "The expo center is the heart and soul of an operation," Spiegel says.