Bars hold a unique place in American culture.
From movies ("Casablanca") to television shows ("Cheers") to popular music ("One for My Baby [and One More for the Road]"), bars and taverns have always been an integral part of our culture. While restaurants shifted to a takeout-based model to survive COVID-19, many bars didn't have that option and survived as best they could. So how are they adapting to the new, post-pandemic normal?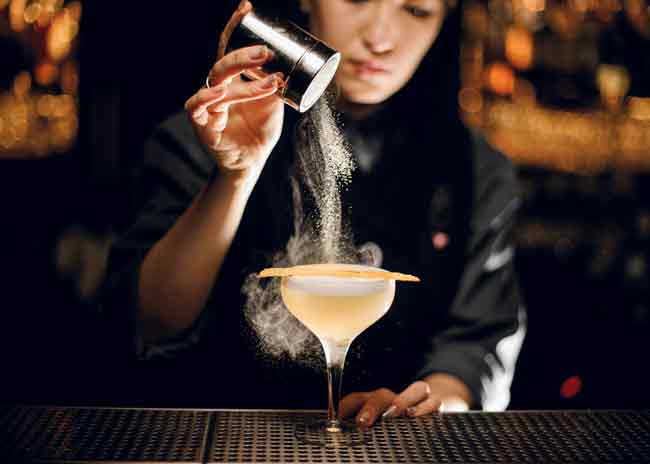 Peter Vestinos does bar consulting under the name The BarMedic, and he is also partner and beverage director in Chicago's Sparrow, an upscale bar in a 1920s-vintage art deco building. He thinks the exodus of businesspeople from the downtown areas has had a major effect on bar business. "I think we're still in a transitional period," he says, explaining that bars are now getting busier earlier in the day. "It used to be a slow start, and you'd ramp up during the night and do a meteoric business later in the evening," but the flow of traffic has evened out somewhat. To capitalize on the early birds, "some restaurants and bars are leaning into that by opening up earlier and offering all-day service. I've seen some bars in Chicago transition to offer coffee service from the counters," he says.
Jonathan Pogash, president and owner of the Cocktail Guru consultancy, says that getting back into the pre-COVID-19 mindset of making guests feel as comfortable as possible and keeping them at the bar is more essential than ever. "There was a time when bars were being designed as kind of a 'churn-and-burn' stand-up bar. You grab your drink, and then you go somewhere else," he says. But now, he explains, "I'm definitely seeing more of a trend of trying to encourage guests to order food and have that with their drinks and to hang out at the bar a little more."
Vestinos has also noted a shift in the way generations approach the bar experience. In general, he says, "I find guests have become a lot more impatient these days, and it's even more important to get drinks up fast." That's particularly true for older drinkers, but not so true for younger customers. "We're noticing at Sparrow that Gen Z will come in, they'll sit [and] they'll take about a half an hour to figure out what they want. They'll order a round, nurse that round for two to three hours … and that's it."
Las Vegas-based David Klemt, director of business development for KRG Hospitality, says that designers either love or hate the younger generations' trend of using bars as Instagram studios. "Some operators love the draw — they love the engagement. Others would rather have people actually seated or at the bar and not clowning around a feature."
Klemt describes hotels as driving a similar but more important trend: the bar as a destination. Making a "unique bar that really stands out amongst its peers" can be an important point of differentiation, he says, particularly in smaller markets. That can be as simple as "small design elements that are designed to make a guest go 'Wow, look what I just found' when they're seated or when they're looking around," he explains. That excitement of discovering even a small detail can help turn an occasional visitor into a loyal, repeat brand evangelist if they're going to be discovering new things all the time," Klemt says.
Avril Zayas, director of interior design for Lettuce Entertain You Restaurants, says that bar design today leans toward strong, aggressive tones and finishes. She explains, "Bold-colored tiles at the bar, like deep blue and mustard yellow" are popular today. "Terracotta tiles with a handmade or artisanal feel have also been pretty trendy lately," as are countertops that get "a rich visual texture from stone slabs," she says.
Zayas has seen bars gain "rich, visual texture from stone slab countertops," and she's also noticing a greater usage of "wider bar tops that are comfortable to eat and drink on." Away from the bar itself, she sees bars that "utilize the bar area to create different experiences of dining, by adding sections like bar booths, high-top tables or more open space to accommodate comfortable standing room."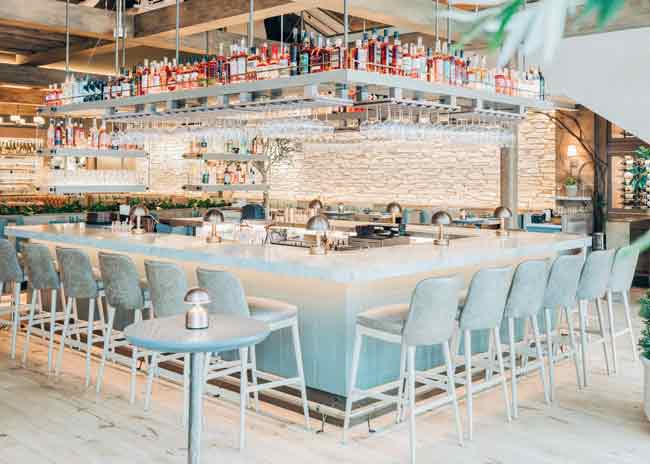 The open, airy design of both the bar and restaurant at The Oakville Grill & Cellar in Chicago was inspired by Northern California's relaxed ambience and wine country. Photo courtesy of Lettuce Entertain You Restaurants
Working Efficiently and Ergonomically
For years, kitchen designers have known that when a kitchen is designed with an eye toward ergonomics and logical placement of equipment, it simply works better. Designers now apply that same line of thought to bars, where designs can be even more critical. Danny Bendas, managing partner of the Newport Beach, Calif.-based Synergy Restaurant Consultants, explains that "in this age of specialty cocktails, batch cocktails and things like that, you have to literally go through in your brain the mechanics of every motion, every reach a bartender needs to go through — and try to make it as efficient as possible. If you design a bar really well, a good bartender can almost make a drink blindfolded because they don't have to move their feet. And then everything is positioned in a place where you don't have to move, and you can reach everything you need."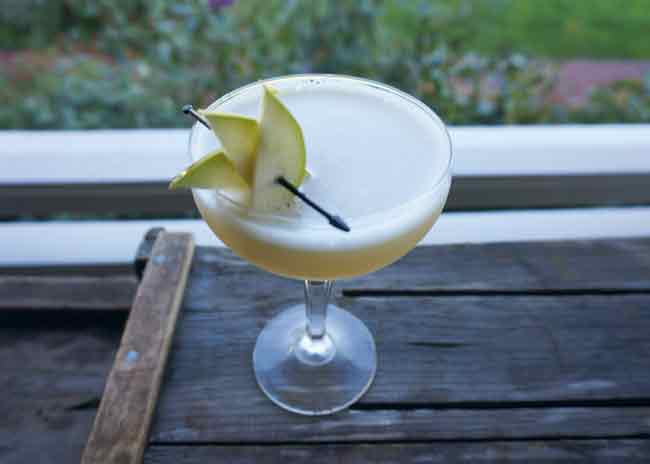 Fall-inspired cocktails by the Cocktail Guru: Pear-Vanilla Sparkler made with pear puree, vanilla vodka, lemon juice and prosecco. Photo courtesy of Cocktail GuruVestinos feels ergonomics have become even more critical with the "evened-out" shifts he sees. "My bartenders are telling me that they're feeling the burn a lot more. They're busy all day long, and they're feeling it more. They're more sore the next day if they have to stretch a lot."
Pogash agrees that proper bar design plays a critical role in employee satisfaction and retention. "Keep the bartender or person working behind the bar in mind because if they're happy, they're going to be a good employee. I've trained plenty of people [who are] unhappy behind the bar. And mainly it's because of the lack of efficiency behind the bar."
Smart use of space and aisles is essential, says Zayas. "The space given to each of the bartenders and the tools near them [are] crucial to make an efficient bar," she explains. "A narrow aisle and distance from the back bar to the front bar helps bartenders with efficiency."
An inefficient bar setup is not only detrimental to employees, but also sets a bad image for customers, notes Vestinos. "If the restaurant's full, the host or manager is not going to make guests stand in the middle of the room. They're going to send them right to the bar. So the bar just becomes this receiving room for overflow, and all eyes are on [bar staff]."
While much of bar design centers on outgoing service — turning drinks around quickly — it must pay equal attention to the items that come back to the bar, such as used glasses, dirty plates or napkins. Vestinos calls this the "dirty laundry" part of the bar operation and says that it has to be taken into consideration early in the design process. "I've sat in plenty of bars where they have not accounted for that," he says. "You're sitting there, and you have this mound of dirty glassware in front of you. That's breaking the illusion of this attractive bar and what it should be."
Making a Good Bar Design
Separating an effective bar design from one that just works brings many factors into play. "Not every bar can be made the same way," says Pogash, which is why he thinks generic, one-size-fits-all bar designs rarely work well. "You really have to be pretty precise in the specific space. And there's nothing better than having a bar designed by someone who's actually had experience behind the bar."
To Klemt, the optimal bar design includes input from the bar staff before the doors open. Klemt explains, "Generally speaking, there are two approaches." The first approach involves bringing in the bar team to give feedback after the operator and designer come up with their vision. The second approach involves hiring the bar team up front and involving them in the design process from the first day, although he admits "that can seem a little daunting before you even have the space filled out." The operator explains his or her vision for the space, and then the bar team gives their wish list. In this case, the designer "is basically a mediator and has to come up with the compromises," he says. That compromise is essential because "operators can't really justify being so rigid in what they want that the staff is really secondary or tertiary," he explains.
Bendas says that good bar design has to take every drink into consideration. "If I have to make a Manhattan, for example, where am I getting the glass? What kind of glass am I using? Where's the ice? Where are the bitters and garnish? All those things have to get thought through."
Klemt also likes the concept of mocking up the bar design on the floor using painters' tape — an idea he picked up from bar designer and consultant Tobin Ellis, principal at Studio Barmagic. By using boxes or even the actual equipment to mock up the layout, the team can answer these essential questions, he says: "Can the bartenders access everything with minimal movement? Can the servers navigate their stations, and can they navigate the service bar smoothly, without interference or obstacles?" A bar that works efficiently for the bar staff has a ripple effect, he adds. "If they're happier, in theory they'll be more engaging, and that's what the guests will notice."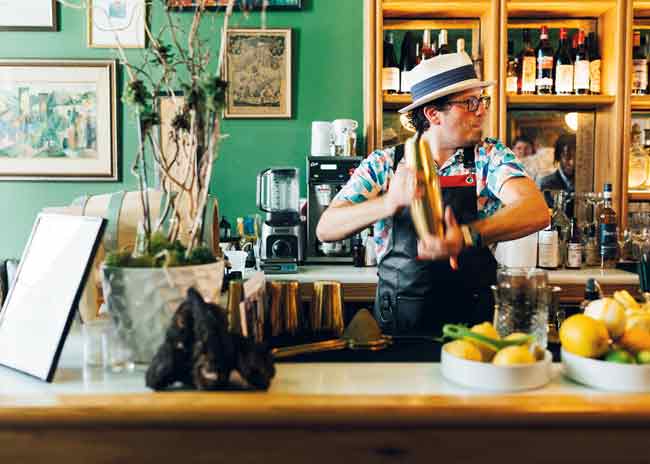 An efficient space behind the bar directly relates to employee satisfaction, and in turn customer engagement, says Jonathan Pogash of the Cocktail Guru consultancy (seen here). Photo courtesy of Cocktail Guru
Equipping for Success
While much of the equipment behind the bar is similar to what might have been found there 10 years ago, there are a few new pieces of equipment making inroads. Pogash likes underbar freezers, particularly for specialty ice cubes. "Specialty ice is really making an impact. You want those big cubes — which cost upward of $2 each — to be stored properly, so you have a little drawer freezer or a door freezer behind the bar to store it in," he says.
"Everyone's asking me to make sure I put a freezer behind the bar," Vestinos adds, because "guests really want those large ice cubes in their drinks."
Vestinos also says he specs specialty coolers for wine more frequently. "I advocate for it in all my installs right now because wine is definitely trending up at the moment, and beer's trending down. It's good for guest enjoyment but also stretches out the life of the wine as well," he explains.
Washing or rinsing glasses right at the bar saves steps, so undercounter glasswashers and bar-mounted glass rinsers continue to become more popular. Pogash now specs glass rinsers more often, which he says operators can also use to rinse off bar tools, thus saving more steps.
Bendas combines self-pour systems with traditional bars in some of his projects. "Whether it's wine or beer, self-pour is an interesting thing that can be built into a bar design that can help mitigate labor [while making] it sort of interactive for the guest," he says. One recent design he worked on had not only a full self-pour wall but also taps in the middle of tables, so a group of four diners could basically pour their own.
Drink Menus: One More Round
Every drink requires a different combination of glassware, ingredients and ice (or not), so it's essential that a well-stocked bar keeps track of drink trends. Klemt says that the interest in Mexican spirits is growing. "It's really mezcal and tequila, but anything agave and anything related to agave," he says, and cites sotol, a spirit distilled from the desert spoon plant (called dasylirion wheeleri, a relative of asparagus) as being an up-and-comer.
Fall-inspired cocktails by the Cocktail Guru: Fall Punch made with rum, cranberry puree, spiced cinnamon drink. Photo courtesy of Cocktail GuruVestinos agrees, calling tequila "gigantic. People are wanting to swap out most cocktails with tequila. Mezcal was getting up there for a moment, but it's almost like it's passed and just gotten back to tequila." His clientele is especially interested in celebrity tequilas. "They will say right out, 'What celebrity tequilas do you have?'"
Interest in the margarita remains strong, says Klemt. "Other drinks tried to dethrone it, but the margarita is still right now the one in North America."
Classics still occupy a major place on the bar menu, but the trend nowadays is to take that classic and update it with a modern twist, says Mike Walls, operations and beverage consultant for Synergy Restaurant Consultants. "It seems like what we see most often now is restaurants leveraging the creativity of the bartender to make totally novel drinks, and a lot of them are based on the classics," he says.
Pogash says that low-alcohol spirits, such as sherries, vermouths and aperitifs, provide a springboard for lots of creative drink possibilities, and spritz-style drinks continue to be popular. "They're quick and easy to make," he says, "and you can even put them on draft. I just did a program at an Italian restaurant, and we've got an Aperol spritz on draft."
Klemt agrees, noting that low alcohol by volume (ABV) beers and other drinks are "surging on-premise." He also predicts a rise in what he terms the "aperitivo culture" as seen in Italy, where drinkers choose lighter drinks and "don't have to get hammered on the first or second drink at their first venue."
Going even lower than low-alcohol, no-alcohol drinks have found a permanent place on today's menu, partially because the stigma of ordering a drink without alcohol has disappeared, says Vestinos. "I think it's almost to the point of pride where people are going out and asking for nonalcoholic. It's like saying, 'I can be in this room with everybody else and drink something nonalcoholic.'"
Walls notes that for "mid- or high-end restaurants, I think there's an expectation that there's an alcohol-free cocktail list of about four interesting cocktails." It's essential, however, that the nondrinkers don't feel like they're getting something less, he adds. "When we're making nonalcoholic drinks, we try to use the same glassware that we're using for our drink program, and then we try to use garnishes with as much flair as the regular cocktail." Done right, the nonalcoholic bar menu can be a moneymaker, says Walls. "You can turn enormous profit off those [drinks].
A couple of cents' worth of syrup, soda water [and] a squeeze of fresh juice — it's like pennies. It's probably the best margin of anything you can sell in a bar."
The One Thing I Wish More Bars Had Is …
Danny Bendas, Synergy Restaurant Consultants: "Better design for dining and better seating. We sit in a lot of bars, and the footrest is just not comfortable. You feel that weird pain above your knees because there's nowhere to put your feet."
David Klemt, KRG Hospitality: "Accessibility — whether that means a person in a wheelchair can comfortably be seated at the bar because you've lowered a section or the bar top, or because your booth designs accommodate a range of people. To me, that is just the spirit of hospitality."
Avril Zayas, Lettuce Entertain You Restaurants: "Deeper bar top overhang. When the bar top is shallow, there is less space for legs and knees, making the
experience less comfortable."
Jonathan Pogash, Cocktail Guru: "Space for glassware. I think a lot of designers don't take that into consideration. They might think, 'Oh, they could just put the glasses on that little space between the backbar counter and the refrigerator.'"
Peter Vestinos, The BarMedic: "Proper wine temperature. I come from a wine background, and I know this is nitpicky, but I just wish more people had the red wines at proper temperature."