Quality, variety and flexibility differentiate next-gen dining programs.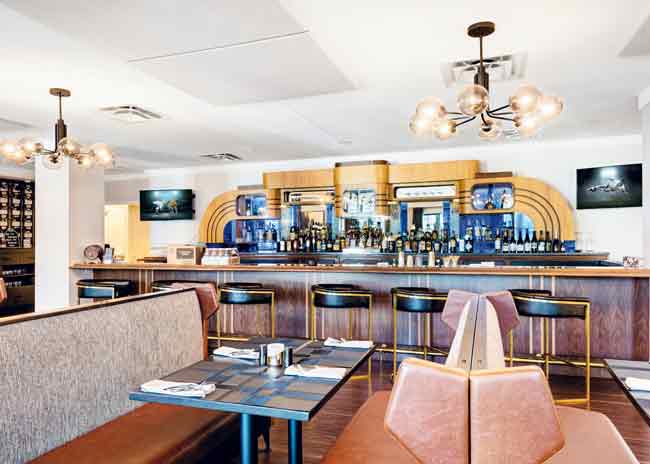 Photo courtesy of Holbrook LifeTouting active lifestyles and resort-style amenities, along with graduated levels of care, senior living communities remain hard at work putting stereotypical notions of "old folks'" homes to rest. Operators in the independent and assisted living sectors, in particular, continue to make big moves to appeal to the next generation of residents — the ever-influential Baby Boomers. Now in their mid-70s, the first wave of that so-called silver tsunami is beginning to move in, bringing along life experiences as well as expectations and demands for more higher-quality choices.
Such demands apply to dining as much as, if not more than, any other aspect of life in senior living communities. Operators' responses, in part, include embracing the power of foodservice as a recruitment and retention tool, one that nourishes resident happiness as well as health. Rigid institutional programs set in single, cavernous dining rooms with limited hours keep giving way to highly differentiated offerings, chef-driven menus, and branded, commercial-style restaurant venues — several in a single community — offering both on- and off-premises dining.
Chris Simeone, senior vice president of senior living at HHS, which provides contract foodservice programs for more than 30 communities throughout the U.S., puts it this way: "I see the future of senior living as being like five things combined. It's cruise ship, casino floor, university dining, corporate dining, and fine dining all in one community. At one of our facilities in Connecticut, for instance, we have several different venues. You can go here for a chopped salad bar or up to the bistro for a brick-oven pizza prepared right in front of you. You can go to the cafe and get a grilled cheese or a breakfast sandwich. We have a bakery with an ice cream and gelato shop and specialty coffees. We have a fine-dining restaurant. Residents can have a different experience for each meal every single day. That's the future of senior dining."
HHS has developed a portfolio of signature branded, turnkey concepts, such as Harvest (chopped salad bar), Stacked (panini/sandwich spot) and Grab (grab-and-go items), which can be plugged in depending on a community's wants, needs and infrastructure capabilities. Simeone's team works with clients to select the best fit for their communities, to tweak them as necessary, and/or to create completely custom concepts for each community.
A shift from outdated, formal dining hall models to contemporary, chef-driven restaurant models across its independent living portfolio is well underway at Erickson Senior Living as well. The Catonsville, Md.-based company develops and manages communities large and small across 11 states. Kevin Bunn, vice president of dining services at Erickson, says the intensive training required, the recruiting and hiring of trained culinarians, the remodeling of facilities, the implementation of new technologies, and the updating of kitchen equipment from batch to a la minute cooking takes time and investment, and the process is ongoing. But it is a process, he adds, that's imperative, challenging and exciting as the industry continues to evolve.
Foodservice in the senior living segment, which encompasses independent and assisted living, memory care and skilled nursing, was hit hard during the pandemic and is proving among the slowest to regain pre-pandemic performance. Datassential's 2023 Foodservice Forecast, published in March, shows the segment inching back toward flat over the past three years, but projections call for it to remain in negative territory at least through 2024 (see sidebar on page 37).
"Much of the industry is focused on just recouping what they had, but there's also a lot of development and innovation happening," notes Bunn. "At Erickson, our occupancy rates are back up to pre-pandemic levels, and we are growing." The company opened new communities in Richmond, Va., and Naples, Fla., and has new communities going up in Bethesda, Md., and Fairfax, Va.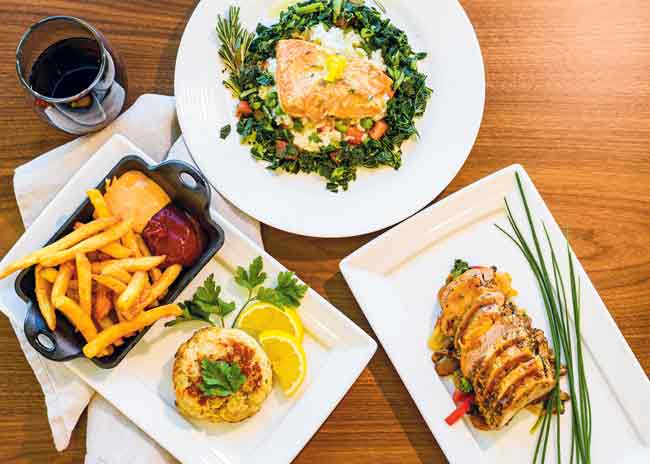 Photo courtesy of Watermark Retirement Communities
Restaurants Trump Dining Halls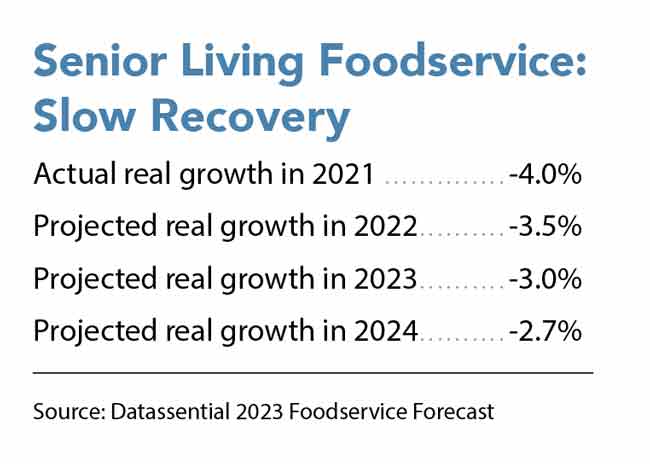 Erickson's dining culture shift falls within a corporate independent living initiative dubbed Signature Dining, which touts variety, freshness and freedom of choice as its cornerstones. "We now have 137 different restaurant concepts across our 21 communities," Bunn says. "They range from casual coffee shops to fine dining. Every one of those restaurants has a different name, and each offers between 18 and 20 entree choices. Most have their own dedicated kitchens. Menus change monthly, and just as restaurants outside of our campuses might do. We offer specials that change weekly. We try to emulate for residents the diverse types of options they enjoyed prior to their transition to a senior living community."
Another new initiative, launched about a year ago, is a program designed to bring greater quality and choice to Erickson's assisted living, memory care and skilled nursing residents. Called New Traditions, the effort brings more cook-to-order capabilities directly onto the floors of these housing and care units.
"These segments' foodservice has notoriously been more institutional, more hospital-style because of the nature of the care," Bunn notes. "We don't think that needs to be the case anymore. We partnered with a combi oven manufacturer to implement a cook-to-order program for these residents. Traditionally, they would have two or three entree options and would need to make their selections early in the day or even the evening before. With this program, most of our restaurants offer a 10- to 15-item entree menu, and residents can make choices in the moment, from a nicely printed menu, and do some customizing just as they would at a commercial restaurant. It's about bringing back dignity in dining."
For Tucson, Ariz.-based Watermark Retirement Communities, which operates more than 70 senior living communities nationwide, the move toward commercial-style dining options also began well before the pandemic, according to Rob Bobbitt, national director of dining services. "Developing restaurant-quality experiences and venues is a big trend in senior living," Bobbitt says. "It's all about choice and variety. As much as we can, we now provide multiple venues; smaller, more intimate spaces; and certainly more restaurant-like menus. Before they moved into senior living, residents had a lot of choice of where to eat, depending on the occasion, mood and schedule. We're trying to provide similar flexibility."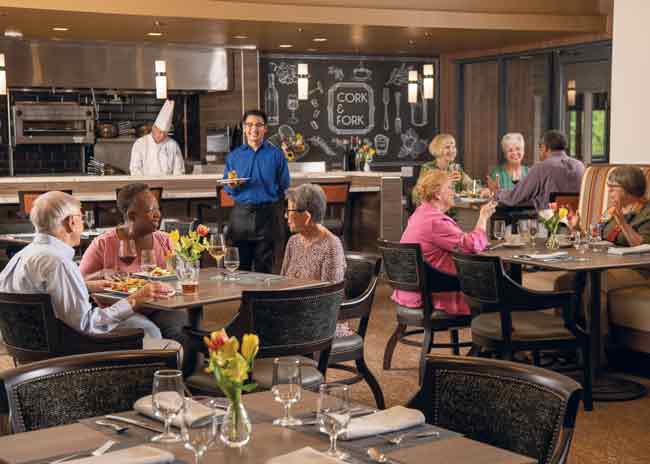 Cork and Fork, a full-service restaurant at Greenspring, an Erickson Senior Living community in Virginia, features regularly changing, globally inspired themes and menus, with chefs working in an open kitchen.
To that end, Watermark, like many other senior living providers, is transitioning to flexible spending plans. "Traditionally, if residents wanted to go out on the town for dinner or just didn't feel like eating, they would forfeit the value of that meal," Bobbitt notes. "With this new program, they have a set amount to spend each month and can pick and choose what and how much they want to eat and in what type of setting. Or they can use the credit in their accounts toward other amenities, activities and services. It provides for a much more flexible lifestyle without giving up value. We started it in 2019 and have it in five or six communities so far."
Among the communities is the new 220-unit Watermark at Houston Heights in Houston. Part of the company's upscale Élan Collection, the property includes a full-service spa and salon, an art gallery and studio, a virtual reality lounge, a movie theater, a golf simulator, an outdoor pool, a state-of-the-art fitness center, housekeeping and laundry services, local excursions and 24-7 concierge service. Dining on-site is a far cry from the buffets and cafeterias of old.
An outdoor dining venue at Wind Crest, an Erickson Senior Living community in Denver, is a popular destination for residents. Photos courtesy of Erickson Senior LivingOn the first floor, adjacent to a concierge-staffed lobby, sits the Gallery Café, offering breakfast and lunch items, traditional and specialty coffees, and a European-style gelato case. Upstairs on the seventh floor, the amenity level features branded concepts including The W Lounge, an all-day venue with a skyline-view terrace where residents can enjoy sandwiches, burgers, small plates, salads, soups and a full bar; Taboon, a casual, full-service Mediterranean- and Middle Eastern-inspired restaurant, complete with display kitchen, chef's counter, and showpiece open-hearth oven; and Seasons, a casually elegant full-service concept serving breakfast, lunch and dinner. Residents of the property's assisted living units can also access menus licensed for assisted living at Seasons.
The amenity level's main kitchen, measuring approximately 2,200 square feet, contains walk-in coolers, freezers, prep, storage and dish areas. It supports all these concepts, each of which includes its own finishing kitchen.
The Houston Heights memory care unit, with 20 residences, has its own open micro kitchen with an equipment lineup that includes an induction range, a convection oven, and a small Type 1 hood with fire suppression. "A big part of what we're trying to do in memory care is to send over the meatloaf, lasagna, muffins or whatever it may be in a state that's ready to go into the oven and be roasted or baked right there in the unit," says Bobbitt. "We want those aromas in the dining area. They help to stimulate appetite, which is a challenge in that care setting. The micro kitchen also gives us a lot of flexibility to prepare something for a resident in the middle of the morning or afternoon."
Public-Private Lines Blur
Watermark has ventured even farther down the commercial-style restaurant path at another new community, The Hacienda at Georgetown, outside of Austin, Texas. There, the company partnered with James Beard Award-winning chef Stephan Pyles to create a signature restaurant, Alma, which serves the general public as well as residents and their guests.
"It's our first public-facing full-service restaurant and a big distinction for us," Bobbitt notes. "Our development partner was interested in doing this for several reasons. It's great marketing and promotion within the broader community. And if you're going to offer restaurant-quality dining experiences, why not partner with a successful, well-known restaurateur? There's also a large 55-plus community nearby, and we saw pent-up demand from that crowd. By dining at Alma, those residents can also get a taste of what our community is all about — and perhaps begin to imagine themselves living here."
Bobbitt adds that zoning officials in some cities now require some portions of senior living communities to be accessible to the public, encouraging integration and active streetscapes. At The Watermark in Coral Gables, Fla., for instance, a quick-service cafe serves the resident population and is also open to the public via a separate street-side entrance. A new community under development in Bellevue, Wash., will include the same feature. "That's also driven by local zoning requirements," Bobbitt says, "but this is something we're interested in doing anyway when it makes sense for the location."
Holbrook Life, a family-owned and -operated senior living provider based in Decatur, Ga., continues to increase public access to its communities, too. The company views the move as a way to help maximize its investment in high-end facilities but also to attract new residents and foster a sense of integration with the surrounding community, according to Tosha Holbrook, chief marketing officer. Holbrook Life currently has four communities in the Atlanta area: in Decatur, Acworth, Woodstock and Sugar Hill. The company's development pipeline includes new Georgia communities in Gainesville, Dahlonega and Sandy Springs, as well as in Greenville and Charleston, S.C., and Franklin, Tenn.
Designed to disrupt how senior living is perceived and enjoyed, each location offers a full-service spa and salon, an indoor saltwater pool, a full fitness center, event spaces and a diverse array of chef-driven dining options, now available to the public via club memberships. "We introduced our new Holbrook Club in September 2022 at the Woodstock location, our largest community," Holbrook notes. "It was initially created to target 55-plus neighborhoods around Woodstock, but it has proven demand, and we're adding it at our other communities later this year as well."
Holbrook dining venues include the Zinnia Café & Market, featured at all communities, and signature restaurant and bar concepts developed with Tom McEachern, an award-winning Atlanta-based chef and sommelier. Zinnia offers breakfast and lunch in a casual, quick-service setting. A separate section, Zinnia Express, features grab-and-go items plus wine and specialty goods for retail sale. Full-service concepts, each with its own dedicated kitchen and each tailored to its community's demographics and tastes, include Local Hearth Southern Kitchen & Bar in Acworth, Socialite and Maverick Social Club cocktail lounge in Decatur, and Off the Rails Kitchen & Bar in Woodstock.
Each Holbrook property also has a catering and events manager tasked with promoting and managing special events for residents as well as for outside businesses, community organizations, and private celebrations, such as weddings and baby showers.
Off-Premises, Tech Solutions Advance
In step with senior living's shift toward restaurant-style offerings is growing demand for off-premises options and a budding embrace of technology solutions. The pandemic, of course, made off-premises options imperative virtually overnight in a segment historically focused almost exclusively on serving residents in dining rooms.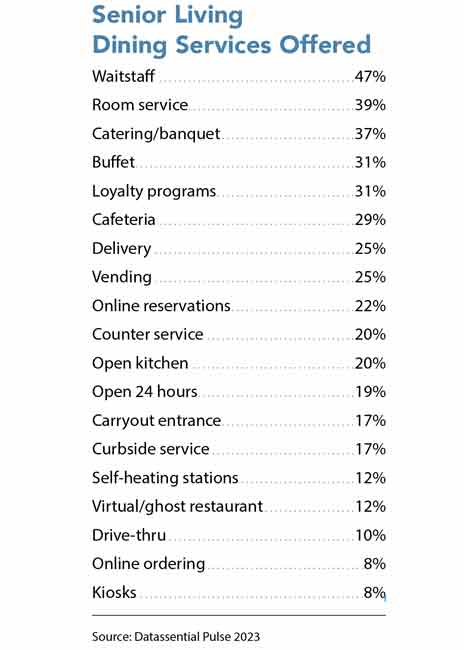 Mitch Possinger, co-founder and managing partner at Bethlehem, Pa.-based Culinesse, a foodservice management firm serving the senior living segment, says that since the pandemic, residents have been pushing back against the segment's dearth of off-premises options. "In these communities, we've always discouraged takeout," notes Possinger, who founded and led Cura Hospitality, now part of Elior North America, for 25 years before launching Culinesse in 2021. "We made it hard to get. We used lousy packaging. The food didn't hold well. And that was all because we always encourage residents to engage, socialize and feel part of the community. Eating together is a big part of that."
With dining rooms open again, that's largely happening. Datassential's 2023 Market Pulse study on the segment shows full service dominates (see data table above), but also that delivery, curbside service, separate carryout entrances, and even ghost kitchens and drive-thrus are gaining footholds in senior living.
"During the pandemic, residents got used to placing orders remotely. They got used to deliveries and to picking up takeout food," Possinger notes. "Now, most are heading back into dining rooms, but in the communities that we serve, 25% of residents, on average, still consistently want takeout. It's a big shift to go from negative to 25%, but it's one we're embracing, particularly as we as an industry are still having trouble staffing our dining rooms. We're upgrading packaging, we're designing takeout menus with foods that do well in transit and/or reheat well, and we're cooking to order just prior to pickup time. We may not offer a particular restaurant's full menu for takeout, which residents might not be happy about, but the quality is much better."
Simeone says HHS, too, sees sustained, post-pandemic demand for more and higher-quality off-premises options. At Elim Park, the continuing care retirement community HHS serves in Cheshire, Conn., a recent remodel included the addition of Market, a c-store-style retail concept that offers sundries as well as rotisserie chicken and prepared Market Meals. And HHS's off-premises-focused concept, Grab, recently began offering ingredient-and-recipe-style meal kits to Elim Park's independent living residents as a convenient way for them to prepare meals in their own kitchens.
Off the Rails Kitchen & Bar, an upscale casual restaurant at Holbrook's Woodstock, Ga., community, serves residents and their guests, as well as Holbrook Club members. Photo courtesy of Holbrook Life
At press time, Elim Park was also nearing completion of a new test kitchen from which the HHS culinary staff will be able to engage with residents. "We'll do cooking classes and events in the kitchen, but we'll also be able to broadcast into residents' rooms on their TVs," Simeone says. "On certain days of the week, if you buy the meal kit, you can tune in and cook right along with the chef."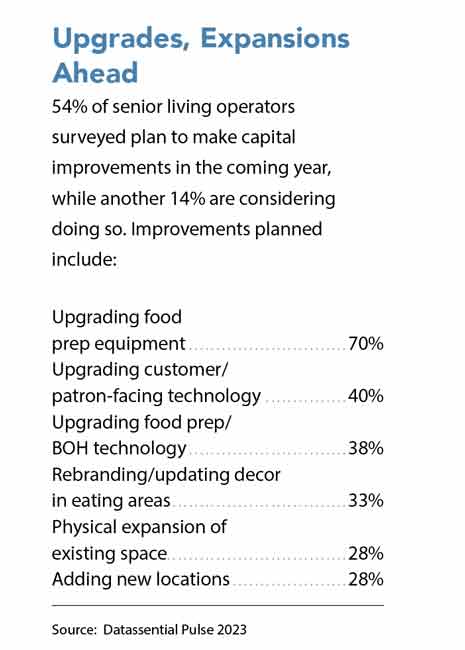 Off-premises dining is a bigger focus now at Erickson Senior Living as well, according to Bunn. "Pre-pandemic, we were at about 4% carryout across our 28,000-resident system," he says. "Now, we're at around 18%. Residents are happy to be able to go back to the dining rooms, but they still want the option of takeout now and then. We continue to invest in improving and growing our carryout programs. We have more hot holding equipment than ever before, and in our newer developments, we have centralized locations for pickup and delivery. We also now offer delivery in all 21 of our communities, up from zero delivery before the pandemic."
As for technology, Simeone says the company continues to make strides that both enhance residents' experiences and increase operational efficiencies. The company's servers all now use touch-screen tablets at tables, transmitting orders directly to the kitchens. Residents or family members can make reservations and/or place orders online, and digital menu boards have been introduced in many dining venues. The company's POS system integrates residents' dietary restrictions, making it easy for retail and restaurant staff to ensure compliance. The system also gathers immediate "happy or sad" feedback, providing HHS with important consumer data with which to build and improve its programs.
Other operators, too, continue to move forward with new technologies, in part to ease labor pains but also because post-pandemic residents and incoming Baby Boomers are increasingly comfortable with them. Culinesse, for example, has installed self-order kiosks in a fast-casual operation in a Philadelphia-area independent living community. "Initially, we had a concierge standing next to each of the units to help residents figure it out," Possinger says. "But within a few weeks, 70% of the residents were happily scanning their account cards and placing their own orders."
A restaurant-style POS system also helps Erickson Senior Living achieve its next-gen dining program goals. Like HHS, Erickson's system integrates digital front-of-house service elements with the back-of-house kitchen display system. Flexibility is a big benefit, according to Bunn. "It gives residents a lot more opportunities to make special requests and to customize their orders," he says. "It's easy for servers to input those requests and for cooks to execute them because we're cooking to order, and all of the information they need is in front of them."
In one community, Erickson is even testing the use of robots for automated transport of food to tables and dirty dishes back to warewashing. And the company continues to enhance the dining portion of its My Erickson app, available to all residents. The app includes menus for each of a community's unique dining venues, along with detailed nutritional information. "Every one of our venues is different, so the app allows the residents — not the providers, as in old-school models — to make informed decisions about where they want to dine and what's best for them," Bunn says.