Rib & Chop House aims to grow by offering the best dining experience in towns with fewer than 200,000 people.
Not every chain sets out to compete in places like Dallas and Orlando. While major cities like these seem to host practically every flashy concept out there, a number of brands focus on smaller markets — towns like Cheyenne, Wy., and Butte, Mont.
These chains, though, tend to operate in the QSR space. You just don't see many concepts offering elevated experiences in small towns. Billings, Mont.-based Rib & Chop House stands out, then, by offering these places something more than fast food.
This 12-unit steakhouse concept, which now has a franchise program, operates in the polished-casual space. The experience sits somewhere between an Outback Steakhouse and a Ruth's Chris Steak House, says Leah Grimm, chief people officer, Finally Restaurant Group, Rib & Chop House's parent company. Wherever it opens, Rib & Chop House instantly becomes the preferred restaurant in town, she says.
This is more than a strategy for Rib & Chop House. Burke Moran, Finally Restaurant Group's president and the concept's creator, was raised in the restaurant industry in Baton Rouge, La. His father was the very first Ruth's Chris franchisee. At the turn of the century, Moran picked up his life and moved to Montana. There, he started Rib & Chop House in order to focus on towns in the 75,000 to 200,000 population range.
Rib & Chop House designs its interior to appeal to all sorts of guests, from couples out for a special occasion to friends getting together to watch a game, to families coming for a meal out.
The menu matches this approach. Customers can get a $75 dry-aged rib-eye steak or a standard cheeseburger, pasta dishes, entree salads, etc. There's even a kids menu featuring classics like macaroni and cheese, chicken strips and mini corn dogs.
Such a broad menu "means there is no veto vote," says Grimm. "Everybody has to be in the mood for Chinese, or everybody has to be in the mood for pizza. But when you have a group or a family, everybody can find something on our menu."
The chain serves its "something for everyone" menu in a space that embodies the polished-casual segment. The bar area, for example, leans toward the casual. It has something close to a sports bar aesthetic, with plenty of televisions and more than 20 beers on tap.
The dining room offers a more elevated atmosphere but still falls between casual and fine dining. The space features lighting and music reminiscent of a high-end steakhouse, but the overall design is a little brighter and less formal, says Grimm. The chain refrains from using white tablecloths, and furnishings are lighter-colored hardwoods.
Some Rib & Chop House design features appear in multiple locations, like the wine storage display, stone facades on walls and fireplaces, and a photo wall highlighting "Rocky Mountain Hospitality." Other elements are specific to the location, Grimm says.
"If you go into the Billings location, you are going to see landmarks from Billings," Grimm says. "You are going to see images of specialty businesses or things that are very indicative of the town. In Sheridan or Gillette [Wyoming], you are going to have more of a Western cowboy feel. When we think about designing, we think less chain stamp and more community association."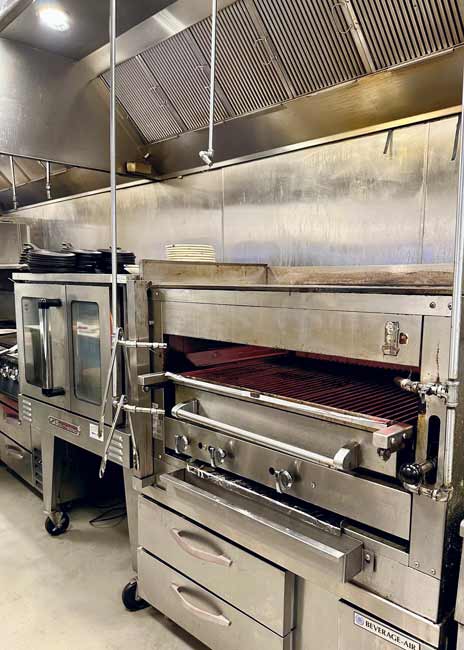 Instead of using a traditional chargrill to cook its steaks, Rib & Chop House uses a pair of overfired broilers.
Small-Market Issues
One of the benefits of operating in small markets is customer loyalty. The minimal amount of competition increases the likelihood of frequent customers. To further entice these guests, Rib & Chop House offers not a loyalty program but a Royalty Program. Capped at around 100 members per location, the program costs $600 a year, which customers get back in the form of a monthly $50 gift card.
Royalty Program members get preferred positions on the waitlist and 10% off their bill, among other perks. Notably, the program doesn't seem to attract people just looking for a good deal. According to Grimm, even with the 10% discount program, members have a higher check average than nonmembers. Often, they use their discount to justify another round of drinks or a higher-quality steak.
The flip side, of course, is the reputational damage from a bad night. Having fewer members further heightens the need to meet expectations for every meal, every day. "You don't get a whole bunch of new guests every year. You've got 50,000 people to work from. That's not a big group, and those people talk. If you're not performing, it can have a pretty high impact on how the community perceives you," Grimm says.
Another challenge for Rib & Chop House is labor. While that's an issue across the industry, smaller markets mean smaller labor pools. For this reason, the chain pays extra attention to creating a positive work environment. This not only helps with retention, but it can also build a pipeline of leaders and managers for new restaurant openings — especially important given the chain's new franchising push. The benefit, of course, redounds to both franchisees and employees, who see more opportunities for advancement within Rib & Chop House.
"One of the things we love about this industry — and we talk very often about it — is that you can make a career without a very expensive formal education," says Grimm. "We want to foster that and create that pathway for our team members. That requires additional restaurants. We don't want to open restaurants just to open restaurants. We want to open them because we can fund that pipeline and provide opportunity."
Outsourcing Prep
With Rib & Chop House's new franchise program, the chain expects much of the opportunity for employee advancement to come through partner-owned restaurants. To that end, the company has spent much of the past two years streamlining its operations.
The chain has tweaked its menu and kitchen operations for ease of execution, with ticket times of 12 to 15 minutes as the goal. To achieve this, Rib & Chop House offers a number of side dishes that kitchen staff can make ahead of time without sacrificing quality, such as mashed potatoes, sauteed mushrooms and carrot souffle. This allows kitchen staff to save time and focus its work on center-of-the-plate items. "We have engineered these recipes to be simple and quick to use on the cookline," Grimm says. "That is where the efficiencies and the recipe engineering come into play."
Operationally, the chain has also improved efficiency and shrunk the restaurant footprint by having vendors perform selected tasks or deliver some premade products. "We were making all our dressings in-house for years and years," says Grimm. "We asked, 'What are we getting credit for, and what are we not getting credit for?' So, we tested our ranch and a bunch of other ranches and decided we weren't getting credit for ours, and this one [from a vendor] was just as good. It's little things like that."
In some cases, Grimm adds, the chain ended up specifying a superior product. Prior to this exercise, Rib & Chop House hand-cut many of its steaks. This could lead to some inconsistency in sizes. By receiving pre-cut steaks, the chain now offers more consistent products to its customers.
Changes like these have allowed the chain to shrink its back of the house. With less for staff to do, the prep area can be smaller; fewer ingredients also means the chain no longer requires as much storage space. The chain's prep area, then, is fairly standard, consisting of worktables, sinks and various smallwares. The chain holds ingredients in dry storage as well as in a walk-in refrigerator and a walk-in freezer.
Center of the Plate, Center of the Kitchen
While steaks are the heart of the concept's menu, the chain rounds out its offerings with a chargrill for burgers and a saute station for pasta dishes. A complete menu helps Rib & Chop House avoid the veto vote.While the prep area has shrunk in newer restaurants, the production kitchen has stayed stable. The production kitchen, says Grimm, is essentially locked down and will only change if a building's footprint requires it.
Steaks are the center of Rib & Chop House's menu, so it's fitting that the steak and chop station is at the physical and operational center of its cookline. "We built everything around the steaks. The steaks are where it starts, and the steaks are where it comes together. Everything comes together when the steak is ready because it is the focus," Grimm says.
The chain serves its steaks on plates heated to 450 degrees F and sizzling with butter. To achieve this, a plate warmer sits in the middle of the station. To cook steaks, instead of a standard grill, the culinary team use two overfired broilers that cook proteins from above. These sit on refrigerated bases, one on each side of the plate warmer. During slower periods, the kitchen uses only one broiler, says Grimm. At peak times, both are in service. The kitchen's ticketing system distributes orders so steaks cooked at similar temperatures are assigned to the same grill.
Beyond the grills and to the side sits the fryer station. Here, kitchen staff cook everything from french fries to fish and chips to fried shrimp to fried green tomatoes.
On the other side of the grill sits the saute station. This is a simple four-burner unit used to cook pasta dishes and sides like sauteed spinach. It sits on top of an oven that's used primarily for warming, as well as for producing a few entrees like cedar plank salmon.
After the saute station comes a traditional chargrill on top of a refrigerated base. Staff use the chargrill to make burgers and chicken breasts for salads and sandwiches, among other items.
Those stations comprise Rib & Chop House's hot line. Its cold line/expo includes a refrigerated table with wells that keep burger toppings, cold sides and condiments.
Next to the cold table sits a set of steam wells. These hold hot sides like carrot souffle, mashed potatoes, sauteed mushrooms and squash casserole. The kitchen positions the wells opposite the grill station.
In addition to these pieces, the chain has two other flexible stations that go wherever they fit. One is the salad station, which consists of a salad table with backup ingredients stored below. The other is the baked potato station. This has a warmer for the potatoes themselves, along with a cold table for holding butter, cheese, sour cream and other toppings.
Next Targets
With its operations locked down, the chain is now ready to push its franchise program into high gear. Though Rib & Chop House is a small concept looking to get bigger, it remains still selective about where it opens and its partners.
Geographically, the chain says it will continue to target smaller Western/Mountain areas. In terms of the franchisees themselves, the company seeks people with at least five years of experience in casual or fine dining, along with a track record of success in the hospitality sector. It also wants franchisees who are from the area where they want to open a restaurant.
"We are looking for someone in the community or someplace they can drive to. We're looking for someone who can operate one or maybe a second and third, but they can make a really comfortable living operating one Rib & Chop House. That is why we are so passionate about being really selective with markets and partners," says Grimm.
This strategy, of course, won't get Rib & Chop House to 1,000 locations. But it can help the company thrive and, through partnerships, bring a better experience to smaller towns. After all, the brand's creator, Moran, moved from Louisiana to build his career and life in just such a place. The company, says Grimm, really is dedicated to these places.
Facts of Note
Chain headquarters: Bozeman, Mont.
Year founded: 2001
Key players:
Owner/president: Burke Moran
CEO: Yaron Goldman
VP of people: Leah Grimm
Director of training: Corey Robbins
Signature menu items: Famous Filet, a hand-cut and broiled tenderloin; Cote de Boeuf, a 36-ounce bone-in French-cut rib-eye steak served on a sizzling platter with fresh herbs and garlic
Number of units: 12
Unit size: 5,500-6,500 sq. ft.
FOH: 70%
BOH: 30%
Seats per unit: 185 inside and 50 outside
Total system sales: $46.25 million
Average sales: $4.3 million
Check average: $39.12
Equipment package cost: $550,000