It seems there's very little that consumers don't love about pizza — and very little that foodservice operators won't do to keep that passion alive.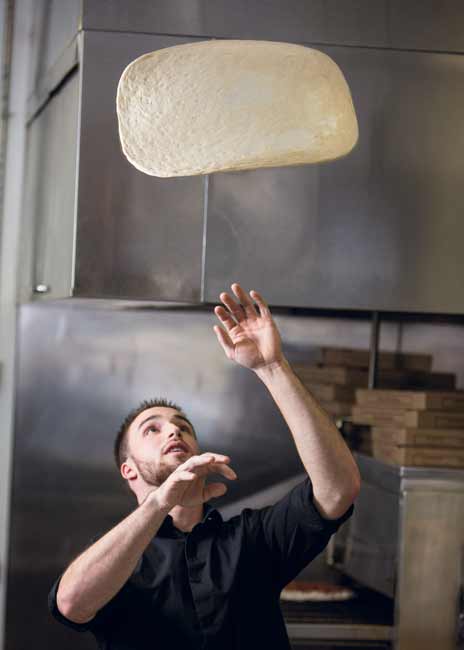 At emerging chain Pizza Factory, scratch preparations and hand-tossed dough are foundational brand elements. Image courtesy of Pizza FactoryOne of few menu categories seemingly tailor-made for the accelerated shift to takeout and delivery, pizza's star has only continued to rise. And why not? Familiar, consistent, convenient, affordable, classic or trendy, customizable, on- or off-premises, pizza fits the bill. That's true both domestically and, increasingly, abroad.
According to Euromonitor's International Pizza Forecast for 2022, the global pizza market, including quick-service, limited-service and full-service restaurants as well as delivery-only/takeout-only operations, was expected to grow by 6.7% last year to $141.4 billion in total sales. North America and Western Europe account for the largest slices of that pie, forecast to hit $56.5 billion in North America (up 5.3%) and $49.3 billion in Western Europe (up 6.4%) last year. Other major regions across the globe show significantly smaller sales but more rapid growth:
Asia Pacific — $12.7 billion, up 6.8%
Latin America — $11.9 billion, up 12.2%
Eastern Europe — $4.6 billion, up 12.7%
Middle East/Africa — $4.4 billion, up 9%
One need look no further than the Big Cheeses in the category for evidence of robust international expansion. Both Domino's and Pizza Hut, for example, generate more than half of their global retail sales from units outside of the United States.
Each chain had roughly 12,000 locations at the end of 2021, and the largest share of both chains' recent development efforts has been international. Domino's reported the addition of 999 new international store openings in 2021, compared with 205 stores opened in the U.S.
Pizza Hut, which over the past few years has seen unit numbers decline and closed more than 1,000 locations in 2020 alone, is developing again. In its 2022 third-quarter earnings release, the brand reported year-to-date openings of 853 units across 47 countries. CEO Aaron Powell told investors in December 2022 that expanding the development engine is a top priority. He said global units grew by 5% in 2022 and that Pizza Hut is moving forward with a strong pipeline of new domestic and international franchisees.
Little Caesars is focused on international expansion as well. Now found in 27 countries and territories, the company last year announced development initiatives in Germany, Portugal, the United Kingdom and France, as well as plans to open additional stores in Spain.
Fast-growing Papa Johns, which regained significant momentum over the past three years (North American comp sales are up 30% since 2019 as of the third quarter of 2022), added 200 new international units in 2021 compared with 50 U.S. units. By the end of the third quarter of 2022, Papa Johns had 5,630 total units, 2,311 of which were international locations. Over four quarters ending Sept. 25, 2022, the brand added 173 new international and 35 domestic locations. Papa Johns anticipates its expansion abroad will continue to rise dramatically, in part due to a new franchisee development agreement to open more than 1,350 stores across South China by 2040.
Pizza Hut is developing again, with a focus on smaller locations designed to maximize carryout and delivery sales while still providing a strong in-store experience. Photo courtesy of Yum! Brands/Pizza Hut
Multichannel Maneuvers
Much of the rapid growth in the segment may be happening overseas, but the relatively mature pizza market here at home remains a hotbed of resilience and innovation. Faced with growing competitive pressure from the now more diverse array of concepts marketing takeout and delivery, as well as from a return to dine-in, pizza brands continue to step up menu engineering, loyalty incentives, technology enhancements and operational flexibility to serve multiple channels well.
Left: At Mountain Mike's Pizza, curly pepperoni — and lots of it — is a signature offering. The segment's ability to shift quickly to off-premises has been particularly notable. Datassential's "Pizza Keynote Report for 2022" reveals that in 2018, more than half of all operator pizza sales came from on-premises, dine-in occasions. Takeout pizza represented one-third and delivery was just 12% on average. By the end of 2021, delivery grew to 19% on average, and takeout captured 48% of all pizza sales.
That large slice for takeout represents a bright spot, one that many chains continue to grow or at least maintain given the extra costs associated with delivery, particularly via third parties. Some segment leaders offer incentives and price breaks to guests who order directly through in-house apps and pick up their orders. And most continue to roll out new store formats featuring designs that emphasize efficient, dedicated mobile order pickup.
Take, for example, Pizza Hut. The traditionally dine-in-heavy chain pivoted quickly to contactless curbside pickup during the pandemic and in 2021 launched The Hut Lane, a digital- or phone-order pickup window, at more than 1,500 locations nationwide. Franchisees can also now choose from a variety of modern prototype models, the fastest growing of which, according to the company, are "Delco" units — those designed specifically for delivery and carryout.
Efforts to get customers back into stores, whether for pickup or dine-in, appear to be paying off, too. Jim Metevier, who leads 265-unit Mountain Mike's Pizza as president and chief operating officer, says dine-in is indeed returning. "Pre-pandemic, we were at about 25% of sales being dine-in. We haven't gotten it all back yet, but we're getting close, and we see that as a big opportunity. People are craving connection, and we want to meet guests where they are," he says. "We'll always have delivery, but dine-in represents untapped potential. It's something we're promoting this first quarter of 2023 — inviting people back in for our lunch buffet and all-day salad bar, our arcade games, our large-screen TVs and our full in-house experience."
Technology is a Key Ingredient
Certainly, with restaurant visits returning, pizza operators are tasked more than ever with creating a seamless experience for guests, no matter the channel. Against strong labor and inflation headwinds, pizza operators continue to rely on technology to help meet the challenge.
Domino's has long made leading-edge technologies part of its brand DNA. Since pioneering digital pizza tracking and its app-based 3D pizza building experience, Domino's gives customers the ability to place orders anywhere, anytime, from any device and via multiple platforms, including voice and text.
Domino's has also led on the delivery innovation front with next-gen, purpose-built pizza delivery vehicles and testing of autonomous vehicles and drones. And the company recently announced it is adding more than 800 custom electric cars to its fleet.
Even smaller pizza chains with fewer resources are busy making strategic technology investments to enhance their ability to compete. For casual-dining chain Anthony's Coal Fired Pizza & Wings, acquired by BurgerFi International in October 2021, sales are now almost evenly split between on- and off-premises. The Fort Lauderdale, Fla.-based chain has 60 corporate locations across the eastern U.S. and recently launched a drive to accelerate growth through franchising and development of a fast-casual, off-premises-friendly prototype.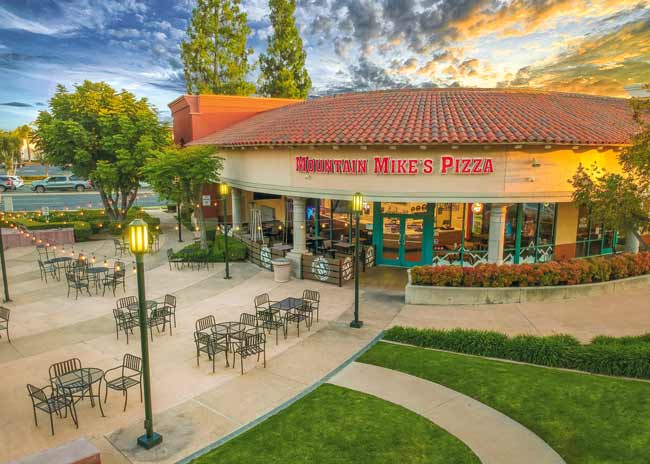 With dine-in returning, Mountain Mike's is busy promoting its full on-site experience, which includes space for families and groups along with arcade games and large-screen TVs. Photos courtesy of Mountain Mike's Pizza
"There are a lot more pizza places and a lot more people trying to make pizza today. We've noticed a continued shift to more off-premises than pre-pandemic, which is why we focus on the guest experience both in-restaurant as well as for pickup and delivery," says Karl Goodhew, chief technology officer at BurgerFi. "We have renewed focus on the guest experience at all touch points, including website and front-of-house systems."
Those systems include a new AI phone answering program that, as of December 2022, was operational in all corporate Anthony's locations. Despite continued growth in digital sales, phone orders still account for 15% of off-premises orders, totaling 500,000 orders a year. "The AI technology is designed to handle 100% of calls and allows for an expected average check increase of 10% to 12%," Goodhew says. Guests can also seamlessly integrate their loyalty numbers to earn points and rewards when ordering with AI, which the company says will help stores meet demand while simultaneously growing same-store sales.
On the operations technology side, Anthony's is testing a new oven that allows the brand to maintain its coal-fired appeal while also delivering operational benefits. Goodhew describes it as a quick and consistent coal-fired oven with gas assist. "Everything except our salads and cheesecake is cooked in our ovens," he says. "This new oven maintains a signature coal-fired char, while the gas-assist function allows for easier and more consistent execution with larger capacity and less coal. This helps us to reduce our overall labor model as well."
Pizza Factory, based in Oakhurst, Calif., is also leaning into technology. The chain, which at the start of 2022 had slightly more than 100 locations in mostly western states, spent the past two years ramping up franchise development following the completion of significant technology enhancements. CEO Mary Jane Riva, who started with Pizza Factory as a franchisee in 1990 and purchased the brand in 2012, keeps a close eye on the types of investments larger chains in the segment continue to make.
"When I took over, the first thing I told our franchisees was that I want us to be competitive with the big brands regardless of what our size is," Riva says. "We have the luxury of being able to watch and mimic much of what they're doing, albeit on a smaller scale. It can sometimes be tough to get buy-in from franchisees, but investments in technology have positioned us for growth and made us more attractive to new franchisees."
Pizza Factory was in the process of implementing online ordering just before the pandemic, but it wasn't yet mandatory for franchisees, according to Riva. The brand had also begun development of an express prototype prior to the pandemic; it created a portal through which franchisees can easily order supplies, enhanced its app and loyalty program, created QR code menus, and completed systemwide standardization of its POS system and pizza oven. Another major move has been integrating third-party delivery platforms into its POS system, eliminating manual tasks associated with fielding orders from multiple companies.
"Everything is now seamless," Riva notes. "It's all been a huge win for franchisees as well as for the guest experience. We still have some stuff that we want to try to implement. It's all about reducing labor and increasing profits."
Achieving those goals, Riva adds, means embracing automation. "We're not interested in automation that would change our brand culture," she emphasizes. "Rather, we're looking for back-of-house automation that makes things easier for franchisees and increases efficiency without impacting our food quality. That's where automation is going to be big, and it's a huge priority for us."
Riva is not alone in looking to automation for back-of-the-house assists. In its "Pizza Restaurants, U.S. 2022" report, research firm Mintel predicts the next two years will see accelerated adoption of automation among pizza operators. "Large-scale players will adopt automation that is currently being tested across various locations, further strengthening off-premises offerings and convenience," the study notes. "Adoption of robotics in kitchens will cement consumer association of pizza with reliability and product consistency."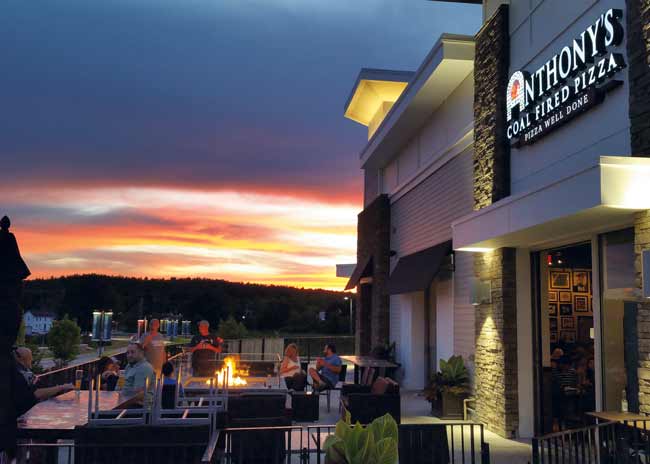 Anthony's Coal Fired Pizza recently launched a franchising drive and new fast-casual prototype that can be co-branded with parent company BurgerFi units. Image courtesy of Anthony's Coal Fired Pizza/BurgerFi International
Classic, Custom, Creative
Pizza is, indeed, reliably consistent as a fast, affordable meal option and one that comfortably swings between traditional and nontraditional ingredients. And while consumers continue to crave classic versions topped with familiar ingredients, menu innovation and the ability to customize keep things interesting — and help to keep pizza fatigue at bay.
Datassential's report identifies several trends expected to gain steam over the next four years. Top among them:
Cauliflower crusts appeal to low-carb and gluten-free diners. Gluten-free pizza, on 11.4% of menus, is projected to grow another 27%.
Superfoods such as avocado, kale and arugula are among the fastest-growing pizza toppings.
Demand for plant-based pizza toppings continues to grow, with vegan representing the fastest-growing pizza type, up 187% on menus over the past 3 years.
Stuffed crust represents the biggest gap between consumer demand and operator adoption.
Breakfast pizza, on 2.9% of menus, is expected to grow 15%.
Interest in global pizza flavors is rising. Thai peanut, for example, has seen a 58% rise on menus since 2018.
Emerging fast-casual concepts, in particular, have infused the category with creativity and an enhanced focus on quality ingredients, artisan preparations and customization. One of the fastest-growing of these types of companies is Seattle-based MOD Pizza, now at more than 520 units across the U.S. and Canada. Its guests can choose from among 9 classic pizzas or go fully custom with more than 40 topping options, multiple sauces, and big-flavor finishes, including balsamic fig glaze, pesto drizzle and Sri-Rancha (ranch, hot garlic sauce and lemon juice) sauce. MOD also regularly features limited-time offerings built on seasonal and/or global influences. A recent example: jasmine pizza topped with Thai curry chicken, pesto, pineapple, mozzarella, and a kale and broccoli power blend.
Blaze Pizza, another fast-casual trailblazer, has a similar model. Founded in 2011, Blaze now has more than 340 units across 38 states and 6 countries. It touts house-made dough, 5 specialty crust options, more than 35 all-natural toppings, and open-flame, gas-fired pizza ovens that bake pies in less than 3 minutes.
Blaze's featured specials include four signature pies developed with popular dietary regimes in mind: Keto Pizza, Protein Pizza, Vegetarian Pizza and Vegan Pizza. Regularly offered Chef's Signatures include BBQ Chkn with grilled chicken, mozzarella, onion, banana pepper, gorgonzola and barbecue sauce drizzle; and Green Stripe, featuring pesto drizzle over grilled chicken, roasted red peppers, chopped garlic, mozzarella and arugula.
As competition continues to grow and pizza sales cool off coming out of the pandemic, large chains and casual-dining pizza players keep menu innovation front and center as well, often highlighting complementary side categories. Recent menu additions at Papa Johns, for instance, include folded flatbread sandwich-style Papadias, Papa Bites stuffed with sweet or savory fillings, and crustless Papa Bowls. Domino's in 2021 added a new line of Oven-Baked Dips for pairing with its Bread Twists. And Pizza Hut last fall rolled out new individual, sandwich-style oven-baked Melts.
Ultimately, getting it right and appealing to the most consumers requires a balanced approach. In its 2022 pizza study, Mintel suggests that menu innovation will continue to reshape the pizza category but cautions that a strategic approach is called for. "Younger consumers are more enthusiastic about trying new flavors and ingredients on pizza, and as operators incorporate more variety into their menus, new pairings will shift what 'classic' means for pizza," the report notes. "Even so, interest in lesser-known cheeses and meats is nascent among this group, while older consumers are not interested in straying from traditional favorites. Innovation, therefore, must prioritize customizability and control for the consumer to avoid alienation, such as by offering variety for various components (e.g., crusts, signature sauces, sides) that consumers can use to build their perfect meal."