Back when the phrase, 'I know it when I see it,' was first used it didn't refer to fast-casual restaurants. But these days it easily could.
Like most fast-casual chains, the food takes center stage at Sweetfin, a California-based poke and bowl concept.That's because the lines of differentiation that created a space for fast-casual restaurants somewhere between quick-serves and full-service casual restaurants continue to get fuzzier and fuzzier. Or, as Darren Tristano, CEO of FoodserviceResults, puts it, "When you talk about fast-casuals today it almost gets more confusing before it gets clearer."
While the pandemic played a role in this evolution, the lines separating those various segments were blurring before the challenges of the past few years helped push the process along.
"When the category first started to grow in late '90s and early 2000s, it was the golden child of the industry," says Mike Kostyo, associate director and trendologist at Datassential. "Any time that happens you are going to see other segments try to compete." Fast-food brands started incorporating elements of fast-casual operations, including modern new builds, more menu customization and an upgrade in ingredients. "That forced fast-casuals to change," says Kostyo.
And the blurring wasn't limited to those two restaurant segments. "Full-service restaurants started to compete more aggressively at lunch time with 30-minute guarantees, lower price points and an increase in takeout," adds Tristano.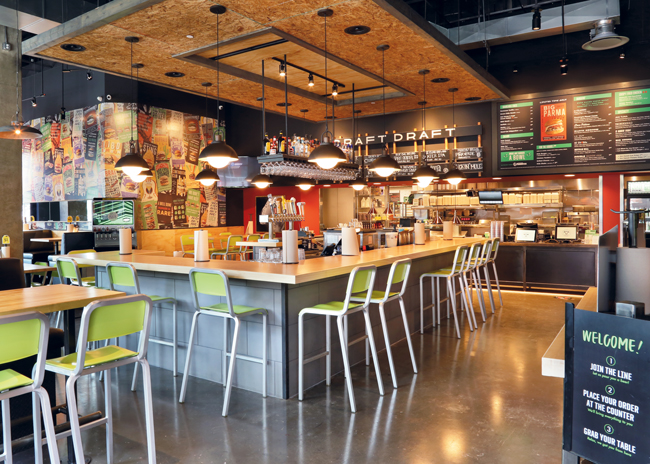 One way some fast-casual concepts differentiate themselves from their quick-service counterparts is by selling alcohol. Hopdoddy, for example, features a liquor menu that includes beer, wine and a wide selection of margaritas.
So where does that leave fast-casuals today?
Datassential uses six key characteristics when deciding whether to put an operator in the fast-casual category. Number one is price, says Kostyo, with the check average usually exceeding $8. The restaurant accepts payment at a counter or kiosk, another differentiating factor from full-service. Fast-casual restaurants still place an emphasis on customization with ingredients fresher and higher quality than quick-serves. And menus at fast-casual operations typically feature handheld items, including bowls. When it comes to interior design, it's more of an art and science kind of thing. "They tend to have that modern, forward-thinking atmosphere when you walk in the door," he says.
It's not only the differences between these restaurant segments, however, but their similarities too when it comes to defining them — and that's where things can get confusing.
"In the last couple years, QSRs have done well as they were already set up for the pandemic with drive-thrus and delivery," says Kostyo. "Fast-casuals paid attention to that and incorporated many of those aspects into their operations. In some respects, where we had previously seen QSRs playing catch up a little bit, during the pandemic we saw the fast-casuals playing catch-up to the QSRs when it came to such areas as delivery and pickup."
Now some of the biggest fast-casual brands seem to regularly roll out new prototypes that include features that were once the exclusive domain of the QSR. "We used to define a brand with drive-thru as quick-serve," Tristano adds. "But now that we've seen Panera Bread, Jimmy John's and others move to drive-thru format, it's harder to define them that way. The existence of drive-thru doesn't push them into QSR category; it merely extends fast-casual into a more off-premises environment."
Does that mean all fast-casuals need a drive-thru to be successful? Not necessarily. "If you're fast-casual and all the QSRs around you have drive-thrus, then you probably need to have one, but I don't think it's for everyone," says Kostyo, adding that fast-casual urban locations often don't make sense.
But if a fast-casual concept is going to offer drive-thru, it needs to do it well. "If you are in an area where you do get a lot of car traffic, absolutely look into it, but only if you can put the resources that are needed for a successful drive-thru program toward it," he says.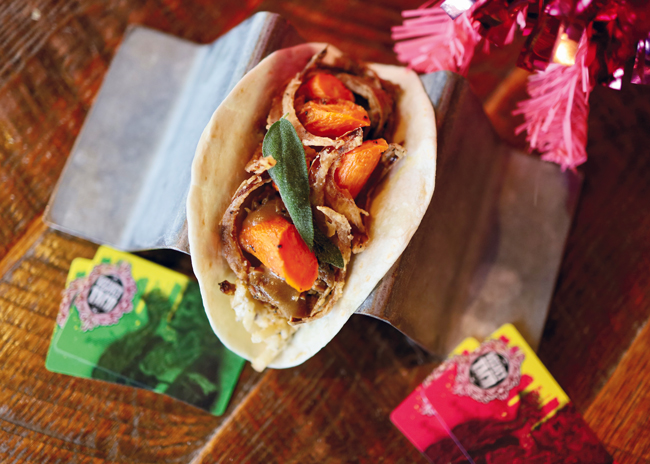 To help spur sales during the holiday season, fast-casual chain Velvet Taco created a limited time offer. Drawing inspiration on the 12 days of Christmas, the promotion featured a different taco a day for 12 days. The chain also sought to emphasize its catering program during the holidays by highlighting taco boxes.
When it comes to digital ordering, however, that's a must for every brand, says Tristano. Customers value the convenience of ordering from their smartphone or computer. At the same time, digital ordering allows operators to mine data and reward customers' frequency via loyalty programs. Digital also helps with group orders by allowing for payments from multiple sources, a definite plus for customers.
According to Datassential's 2022 Pulse Market Overview, 63% of fast-casual operators allow customers to order online, a number Kostyo is sure has increased this past year. "When you look at younger consumers and how they order today, a lot of them just expect it," he says. "That is the future of the category." The challenge, however, will be in developing technology that still differentiates fast-casuals in terms of ordering customization. "In the next few years what we will see is some of the digital ordering platforms offering more tech-driven options to make customization easier and more specific."
Sweetfin, an innovative poke concept that opened in April 2015 in Santa Monica, Calif., as a stand-alone concept and now has 16 corporate-owned locations, is a good example of a fast-casual concept that is embracing technology while maintaining its focus on customized ordering. A fully integrated digital ordering experience, including mobile, desktop, app and a loyalty program, was made possible by investment in a tech stack. Dining room kiosks further aided the digital ordering process. Sweetfin offers a number of signature bowls, both fish-based and plant-based, as well as an extensive build-your-own menu. Special LTO bowls made in collaboration with celebrated chefs, such as Susan Feniger and Neal Fraser, help drive the brand's commitment to the community around it while adding some culinary clout.
But no matter what type of digital ordering technology customers are using it's vital that there is integration between the app and the POS. "You don't want the customer in front of you having to wait longer because somebody ordered thru the app," says Tristano. When those inevitable delays do happen, Tristano praises operations such as Wingstop that indicate time windows on the app. "That helps quite a bit," he adds.
Menu boards, which tended to be more aligned with quick-serves, are now making headway into the fast-casual sector, says Tristano, albeit in a more contemporary look. "We are definitely seeing menu boards coming in because they tend to be a way to promote and are a labor-saving tool and, quite frankly, they're really not that expensive," he says.
Delivery is another area that has seen recent growth in the fast-casual category. Datassential reports that 54% of fast-casuals offer delivery, and Kostyo projects that will grow to 75% in a relatively short period of time.
Chipotle's development plans will emphasize the fast-casual chain's Chipotlanes. Guests who order their food in advance via the chain's app and third-party delivery drivers can pick up their orders via the Chipotlanes. The chain reports units with Chipotlanes have "demonstrated higher volumes and greater returns than a traditional Chipotle restaurant format." In November 2022 the chain opened its 500th location with a Chipotlane, which is seen here in Louisville, Ky. Photo by Tim Furlong, Jr.
Tristano agrees that delivery has staying power. "Delivery is pricey compared to the food, but it's not that expensive if you value your time," says Tristano of its popularity. "It's an affordable luxury."
To accommodate the increase in delivery, fast-casuals need to make adjustments to interior design. "If you are doing a new build, you have to have that delivery area," says Kostyo. "That's been a real pain point for some of the existing builds is you have all of these third-party delivery drivers in the dining room and in the space where the customers are."
Pickup, however, isn't limited to delivery drivers. "Realistically, now that people are eating less in a restaurant, you have more space inside the four walls and having an express pickup works very well, especially in the suburbs where you typically have less theft than in urban locations," says Tristano. He also stresses the need to make the to-go experience easy for customers in both the ordering and pickup processes. Added operator bonus: "That express pickup area is a labor-saving component," he says.
Another dining trend on the rise which could impact fast-casuals is eatertainment, says Kostyo, with pickleball and tech-driven miniature golf making appearances, alongside less techy options such as cornhole. "I think you will see some of the major fast-casual chains, not necessarily put in a pickleball court but incorporate some fun activities," he says. "Humans are still social creatures, and we still like to get together. Now that we can, that's actually one area of opportunity for fast-casuals that can differentiate them from QSRs and it's not a hard thing to accomplish."
Outdoor dining in warmer climates is another area fast-casuals can incorporate to set themselves apart. "Fast-casuals are willing to spend more on the unit and therefore will often have outdoor seating, which can be really nice," says Tristano. "That's a differentiator compared to quick-serves." He also cites the addition of live music during peak hours by Potbelly Sandwich Shop as another way to draw in customers.
Fast-casuals would also be wise to explore ghost kitchens. With fast-casuals the number one segment using them but with only 4% doing so, according to Datassential, Kostyo feels there is opportunity for growth. "Fast-casuals operate in a more trend-forward way so they could test menu items out and see if consumers like them," he says.
For Tristano, ghost kitchens, which he notes are converging these days with the takeout-only trend, work better for fast-casuals with a known brand. "Overall, I think we will see smaller footprints with more emphasis on off-premises dining," he says, adding that the value of a ghost kitchen is that operators aren't paying retail rent.
Streamlined menus, another pandemic trend operators utilized to combat limited supplies and cross-utilize the ones they had, are here to stay. "This year when we looked at menu trends, we thought menus would increase and operators would offer more options," says Kostyo. "But if anything, they kept it pretty much the same and it's starting to look like the smaller streamlined menus might be permanent or at least in the short term."
Tristano agrees. "Fast-casuals still have to stay very narrowly focused and what you see them doing is offering an LTO every few months that is more seasonal."
Embracing many of the new fast-casual trends is Hawaiian Bros, which opened its first two locations in 2018 in Kansas City, Mo., and has grown to 36 locations across six states, including four ghost kitchens and one digital kitchen. In-store self-service kiosks and drive-thrus with a 30-second window time commitment are also a part of the chain's operations. Its streamlined menu focuses on the Hawaiian plate lunch, with only six key menu items, two sides and two dessert options.
But smaller menus don't mean there isn't room for improvement. "The most exciting thing to me is the innovation in food, themes and flavors that fast-casuals have and the latitude to accomplish it," says Kostyo.
Hopdoddy Burger Bar, a burger brand out of Texas, is a fast-casual that impresses Kostyo for its use of different types of proteins for its burgers. "When you look at their menu, right now they have a burger made with venison," he says. "Obviously, McDonald's isn't doing venison. That's a very forward-thinking protein to put on the menu." Hopdoddy also offers cocktails, home kits and housemade vegetarian burgers. Past LTOs have included a recent Thanksgiving burger made with sage-infused ground turkey, cranberry chutney and housemade yam chips.
Kostyo sees innovation in the coffee category as well, with Gregorys, a coffee brand out of New York with 36 locations, including a mobile cafe, topping his list. "Gregorys is a great example of the next generation of coffee brands applying a more forward-thinking attitude, enabling them to bring it to a wider audience," he says. Gregorys roasts its own coffee, and its pastries and packaged foods are made in-house daily. Its mobile app offers exclusive perks and experiences.
While better-for-you protein bowls and salads aren't new in the fast-casual arena, Original ChopShop, which has 18 locations in three states (Arizona, Texas and Georgia) with eight new stores in the works, expands on that concept with a robust breakfast menu, which includes avocado toast, egg-based bowls, smoothies and an extensive selection of fresh juices. A separate register, and staging and waiting areas accommodate to-go orders while adding to the overall experience.
Tristano is particularly excited about the growth of and shift towards better quality food. "Now there's healthier food and even keto-friendly items that, if you're diabetic like me, are very much welcomed," he says. "And the quality will continue to get better because as the QSRs start to catch up, the fast-casuals have to maintain their distance."