Speed and volume play a greater role in foodservice equipment selection for the convenience store segment than other food sectors.
Many attribute the term "the need for speed" to the hit movie "Top Gun," but convenience store operators have long had the desire for speed in their operations. That is only intensifying as more convenience stores prioritize foodservice for their businesses. Foodservice now ranks as a strategic priority for 8 out of 10 convenience store operators, according to Technomic data.
Those with a dedicated focus on foodservice largely follow the same trends as other foodservice segments, including adapting menus for customers who follow flexitarian diets, seek more plant-based items and generally have a desire for more healthy offerings. "As we see those categories grow, we plan to grow with them," says Chad White, foodservice category manager, Rutter's, a 78-store c-store chain based in York, Pa. At Rutter's, the most popular food items continue to be comfort-style foods and quick grab-and-go selections, ranging from burgers and fries to empanadas.
For 675-store c-store chain Kwik Trip, breakfast and lunch are the driving force behind its foodservice program, says Paul Servais, retail foodservice director, Kwik Trip, La Crosse, Wis. "We can't keep up with foodservice," says Servais. "We're having one of our best years in food sales, and I think it's based on the quality and value. Even though prices are going up every day, we're in a good spot from a value standpoint."
Rutter's induction woks provide a sense of theater and emphasize freshness to foodservice customers at the convenience store. Ordering kiosks allow for menu customization and adds to kitchen efficiency.
Essential C-Store Kitchen Equipment
Just like restaurants and other foodservice operations, essential equipment will vary by concept and menu.
Take, for example, Rutter's. The chain's kitchens would be "challenged" without its fryers or high-speed ovens, says White. "These two pieces of equipment get heavy use and allow us to provide quality hot foods to our customers. A large portion of our sales are funneled through these."
Fryers may sound counterintuitive if consumers want healthy products, but Rutter's continues to sell a lot of fried food, White confirms. In its new stores, Rutters now uses ventless fryers that remove grease, though Rutter's does add hoods "to assist even more with that grease and heat," White explains. And, he points out, because there's no hood required, the chain can move the fryers should that become necessary.
Kwik Trip stores typically use a single two-vat ventless fryer "so you don't get that fryer smell," Servais says.
Weigel's, based in Powell, Tenn., has 70 stores which typically have 2 fryers apiece, which means 4 baskets. The chain uses both gas or electric fryers.
Beth Hoffer, vice president of foodservice for Kwik Trip, prefers gas fryers "because they maintain their temperature more than electric and recover fast when you add frozen product," she says.
Smaller Rutter's locations typically have two high-speed ovens; and some larger ones have up to four. Almost everything that's not fried goes into the high-speed ovens, White says. About half an hour before a lunch rush starts, store employees begin cooking product and then place the food in holding cabinets, many of which are on the cookline "to allow for quick use and restock," White says, since they're near the ovens. The stores also use these ovens for finishing, for a quesadilla or wrap, for example.
All of Rutter's newer locations have a walk-in freezer directly off the kitchen to allow for quicker service and prep," White points out. "We're trying to eliminate steps in the kitchen so we don't run back and forth, and we can restock between meal periods," he says.
If there's no walk-in freezer for foodservice, Rutter's typically adds two standup coolers at stores. Additionally, employees can use undercounter refrigeration below the make table for items they may need to drop in the fryer quickly, White explains.
Weigel's has reach-in refrigerators and freezers in its kitchens, but due to the small footprints, walk-ins are outside the kitchen. Before each shift, employees bring product from the walk-ins and put it into undercounter refrigerators and restock after busy periods. Some prepping and staging are done using coolers outside the kitchen space as well.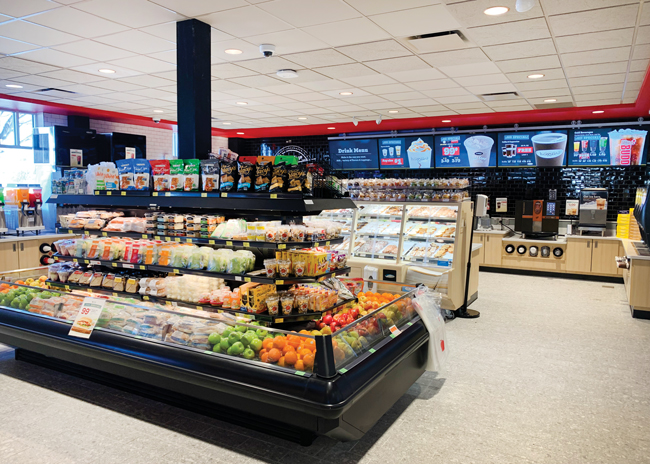 Kwik Trip stores offer a range of packaged food prepared at its commissary kitchen.
Induction, Electric & Pizza Ovens
Rutter's staff use induction equipment at roughly 40 stores, each of which include two induction wok burners. Foodservice staff use the woks to create Asian noodle bowls and rice bowls with different proteins. But the biggest volume from these induction wok burners is the chain's scrambled breakfast bowls. Wok stations are paired with a cold well for prep items.
"Induction is a great system," White says. "It allows for quick heat and serve without the dangers of an open flame." Plus, he adds, it's safer since the burner doesn't transfer heat unless topped with the proper pan. The greatest challenge with induction cooking, he says, is having the specific pots "but other than that it works just as well as gas. It heats up almost instantaneously."
The induction burners are "right up front in the restaurant, so it's a show," says White. "People ask questions, and we can upsell."
More convenience stores continue to incorporate electric equipment like this into their kitchens. And electric equipment continues to become more prominent as various municipalities start to require new commercial kitchens to move away from gas equipment due to environmental reasons, says Jason Steiner, design sales consultant, C&T Design and Equipment Co., Indianapolis. He adds that electric equipment tends to offer excellent energy efficiency, and utility companies often offer rebates (of 3% to 4%) for energy-efficient equipment.
Weigel's kitchens also include pizza ovens as the stores are known for fresh pizzas. Though the store sells 16-inch pies, the small ovens can cook a 16-inch pizza in two and a half minutes, and they're double-stacked to cook two at a time. Staff also cook pizza to order. Weigel keeps the pizzas via three different types of warming units. One sits on a counter, and one is in the roller grill area for grab-and-go, while the third is at the checkout. In addition to selling pizzas cooked to order, Weigel's also has panini presses and does good business in paninis.
Weigel's also has tray warmers — some in the kitchen and others that are customer-facing. The chain stores breakfast patties in here in the mornings so employees can quickly make sandwiches. Weigel's keeps hot sandwiches in the customer-facing warmers.
Rutter's offers a broad selection of grab-and-go foodservice items. "We work to ensure our hot hold and cold cases are stocked at all times," White says. "We want the customer to come to our stores and find a fresh hot or cold product ready to go."
Kwik Trip stores include a hot holding case under its ovens for foods like fried chicken and soup, and sometimes, delivery orders.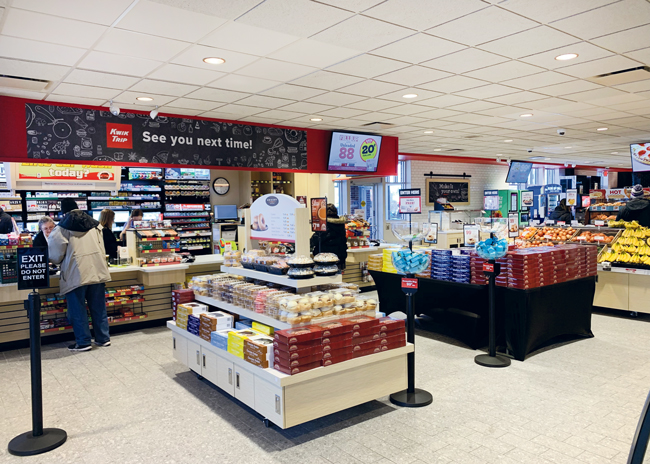 HVAC and Hoods
Any c-store making food that produces grease-laden air requires a hood, points out Rob Moak, vice president of strategic accounts for TriMark Gill in Phoenix. Of course, maintenance of these hoods plays a critical role in safety. "Most restaurant fires are from grease in hoods that haven't been cleaned well, so you need to clean it at least once a year — maybe twice if you do a lot of fried food."
Rutter's has added more HVAC in stores as it has done remodels. As the chain has expanded its food and beverage offerings, it's generated more heat, White says, "especially when we added five machines for our adult slushies." Thus, he points out, "as we look at new builds, we work to ensure the hood system can maintain the heat load of future equipment."
Traditional stores tend to have equipment that requires hoods, while remodels, or stores with a very limited footprint, tend to opt for ventless equipment, says Steiner. That said, from a kitchen designer's perspective, he notes that ventless equipment doesn't come without challenges. "Because it's ventless, it's electrical, so electrical loads come into bear," he explains. "Ventless tends to be the way to go because there are less moving parts and because of the footprint. But cost-wise, when you compare them, if there are not obstacles of space or circulation that make a hood hard to install, it's a wash, and I tend to encourage people to go with the vents."
And there are advantages to having hoods, Steiner points out. "Once you design a c-store there's not a lot of equipment moving that takes place. A hood allows you to augment your menu. If you want to add things or increase your capacity, you get a little more forgiveness when you can put what you need under a hood," he says. Despite all of this, he expects to see more ventless equipment in convenience stores in coming years.
Ease of Operation Factors High
Rutter's, like most convenience stores, places great value on equipment that's as easy to use as possible. Both the fryers and high-speed ovens at Rutter's stores require simply pressing a button, says White, which reduces training time. "Employees are coming into our locations, and they're not necessarily looking for a career, but just to make some money," he adds. The current labor shortage, which most view as unlikely to end soon, adds to the argument for easy-to-operate equipment.
Information is input once into this equipment, Steiner points out, and large chains can even input it — and make changes at any time — from their headquarters. This technology also records everything "so it gives operators a paper trail to follow in case of potential liabilities," he adds.
This type of equipment is essential, Moak points out. "We can set this up so a person doesn't have to understand what they're doing — they just have to push a button, and it cooks the product."
Commissary Push
As convenience stores sell more prepared food in stores, some operators reap a lot of benefits by prepping and cooking that food on a large scale, typically in a commissary.
Weigel's currently has a 30,000-square-foot commissary in Knoxville, Tenn., that delivers chilled, prepared food to stores within a 150-mile radius. The chain is building a brand-new 60,000-square-foot location, which will replace the smaller site in another two to three years.
The current commissary is largely used for bakery items, says Beth Hoffer, vice president of foodservice. The new one will allow for an expansion of the production line, she adds, and will include a cold processing room for salads, sandwiches, parfaits — items that the chain will sell from open air cases in its stores.
The cold processing room, which will be around 50 feet by 30 feet, will enable employees to work in a cooler environment. It will be kept at 36 degrees F to 37 degrees F and set up as a 12-foot assembly line, Hoffer says, so sandwiches, for example, begin with packaging, then bread, then portioned cheese and meat, then lettuce and tomatoes, and then closing and labeling.
"They go down the moving conveyor belt, and each person has their own piece of what they do," Hoffer explains. This setup will allow the commissary staff to make around 500 sandwiches per hour.
The commissary will also feature a commercial kitchen to make take-home, ready-to-eat meals like spaghetti alfredo and meatloaf. Equipment in this area will include double-rack ovens capable of cooking 40 trays of cookies or 30 trays of muffins at a time, in 13 minutes.
Hoffer anticipates the equipment lineup will also include tunnel ovens. "You can cook a whole lot more in a tunnel oven than a rack oven," she explains.
The entire commissary will be set up as a series of boxes, Hoffer says: a bakery box; a cold room box; a commercial kitchen box with blast chillers in a box just off the kitchen; and a food packaging box to use after food has been brought down to a safe temperature. Each box has its own temperature, Hoffer adds.
Kwik Trip opened a highly automated 180,000-square-foot commissary kitchen in La Crosse, Wis., to prepare and package food for the chain's new take-home meals program. Equipment includes high-speed ovens and conveyor ovens. The chain plans to eventually use these pieces to additionally bake items like cookies and bread.
The commissary also houses a test kitchen. In this space Kwik Trip mimics the equipment available to staff in a typical store — high-speed ovens, fryers and a small sous vide area — as it develops new menu items.