As workers make their way back to offices, foodservice consultants in that space have been tasked to determine how to design and reconfigure serveries for what's beginning to look like a hybrid remote/in-person setup.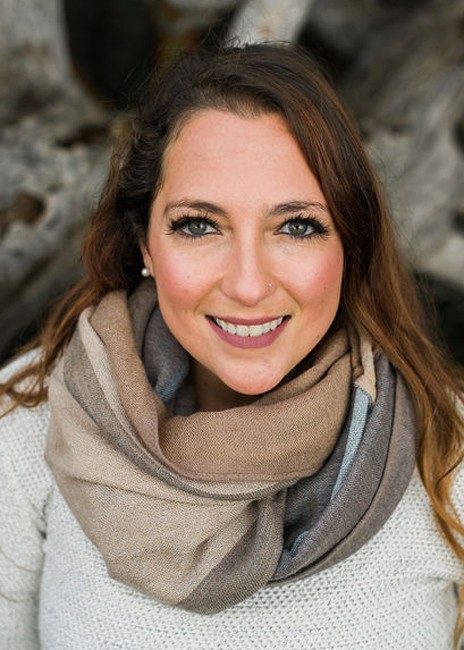 Theresa Chadwick"Amenities are a huge part of bringing people into the office," says Theresa Chadwick, a San Francisco-based project manager with Cini•Little International Inc., "but during the pandemic, companies found that their employees are still highly successful when working remotely."
As a result, a new hybrid work model seems to have formed, with many employees working from home some days and going into the office on others, but it's not always the same week-to-week.
"This is a challenge for foodservice operators because if you don't have consistent participation, it can be difficult to plan for the amount of food that you need for that day," Chadwick says. That challenge extends to consultants. The question becomes, how do we design foodservice spaces for that kind of flexibility so [the operator] can feed a smaller amount of people on a hybrid schedule where there may only be half of the staff in on a weekday, but then have the capability to have a catered event or full corporate team of up to 500 people?"
Here are some ways that Chadwick has found success in designing corporate feeding spaces for the capacity to be full service with the ability to scale back and save on labor when needed.
Step 1: Size the space for maximum output
"The first step is to look at the space and take into account the total occupancy that's projected," says Chadwick, who says it's best to design with the maximum number of people in mind. "Then we can calculate the foodservice square footage and the dry storage and cold storage needs for that number." Designing with the smallest number would make scaling up when needed more difficult. Especially, she notes, if more people return to the office on a more regular basis in the future.
Step 2: Specify multiuse equipment for flexibility and labor
The best way to build in flexibility, Chadwick says, is to specify equipment that's easy to use and that can support multiple cooking options. "I'm getting away from single-use equipment that just allows for one cooking type," she says. While combi ovens might not be the go-to in other segments, for B&I, these pieces can prepare multiple types of foods for different types of daily or event-style needs.
At the same time, there should be some pieces that can handle bulk preparation and catering, if that's necessary. "You want to be able to have the right equipment package when the foodservice is firing on all cylinders," Chadwick says. In addition to the aforementioned combi ovens, that might also include a tilt skillet or blast chiller.
Step 3: Plan for more grab-and-go
Offering more fully prepared, grab-and-go options versus highly customized food accounts for any labor shortages or smaller feeding numbers, and it allows the operator to expand menus even with smaller footprints. Having more prepackaged food also makes it convenient for foodservice operators exploring online ordering or deliveries and foodservice pickups to other parts of a campus, Chadwick says. Instead of a self-service or full-service salad bar, both of which require extra staff for replenishing/cleaning or serving, Chadwick sees more operators going the prepackaged salad route in the future, or a very condensed salad bar that offers a simple base, a protein and just a few toppings.
With more grab-and-go, merchandisers should fit seamlessly with the overall design of the servery and not be an afterthought. "There's a lot of coordination with the architect," Chadwick says. "We're not going to slap a clunky, matte black merchandiser in the space that looks like it should be in a convenience store. The refrigerated displays have to be functional, but they also have to fit into the branding of the space."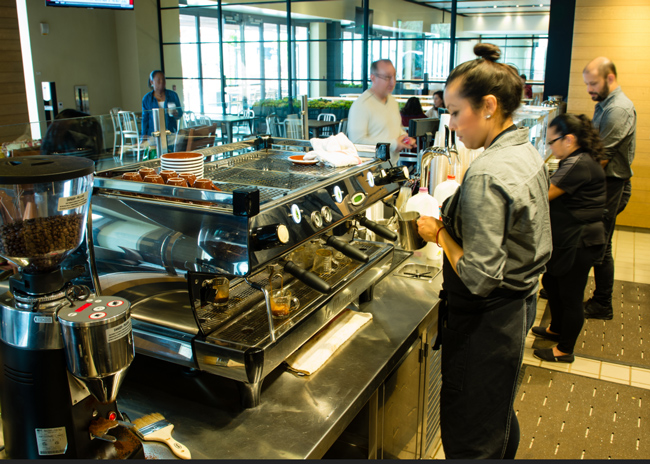 Step 4: Double down on beverage service
For one coffee bar/grab-and-go area, Chadwick worked with the architect to create a chalkboard menu on a wall with a tiled, low merchandiser below holding wraps, salads, yogurts and parfaits. The upper portion had an ambient glass case for a pastry display set next to the barista station with a sleek black espresso machine. Off to the side, a tall upright merchandiser was set back into the walls to fit more seamlessly into the space.
The other nice thing about these coffee bars/grab-and-go spaces is that they can "double as a bar after-hours for happy hour, which is another amenity for employees," Chadwick says. And, don't forget about beverage on every floor. "I'm seeing more of a need for more employee pantries on every floor or throughout a campus – there should always be some kind of counter with an automatic espresso or coffee machine, water dispenser, small refrigerator, microwave and trash."
Step 5: Lean into technology
Office workers of tomorrow will want to be able to simply order from their desk and pick up the food quickly and easily when ready. "I'm seeing more clients ask about those flex hot/cold cubbies that keep food at safe temperatures and help mitigate queuing lines," Chadwick says. Online ordering for pickup also "helps with labor because a lot of the food can be prepared in bulk ahead of time and plated quickly because there's a set menu for that day."
More operators are going cashless these days for streamlined service. And "there needs to be touchless everything," Chadwick says, from touchless sinks (including handwashing sinks near dining areas) to touchless ice, soda and water dispensing and more.