Many restaurant operators opt to include cocktails-to-go as part of their permanent offering.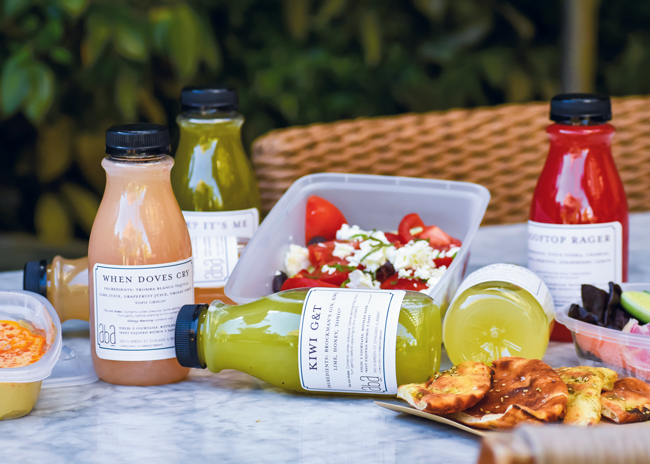 Image courtesy of Thomas Mizuno Moore
A Carryout Conversation
Thomas Mizuno-MooreLettuce Entertain You Enterprises (LEYE) started its carryout cocktail program back in October 2020 as a way to complement its food offerings for those dining at home. Here, senior beverage manager Thomas Mizuno-Moore shares an update on LEYE's beverage takeout program.
Q: How far ahead do you make to-go/packaged cocktails?
A: Because we use fresh ingredients in our program, we make the carryout cocktails to order, and it's packaged by our bartenders as a part of regular service. For packaging and transport, we work with our suppliers to find elegant plastic bottles with tamper-evident lids as well as waterproof labels in order to be compliant with carryout regulations.
Q: Is there a designated area for this in the back of the house?
A: When preparing for holiday packages or events, I prepare them in a specific place in the back of house, but for regular carryout cocktail service, the bartenders produce the drinks behind the bar along with the cocktails for in-person dining.
Q: How has the takeout beverage offering evolved?
A: New to the program is the inclusion of special holiday cocktails that can be sold alongside our holiday packages-to-go, such as New Year's Eve or Valentine's Day. We're also happy to create custom cocktails for
carryout upon special request.
Q: What advice would you give others looking to implement a packaged beverage program?
A: Definitely be mindful about how the production is going to be integrated into your existing operation. Additionally, think about what type of packaging and labeling will make your products stand out. In a crowded market, it's not good enough to simply offer an option. They need to be special!
Making Cocktails-To-Go Permanent
States that passed legislation to make cocktails-to-go permanent include Arizona, Arkansas, Delaware, Florida, Georgia, Iowa, Kansas, Kentucky, Missouri, Montana, Nebraska, Ohio, Oklahoma, Oregon, Texas, West Virginia and Wisconsin, along with the District of Columbia.
Beyond Booze: Packaged Primed for Growth
Sometimes called "Liter Of" or "Literan," the "Prepped & Packed" trend exploded onto the scene in the immediate wake of the pandemic, and according to Technomic data, 50% of consumers across the globe report they would purchase these kinds of products from restaurants that offer them. Key selling points around the trend include value, multi-occasion delivery solutions, premiumization compared with traditional ready-to-drink beverages, and the sustainability aspects of using less packaging relative to smaller portions.
Source: Technomic Global Foodservice Navigator Program