Restaurants and foodservice accounts continue to sit up and take notice what customers want from their food packaging. Over the past 18 months, with more takeout and to-go orders than ever, materials that keep food hot (or cold) and retain its quality and integrity have been increasingly in demand.
But consumers, especially younger ones, want less packaging, and packaging made from sustainable materials. That means recyclable, or made from recycled materials, compostable products, or even reusable items that consumers return to be washed and sanitized.
The U.S. Environmental Protection Agency reports that containers and packaging constitute 30% of all waste produced in the U.S. Consumers hear numbers like this, and that this waste can harm the environment, may be more willing to pay a small premium for packaging that aligns with their beliefs.
Fast-casual sandwich shop chain Hannah's Bretzel is on a green mission in the Chicago community it serves. The eight-store concept switched to environmentally friendly packaging in 2008 and expanded this as more
options became available.
Staff wrap all sandwiches in recyclable paper and place them in post-consumer recyclable bags. Bowls and cups are 100% biodegradable, and Hannah's Bretzel uses these items to serve soups, salads and breakfast offerings. In-store service plating uses porcelain, glass and silverware, and has since 2016, though there was a temporary hiatus during COVID-19.
The chain serves salads and catering orders in biodegradable, compostable containers.
---
The University of Vermont, in Burlington, Vt., began using eco-friendly containers for all orders placed through its app a year ago, and during the 2020-2021 school year it eliminated nearly 90,000 disposable
containers from the waste stream.
Students can opt to get a reusable container to take food to go, and there's no charge for the containers in this Sodexo-managed program. Students receive a discount in all retail locations if they opt for reusables in place of a disposable container, whether they're paying with cash or a meal plan. Having students return the containers is a big challenge, despite the 20 collection stations around campus, says Nicole Reilly, Sodexo sustainability and campus partnership manager.
Additional costs do come with the containers, Reilly adds, such as washing them and purchasing drying racks, storage and collection bins.
---
Kisco Senior Living in Carlsbad, Calif., ditched single-use food containers in its 20 locations and replaced them with eco-friendly reusable takeout packaging, following its move to room-service-only dining during the pandemic.
It uses containers made of melamine for meal kits that residents cook at home and plans to implement them for curbside pickup soon.
Disposable containers were costing Kisco more than $170,000 every month and leading to more than 3,000 cubic feet of Styrofoam waste every day. Randall Lonoza, national director of culinary services, says the operation breaks even after just two weeks when the reusables are used three times a day. The real benefit, he adds, is to the environment.
---
Square Pie Guys in San Francisco provides the option of reusable containers for takeout food. This costs $1.99 per pizza, and around 4% of diners choose to participate in this initiative, which translates to around 300 containers per month.
In 2021, to make this program operational in its two stores, owners Danny Stoller and Marc Schechter joined with a local startup company that supplies and then picks up the dirty items. At that point the supplier washes, sanitizes and then returns them to each store. Since the partnership began, Square Pie has saved 5,523 single-use containers from the waste stream, 552 pounds of material waste and 12,151 gallons of water — all of which translates to about two trees saved per month.
---
In May, Burger King launched a green packaging pilot program in 51 Miami restaurants focused on finding scalable solutions for eight of its most-used, guest-facing items including forks, spoons, knives, straws, drink lids, french fry containers, Whopper wrappers and napkins.
The packaging features alternative materials, such as the packaging for french fries made with renewable unbleached virgin paperboard, cutlery made with compostable material, paper and plant-based straws and strawless lids, which could potentially eliminate up to 500 million single-use plastic straws annually.
---
Multiconcept operator C3 (C3 stands for "creating culinary communities") packages menu items for its four virtual concepts in custom carbon-neutral takeaway boxes made from recycled materials and cardboard. The Miami company's virtual brand partners include Krispy Rice and Sam's Crispy Chicken, along with brick-and-mortar chain Umami Burger and Las Vegas restaurant Kumi — all of which fall under the
sbe Entertainment Group umbrella.
The off-premises containers contain soy-based ink, vegetable-based glue and water-based coating, and each tells its brand's story. For example, Krispy Rice's eye-catching pink takeaway boxes feature an inscription with playful Japanese-inspired illustrations. The boxes are also practical for the menu items, such as the customizable shelves that cushion food items in the Krispy Rice and Kumi boxes.
C3's packaging includes a note on the bottom indicating how to dispose of the containers responsibly. Customers recycle the boxes or discard them in waste bins. The packaging features help it to break down on its own.
---
Middle Eastern fast-food restaurant Shouk aims to go plastic-free. For its pita sandwich, the chain uses 100% paper-based packaging. The package holds the sandwich but has a perforated line halfway down, so customers can remove it as they eat and continue holding their sandwich, making more of the food accessible as they eat.
"It's street food, designed to be eaten while walking," says co-founder and CEO Ran Nussbächer. The package contains no plastic lining, which was important. "It's in accordance with our values," he says. "And we have a lot of customers who look for that and want that."
Shouk, which plans to have four locations by the end of the year, also launched retail sales of its burgers — initially online but soon in stores — and these packages also contain no plastic. The burgers are sold as a set of four in a round, squat, Pringles-style container that's 100% cardboard. The burgers are separated by butcher paper, which protects against freezer burn better than plastic, according to Nussbächer, and also gives the product a premium feel.
---
Before the pandemic, the only plastic used at fine-dining restaurant Bresca in Washington, D.C., was plastic wrap. Even tasting spoons used in the kitchen were metal.
But since the arrival of COVID-19, owner Ryan Ratino has had to make concessions for his BeeHome takeout program. Fully compostable containers would cost around $4 for a $40 meal, so moved to what he considers the second-best option: packaging with a compostable base and a plastic lid, which costs around $2.
"It's proved very challenging [to do the right thing], and we've talked about this multiple times," Ratino says. "We're trying to stick with our core values regardless of the situation around us."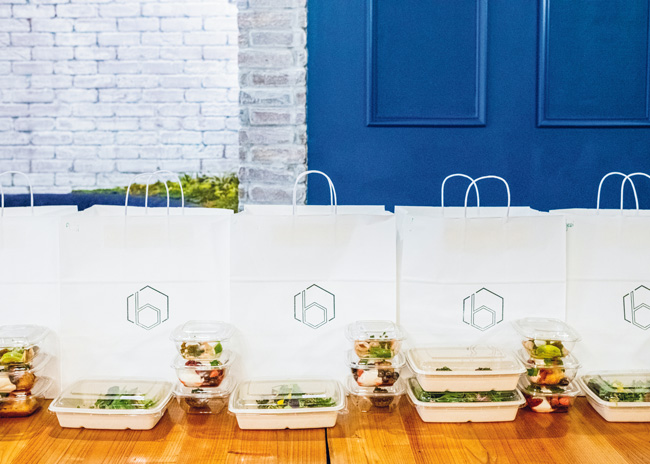 ---
This summer, Harvard University piloted a reusable bag for undergrads to use for takeout food. It was so successful the foodservice department gave one to all undergrads this fall. The bag is large enough for just one meal's worth of food, "and the hope is to significantly reduce plastic or paper bag use in our FlyBy operation or meals-to-go from the dining hall," says spokesperson Crista Martin.
In addition, Harvard's Crimson Catering team developed packaging in support of prewrapped, individual portions of catered items that still has the appearance of a special event, which will help with safety perceptions surrounding catered food.
---
Washington University in St. Louis, Mo., kicked off a reusables program for its students during COVID-19.
To encourage responsibility, students take a pledge and do a short education piece about reusables before they join the program, with the goal of attracting the students who are most invested in the program, according to Andrew Watling, associate director of dining services.
Watling purchases the containers, which feature the school's logo and messaging, through his local equipment distributor.
There are a number of spots around campus for students to return the boxes, with the return on investment hitting at about nine or 10 uses, Watling says. "Updated branding on the containers and return receptacles have shown to be highly effective in increasing the return rate," he points out.
"We've partnered with student sustainability groups on campus to raise awareness of the program as well as help coach other students as to how to use the eco2go program," Watling says.
---
Compass Group USA introduced a vending machine variation of reusable containers at some accounts, especially business and higher education locations. Customers return the containers on-site, where the operator washes and sanitizes them. In most cases, customers buy into the system then receive a token so they can get bowls in perpetuity, although sometimes the operator chooses to absorb all costs. Typically, the operator sees a return on their investment — often $30,000 for the starter kit — within the first year through the elimination or reduction of single-use containers.
"A fair amount of these clients are already utilizing reusables for dine-in service and are looking to eliminate their single-use to-go disposables," says Jesse Hocker, sustainability
development director.