Despite challenges ranging from limited space to an inexperienced workforce and the stigma of low-quality offerings, the convenience channel continues to evolve foodservice operations.
Allocating enough space for foodservice programs remains the biggest obstacle. "In a c-store, especially for foodservice, we deal with inches, not feet," says Jerry Weiner, consulting partner, b2b Solutions, a Lake Forest, Ill.-based consulting firm. "[It's all about] having equipment that is multifunctional with a relatively small footprint."
Other challenges include limited storage space for food products and production elements. "[Perishable] items come in smaller case packs due to limited freezer and refrigerated storage availability," Weiner says. "The number of production steps for each ingredient is another consideration. Finally, the flow of the finished assembled product is critical since speed of service is paramount."
Today's lineup of staple c-store food offerings includes fried chicken, sandwiches, pizza and roller grill items like hot dogs. As c-store retailers increase their commitment to food, that leads to larger menus and more space for equipment. The heat-and-serve model prevails for most c-store retailers.
Food leaders in the c-store segment tend to offer signature programs, such as Casey's with its made-from-scratch pizza and Wawa with its built-to-order hoagies. "Rather than partner with existing brands like Subway and Godfather's Pizza, many are now creating internal brands with commissaries and even offering off-premises services, such as delivery and catering," says Juan Martinez, principal at Miami-based consultancy Profitality.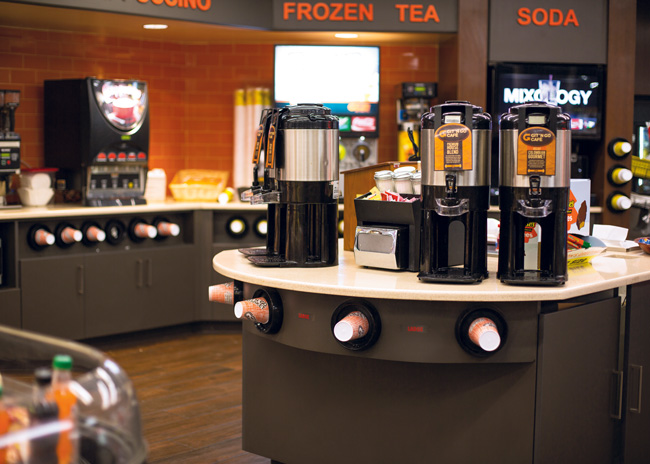 Image courtesy of Git 'N Go
Production Landscape
An example of a big program in a small space is Utah's Maverik stores, where staff use a countertop impingement oven to cook gourmet burritos, sandwiches, pizza, toasted subs and cookies. "They have leveraged technology where customers can see pizza being cooked quickly," Martinez says.
La Crosse, Wis.-based Kwik Trip has come a long way since venturing into foodservice in 2002. It began by selling grab-and-go items out of its hot cases in the front of the store, but over the years, the 713-store chain has expanded its program significantly. Kwik Trip's commissary (which includes a bakery) produces items intended for take-home consumption, such as pizza and chicken meals, as well as immediate-consumption-driven items such as burgers, soups, sandwiches, salads, cut fruits and meat and cheese snacks, for all locations. Burgers and sandwiches arrive frozen at the stores and staff reheat them. Kwik Trip bakes pizzas on-site for both whole pie and by-the-slice offerings.
Equipment at Kwik Trip locations includes six to eight speed ovens in each store. Last year, the chain incorporated a high-speed, high-heat convection oven at all stores in coordination with the launch of a rotisserie-style chicken program, offered as a grab-and-go item from a hot case. "We also use this oven to cook 60 cheeseburgers or breakfast sandwiches at a time in one small space," says Paul Servais, Kwik Trip's foodservice director. "We can make pizza in minutes using the speed oven while batch cooking in the convection oven."
About three years ago, Kwik Trip began adding a fresh fried chicken program at its 553 stores that have dedicated kitchen space to accommodate fryers and hoods. At these locations, staff batter, bread and fry the chicken on-site. Stores sell two- and eight-piece meals as well as chicken tenders with sides that include mashed potatoes, macaroni and cheese, and potato wedges.
"We spent most of last year finishing the installs," Servais says. "For stores without kitchens, we prepare and freeze fried chicken at the commissary for reheating at our stores."
Marcy, N.Y.-based Clifford Fuel Co.'s 20 c-stores, which include full, open kitchens, also offer a robust foodservice program. Stores have dedicated lines for foodservice customers and four to five tables for dining on-site, with newer sites incorporating bar seating. Its back of the house includes multiple prep tables and a double pizza oven with a hood. Food warmers are situated by the registers. In addition to pizza made with from-scratch dough, Clifford Fuel's menu includes sandwiches and wraps — made to order and grab-and-go — as well as burgers and chicken sandwiches.
"We develop LTOs [limited-time offers]," says Derek Thurston, Clifford Fuel's director of foodservice operations. "Right now, we're promoting breakfast sandwiches made with bagels that are produced locally by a company that employs people with disabilities."
Clifford Fuel often partners with area food companies, which the chain feels positions it as a local player and more of a standout amongst the big chains. "This allows us to have a local niche, move on a dime and stay ahead of the game," Thurston says.
Clifford Fuel also added refrigerated space as its foodservice offerings have expanded. This includes a walkaround open-air case merchandiser that showcases fruit cups, parfaits, and macaroni and cheese bowls that staff will heat up for customers upon request. In the last two months, Thurston estimates fruit cup sales have increased 200%. "We make them fresh in-house every day, along with three salads that also sell quickly," he says.
Equipment Challenges
Kitchen sizes vary at Des Moines, Iowa-headquartered Git 'N Go. The company runs close to 50 stores in Iowa and Illinois, and every site has dedicated space for foodservice, including drive-thrus. "We've been improving our existing menu by switching from frozen to fresh ground beef and baking our own bread," says CEO William Baine. "This has been ongoing for the last five years as we're concentrating on doing one thing at a time. As a result, we've picked up a lot of the restaurant business in our markets."
Git 'N Go's foodservice program has also experienced volume increases, with sales increasing $50,000 year over year. "We purchased new grills back when we were doing less in food sales, and now that sales have doubled, we're running into bottlenecks," Baine says.
To handle the increase in business, stores continue to add grills and fryers while also revamping and expanding ventilation hoods. "The ovens we use for baking bread are ventless and fully programmable, as are our clamshell grills," Baine says. "With labor so constrained, we need equipment that takes out the guesswork."
In addition to cooking capacity issues, Git 'N Go also must address space limitations in its refrigerators and freezers. "We have big walk-in coolers, but they're not close to the kitchen where they need to be," Baine says. "It's not conducive to an efficient kitchen."
Clifford Fuel's fruit cups, which are sold in open-air merchandisers, have recently seen a big increase in sales.With c-store equipment, the main variables to consider are size, speed of service and flexibility. Standard c-store equipment tends to focus on sandwich make tables, hot holding units, speed convection or combi ovens and microwaves, in addition to cold storage units. Ventless equipment provides plug-and-play capabilities while avoiding the space and cost required with ventilation hoods.
"Retailers need equipment that's versatile, so speed ovens are being used by those who are seriously into foodservice," Martinez says. "Refrigeration needs depend on how much is being prepared in advance and sales volume." In designing c-store kitchens, considering vertical space and making spaces multifunctional are key.
"Combi ovens can be situated over refrigerated space to free up floor areas, for example," Martinez says. "I also challenge my clients to make their prep area double as an assembly area since they don't need two separate spaces." This makes production more efficient and makes it easier to keep things clean and organized.
"I like open kitchens, even in c-stores," Martinez says. "If you're going to be in foodservice, the way a c-store gets out of the roller grill mentality is to show customers what they're doing. It's a dynamic retailers need to leverage to become more relevant and up their game."
Servais is constantly seeking equipment for Kwik Trip with technology that helps reduce labor. "What I love is the technology that links equipment with computers," he says. "I can send recipe updates to any store, and the equipment there is ready to go; that's massive. I also can dial in from the office and know what's in an oven in any store or how many drinks were made with our beverage units. Our oil management system knows when oil needs replenishing or emptying so we don't have to monitor it."
Technology makes it easier for service technicians to diagnose problems with different pieces of equipment to save on repair time and increase efficiency. Many times, the techs at Kwik Trip headquarters can give store staff tips to fix or mitigate a problem, Servais says.
Overall, the biggest challenge for Servais has been finding equipment with a small footprint that can accommodate high volume. "We're used to batch cooking, making up to 20 cheeseburgers at one time in our high-volume stores," he says. "As we make food to order for curbside pickup, how will we adapt, and what equipment can we use to handle orders quickly while also keeping our current grab-and-go program successful?"
High-speed ovens are a staple at Kwik Trip stores, Servais notes. Half of stores offer delivery and two-thirds of these locations utilize a third-party service. At press time, he was looking at different storage and shelving solutions for third-party delivery pickups. The chain has currently designated one shelf in the hot case for these orders.
"We just launched carryout in all our stores, where customers can order on our app," Servais says. "We'll add curbside pickup later this year."
C-stores continue to expand accessibility with apps for takeout service. NACS, a global trade association for advancing convenience and fuel retailing, conducted a survey on last-mile fulfillment in 2020 (see sidebar), which revealed the majority of c-stores were not happy with their third-party delivery service. "How do you hold proper food temperatures for delivery and curbside [for extended periods]?" says Jeff Lenard, vice president, strategic industry initiatives, NACS. "There will be more investment [by c-stores] for holding products either hot or cold."
Beverage Complements
Beverage programs have always been a juggernaut in the c-store space, and Clifford Fuel Co. is no exception. The chain has added nitro machines for its cold brew and iced coffee lines. These units have replaced urns in seven locations at press time.
"Our cold brew sales are up between 200% and 300% in these stores," says Derek Thurston, Clifford Fuel's director of foodservice operations. "Customers aren't sure what the benefits are with nitrogen-infused products, so we're educating them that it is smoother and easier to drink, without needing cream or sugar."
Ideally, Thurston would like to add a user-friendly cappuccino and latte machine for self-serve use.
A couple of years ago, the chain partnered with a beverage company to bring in bubblers for a craft slushie and juice program. They are situated in the self-serve area next to the cold brew machine. "We offer different lemonade and juice flavors," Thurston says. "It's an all-natural product that has performed well for us."
Image courtesy of Clifford Fuel
Looking at the Last Mile
In the last decade, c-stores have increased take-home food offerings, also known as items not purchased for immediate consumption, according to Jeff Lenard, vice president, strategic industry initiatives, NACS. This is significant, as he states that 83% of the items sold in c-stores are eaten instantly after being purchased.
"There has been an emergence of heat-and-eat dinners beyond frozen pizzas," Lenard says.
Having the ability to meet customers where they are becomes even more important in light of recent sales trends, which could of course be pandemic-induced. Over the last year, for example, NACS reports c-store foodservice sales declined about 10% overall. These declines specifically affected products like coffee and other dispensed beverages. Although prepared food took a hit, grab-and-go food sales were steady.
Last-mile delivery or fulfillment has become a common way to describe the final leg in the supply chain, which is typically delivery to the consumer. The NACS "Last Mile Fulfillment in Convenience Retail Survey," conducted from May to August 2020, revealed:
Mobile orders for in-store pickup are the most frequently offered last-mile service.
More than one-third of c-stores use only their staff to make off-premises deliveries.
Third-party mobile apps are the most frequent method for taking orders, but many convenience retailers use another service instead of the third-party app for completing the delivery (such as delivery from their staff). One-third of retailers take orders through a proprietary mobile app.
26% of c-stores in North America have drive-thrus.
50% of convenience retailers that offer off-premises delivery use more than one delivery service.