NAFEM president Rob Connelly answers questions about this years' trade show.
Rob Connelly, CFSP President North American Association of Food Equipment Manufacturers Chairman and CEO Henny Penny CorpWhen looking at The NAFEM Show, it's easy to see only a trade show. But that's an overly simplistic view of this biennial event. What makes The NAFEM Show different from other industry shows is the fact that the exhibitors actually own and run the show. They are not guests at someone else's exhibit. They are the hosts. This represents an important distinction when discussing why the North American Association of Food Equipment Manufacturers thought it important to host such an event as the COVID-19 pandemic wound down. If NAFEM had cancelled the show entirely for 2021, few people would have blinked, given the roller coaster ride the economy and foodservice industry have endured the past year, thanks to the pandemic's unpredictable nature. Rather, NAFEM decided to press onward.
Indeed, the show serves as something of a hub, and various industry associations create spokes in the form of educational and networking events prior to and over the course of the three-day event. The various members of the industry, including operators, designers, dealers and service agents, come together to see new products, network and more. When these groups gather Aug. 26-28 in Orlando, Fla., much will have changed since The NAFEM Show 2019. At the same time, much will remain the same. There will be a need to see new products, reinforce existing relationships and develop new ones as the industry learns how to work together in plotting a path into the future together.
Here, NAFEM president Rob Connelly, CFSP, of Henny Penny Corp., reflects on the association's decision to host The NAFEM Show during these unprecedented times, explores ways the supply chain adapted over the past 18 months and shares what makes him optimistic about the future of the foodservice industry.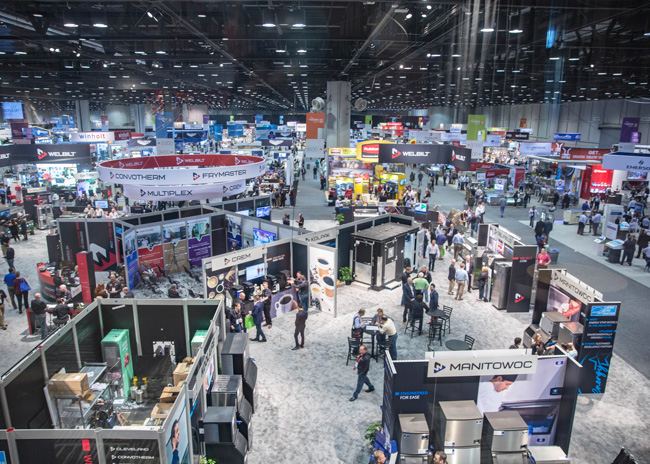 NAFEM show floor 2019
From the onset, NAFEM has not publicly wavered in its commitment to host its biennial show, which will take place in August this year instead of the original February dates. From the association's perspective, why was it so important to hold The NAFEM Show this year?
Last May was a particularly challenging time because there was a lot of uncertainty about how long the pandemic would last and when the recovery would begin. Companies were focused on survival. I don't mean to be hyperbolic. Companies did not know when things would get better. Everyone was protecting their cash. And in June of 2020, companies would have had to make a commitment to The NAFEM Show for 2021. So, we were faced with cancelling or postponing the show. We debated it as a board of directors and came to a conclusion it was important for our industry for The NAFEM Show to take place in 2021. If we didn't have the show, there would be a four-year gap between shows because the next one would not be until 2023. Logistically, we could not have one in 2022. We felt if we could have a show in 2021, we should try to do that. So, we asked which would be the first place to come out of the pandemic. And we felt it was Orlando given the city's infrastructure, preparation and more. We are not doing this to make money. Our best money move would be to cancel the show. We are trying to do this because it's important for our members and the industry to come together. It will be a milestone for the industry as it starts to come out of this.
Are there any changes in store for The NAFEM Show?
This year, we are not having a Wednesday night opening reception or the big party with the band that had been on Fridays in recent years. We decided not to host these events because logistically it would be too hard to do them given the uncertainty about the safety requirements earlier in the year. In February, for example, we could only plan for limited capacity with people needing to wear masks. And, at the time, we did not know when that would change. Nobody in February was thinking that would be a great party. The party isn't the reason for the show, anyway. The show's value is what happens on the show floor and how you feel about your engagement with your customers. Did you move your business forward? So, it will be different because we are not having those things, but there will be a lot of other organic ways for people to connect. There's going to be so much energy and excitement. Everyone who is going will want to be there and just to see people and be together. What makes The NAFEM Show so special is connecting with people and learning something you could not learn while sitting in your office. We need to continue to focus on that for The NAFEM Show to remain relevant.
We recently exchanged some emails as you were returning from events hosted by some of your chain restaurant customers. What was the operator outlook like at these events?
For the industry's road warriors, people have felt as if they have been in a cage for the past 15 months, and they are happy to be out. Our industry is one of hospitality. We love to get together and missed doing so even more so than other industries. The chains have been well equipped and are thriving better than many segments. So they are very bullish. They are excited about their businesses and are looking at aggressive postures for growth. Their businesses are strong, and their outlook is very optimistic.
What makes The NAFEM Show so special is connecting with people and learning something you could not learn while sitting in your office.
How has the pandemic affected the way manufacturers work with operators and other members of the supply chain?
There were things we had to do during the pandemic. You had to have video calls because there was no other option at the time. The video calls were a positive because they allowed people to learn some new things. We found out during the pandemic, for example, that we could have more spur-of-the-moment meetings and accomplish a lot. That does not mean we will only use video calls moving forward. It will be a tool we use. We cannot build customer relationships exclusively via video calls. People can't test your product over a video call, either. So there will need to be a place for in-person interaction moving forward. Prior to the pandemic, many manufacturers had not realized the benefits of working remotely. And the pandemic opened our eyes to the possibilities of doing this, including how we approach staffing. The pandemic caused a disruption in our status quo and forced us to learn things that companies will carry forward as we become more efficient.
Supply chain issues in the form of raw materials shortages, microchip shortages and shipping issues continue to dog the industry. Is there any end in sight?
There is an end in sight. You get to a point in any crisis when you feel like it's always going to be this way. But we know that won't be the case. The pandemic is a good example. But the top three issues facing any manufacturer right now are supply chain, supply chain and supply chain. Labor and rising costs are big issues, too. Everyone has seen it, and there are so many issues at hand. It's not just one thing that's causing supply chain issues. It's as random as the storms in Texas from earlier this year affecting the supply chain. And COVID made it so companies had to ramp down and then ramp back up when demand shifted. These issues will start to unwind themselves, but it's tough to say exactly what day. But the good thing about our systems is that they correct themselves. How long that takes for a company depends on their specific challenges.
What's the outlook from the manufacturers' perspective for the remainder of 2021 and for 2022?
We were a booming economy that was artificially shut down. So you can't compare what comes next to how we came out of the last recession, for example. It's a different startup. You can't compare this to anything in our history. There's so much pent-up demand. I am very bullish for the industry. I am very bullish for our company. I am bullish for this reason. If you have gotten to this point, your business is likely sustainable, meaning it's not waiting on one big order to remain alive. In those instances, business will only get better. It's getting better from month to month. And growth increases confidence, which increases more positive gains. I am a big believer these will be the roaring '20s. People have genuinely missed being together.