The java segment continues to evolve with cold brew, functional ingredients, global varieties and new flavors proliferating.
Image courtesy of SweetwatersWhile the overall coffee segment itself is mature, the still-burgeoning specialty coffee segment continues to conjure up new twists. "Specialty coffee is a completely different animal to the [traditional] coffee industry," says Jeremy Gursey, president of Coffee Manufactory, a coffee roaster/retailer in three Tartine bakery locations — two in San Francisco and one in Seoul, South Korea. "It has gone through quite the evolution."
It started about three decades ago with Starbucks, a chain many would consider the initiator of the specialty coffee culture and its unimpeded and astronomical growth. Fast-forward to today, and there has been a myriad of concepts capitalizing on Americans' love of java.
"From cappuccinos to ice-blended coffee beverages to the third wave of latte art, not to mention sourcing, sustainability and organic — all are aspects of specialty coffee," Gursey says. "However, the focus is on the origin of the bean, sustainability and traceability or sourcing."
Cold brew coffee sits right on the edge of becoming mainstream. Much of the coffee segment's growth in 2021 will likely come from cold brew, according to Chicago-based Datassential. In fact, the menu penetration for cold brew grew at a rate of 247% the past 4 years, per Datassential. Other segments grew well, too, but just not as much as cold brew. For example, menu penetration for iced latte grew at a rate of 52%, French press at 38%, Cortado (espresso and warm milk) at 46%, iced premium coffee at 25% and Americano (espresso diluted with hot water) at 22%.
One chain seeing strong cold brew sales is Sweetwaters Coffee & Tea. The 28-year-old chain got its start in Ann Arbor, Mich., and now has 38 locations across 14 states. "Our cold brew is a signature blend brewed with room temperature water for 18 hours. This extracts the flavor of the coffee without the bitterness," says Lisa Bee, who founded the company with her husband, Wei. Sweetwaters' most popular cold brew coffee is Dreamy, which includes vanilla syrup and swirled cream. It also offers Dirty, a cold brew that incorporates espresso, chocolate sauce and cream.
The popularity of Sweetwaters' Dirty and Dreamy drinks points to another important trend: flavored coffee has an edge over nonflavored coffee, according to Datassential's spring 2020 report. It notes 54% of respondents prefer flavored coffee, 38% prefer nonflavored and 8% have no preference. Notable shifts continue to occur in the adoption cycles of coffee flavors, too. Ginger, for example, is an up-and-coming flavor, Datassential reports. Current top coffee flavors include chocolate/mocha, vanilla, caramel/dulce de leche, hazelnut and Irish cream.
Greater customization is an increasing expectation from consumers, says Darren Tristano, CEO of Foodservice Results, a Chicago-based market research and consultancy firm. "People want to customize their coffee with syrups or unique blends; they don't want just traditional blends," he says.
Coffee extensions on the rise include Thai iced coffee and Vietnamese iced coffee, while café au lait, macchiato, frappé and Americano continue to expand in favor among coffee drinkers. Fair trade coffee and alternative milks, like almond milk, are also on the rise.
Specialty coffee has grown to the point that larger chain operators, such as McDonald's and Panera, are even expanding with specialty coffee. "There are many that feel coffee is an easy add-on, so bigger concepts are entering the arena," Bee says. "But it's difficult to be everything to everyone."
Specialty items can prove a hit with customers constantly seeking to try something new. That proved the case for New Orleans-based PJ's Coffee, which has 125 units and plans to open another 52 locations by the end of 2021. "The best LTO [limited time offer] we served was a hot buttered rum latte, and we actually ran out of the mix," says William DiPaola, chief operating officer at Ballard Brands, which owns PJ's Coffee.
In addition to cold brew coffee, the segment sees a proliferation of functional ingredients added to its beverages. "Some say coffee is healthy, others believe it's unhealthy and then there's the idea that we can enhance the healthfulness of coffee," Tristano says. "There has been a mushroom trend, which gives coffee an antioxidant impact, along with turmeric, which is an anti-inflammatory."
There's also opportunity to add in noncoffee beverages that are healthy, such as antioxidant-rich matcha tea.
Sweetwaters Coffee & Tea's focus from the beginning has been on ingredients that contain no preservatives or food coloring. "When we started our business, it was with the understanding that we'd focus on all-natural components, and we've made this our commitment that we've maintained," Bee says. "We don't want our beverages to taste artificial or be overly sweet."
Sweetwaters Coffee & Tea pays homage to its founders' Chinese roots with a large selection of Chinese teas, including Iron Goddess, an oolong tea, and Imperial Black, a flowery orange pekoe black tea. "Our ginger lemon and raspberry teas became so popular that we now bottle these in-house to sell in our cafes," Bee says.
The chain also strives to provide globally inspired beverages. "We want to expose our customers to more teas other than English breakfast and Earl Grey," Bee says. "To accomplish this, we've brought in larger tea concepts and global coffee from France, Vietnam, India and Thailand, such as matcha, Darjeeling and chai."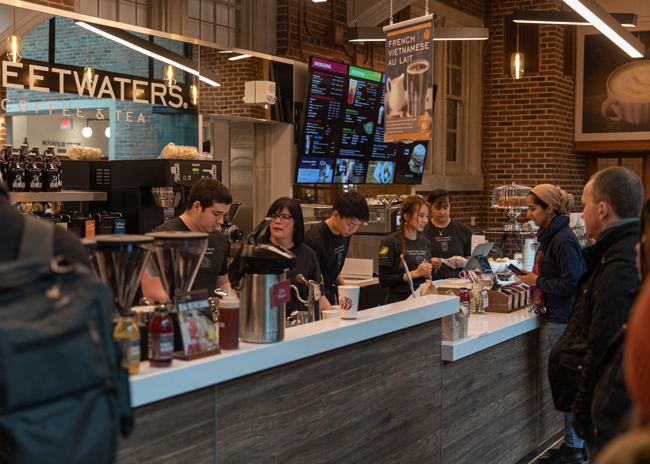 Automating and Sizing Down
The coffee segment has seen an influx of automation in the back of the house, and operators have taken advantage of equipment with smaller footprints. "There is a demand for automation, which to some extent ties into coffee and beverage customization," Tristano says. "The continuation of the nitro brew trend, for example, has pushed the industry toward taps and the ability to automate [dispensing] like with beer."
Robotics, however, has not yet infiltrated the coffee segment, says Tristano, because with coffee, much depends on the skills and theater of the barista. This role is comparable to a bartender's talents with creating cocktails.
"Consumers see baristas differently than a line cook since this is a position that adds value and avoids mistakes — plus people like the interaction," Tristano says. "But just because we haven't seen a shift toward robotics in coffeehouses as of yet doesn't mean it's not coming or isn't expected."
At Sweetwaters Coffee & Tea, key equipment includes not just coffee brewers and espresso machines but also water filtration systems and high-powered ventless ovens. "The ventless ovens were brought in about a year ago, and the small footprint has been a real benefit to our cafes for baking our pastries, breakfast sandwiches and pretzel roll sandwiches in-house," Bee says. "It has also allowed us to explore food more and was all we needed in the back of house to accommodate our expanded menu."
Water filtration is also vital for Sweetwaters' beverage quality, and the chain is currently seeking small filtration systems that can work more efficiently within its operations.
About a year ago, PJ's Coffee added microroasting capabilities at one of its locations. "With this system, a barista just puts in the beans, and we can lock in the roasting capability remotely," DiPaola says.
Over the last year, with on-site dining put on hold in many regions, coffeehouses have had to adapt to fewer social interactions and no longer serving as a gathering hub. This has led to more innovative payment options, such as app-based ordering and payment.
In addition to ramping up its contactless payment options with its app, PJ's Coffee has implemented safeguards for its locations. "We invested in a hospital-grade disinfection unit that goes into our HVAC system and filters air out," DiPaola says. "This is a great way to communicate to guests that we care about their well-being."
The chain partners with equipment manufacturers to develop custom units for stores, specifically espresso units. "This has and always will be first and foremost in the coffee industry from an equipment standpoint," DiPaola says. "This equipment produces our coffee the way we want it, delivering the flavor of New Orleans."
Beignet Beta
PJ's Coffee's latest venture — in beta test mode — is to produce its signature New Orleans beignets with a ventless automated fryer. "We wanted to have beignets in our stores by now, but there were many problems. We couldn't get the machines we needed to produce the product we wanted," says William DiPaola, chief operating officer at Ballard Brands, which owns PJ's Coffee. "So, for the last year and a half, we've been working with an equipment company to develop a totally automated frying system."
The self-contained, automatic frying system is simple to operate, with the user putting the uncooked beignet in the shoot and pressing a button. "We went through a lot of testing, with the first trial only frying one side of the beignet, then another had the automated arm getting caught," DiPaola says. "Finally, we got it right and are ready to roll out the line."
PJ's also offers breakfast and lunch sandwiches. "Every broadline distributor has their own sandwich line from companies they work with, but we chose not to go that route," DiPaola says. "Perone & Sons in New Orleans makes our muffulettas and breakfast and lunch sandwiches specifically for us. It keeps us close to our roots and heritage, which is a factor in all we do."