In a time when just holding on would suffice, some restaurant operators continue to plow ahead, determined to grow. It's an inspired group. These five multiunit operators have an acute focus on their niche and a solid plan for growth, which for most means a slow and steady approach to expansion — with one intent on moving at super speed.
Delicious and healthy deliver a one-two punch for this casual restaurant chain.
It's hard to imagine now, but when True Food Kitchen opened its first location in 2008 in Phoenix, kale wasn't easy to source. Now, it's hard not to find the leafy green vegetable known for its good-for-you attributes at restaurants of all kinds, featured in smoothies, bowls, soups, chips and, natch, salads. An organic Tuscan kale salad was on True Food Kitchen's first menu and remains a popular item some 13 years later.
Following the guidance of its founder, Andrew Weil, a well-known doctor of integrative medicine, True Food Kitchen's philosophy has always been to make eating healthier easier. "True Food Kitchen from the beginning has had a very welcoming atmosphere featuring familiar items that just happened to be healthier," says CEO Christine Barone. "That's a huge piece of our success."
It didn't take long for the casual restaurant's way of eating out to catch on. With the opening of its first New Jersey location in Hackensack this month, True Food Kitchen now has 36 restaurants in 17 states. Initially, while the privately owned company was confident its concept would catch on in big cities and in health-conscious California, it wasn't so sure about expansion opportunities across the United States. "At this point, we've proven that's not the case," says Barone. "There's a real interest in eating well everywhere."
Offering healthy menu items that follow Weil's anti-inflammatory food pyramid, however, represents only part of the puzzle. "We always start with delicious," says Barone of True Food Kitchen's dishes that are typically rich in vegetables but don't completely eschew animal protein. That means you'll find everything from vegan edamame guacamole and margherita pizza to grass-fed steak tacos and a lasagna Bolognese with gluten-free noodles. A variety of global dishes that can accommodate people's preferences as well as food allergies is another True Food Kitchen mantra, the latter of which is made possible by their scratch kitchens.
Like with many restaurants, COVID-19 has thrown a wrench into some of True Food Kitchen's immediate future growth plans, says Barone, though they expect to be back to some sort of normalcy by midsummer with additional store openings.
In the meantime, True Food Kitchen has implemented two new to-go offerings: family meals and meal prep, both of which have been successful and will continue to be options when their restaurants reopen for indoor dining. "We've spent time thinking through the different occasions and ways in which we can make our guests' lives easier," says Barone.
While some things have changed, much has stayed the same at True Food Kitchen and will remain at future locations. Its commitment to making everything in-house means each restaurant needs an extensive variety of equipment, ranging from pizza ovens and dough proofers to woks and juicers for the scratch beverage program.
An open prep line serves as another True Food Kitchen signature component. "The most important design element is guests can see the prep in the front of the kitchen," says Barone. "Typically, prep is done way in the back of the kitchen. Here, there's nothing beyond what you see, except offices and walk-in refrigerators. The whole kitchen is open and transparent." That design element does come with some adjustments, including a very large hood and range for the 20- to 30-foot lines.
True Food Kitchen's holistic philosophy goes beyond its brick-and-mortar restaurants with programs like a partnership with a farmer to grow organic tomatoes. Pure ingredients, healthy eating and a community vibe are chain staples.
The restaurants' interiors are designed to create a calming environment with a design goal to incorporate light coming in from at least two sides of the space. The roughly 5,000-square-foot venues use a lot of natural elements, such as reclaimed wood, and a color palette that incorporates yellows, greens and neutral colors. Outside dining areas continue to be an important part of the brand — and one that their guests definitely appreciated this past year.
True Food Kitchen's menu has evolved and changed, albeit with a few holdovers, including the aforementioned kale salad. Fortunately, over the years, sourcing ingredients, including organic ones, has gotten easier. That's partly due to once hard-to-find ingredients becoming a bit more commonplace in restaurants as consumer demand for these items has increased and also due to the many suppliers who want to work with True Food Kitchen. "Although we are still quite small nationally and we're independent, from an organic and clean produce perspective, we are rather large,"
says Barone.
In addition, True Food Kitchen has formed partnerships over the years, including with celebrated chef/restaurateur Chris Bianco of Phoenix's Pizzeria Bianco and a California farmer to grow organic San Marzano-style tomatoes for their pizza sauce. Now, sauces from those tomatoes can be found at retailers. "One of the neat things now with our size is that we've actually helped our organic suppliers grow with us," says Barone.
---
Even in unpredictable times, this better-burger fast-casual chain has managed to stay ahead of the game.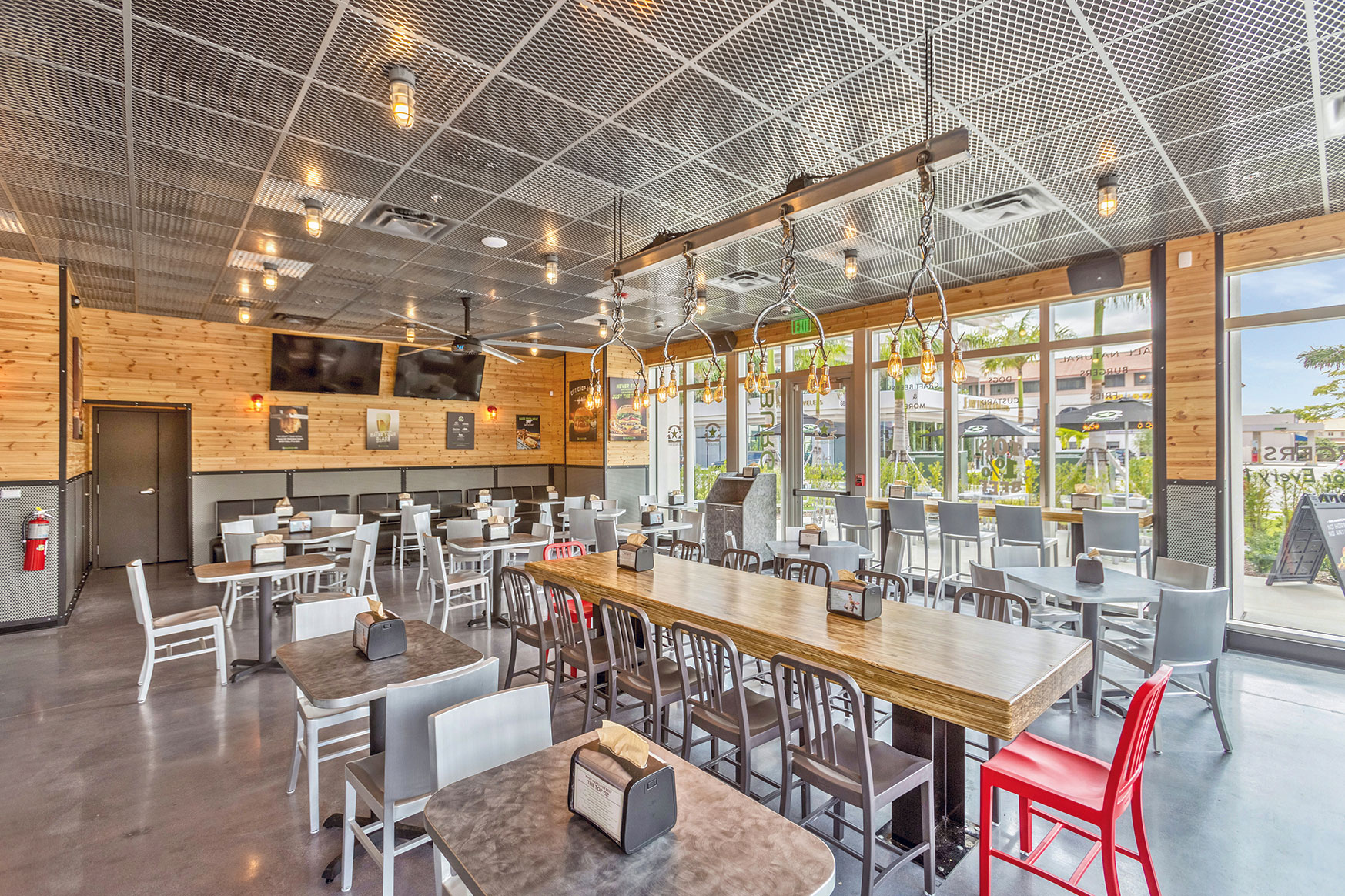 From established relationships with third-party delivery providers to a robust loyalty program to opening ghost kitchens, BurgerFi has had an uncanny ability to see which way the wind will blow and quickly act on it.
"We spend a lot of time looking at the industry, the competition and the needs of the consumer. That has kept us very relevant," says BurgerFi CEO Julio Ramirez. "We tend to follow the trends and not the fads."
The philosophy has worked very well for the Palm Beach, Fla.-based company. Founded in 2011 in a renovated Fort Lauderdale Burger King, BurgerFi is among the fastest-growing better-burger concepts in the U.S. Last year, when many restaurants had to close their doors, BurgerFi added 11 stores in the U.S. to its existing roster of 125 units, 85% of which are franchise owned.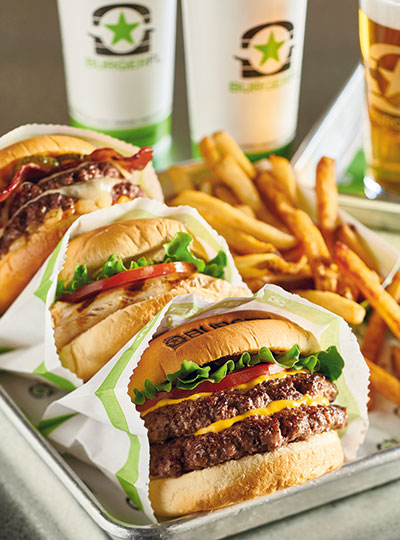 And that's just the beginning for BurgerFi, which went public in December. "There's no doubt that over the next few years, we could double the size of our brand and eventually triple it," says Ramirez.
One mainstay as the chain grows will be its commitment to using 100% natural American Angus beef free of hormones, steroids, chemicals, additives and antibiotics for its burgers. That adherence to sourcing quality ingredients also applies to other chef-inspired items on its varied menu, including chicken (cage-free, all-natural) and hot dogs (American Wagyu beef). Chefs also make house-made sauces, ranging from truffle aioli and Memphis sweet BBQ to bacon jalapeño ranch. BurgerFi's hand-cut fries are made to order, and its beer-battered onion rings are fried twice.
Like many others in the restaurant industry, BurgerFi heeded the call for vegetarian offerings, adding a plant-based burger to its menu in 2017. Additionally, it has created its own quinoa-based VegeFi burger. In the near future, BurgerFi plans to build a test kitchen in its North Palm Beach location, which already has a commissary kitchen, where the chain makes its VegeFi Burger, sauces, etc. Since the scope of this facility continues to evolve, the chain plans to rename it the Restaurant Support Center.
BurgerFi was discussing drive-thru prototypes before COVID-19. Once COVID-19 hit, however, the chain implemented those plans at a second-generation venue in a suburb of Lexington, Ky., that previously had drive-thru capabilities. Drive-thru service began at this location in December. A second drive-thru is in the works at a new ground-up location that will open in Las Vegas.
The company's employee training system is another innovative area that Ramirez is excited about. The training operates via smartphones and can be geared to the individual using it. "It's almost like a trivia show, reminding the user key questions for operations," he says, adding that the employee uses it until they pass the training.
In addition, BurgerFi is working on a park-thru program, where customers who have pre-ordered have their orders delivered to them in specially marked parking spots, and developing ordering systems that help streamline the process. And the timing couldn't be better. "In March and April, right when COVID was beginning, about 28% of our sales were online and digital," says Ramirez. "Today, it's upward of 65%. Our business has changed drastically."
BurgerFi continues to explore growth through ghost kitchens. The company signed a license agreement with REEF Technologies to open ghost kitchens in areas void of a BurgerFi site. "It's useful for places where building a brick-and-mortar store might not make sense," says Ramirez. "It's low risk and not a capital investment and can show us how our brand can do in a market that isn't part of our restaurant base." While the ghost kitchen program is still in the learning stage, Ramirez is excited about the potential.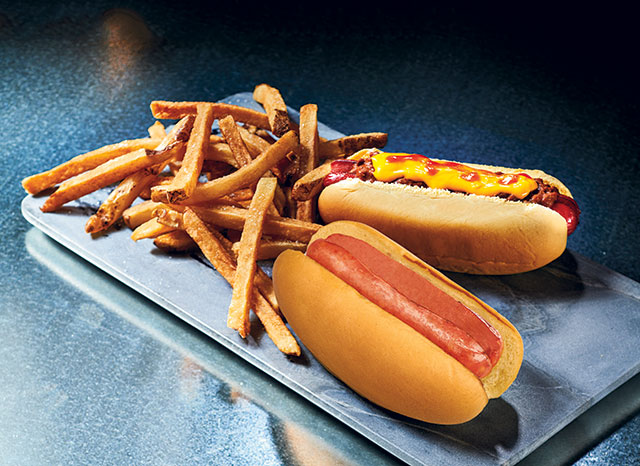 Sourcing quality ingredients is a key part of BurgerFi's identity and extends from beef free of hormones and additives to hot dogs made of American Wagyu beef.
Venue growth will focus on "cluster cities," says Ramirez. "That's where we put two to three company stores to attract more franchisees, which allows us to be able to train, help with setup, and work closely together on local advertising and marketing," he explains. Slated cluster city markets include Atlanta; Nashville, Tenn.; and Richmond, Va., says Ramirez. The chain's growth wish list extends regionally to include the Eastern Seaboard, Mid-Atlantic and Northeast.
Add to that list locations outside of the U.S. BurgerFi has venues in Puerto Rico and Kuwait and in January signed an agreement for six stores in Saudi Arabia. "I'm a big believer we don't need to be in every one of the 50 states before we do international," Ramirez says. His background prior to BurgerFi includes his role as COO for Global Operations at Burger King. "You can't do two more different things than Puerto Rico and Saudi Arabia," he says. "If we can do those two, we can do everything in between."
---
High ingredient standards define this Korean fast-casual, which plans to boost store growth by 10% and explore an in-house grab-and-go concept this year.
Creating a fast-casual concept with a healthy focus might seem like a strange second act for the founder of a chain specializing in Philly cheesesteaks. But for hospitality entrepreneur Charley Shin, it's all in a day's work.
It was while attending college at The Ohio State University that Shin tried his first Philly cheesesteak. His passion for the sandwich led him to open Charley's Steakery, which later became Charleys Philly Steaks, in 1986. The chain now has nearly 600 locations in 17 countries.
In 2013, South Korean-born Shin returned to his roots for his new venture, BIBIBOP Asian Grill, which opened its first location in Columbus, Ohio. Inspired by the Korean rice dish bibimbap, the fast-casual concept uses traditional Korean and other Asian ingredients, as well as ones more familiar to American diners, for the concept's customizable bowls. BIBIBOP now has 41 stores in 7 states. Last year, the privately owned company opened 8 locations and plans to open 10 to 12 this year. "Every day, we get requests from people who want us to open up in their cities," says Henry Yonky, director of marketing.
The lightbulb moment for BIBIBOP came when Shin tried to locate a fast-casual restaurant serving healthy food and couldn't find one. "There are a lot of great healthy restaurants, but they are on the higher side price-wise," says Yonky. "It's not easy to be healthy and affordable. We are trying to find a balance between the two." At BIBIBOP, all of the bowls are under $10, with small and mini bowls also available.
The interior design of the restaurants is clean and simple, says Yonky. "We don't want to distract from the food and conversations," he explains. To aid in the latter, many of the locations include three to five pods, which partially enclose tables of six and add a little privacy.
Menu ingredients are on full display at BIBIBOP Asian Grill.
The ordering system is straightforward, with customers walking down a line to customize their bowls (base, protein, hot and cold toppings, and sauces). "People often say BIBIBOP is the Korean Chipotle," says Yonky. The chain adheres to high standards ingredient-wise. To wit: organic tofu, antibiotic-free chicken and cage-free eggs. "They are expensive, but it always goes back to well-being," says Yonky. Proteins are cooked throughout the day on a grill and hot toppings are cooked on a stove, and both are brought to the serving line when needed. BIBIBOP also offers a number of gluten-free and vegan ingredients.
A handful of BIBIBOP's ingredients might be unfamiliar to non-Asian diners, such as purple rice, touted for its nutritional benefits, or japchae, Korean sweet potato noodles. Both are options for the base of the bowls. Initially, the more recognizable rice noodles were used but were replaced with japchae, which is boiled and then cooked with carrots and kale on the stove. "Not many fast-casual restaurants can do a really good japchae," says Yonky, who's been pleasantly surprised by their popularity.
Toppings include some found in a traditional bibimbap, such as pickled red cabbage, carrots and bean sprouts, and nontraditional ingredient options, such as cheese, potatoes and black beans. Moochae is BIBIBOP's spicy twist on a Korean radish salad. The low-calorie cold-topping option has plenty of health benefits as it includes vitamin C and probiotics. "In Korea, they believe food can be medicine," says Yonky. "It starts with our diet of how we can do better health-wise."
With fresh vegetables making up a large portion of its menu, BIBIBOP relies on food processors and slicers for its daily food prep of cold toppings, some of which are then steamed. And with two kinds of rice offered, high-volume rice cookers are a must.
The chain has plans to grow to 50 stores by the end of 2021.
During the COVID-19-related slowdown, the BIBIBOP team brainstormed ways to streamline its ordering process, which included creating a second serving line in all of its stores just for online orders, which have comprised about 36% of its transactions with some stores close to 50%, says Yonky. Additionally, the team launched a new loyalty program.
To speed up its catering program, BIBIBOP implemented "one-click bowls," in which guests can order catering for a group of people with just one click. "These have been a great help during the pandemic since it's packaged as an individual bowl with utensils and napkins, plus any desserts and sides if ordered," says Yonky. Catering orders for up to 20 people can be ready within 45 minutes and larger ones within 3 hours.
Drive-up pickup windows are in the works for orders placed via BIBIBOP's mobile app or through their website for 30% of its stores with the first one to debut in June at a Hilliard, Ohio, location. And a grab-and-go concept within the restaurants featuring a mix of current and new cold dishes is in the planning stages. Says Yonky, "We feel fortunate that we have been able to stay open, provide jobs and open new stores."
---
New siblings — and a new private equity parent — will likely amp up numbers for this health-intrinsic concept.
In the arena of fast-casual restaurants, "healthy" isn't always the first word that comes to mind. But new holding company WOWorks is on a mission to change that. Last December, Conshohocken, Penn.-based Centre Lane Partners, parent company of Saladworks, acquired fast-casual brands Garbanzo Mediterranean Fresh and Frutta Bowls to form WOWorks.
For Kelly Roddy, CEO of WOWorks, the decision to acquire once-bankrupt Frutta Bowls, a concept that serves a variety of superfood bowls, fresh fruit smoothies, oatmeal bowls, artisan toasts and organic coffee, was an easy one. "Over the last couple decades, people have become more diligent and much more knowledgeable about what they are eating," he says. "We think that's where the consumer demand is going."
But beyond simply being a hot category for growth and financial success in the fast-casual sector, Frutta Bowls is part of an overall WOWorks philosophy to answer the call for people caring more about the food they put in their bodies. "We look at food as fuel rather than something simply to satiate," says Roddy.
It was back in 2016 when Brooke Gagliano channeled her passion for health, fitness and wellness into the first Frutta Bowl in Howell, N.J., not too long after she graduated from college. A second store opened not long after that, which eventually led to 35 additional franchised stores two years later. Gagliano currently operates one franchise of Frutta Bowls; the chain was acquired during bankruptcy by WOWorks. Her future role at the new company is still to be determined, says Roddy. Lauriena Borstein is the vice president of operations for WOWorks and general manager of the Frutta Bowl concept.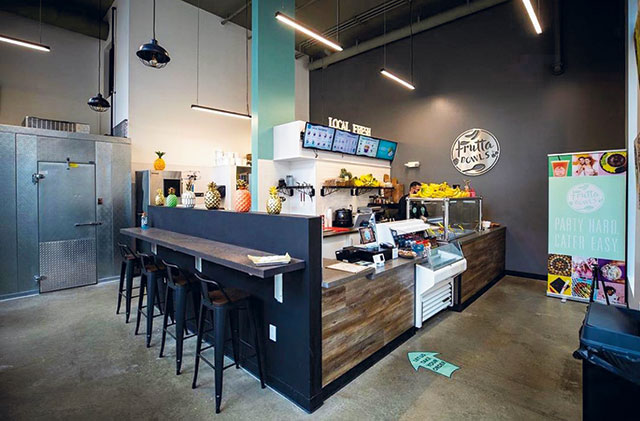 Store design will continue to emphasize the idea of freshness as Frutta Bowls undergoes a metamorphosis with a new owner.
Currently, Frutta Bowls has 40 locations, and while Roddy admits it will take a bit of time "to get our growth engine running" after the purchase of the company just a few months ago, he predicts the company will double the number of units in 18 months and in triple it in 2 years. "We want to grow it very quickly," he says, adding that the western region of the U.S. is an area the company has its eye on.
Additionally, the company is looking at co-branding opportunities in nontraditional locations, such as train stations. "We think a tighter menu and smaller amount of equipment would help Frutta Bowls grow faster," says Roddy. The company remains in the ideation phase to determine the best menu to offer and the optimal equipment to make it a success.
In general, when it comes to equipment, "There isn't a single piece of equipment that drives efficiency but more of how we put all the equipment together and lay out the stores to drive the best return while working to keep costs down," says Roddy. Refrigeration units measuring between 4 and 6 feet are specified to hold toppings on the line. Depending on the store layout, grab-and-go coolers or undercounter refrigeration units provide additional storage.
While Frutta Bowls' menu items aren't revolutionary in and of themselves, the brand's commitment to offering the highest-quality bowls differentiates the chain. Made fresh to order with no sweeteners, juices or added fillers, Frutta's signature bowls utilize both on-trend ingredients and less commonplace ones, such as pitaya. Commonly known as dragon fruit, pitaya packs plenty of good-for-you attributes, such as high levels of vitamin C and fiber — to say nothing of its eye-catching bright pink color. Graviola, another new-on-the-scene superfood also known as soursop, was recently added, available in a bowl or smoothie. Both pitaya and graviola, along with acai and kale, are main ingredients in Frutta's signature bowls, which come with a variety of toppings ranging from granola and peanut butter to coconut flakes and chia seeds.
Toasts offer customers savory menu items, such as The Bravocado (avocado, sun-dried tomato pesto, egg, red pepper flakes), Go Figure (brie, fig spread, basil) and The Goat (roasted red pepper hummus, olive tapenade, crumbled goat cheese, roasted red peppers, basil). A gluten-free bread option is available. Hot oatmeal bowls, smoothies and organic fair-trade coffee round out the menu.
Delivery and takeout, like at many operations, have played a big role in Frutta Bowls' success over the past year. But with an interior design that produces a sit-back-and-relax vibe with dark leather couches and a large shared communal table for the roughly 2,000-square-foot spaces, hopefully customers will be hanging out inside Frutta Bowls soon.
In the meantime, Frutta Bowls stays connected to the communities in which they are located with robust give-back programs to charities, including No Kids Hungry. "Community is definitely one of our pillars," says Roddy. "As we've taken on new brands in our portfolio, we want our franchisees involved in their communities too."
---
This chain's exacting science around its size and processes simplifies operations as it sets out to open 145 more stores in the drive-thru coffee niche.
In the drive-thru industry, speed is everything. Minutes can make the difference in turning a first-time customer into a loyal one. It's a concept not lost on Omaha, Neb.-based drive-thru coffee chain Scooter's Coffee, which, in a year when so many in the hospitality industry have lost so much, managed to not only thrive but grow.
"The biggest specialty coffee provider has an average window time of 5½ minutes. Ours is 40 seconds," says Tim Arpin, vice president of franchise sales. "Our entire model is built around speed of service."
That speed goal encompasses everything from menu items and window timers to developing an exact science behind how their stores are laid out. For the latter, Scooter's worked with a firm specializing in physical workflow management. Through studying the drink-making process and uses of equipment, they were able to lay out the interior of the kiosks to maximize speed and efficiency.
It was back in 1998 when Don and Linda Eckles opened the first Scooter's in Bellevue, Neb., choosing the nickname of their daughter as its moniker. Over time, that small-business idea evolved into a franchise concept that has continued to prove itself in a crowded and competitive market.
Scooter's has since grown to 310 corporate-owned and franchise stores, a majority of which are drive-thru kiosks with a few also having a small cafe. But no matter the size of the location, the full menu — hot, cold and blended specialty coffee and tea drinks; fruit-based smoothies; and pastries, cookies and breakfast sandwiches — is available at all.
In 2020, the company added 43 stores with a mix of roughly 90% franchise stores and 10% corporate. This year, Scooter's plans to open 145 more; all but 1 or 2 will be kiosks. "You can pop up a 550-square-foot Scooter's drive-thru kiosk on the side of a building where no one has ever heard of us, and people immediately understand who we are and what we do," says Arpin. "A kiosk is a great sort of little billboard that helps people understand our brand."
The company is focusing its growth on the central band of the U.S. (Ohio Valley down to Florida) and as far west as Utah, Nevada and Arizona. By the end of 2024, it expects to open 1,000 new stores.
Scooter's Coffee's focus on drive-thrus mirrors the data on how Americans drink coffee, says Arpin.
"The romantic idea is that we all like to go to coffee shops, sit by the fire, drink coffee and think big thoughts. But the reality is, the majority of Americans drink their coffee on the go," Arpin says. "The more focused we've become on that differentiator, the better we've gotten at it."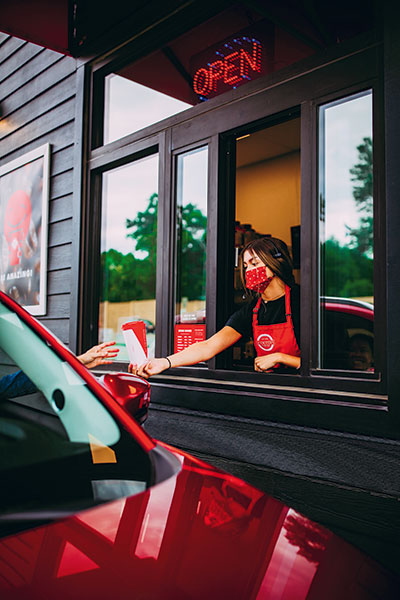 High-quality drinks and speed of service are two core elements of Scooter's Coffee.Providing high-level customer service is another factor driving Scooter's Coffee's success. But when you have less than a minute of customer interaction, what exactly does that mean? At Scooter's, it has meant challenging the traditional model of what great customer service can be.
"For us, great customer service is what we call a 'hanger,'" Arpin says. "A hanger is when you are at that window-ordering box, and by the time you pull up, the barista is hanging out the window with your drink in their hands with a big smile on their face."
A smile can also be found on the lids of the beverages, a tradition dating back to the first Scooter's when co-founder Linda Eckles put happy face stickers on every drink.
As customer numbers per location grew, Scooter's made changes to their equipment to keep up with the volume. Cold storage areas in the kiosks increased in size to accommodate more products. The drive-thru areas were increased to accommodate five cars.
But the largest storewide change was the move to a more technically advanced, automatic espresso machine. Arpin lauds the machine's ability to create perfect coffee drinks faster and consistently, whether it's an oat milk latte or Scooter's signature Caramelicious, a combination of espresso, caramel sauce and hot milk.
Over the years, Scooter's has also refined the way it purchases its roasted in-house coffee beans. Through its Relationship Coffee program, Scooter's has developed close relationships with the bean growers, buying directly from them rather than through a broker.
"We personally know our farmers and heads of the co-ops in the regions of world where we source our beans," says Arpin. "Our relationships get stronger and stronger every year, and our coffee gets better for it."