Three FCSI members share what's changed for them in different segments, what's sticking and what's on the horizon for 2021 and beyond.
A new year approaches, and most of us can't wait much longer for it. So much has changed in the past year, in both our personal and professional lives. Things have changed for foodservice consultants as well. At the very least, the pandemic has sped the timetable for automating certain aspects of foodservice, and technology integration has accelerated as well. With dine-in closures and reduced capacity impacting all segments, operators across the board must be nimble and run their businesses leaner than ever. Consultants know this, and that's why, they too, have had to be nimble in order to help their clients. Three FCSI members share what's changed for them in different segments, what's sticking and what's on the horizon for 2021 and beyond.
Automating Colleges, Universities and Healthcare: Steve Carlson, FCSI, president, Rippe Associates, Inc.
Steve CarlsonColleges and universities have had to make a lot of changes to their operations — the number one thing being no more self-serve food. We have long taken the position that we don't need sneeze guards to protect food, but they were helpful this past year because they can be adjusted or shifted into a vertical position to keep staff safe when serving food. Convertible protector shelves have been on the market for a long time, but we were slower to adopt them — until now. We will likely make sure to keep that flexibility for the future.
[The other major change this past year] is less about us [consultants] — operators are looking for anything that will continue to offer frictionless convenience, such as ordering and delivery technology. Since all of this is very software-focused, we have never had to be in a position to be experts in these things — because we don't specify them. But operators are turning to us for questions about these technologies. Because we're always trying to be a resource and offer answers to questions, in the past nine months our team has had to learn a lot about how to keep track of employees, sales, popular menu items, how to use a name badge to pay for meals, how much customer data can a [third-party delivery company] have access to without violating privacy, and so on. It's not enough for us to just recommend any old app, all of these programs need to be able to talk each other. We're learning from operators how they are working around those challenges.
Certainly [a focus on] automation will continue in the future — not just the cool salad or pizza-making robot, which are becoming more popular, but also using robots to deliver food, which is happening more and more in healthcare foodservice. I think more operators now want ways to bring food directly to patient floors and nursing stations because they don't want nursing staff to come down or because they can't come down [due to COVID-19 isolation]. I am also seeing operators invest in lockers, not just in the serving area, but also in employee break rooms as a way to send extra trays with some preordered items if people don't have time or don't think to order ahead. There's some automation in dish rooms in the form of robotic dishwashing. I still think that has some time to go, but dishwashing is a very labor intensive task and this could be a good solution. Another interesting form of automation are checkout devices that have cameras and can read and identify products without the need for a cashier to physically scan a barcode. A large financial company in New York installed these systems throughout its cafeteria, which took transaction times down from 40 seconds to 9 seconds. Queues are a huge concern to hospital administrators, and one area where there is often a line is the cashier.
In the kitchen, flexibility, plug-and-play, and the ability to change something out has always been important, but COVID and labor shortages and the threat of staff getting sick has pushed this to the forefront. Operators have had to shift to more high-volume cooking to be able to still prepare individual portions, but cook faster. In terms of ventilation, we have long been advocates for demand-controlled systems, but the challenge lately has been getting these systems to work with the rest of the [building's HVAC system], which have grown more complex. [In the past], no one wanted a separate makeup air system for the kitchen and the dining room, but with COVID, no longer can you take air from the dining room and bring it into the kitchen. Some operators are also looking into ionizers to be able to better filter that air as well.
The Future of Independent Restaurants: Arlene Spiegel, FCSI, founder and president, Arlene Spiegel & Associates
Arlene SpiegelSomething that was going on before the pandemic and that has since accelerated is this shift into looking at venues and outlets more as suppliers, almost like grocerants. I was working on two concepts like this before the pandemic. I see a growing hybridization, or merging [of concepts to become] fast-casual restaurant, grocery, even hardware and convenience store, all in one space. These are what I call "lifestyle concepts" — they have all the essentials that people need in their lives. They have been very successful in urban markets and popular among single, young professionals and office workers, and even married couples with kids. These types of hybrid "suppliers" are in the best position to have longevity and the flexibility to adapt and remain profitable if something like a pandemic hits and indoor dining is suddenly banned. When that happens, they can expand grocery and not miss a beat. [As a business consultant], my work has been to drive concept development or help existing concepts engineer more flexibility into the design of their space. I have also been working with clients to rethink their outdoor spaces availability, not just for outdoor dining, but also to facilitate pickup and delivery easier.
Many of the restaurants I am working with now are also looking into converting some or all of their kitchens into quasi-ghost kitchens where they can prepare meals with more consistency and in higher-volumes, not just for their own clientele, but also to supply other institutions or organizations that have a high demand for feeding, like schools, senior living facilities and even government organizations. I see restaurants [of the future] being diversified suppliers, which means we need to rethink the way we design spaces. We need to think about what elements we keep and what needs to change and building in that flexibility so whatever challenge arises in the future, [the operator] can address it and not have to go out of business.
B&I and Beyond: Ray Soucie, FCSI, LEED AP, senior project manager, Webb Design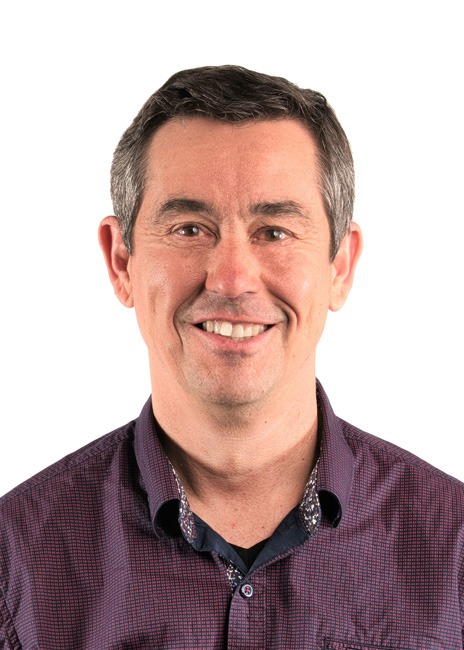 Ray SoucieThe pandemic has forced us to speed up what we were already doing. In the B&I sector, with more people continuing to work from home, we will probably design for less volume, but also see a dramatic increase in ghost kitchens and robotics on campuses to deliver meals to different pods where people are working. I don't see as much of a need for the large dining spaces in the future. I think traditional dining spaces will diminish, but not go away completely. Maybe there will be more soft seating for small, thinktank groups who want to snack and eat as they go. Maybe they will have grab-and-go items delivered to them by a robot.
In the kitchen, because of the downsize of bulk food production that was happening prior to the pandemic, I see more preprogrammed, overnight cooking that can be chilled in a blast chiller and then transferred for holding and reheating. I also see the use of more accelerated cooking equipment. Before the pandemic, we were already incorporating a lot more electric equipment in kitchens for clients who were on a path to net zero, and I definitely don't see that stopping. I still see a big push for electric and ventless equipment in the future, and clients wanting to get away from using natural gas and propane cooking in order to create more sustainable kitchens.
We were also already moving toward more self-serve, self-cashiering contact points. The salad bar might be out now, but I believe that's more temporary than permanent.
In the school sector, we're still designing for 20 years from now and are not going to design a kitchen based on some of the minor changes that COVID caused. We're still designing kitchens to be as flexible as possible regardless.
One major change that has happened is with menus and menu design. COVID caused many selections to be reduced across the board. I think that's going to continue, and it's a positive thing; when food inventory is reduced, food costs go down and profitability goes up. There have also been new laws, such as allowing cocktails to-go and allowing dining in the streets and parking garages to allow more year-round, outdoor dining. Those are all positives that came out of COVID.