The juice and smoothie bar market continues to explode as consumers look to incorporate more nutrients into their daily diets. The estimated $5 billion segment offers myriad varieties of single-unit and chain operations. Along with piquing customers' interest and loyalty, labor efficiency also factors into designs.
Juice and smoothie bars once appealed mainly to consumers in their late teens and early twenties. Now, consumers of all ages find benefits from these beverages and other menu items such as bowls packed with nutritious ingredients such as acai berries, other fruits, vegetables, quinoa and nuts. Variety helps operators differentiate themselves from the competition. For example, juices may be as simple as a basic fresh-squeezed orange or as complex as a clean-pressed medley of beets, cucumber, apple, celery and ginger. Smoothies contain fresh or frozen fruits and/or vegetables and are combined with yogurt or ice cream and ice. Some juice and smoothie bars offer add-ins, like soy milk, whey powder, green tea, and herbal and nutritional supplements. Several brands offer organic ingredients.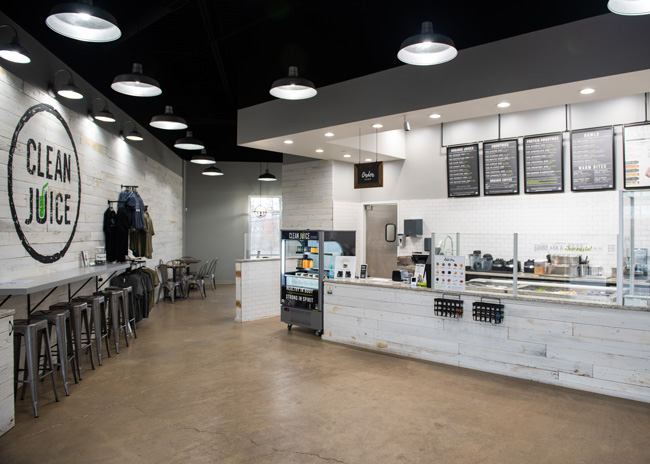 Clean Juice stores convey cleanliness and purity, such as this location in Wexford, Pa. Photos courtesy of Clean Juice
Concept Design
Designers develop environments with decor, signage and equipment that convey a healthful message to encourage customers to come back repeatedly for their favorite flavors and ingredients. Concept owners and operators boast nutritious menu selections and customers get full view of staff preparing menu items in an effort to further emphasize transparency.
Clean Juice says it all right from the start with its name. "Clean juice is in our name, and we want to convey cleanliness and purity in everything we do, not just the food," says Chris Cornett, director of construction. The 100-store chain offers organic cold-pressed juices, smoothies, wraps, acai bowls, toasts, Greenoa Bowls (organic greens and grains), juice cleanses and more. The flagship store sits in Charlotte, S.C.
"Design elements are light and clean," says Cornett. "We don't have many dark colors, which helps resonate the cleanliness of our stores and also the positive, uplifting guest experience. Also, the design of stores has to optimize efficiency for smile, speed and service, our pillars for success."
Operating in a footprint measuring 1,200 to 1,400 square feet, Clean Juice's decor features white tile walls that highlight black-framed menus that hang from the ceiling. The store also posts what the chain refers to as a transparency board, which includes a short list of any ingredient that couldn't be organically sourced (which rarely happens).
Colorful posters display menu items and images of superfood add-ons such as elderberry, spirulina, chia seeds and hemp protein. One of the company's core values that resonates through to the design is transparency. "Transparency is the key to trust," says Cornett, "so guests can see everything we do."
"We implemented a down-home ambience versus that of a typical franchise layout and store design," says Dave Cuff, vice president of development at Clean Juice. "We want the communities we serve to know that there are healthy food options available, and we want to be the one who serves them every day — with a smile and grace."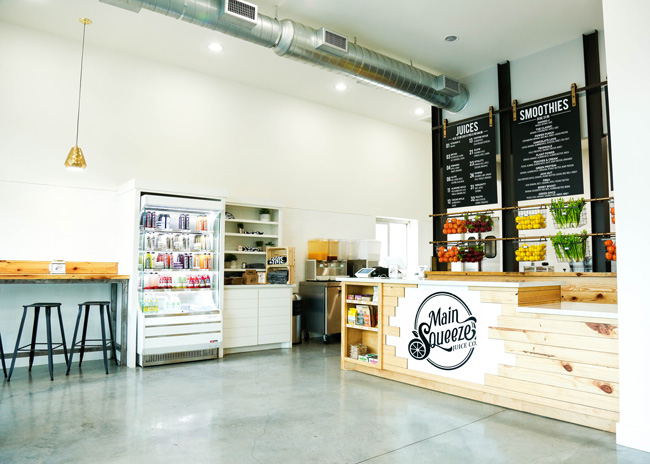 A clean ambience with natural materials and ingredient displays allows Main Squeeze customers to easily read menu boards and see bottled juices. Photo courtesy of Main Squeeze
Health and nutrition are common themes among juice and smoothie chains. "It's unfortunate, but we are living increasingly in a world full of unhealthy processed and 'dead' foods," says Thomas Nieto, CEO of Main Squeeze Juice Co. based in Lake Charles, La. "We want to provide a solution to this." The juice and smoothie bar chain has 13 stores in Louisiana and Texas.
"We're dedicated to serving the highest-quality raw and unpasteurized juice and superfood smoothies," says Nieto. "Every juice and smoothie is packed with the maximum level of vitamins, enzymes, minerals and nutrients possible. At Main Squeeze, we pride ourselves on combining the timeless simplicity of fruits and vegetables in a nourishing and refreshing way, reviving the idea of 'food as medicine' through our unique menu."
The company strives to provide a more convenient way for customers to fulfill their nutritional goals with cold-pressed juices and smoothies, cleanses, wellness shots and acai bowls. "We believe in making healthy easier and super convenient," says Julie Canseco, RD, COO at Main Squeeze Juice Co. "We serve quick-service style, have drive-thru in 70% of our locations, and offer curbside and online pickup."
C&U Juice Connections
The health-driven components of juice and smoothie bars are evident on college campuses for both students and student-athletes.
Texas A&M opened its Nutrition Bar in the Davis Player Development Center for athletes in the fall 2019. The goals were to increase the recruiting impact of the space as well as improve the players' performance, says Michael J. Hessert, RA, principal of architectural firm PBK Sports with headquarters in Houston, Texas. On non-game days, approximately 115 football athletes use the Nutrition Bar and surrounding space. Recruits, donors and players' family members may use the facility on game days in the future.
The 2,452-square-foot space includes 575 square feet of renovated space and 1,877 square feet of new construction. The 1,337-square-foot Nutrition Bar sits in the new construction space.
Texas A&M makes this area available to athletes to meet their pre- and post-workout nutrition needs. "We provide food that optimizes their training at the right time to repair their bodies from within," says Tiffany Ilten, performance dietitian at Texas A&M. The nutrition station sits in players' line of traffic as they finish a training session, making it easy for them to access a recovery shake. Pre-workout options include but are not limited to applesauce, bananas, granola bars, and chews with electrolytes. Post-workout offerings include ready-to-drink shakes and made-to-order shakes with juice, milk or water, frozen fruits and vegetables, yogurt and protein powder. Shake recipes cater to the nature of the players' training while also considering food allergies, lactose intolerance, special diets and player-specific weight goals.
"One of the primary goals of the design was to transform the presentation of the nutrition program to have a very impactful presence within the space," Hessert says. The addition's centerpiece, the bar, serves as a focal point.
The freestanding oval-shaped bar resembles the shape of a football. Lighted top and body panels don't go all the way to the floor to give the appearance that the bar is floating. "The bar die wall is skinned with three-dimensional hexagonal porcelain to evoke the texture and feel of a football," Hessert says. "The backlit opaque bar top provides an additional visual impact as well as gives a more modern feel."
Next year, students at Brigham Young University — Hawaii will enter a new dining facility set to open in the fall of 2021 and see a smoothie bar near a salad bar as they make their way to the other eateries. The new facility replaces a 50-year-old facility that had been remodeled several times, and the design will display fresh ingredients and colorful beverages in dispensers to attract customers' attention and convey the message "we serve a new fresh food menu here."
While it's not yet open to students, the design and construction of the area is complete. Set in an open, spacious environment, the new dining facility's smoothie station decor incorporates light blue and green colors. Graphics provide more color and vibrancy to the concept, themed as a North Shore fruit stand on Oahu.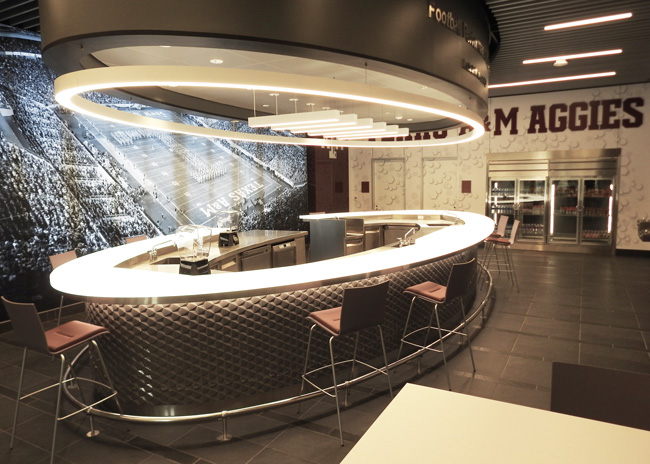 The Nutrition Bar at Texas A&M includes free-form panels that give the appearance that the bar is floating. The efficient bar design includes undercounter refrigerators, an undercounter dish machine, sinks and space on top of counters for blenders. Photos courtesy of CounterCraft Inc.
Storage and BOH Functions
The smoothie concept and an adjacent salad station share a centralized storage location at Brigham Young University — Hawaii. Storage includes reach-in refrigerators and freezers as well as dry storage.
Texas A&M's storage pantry area sits adjacent to the bar. "Having adequate storage allows us to produce at a high volume and minimize ordering frequency," says Ilten. The pantry's exterior access allows staff to receive pallet loads of product. Staff will break down deliveries and distribute them to the various dry, cold and frozen storage areas.
The storage pantry contains a two-door reach-in refrigerator, a two-door reach-in freezer, a dry storage area with shelving, two mobile worktables, a dunnage rack, a hand wash sink, a prep sink, a three-compartment sink and prep table, two sink-mount disposers, and an ice machine with a bin. A trash compactor connection allows easy disposal.
Most Clean Juice operations contain upright refrigerators and upright freezers, as well as work counters with stacked shelving, ingredient bins, a multi-compartment sink with spray nozzles and another sink dedicated to preparation. The back of the house also holds an extra-large blender and an ice machine. The area is small but arranged so staff have enough room to fully open refrigerator and freezer doors and easily place the ingredients on nearby worktables.
Clean Juice offers cold-pressed juice made daily. Clean Juice operations contain one cold press machine that can grind 80 pounds of fruits or vegetables at a time. "Each flavor takes about 45 minutes to produce the appropriate yield," Cornett says. Staff bottle, label and date juices and place them in refrigerators for an average of five days. Each store offers 10 varieties of cold-pressed juices, including vegetable juices like Sweet Green and cashew milk beverages with ingredients inducing vanilla, cinnamon, maple syrup and cacao.
New Clean Juice stores now feature a "transparency window" so guests can observe what Clean Juice dubs "juiceristas" making their fresh cold-pressed juices.
Main Squeeze prefers receiving deliveries before 8 a.m. to maximize staff efficiency throughout the day. The back-of-the-house storage includes one 2-door, reach-in refrigerator and two 2-door reach-in freezers. Some stores contain 3-door freezers. Storage shelves hold clear plastic containers filled with powders and other items stored at ambient temperature. Prep tables and a three-compartment sink also sit in the back of the house.
Main Squeeze operations also use a cold press machine, which sits in a separate juice room. "We use the cold press machine because it yields about 15% to 20% more from ingredients such as apples and lemons and lasts for seven days because the pulp doesn't enter the squeezed juice," says Canseco. Staff use an immersion blender to mix different juice flavors together. At some stores, customers can watch the cold press juicer in action through windows. "We may consider adding a small countertop cold press out front, but no matter the size, juicing is a wet and messy process," Canseco says.
"We isolate production so it doesn't interfere with the flow of making smoothies," Canseco says. "Each location has its own challenges to separate production based on the size and shape of the stores." Though Canseco would like each Main Squeeze store to partner with local farms to use the pulp created in the cold press process, only a few have been able to find a reliable partner to regularly pick up the compost for no charge.
Each Main Squeeze back-of-the-house area also contains prep tables and a two-compartment sink for staff to wash produce and a three-compartment sink for warewashing.
The juice and smoothie concept at Brigham Young University—Hawaii places self-serve dispensers front and center. Dispensers on the back counter serve as backups and allow chefs to create signature smoothies.
Front-of-the-House Storage and Equipment
At Clean Juice, Main Squeeze and Texas A&M's Nutrition Bar, upright, reach-in refrigerators across from the service and prep areas also display fresh-squeezed juices. "To make a juice and smoothie concept work efficiently, you must pay attention to the flow of product," says Dean Wright, director of Dining Services, Brigham Young University in Provo, Utah. This location supports two Jamba Juice stores. "A U-shape is the best configuration. Customers want to see the ingredients, including fresh fruit, and they want to see staff use the blenders."
Clean Juice also uses a U-shaped equipment lineup, which includes a juicer in a glass box, refrigerated and ambient rails, bins that hold ingredients for menu items, prep tables, toasters, blenders and a sink. "Each location receives nine blenders," Cornett says. "Half of the blenders are for backup so if one blender goes down, we'll have a replacement so we don't stop the flow of production." Under the counters sit two refrigerators and a freezer.
At Texas A&M's Nutrition Bar, the equipment accommodates the non-linear, football-themed decor. "One of the challenges that had to be overcome was creating the bar's interior where three to four staff could work efficiently in order to deliver the highest volume of product possible in the shortest amount of time," Hessert says.
The interior of the bar contains three separate blender stations and an additional prep station. Each workstation has its own day-of-use cold and frozen storage, a wash sink with a disposer, a blender station, an undercounter waste bin and a cutting board. The bar also has a smallwares dishwasher and an ice cubby for day-of-use ice storage.
"For noise control, we designed a soffit that hangs down about 10 feet on the exterior and 12 feet on the interior that helps capture noise," says Jack Abraham, project manager at Foodservice Design Professionals.
Main Squeeze stores occupy one of two basic layouts in a footprint ranging from 1,200 square feet to 1,700 square feet. The real estate configuration dictates the layout. In one layout, a half-wall divider prevents customers from seeing staff making smoothies. "In other stores, which are in duplexes, the enormous long and narrow space doesn't accommodate the same design as the other stores have," Canseco says. "We designed them with a shotgun concept, almost like a barista, which is very open and uses large sneeze guards." The action at the open stores is more visible, though both layouts have the same equipment and operational flow.
Because staff do not use ice to make smoothies, Canseco says, "Our five blenders at each store take quite a beating, so we will be replacing our blenders with a model that has a brushless motor and an extra fan." Staff rinse blenders in an adjacent sink.
The front line at Main Squeeze also contain reach-in refrigerators, a glass-top reach-in freezer, liquid dispensers for juices, refrigerated rails holding ingredients for bowls and open sandwiches, toasters, and coffee makers for hot and cold drip drinks. An upright toaster heats bread for the open sandwiches.
BYUH's smoothie concept, designed by Wright and Albin Khouw, senior vice president, Porter Khouw Consulting Inc., Crofton, Md., contains a drop-in ice cream well, a drop-in refrigerated well, three countertop blenders, a frozen beverage system that includes four sets of two 3-gallon hoppers, a one-compartment stainless-steel drop-in utility sink, a drop-in hand sink and a smoothie support counter. The area also contains a two-door undercounter refrigerator, an undercounter freezer and a blender container rinse station.
Since COVID-19 hit, BYUH has decided to change its pending smoothie concept to self-serve slushies — a mixture of ice and fruit — due to already evident challenges with ingredients and shipping. Flavors will include blue raspberry, cherry, grape, mango, peach, strawberry, with some changing on a rotating basis.
On the back counter, the executive chef will use blenders to create his own blend and serve it on a rotational basis for lunch on some days and evenings on other days. In the future, this station may offer juices and/or bowls.
The juice and smoothie concept sits adjacent to the salad bar at Brigham Young University—Hawaii's new dining hall, set to open in the fall of 2021. Customers will see the bar immediately as they enter the new facility.
Words of Advice
Concept owners and designers must consider types of blenders and how to clean and sanitize the blender containers. "Some brands claim their blender has a self-cleaning feature, which can be misleading," Khouw says. "The operator still has to manually fill the blender container with water and a couple drops of dish detergent before activating the blender to the self-cleaning mode."
Another option, Khouw says, is to design a rinser station similar to what one might see at an espresso bar where staff members can rinse containers after each transaction and be ready for the next order. "In most of our designs, we opted to look beyond the convenience of having these features by adding an undercounter dishwasher that will wash and properly sanitize blender containers and utensils," he says. In another of Khouw's projects, however, the health department insisted the designers install a small three-compartment sink in lieu of an undercounter dishwasher.
Allocating space for ingredients presents designers with greater challenges as the ingredient list grows. "How to display the finished product is another element to consider," Khouw says. "A frost-top pan is often used as a staging platform for the prepared smoothie product. Some operations will simply stage the product on the countertop for customers to pick up."
Future Possibilities and Continuing Practices
Online ordering will continue to grow as customers request faster service and less face-to-face contact with servers.
At Texas A&M, the Nutrition Bar may offer hands-on cooking classes. "This should lead to spirited competition as well as giving athletes a skill they can take away when they leave A&M," Ilten says. "We have done some hands-on recovery treats like smoothie bowls where each player builds their own. It was a great way to get them involved with their recovery, teach about the benefits of the different choices and of course enjoy something delicious. This space is great for tastings and will also be an area for hands-on cooking experiences. The tasting is to engage our diverse and young team with foods or products that may be new to them and teach them how to use that food to support their nutrition goals."
Clean Juice will continue its Clean Juice University training for all new owners and general managers. They come to Charlotte, N.C., or attend virtually to learn everything about the brand. Education takes place in classrooms and in the field. Sustainable practices such as partnering with local farmers to take pulp to use as natural fertilizer will continue and be enhanced if possible.