When Jon Taffer, the award-winning hospitality expert and host of the popular TV show "Bar Rescue," decided to open his own restaurant and bar, Taffer's Tavern, his team enlisted some of the latest technologies in terms of software and kitchen equipment to develop a craft cocktail and chef-driven concept.
That includes using 3D/virtual reality technology for designing the bar to be as efficient and labor saving as possible.
The first location was set to open in March, just as COVID-19 hit. That opening in Alpharetta, Ga., has been delayed, until this month. (The location will open with outdoor seating and reduced seating indoors).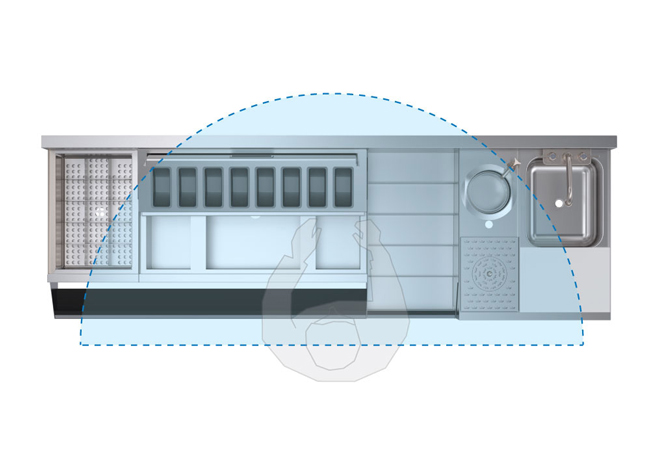 Kitchen of the Future
Taffer teamed up with Duncan Miller Ullmann (DMU) to design the inaugural Atlanta location, which will serve as the prototype for other, planned franchise locations are set to open in the next two years throughout the Boston and Washington, D.C., markets, plus other markets. The layout features 140 seats inside and a nearly 50-seat patio, with glass doors that can remain open to improve airflow inside.
At the back of the house, the kitchen uses ventless equipment such as sous vide technology as well as combi and rapid cook ovens to maximize volume in smaller spaces. The hope is these technologies will help maintain product consistency and cut down on labor costs. Though guests can't see into the back while visiting the restaurant, they can still go online to see a live video of the kitchen operations for transparency. Taffer's team has focused on reducing touch points between cooks, waitstaff and the food, which includes dishes like the Tavern Burger, made with a brisket blend and served with herbed steak fries; Tot Roast Fries, which are tater tots topped with slow-cooked shredded beef, rich mushroom béchamel sauce and creamy cheese curds; and Roast Beef Au Jus, braised sliced beef topped with caramelized onions and Swiss cheese.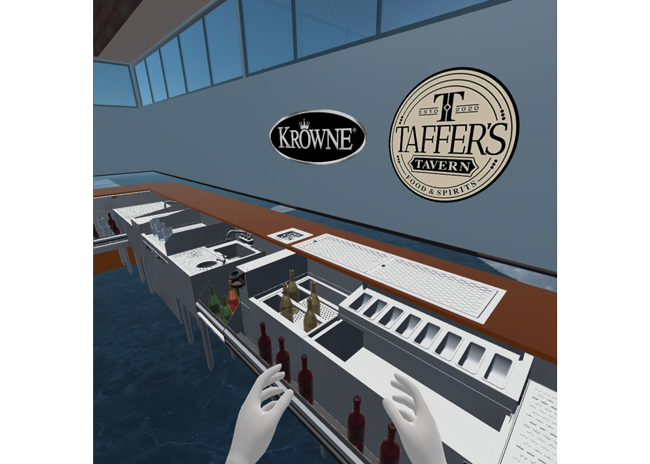 Bar of the Future
Just as Taffer's team implemented the latest in food preparation techniques and technology for the tavern's kitchen, the team used 3D technology to design what it calls the "bar of the future," which promotes efficiency via a zero-step approach intended to reduce traffic behind the bar.
"Craft cocktails and mixology is still popular, but when you're working with seven or eight ingredients, or you're working with elements of fire, or smoke and foams, they can take a lot of time to prepare," says Phil Wills, director of bar and beverage operations for Taffer's Tavern. Wills focused on developing a menu of craft cocktails that bartenders can make in less than two minutes.
Through the immersive, virtual reality world of 3D technology, Wills says he was able to pick up bottles, interact with equipment and create virtual cocktails from scratch in order to design fully equipped bar workstations he refers to as cockpits.
The 3D/VR technology is "truly revolutionary as far as designing bars," Wills adds. "Most of the time, when we design bars, we have to work with the space that the architect has already built out. What this technology allows to do is plug in the dimensions of the layout of the bar and figure out where we can best place the equipment and tools ahead of time. That way, when we open the restaurant we don't need to make any major changes or have any hiccups. We also don't have to adjust the menu after-the-fact."
Wills used the technology to design each cockpit to come equipped with a fully stocked well with ice and ample shelving for glassware underneath as well plenty of space for plating and even prepping garnishes during non-service periods. Instead of extra refrigeration and dry storage in the back of the house, the design uses more undercounter and back bar refrigeration to store fresh juices, mixers and other items bartenders need during service. Having those items close by reduces the likelihood bartenders and staff will have to run to the back to restock.
The team also implemented new, liquid CO2 glass frosters that Wills says not only chills glasses instantly without having to take up extra refrigeration space, but also sanitizes the glasses, killing 99.9% of bacteria immediately upon contact. Each cockpit has access to one of these units for quick access without the need to move around the bar.
While Wills, a 10-plus-year bar operations veteran, says 3D bar design technology was imperative in designing an efficient bar setup like this one, he also sees the technology working well with pre-existing bars. "Oftentimes, I can't create a menu until I see a bar's setup," he says. "Using this technology, I can see where we might need to make changes to the plumbing and equipment in order to develop a cocktail menu that creates the best flow of revenue."
Indeed, the use of these technologies as a way to cut down on costs and save space has become more important than ever given the current climate.