Just as on the commercial side of the industry, K-12 foodservice operators have been forced to create new operating playbooks during the COVID-19 crisis. And just as for restaurant operators, the fluidity of the situation and persistent spread of the coronavirus demands flexibility and determination on the part of directors and their staffs to adjust and adapt.
Sarasota, Fla., school district employees continue to feed students.
School closures as the pandemic's tentacles began reaching across the country in March left little time for planning and strategizing. Many programs pivoted within a matter of days from traditional modes of operation, serving hundreds or thousands of students regular daily meals in on-site, group-feeding facilities, to dramatically reduced grab-and-go/drive-thru only service designed for contactless distribution and social distancing. Unlike restaurants, however, closing down school meal programs would have left millions of kids and food-insecure families without a safety net.
Pre-COVID-19, schools across the U.S. were providing 22 million free or reduced-price lunches to students and nearly 13,000 free or reduced-price breakfasts each school day. With the pandemic sending unemployment surging, the need for such services will likely rise sharply. It's a scenario that has, quite literally, put school foodservice program staff and directors on the front lines of efforts to help kids, families and communities cope.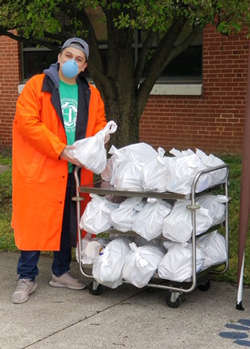 Jose Cardoso Martinez, a Spanish language home-school liaison in Virgina's Harrisonburg City Public Schools, helps with meal distribution at Keister Elementary. In Harrisonburg City Public Schools (HCPS), in Harrisonburg, Va., more than 70 percent of the district's 6,500 students qualify for free and reduced meals and half of its schools participate in CEP (Community Eligibility Provision), which allows low-income school districts to serve no-cost breakfast and lunch to all students.
"We know that students get two-thirds of their nutrition during the school day through school meals. Foodservice is a very important part of education," noted Andrea Early, MS, RD, director of school nutrition at HCPS. "Now, not only is it important to ensure that there's continuity of learning, but also of good nutrition. Nutrition needs don't go away when schools are closed."
Already a participant in the USDA Summer Food Service Program, which enables schools to provide reimbursable meals to students when school isn't in session and during emergency closures, HCPS had a head start when Virginia schools were ordered closed on March 13. School sites used during the summer were already approved and the district's existing USDA "area eligibility" status meant all students under the age of 18 could receive free meals.
Since March 17, Early and her staff have provided bagged meals for drive-thru pickup at all nine schools in the district. The service runs Tuesdays and Thursdays from 5:30 p.m. to 6:30 p.m. Initially consisting of two meals per bag per child, it was recently expanded to include three meals per bag per child on Tuesdays and four meals per bag per child on Thursdays. On average, HCPS distributes more than 13,000 meals per week, far less than it would normally serve during school but a critical resource for the 1,400 to 1,500 families who now depend on that access to nutritious foods.
"We're trying to maximize what the USDA allows for," Early says. "There have been so many regulatory changes over the past few weeks as to what we're allowed to do. Now, we're able to provide seven days' worth of meals over the course of a week instead of five, which was the original limit. With rapidly increasing levels of unemployment and food insecurity, that regulation and others have been changed to give us more flexibility to meet the needs of the community."
HCPS meals typically consist of hot items cooked and packaged by a small group of foodservice employees following strict safety protocols as well as shelf-stable, non-perishable items, fresh produce, milk, cheese and yogurt. Community organizations, local churches and local growers have contributed to supplies procured through the district's primary foodservice distributor.
"The supply chain is a mess right now," Early noted. "Our distributor has an oversupply of restaurant foods that they're trying to move, but we have freezers full of food that we had already purchased and can't buy some of the items that they would like to unload. On the other hand, some items we need are what everyone else wants right now, too – prepacked peanut butter and jelly sandwiches, for instance, and shelf-stable milk boxes."
Normally run on a centralized menu cycle, from which each school's foodservice managers order, during COVID-19 closures HCPS has moved to non-standardized menus to free each location to use inventory on hand. "The managers are being creative, trying to use up a lot of food that we had already purchased but also to give families variety," Early said. "We want to provide meals that we know our kids like and to provide some sense of continuity for them."
Certainly, tweaks and changes large and small have been part of what for K-12 foodservice programs across the country has been largely a learn-as-you-go exercise. Many programs that initially offered daily meal distributions, for instance, have since cut back to minimize risks to employees and families. Others have discontinued due to lack of funding and/or available staffing, while still others have shut down at least temporarily as their own employees have tested positive for coronavirus.
Sarasota County Schools' supplies are ready to be packed into bags for pickup. The work stations take into account social distancing space for staff.Sara Dan, MBA, RD, Director of Food & Nutrition Services at Sarasota County Schools in Sarasota, Fla., says her district is switching from Monday through Friday drive-thru meal distribution to Fridays only. The new plan, which begins on April 17, is intended to improve efficiency and limit exposure. All children 18 and under are now provided with a week's worth of food, with pick-up available every Friday morning at eight schools in the 50-school district.
Like HCPS in Virginia, Sarasota County Schools already participated in the USDA Summer Food Service Program and strong ties existed with local food bank and Meals on Wheels partners. "We had some infrastructure in place to deal with serving meals while school is closed, and we were able to draw on our experience with feeding during hurricanes," Dan said. "But this is really different; it's like a hurricane that doesn't stop. And, unlike with the summer feeding program, kids are now not able to congregate, which was part of the USDA regulation. We had to wait for special waivers that would give us the flexibility to operate differently."
As of mid-April, each of Sarasota County Schools' feeding sites was averaging 730 children per day. In the district's first Friday-only service, Dan anticipates it will distribute some 51,000 meals. These meals will include shelf-stable, refrigerated, frozen and meal-kit-type items with cooking instructions for parents.
Demand, Dan added, keeps growing. "We started with five sites, but expanded it to eight. And we're not just focused on the children; we're trying to help inform families about available resources. Many haven't been down this road before. If you were a car salesman or a restaurant owner, maybe you've never qualified for free or reduced price meals but now you need assistance. More people are reaching out who just really need help."
Besides juggling logistics and regulatory challenges, Dan said longer-term concerns exist over revenues lost during the crisis. While the USDA Summer Food Service Program reimburses for the meals, participation is nowhere near the county's normal average of 37,000 meals served per day during the school year.
With both demand and health risks continuing to ruse, staffing, too, remains a key challenge. All Sarasota County Schools foodservice staff members continue to get paid, but only a small, core crew can work in the kitchens. State regulations prohibit anyone over the age of 65 or with underlying medical conditions from working outside of the home during shelter-in-place period.
"Worrying about staff testing positive for the virus is a huge stress and trying to consistently enforce safety protocols and social distancing is tough," Dan adds. "Everyone's just trying to get the job done and I'm so proud of them. We all know that we have to take care of ourselves and each other so we can continue to take care of the kids and families who depend on us."