Fire-roasted foods impart a unique, very distinctive flavor, which explains the popularity of this type of cooking. For example, fire roasting works well with vegetables, which helps expand the repertoire of vegetarian and vegan menus. This cooking method adds a depth of flavor that traditional roasting, baking or boiling cannot achieve, according to St. Charles, Ill.-based Global Food Forums.
Ciudad, SeattleChef Joe Bayley opened Ciudad, his Seattle restaurant, five years ago. Bayley drew inspiration from the coal-fired grill and rotisserie cooking he witnessed on a trip to Portugal. "We utilize the smoky, charred flavor in everything we do, including salads, yogurt for our French yogurt cake and for our summer desserts," he says. "We're also one of the only places in the city that uses this cooking method."
Half of Ciudad's menu items cook on its giant, custom-made wood-fired grill.
Q: Describe your method of fire roasting.
A: We fire roast over coals in the Spanish style, so it's utilizing embers rather than a flame. When you have flames, combustion gives off gases. We were taught in culinary school not to let flames go up too high or there will be more biocarbons expelled from the carbon breaking down. This gets into the food, imparting a gasoline flavor. The benefit of using charcoal is it's broken down, so a smoky flavor is produced without impurities from the burn-off. The downside with using coal is we can't take advantage of different wood to flavor the food.
Q: What are the more unusual foods you've fire roasted?
A: Utilizing smoke and char as a flavor is not an everyday thing for most people, aside from with meats. We offer a dessert with pineapple and smoked yogurt. We used to have a grilled kale salad, which was wilted over dried embers. We've replaced this with a gem lettuce salad that's grilled with some char and infused with garlic and lemon. We fire roast our octopus with a sweet chili rub. Once it hits the embers, it's great.
Q: To what do you attribute the trend in fire roasting?
A: Ten years ago, sous vide was the big thing, but now we're getting away from digitized cooking. The trend in using fire is the antithesis of that since it's the most ancient form of cooking. With methods like sous vide, you lose the craft in honing your cooking skills, paying attention and knowing what properly seared vegetables and cooked meats look like.
Q: What's the most challenging aspect of this cooking method?
A: Training people to learn to cook like a caveman is not easy. They need to recognize and control heat. If you're using an electric or gas grill, you just turn it on or up, whereas with fire, you need to see how the coals are burning and learn to stoke the flames. If you ignore the flame, heat or embers, they burn out, and it takes at least 10 minutes to get the heat back. You also need to recognize hot spots and control areas of the cooking surface. It can take time to get up to speed.
Ciudad's Fire Roasting Equipment:
Custom-made grill
Argentine parrilla
Hanging baskets for smoking
Hay for smoking fish
Fish spatulas (with grating for foods that stick, like octopus)
Daring to be Different
Most people know about the tried and true fire-roasted foods, like steak, chicken, peppers and corn.
A number of restaurants, though, now take this
cooking method to a new level.
Bavel, Los Angeles: Culinary staff use a wood-fired oven to slow roast lamb neck for shawarma and puff its pita bread as a component of many Middle Eastern dishes.
El Che Bar, Chicago: Along with 2 grills, 2 planchas and a smoker, staff use a flamethrower to ignite a 12-foot, oak-powered custom hearth that cooks quail, herbed gnocchi and veal sweetbreads, among other items.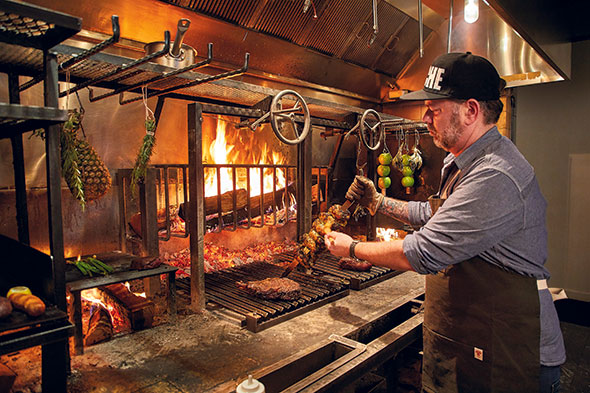 El Che, Chicago
The Hitching Post II, Buellton, Calif.The Hitching Post II, Buellton, Calif.: Open flames stoked by red oak fire roast a number of dishes, such as grilled artichoke with tomato-ancho mayonnaise, turkey steak, grilled lobster tail and grilled Texas quail.
Imperial, Portland, Ore.: A large grill and rotisserie fueled by native hardwoods and fruitwoods are on display and produce items such as cabbage wedges, quail knots and sausage.
Lulu Kitchen & Bar, Sag Harbor, N.Y.: Items like cauliflower, meatballs and red snapper are fire roasted using seasoned oak and applewood chips.
Maydan, Washington, D.C.: Culinary staff use an open, oak-powered stone hearth with a cone-shaped copper hood to make turnips, carrots and sweet potatoes as well as meat and seafood.
Opus Co., Seattle: Grilled vegetables, like carrots and mushrooms, and a variety of meats, such as lamb and pork, are more flavorful cooked over an open flame.