Quick-service restaurant chain Popeyes couldn't have predicted the mayhem when it introduced its chicken sandwich last August. Consumers were desperate to get their hands on the coveted item, which sold out in just two weeks. The same situation occurred when the sandwich was again offered four months later. It even inspired a skit on "Saturday Night Live" — publicity that can't be bought.
The French method of roasting that Le Coq Rico uses results in juicy meat, crispy skin and a golden-brown color.
Apex Marketing Group, St. Clair, Mich., estimated that Popeyes reaped $65 million in equivalent media value as a result of the attention. Impressive for a QSR menu staple.
Chicken overall remains popular and on an upward trajectory. Per capita chicken consumption should reach 98.5 pounds this year, an increase from 83 pounds a decade ago, the National Chicken Council estimates.
Total QSR sales of breaded chicken sandwiches reached 2.3 billion through July 2019, according to Port Washington, N.Y.-based The NPD Group. That marks a more than 3 percent increase from 2018.
Quick-Rising QSRs
Further proof of chicken's appeal is the quick and continued ascent of Chick-fil-A, which reportedly bypassed QSR giants Wendy's and Taco Bell, among others, in sales.
Chick-fil-A ranks fifth in Technomic's Top 500 restaurant chains. The limited-service chicken category continues to be a pacesetter for growth, according to Technomic, led by strong years from not only Chick-fil-A but also Wingstop and Raising Cane's.
Raising Cane's is another rising star in the chicken chain wars. In a June 2019 article, Business Insider ranked Raising Cane's sixth in a listing of the 10 fastest-growing restaurant chains, with annual growth close to 23 percent. But arguably no chicken chain has been as successful as the aforementioned Chick-fil-A, which is third behind McDonald's and Starbucks in sales.
"Privately owned Chick-fil-A restaurants average around three times as many sales as KFC, a subsidiary of the publicly owned Yum! Brands. In fact, Chick-fil-A generates more annual revenue than dozens of other chains that have more than twice as many locations, including KFC and Arby's," says Aaron Allen, president of Aaron Allen & Associates, a Chicago-based restaurant consultancy. "Much of that growth can be attributed to a simple menu and a reliance on technology."
Allen adds that not all chicken concepts are experiencing the success of Chick-fil-A and Raising Cane's. Still, some emerging limited-service startup chicken chains that offer new angles look promising.
One is Denver's Birdcall, a growing operation with three locations centered on a custom-built kiosk, POS system and app, along with sustainability and locally sourced ingredients. Another one to watch, Los Angeles' Zankou Chicken, first opened in Lebanon, landed in Hollywood in 1984 and continues thriving with nine locations.
"Both are limited-service concepts that are doing amazing," says Allen. "It's a crowded market for chicken QSRs, but there are solid opportunities with LSRs [limited-service restaurants], which have higher-quality offerings and the potential to go national."
The Humane Factor
In recent years, there has been increasing publicity on how chickens are raised, including the animals' living conditions and diet. This has led to greater transparency around sourcing and treatment of the birds. "Organic and free range have been around for a while," says Allen. "With PETA putting out media to pressure the chicken industry, it's difficult to eat chicken and not look at it in a different light. This will become even more prevalent in the coming years."
Birdcall represents a concept at the forefront of this movement, says Allen. "They are doing interesting things and have put together a concept that's an example of what we're anticipating as Chicken 2.0 in the limited-service environment as far as sustainability, a higher-quality product and higher standards."
A number of fine-dining restaurants have been on board with this philosophy from the start. One example is New York City's Le Coq Rico — French for "The Beautiful Bird" — which opened its doors in 2016. The restaurant works directly with local farmers to source its free-range poultry. "All birds are raised in open pastures for 120 days, rather than caged for 30 days and pumped with hormones," says Lucile Plaza, executive chef. "This makes them naturally bigger, weighing in at 5 to 6 pounds, versus 2½ to 3½ pounds [for other birds], and the meat is incomparable." In addition to no hormones or antibiotics, the chickens' diets center around corn and grain.
On the menu, Le Coq Rico's chicken dishes are distinguished by age, farmer, farm and location. For example, the menu notes its signature Brune Landaise is raised 120 days by Carl Rohrer in Lancaster, Pa.
"This bird is roasted in a French method, which results in juicy meat, crispy skin and a golden-brown color," says Plaza. "Chicken is a perfect protein with natural food fat. For that reason, ours is only cooked with salt and pepper. We don't add oil, butter or any fat at all; it's just pure chicken." Le Coq Rico's culinary team cooks the chicken slowly via sous vide for an hour and then finishes the cooking process in the rotisserie for 35 minutes.
The culinary team at Le Coq Rico starts the chicken-cooking process via sous vide. After an hour they finish off the birds in the rotisserie for 35 minutes.
"It's all cooked the same to be very tender, since marinating on a spit rather than cooking with a direct flame, allows the meat to marinate itself," says Plaza.
An exception to this simple method is Le Coq Rico's take on coq au vin, a traditional French dish. In this case, a rooster marinates overnight in red wine, and staff cook it slowly the next day. "This is a classic dish that's popular in the winter," says Plaza.
The focus on humane treatment extends to animals used in the restaurant's foie gras, a food New York City plans to ban in two years. "We serve this with our chicken," says Plaza. "And we respect the animals in producing foie gras."
Although most of its customers are already aware of its focus on humane animal treatment due to word of mouth, the restaurant's waitstaff communicates its story to those who dine here. "It's our opening speech from all waitstaff to all customers," Plaza says. "New Yorkers are careful with what they eat and want to know where their food comes from. People here are looking for product that's humanely raised."
Future of Frying
Newer cooking technology helps propel chicken giants like KFC to produce healthier, more flavorful product at a faster pace, according to Allen. "Air frying, broasting and pressure frying chicken [accomplishes this]," he says. "The oils and cooking techniques should evolve to get healthier fried chicken and still satisfy the audiences."
Looking ahead, Allen anticipates some chicken concepts may consider adding alternative proteins to their menus. "We anticipate this will happen with chicken this year," he says.
He predicts non-chicken chains may get into more poultry limited-time offers to expand their demographic in the future.
Continued Success with Traditional Frying
Gus's World Famous Fried Chicken has been a southern staple since the mid- 1950s, when Maggie Bonner began selling bone-in chicken sandwiches at Memphis-area construction sites where her husband Napoleon was working.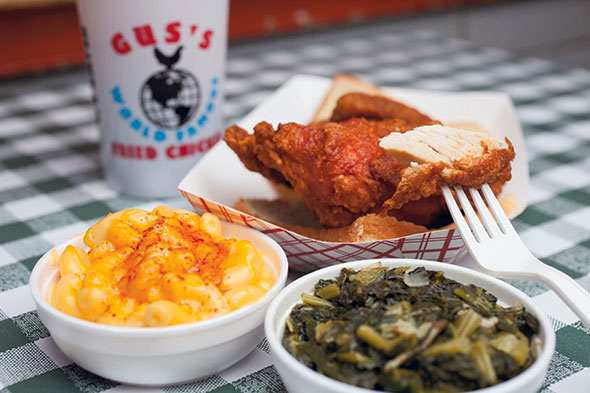 Gus's offers a number of sides for its fried chicken entree.
"Although a majority of our units are franchised, we don't like that term," says David McCartney, director, site development, Gus's Franchisor LLC of Gus's World Famous Fried Chicken. "Every Gus's is different," he says of the 30-plus store chain.
The fried chicken chain's locations are primarily in older, second-generation buildings and include unique elements from the community. Still, chandeliers and marble countertops are staples in most locations. "We consider ours an anti-chain, because every site has its own personality," says McCartney. "Although we don't rubber stamp our restaurants, all our menus are identical."
The more upscale dining rooms are a direct contradiction of the meal and its presentation — fried chicken served on paper plates. "We don't want to take away from the most important part of the experience, which is the chicken," says McCartney. "Although it's full service, it's not flashy."
The menu is simple — bone-in chicken and chicken tenders geared for kids. Some sites offer fried catfish. Gus's breading is more of a wet batter that marinates the chicken prior to cooking and contributes to the meat's juiciness.
Sides vary based on location and include baked beans, potato salad, coleslaw, mac and cheese, fries, fried okra, fried green tomatoes and collard greens. Pies include sweet potato, chess, pecan and coconut and are baked daily in house. "Our sides are sweeter to balance the chicken," says McCartney. "But the coolest thing we do is serve every plate with a piece of white bread as a tribute to our founder Maggie, who originally sold the chicken in a sandwich between white bread slices."
From the time a store receives the chicken through to when it goes on a plate, three to four staffers handle each piece of chicken. That includes quality control checks. All stores follow the exact same recipe, with chicken hand trimmed and fried in peanut oil in 100-pound fryers with built-in filtration systems. "We're getting involved with understanding the oil's life span," says McCartney. "Peanut oil is the highest cost with our model, as we can only fry so many pounds of chicken before it's not a viable oil source."
The chain works from a technical point of view assessing the total polar material (TPM), which essentially means looking at the amount of debris floating in the oil after frying. "Every time chicken is fried, moisture is released and replaced by oil," says McCartney. "Fatty acids pollute the oil and, after a while, the oil won't fry the chicken effectively. We can see by volume you can only fry chicken for so many days; once my oil reaches a certain TPM or percentage of fatty acids, it won't cook to the spec we want." He adds that restaurants serving fried chicken can get smoky with oil burning fatty acids, which is why the oil turns brown.
"We were getting very involved with understanding this and how the levels of filtration will extend our oil's life," says McCartney. "Our built-in filtration system — which we added in 2016 and is now standard at all our locations — is a game changer for us."
Gus's also utilizes built-in oil reclamation tanks, then sells used oil to recycling firms that either refine it or
resell it in bulk. "The more we can prevent our employees from handling oil, the better and the safer the environment," says McCartney.
Equipment needs are minimal. They include four or five fryers, walk-in coolers for holding fresh chicken, a bowl mixer, ingredient bins and a convection oven for baking pies. Gus's was relying on custom-size walk-in units but now wants to streamline and cut costs by adapting operations for standard walk-in sizes. "We're pushing for standard-size walk-ins, making sure we're taking advantage of off-the-shelf, rather than custom, equipment," says McCartney. "We're looking at what standard walk-ins and panels look like to adapt our operation to accommodate this. A walk-in must service our restaurants for its entire life, so if we can change our operational procedures to save build-out costs, make our purchases standard rather than requiring one-off equipment, then that's where we win as a restaurant developer."
Food safety ranks as a top concern in this segment. The U.S. Centers for Disease Control and Prevention actually lists chicken as the most likely cause of salmonella. To avoid potential contamination, Gus' employees cut and batter all chicken in a separate room with dedicated staff. "While it's important to ensure employees work efficiently, we have to contain potential hazards," says McCartney.
The chain also maintains tight inventory control with storage of chicken in walk-ins: chickens max out at three days on average. "Our chicken has a 10-day shelf life when it's delivered, but we don't even get to half that point or it's not to our standard," says McCartney.
The impact of healthy eating and plant-based foods trends are not a concern for McCartney. "We have our roots in the South, and being a traditional product, we're more than a meal, we're an experience," he says. "Fried chicken is one of those rare foods that allows people to go back in time. Personally, it reminds me of Sunday dinner with my grandparents."