No longer relegated to Spanish-style fare, small plates have become ubiquitous on menus across a variety of foodservice segments. Chefs can experiment and be creative, while diners appreciate a lower-cost sampling opportunity.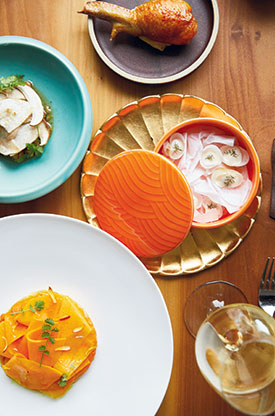 A tablescape at Lord Stanley sets off the small plates. Photo by Aubrie Pick
"Small plates are bigger portions than tapas, yet smaller than entrees, and at the end of the day, it's a reflection on how people are eating," says Ray Camillo, owner of Atlanta-based Blue Orbit Consulting. "If it's labeled as a tapas restaurant, some guests may not want to go. And if the menu offers small plates in lieu of appetizers, these are ordered as appetizers."
Another benefit is that chefs can create high-end food that's more affordable, allowing diners to try new things. "With small plates, people can share three dishes for the same check average," says Scott Attman, vice president at Acme Paper & Supply Co. Inc., based in Jessup, Md. "This still allows restaurants to meet, if not exceed, their check averages, while chefs can showcase their capabilities and experience."
Small plates maintain momentum on menus mainly because of Millennials, who tend to graze rather than dine. "Millennials, who go out and graze on appetizers, drink and socialize, have perpetrated this trend," says Darren Tristano, CEO, at Chicago's Foodservice Results. "While the menu's left side allows chefs to be creative and innovative. They can more easily explore bold, spicy flavors and areas of ingredients they may not want to commit to for entrees."
Because small plates also are bar friendly and full-service oriented, they have become a staple in many casual-dining concepts. Hotels have grasped onto the small plate genre as accompaniments to craft cocktail menus. "Small plates are the secret weapon of hotels, which are recognizing that they don't have to rely on entrees, but items that go well with beverages," says Camillo. "With expert menu development, these operations can use impingement or speed ovens and microwave technology for small plate preparation."
Sharable items also can give diners a taste of full-sized entrees without the commitment. "Our average guest will order a large plate and share small plates with the table," says Mackenson Horebe, chef for Square 1682, a modern American concept with Caribbean influences that offers small and large plates, and no side dishes or appetizers. "And many small plates translate to happy-hour dishes."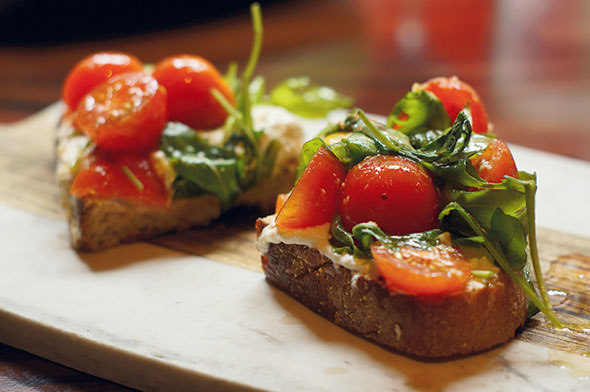 The small burrata plate is a signature dish at Square 1682.
Horebe says he appreciates having the flexibility to add dishes to the menu without the added strain to the back of the house. "Larger plates require more components, whereas small plates rely on one to three ingredients," he says. "I don't need the same quantity, so I can bring in 5 pounds of truffles instead of 20 pounds, which is more cost effective." It's not only a better value to guests, but smaller portions offer Square 1682 better margins, he says. Square 1682 trains servers on how to guide guests to order the proper amounts of food.
"Small plates give people the opportunity to try new things and not commit $40 or $50 to a plate," says Meddlesome Moth's Otsuki. "It's also very communal." The restaurant's small plates provide four to five portions, depending on the dish.
Back-of-the-House Impact
From a production standpoint, the view from the kitchen is not much different whether the operation produces small plates or standard-sized entrees.
"If an item is sauteed, chefs still use a saute pan, and pizza still needs a pizza oven," says Camillo. "Wood-fired grills are great for skewers, kabobs and satays as small plates. Chefs tend to take more liberties with small plates than with entrees."
As for the back-of-the-house design, because customers order more small plates, more stations are dedicated to prepping small plate dishes. "There has to be more stations available with different menu items and the ability to cook without intermingling flavors and ingredients," Tristano says.
While the equipment geared for small plates doesn't differ, the tabletop has several distinguishing factors. "How the food is served has changed, because it's not the same plate for all dishes," Attman says. "It's the art of the palette in this case, in terms of the dishes' backdrop. Ultimately, the experience is completed by the food, but the first impression is its appearance."
This incorporates not just the dishes, but also the flatware and its finish. "It's not just bright stainless anymore but also finishes like brass, solid colors and matted black," says Attman. "A fancy steak knife can grab a diner's attention. There are so many ways to play with the senses."
At Square 1682, the production pace churns out small plates at a faster rate than entrees. "The biggest difference when handling small plates is the need for quick pickups, as people are eating faster," Horebe says.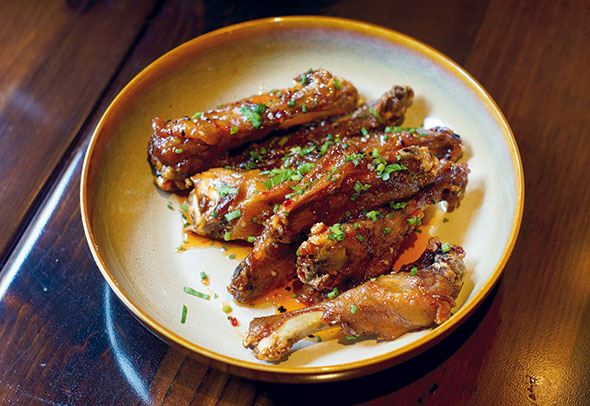 Square 1682's duck wings are a different take on an old favorite.
"While our New York strip large plate is a three-section dish with arugula and potato salad that becomes one dish, our burrata small plate requires a three-step production process to become one dish," says Horebe. "By comparison, the steak takes 12 to 14 minutes to prepare medium rare, while the burrata takes 1 to 2 minutes."
The restaurant utilizes six burners, with three-fourths more space allotted to large plates versus small plates. Staff cook Spanish dishes and salmon on a 2-foot-by-2-foot plancha. "We can prepare two dishes at a time on the plancha, whereas on the grill or flattop we can prepare two to three items at a time," says Horebe. "With small plates, I think production is actually simpler, because you can produce a lot of the same thing and streamline it."
Still, he says speed of service is one of the biggest challenges with small plate production, due to the fast flow. Square 1682 strives to turn its small plates orders in three to five minutes.
At San Francisco's Lord Stanley, table turnover is the same for small plate ordering as for entrees. The restaurant allocates two hours for parties of two people and two hours and 45 minutes for parties of four diners. The 40-seat restaurant offers a variety of small dishes as snacks and starters, as well as a tasting menu with eight-to-nine smaller courses.
"Our small plates are limited to three or four elements," says Rupert Blease, owner and co-chef for Lord Stanley. Blease runs the restaurant with his wife, Carrie. "For guests, it's fun to get many plates in front of them, and for us it's nice aesthetically because the plate doesn't get too busy or heavy due to the dish's size. We also work with restraint in production, because smaller portions definitely let you focus on fewer things at once."
He agrees there are no differences with back-of-the-house equipment, although ordering is tighter. "If there are a few things you want to try, and there is limited ingredient availability, you can incorporate these items in small plates," says Blease. "By using items in small plates we also can utilize every ingredient we buy, which reduces waste."
Although small plates may have a lower price point than entrees, offering the former does not necessarily negatively impact revenues by virtue of the fact that customers will order multiple small plates. "Many of these dishes also go on our tasting menu, which has more courses, so it levels out," says Blease.
Small plates serve as the dinner focal point for Meddlesome Moth in Dallas. "The smaller portions make it easier for kitchen design," says owner and chef Suki Otsuki. "At a steakhouse, the grill will get pummeled, but here you'll put something on the saute station that's selling well and can mix up the menu. The flow is easier, and production isn't getting backed up."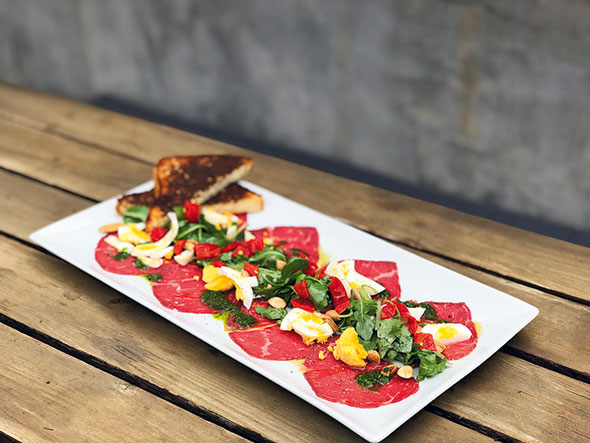 Meddlesome Moth's small plates typically serve up to four diners. Photo by Stephanie M. Casey
Meddlesome Moth's back of the house centers on its saute station and fryers, which serve as the main cooking equipment for its small plates. "We also offer skewers, so our flattop gets a workout," says Otsuki. "We're prep heavy, and small plates need to come out quickly."
What's Trending
A variety of notable trends continue to shape menus in this segment.
"The first trend is healthy, so we're seeing more vegan dishes, with cauliflower as the new Brussels sprouts," says Tristano. "Seafood also is popular, and small plates have gone beyond bang bang shrimp to ceviche and octopus."
Spicy foods continue to drive small plate creations, with unique flavors and spices. "Also, flights and samplers are still really big, and we've seen this with soup and small salads," says Tristano. "For example, Roaring Fork in Austin, Texas, does an iceberg salad flight."
Chicago's Datassential reports growth in globally inspired fried items on small plates, which can be attractive to an operator in particular menu categories, such as Mexican or Italian. This trend can also help operators with varied menus entice, allowing consumers to try something new without going too far outside their comfort zones. Small plates also provide a great platform to create a variety of fillings, which can help a foodservice operator maximize ingredients like cheese or vegetables.
In terms of growth in the last four years, Datassential notes menu penetration for arancini (breaded and fried rice balls) is up 101 percent; fried pickles increased by 23 percent; empanadas grew 12 percent; croquettes increased 13 percent; and tempura was up 3 percent.
Dips represent another well-established small plate category that chefs continue to update, often with the addition of a protein. Datassential reports the menu penetration of dips is already high at 31 percent, making its growth of 6 percent over the past 4 years that much more significant.
Stuffed foods beyond mushrooms with crab continue to become more prevalent in small plates. "Tots stuffed with cheese and disco fries, which are America's version of Canadian poutine, are big," says Tristano. "We're also seeing an influx of ethnic, with Asian flavors continuing to grow with Korean barbecue, Mexican street tacos at a decent price and Middle Eastern and Mediterranean foods like falafel and hummus."
Innovative small plate concepts at Flights Restaurant in Las Vegas and California include comfort foods with appetizer-size servings. "The whole concept is built around ordering three items, instead of an entree with items to share," says Tristano.
At Lord Stanley, any ingredient can make an appearance in a smaller course. "Our best-selling dishes are our onions, pickles and sherry vinegar; salted cod with potato; and a mushroom course in the fall," says Blease. "We also use small vegetables as vessels, like young squash for example."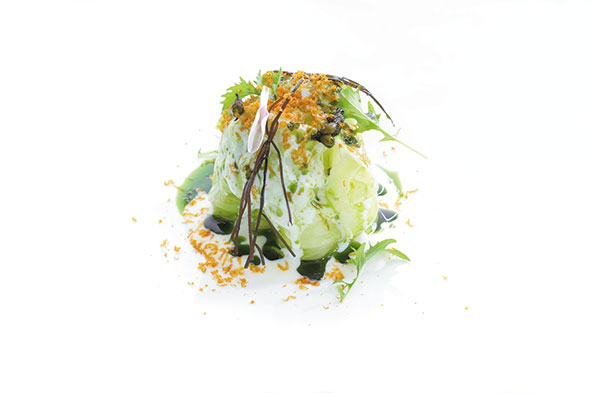 At Lord Stanley, vegetables are highlighted in its small plates, like this cabbage dish. Photo by Nick Muncy
Square 1682 has a seasonal menu of 28 dishes and 7 staples. This includes Brussels sprouts with shaved onions, garlic and breadcrumbs; burrata; and duck wings. "Pasta is very popular," says Horebe. "And we're seeing vegan, vegetarian and dietary restrictions coming into play."
Dishes with widespread appeal, like butternut squash and ginger soup with coconut milk, lemongrass and ginger, are mixed in with heavily seasoned small plates that have more limited interest from diners.
Horebe sees many more restaurants incorporating small plates now compared to a decade ago. "Vegetable-forward dishes are at the forefront of this trend," he says. "What used to be a side dish is now the focus."
Meddlesome Moth will incorporate more seasonal small plates, but there are signatures and best sellers that will remain staples. "This includes our 'moth balls' — seasoned ricotta nestled in semolina, which creates a pasta shell, and our shrimp and grits with creamy cheddar," Otsuki says. "My favorite is when vendors come in with ideas, because sometimes we get so busy with our face down in the food and menu and forget to look up and see what's new."
Otsuki adds that, with small plates, the challenge lies in creating the perfect bite. "When you make an entree, you build off the protein, but with a smaller dish, you have one shot or one bite to make it effective," Otsuki says. "You need to get into a smaller mindset. It's all about making sure the pork belly is perfectly seasoned and the luscious marshmallow puree is toasted consistently."
Small plates are about the experience as well as the meal, with servers controlling the atmosphere and base. "Servers need to help control the experience, help balance the pace and guide customers through ordering," says Otsuki. "We don't want people being inundated with food."
With overall eating trends driven by healthier eating, social experiences and a variety of flavors and ingredients, small plates are expected to remain a menu staple. "The category has been around for a while, but had a big push about seven years ago," says Camillo. "It's here to stay."