A mature segment, the burger business continues its stronghold in this country as plant-based proteins start to take root on its menus.
According to Chicago-based Technomic, the burger category grew 2.7 percent in 2018. "With menu price inflation, that's really an increase of about 2.5 percent, so it's not a high growth segment," says David Henkes, Technomic's advisory group senior principal. "Part of the reason for this is the very large players that make up a big chunk of the segment." The top chains, such as McDonald's and Wendy's, comprise about 91 percent of U.S. burger sales, Technomic reports.
The Date with Jim Beam and Coke Burger, The Burger Dive. Photo by Paul Bellinger
"More than any classification in our Top 500 is burger concepts, which is the biggest of all limited-service segments," says Henkes. "Although dominated by big players, there are still many smaller regional and local chains in this category."
Los Angeles-based IBISWorld predicts annual growth of just 1.2 percent from 2018 to 2023. Despite moderate growth projections, expect burgers to remain a menu staple. U.S. retail sales of plant-based meat were up 9.6 percent to $801.1 million in the 52 weeks ending April 21, 2019, significantly outpacing growth in conventional meat sales (up 2 percent). However, that pace of growth has decelerated from the previous year, when plant-based meat sales grew by 25 percent, according to data from The Good Food Institute and The Plant Based Foods Association.
In the restaurant space, Paige Leyden, senior analyst at Chicago-based market research firm Datassential, says, "Plant-based varieties, such as Beyond Burger, projected to grow by 65 percent by 2023, and Impossible Burger, anticipated to grow 81 percent by 2023, will continue emerging on menus."
Convenience vs. Quality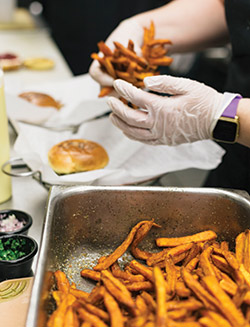 LoKal's menu focuses on fresh preparation.Burger operators today focus on speed of service, food quality and ingredient customization. "There has been fast casualization of the burger category, with restaurants competing on who has the better burger," Henkes says. "Almost every major casual-dining chain has a burger."
For chain operators, it's about finding ways to improve speed of service and accessibility, particularly with drive-thrus. "If you can improve speed, even with a marginal percentage, it can boost revenue," Henkes says. "At McDonald's, 70 percent of sales are through the drive-thrus."
Higher-quality meats and ingredients have become more prevalent. "Premium meats, such as wagyu, continue to grow on burger menus, up 64 percent over the last four years, while grass-fed beef is also more prevalent, up 48 percent since 2015," Leyden says.
At LoKal, a Miami-area farm-to-table burger-centric restaurant that opened in 2011, grass-fed burgers serve as a staple menu item. "As the number of farmers have grown, we have more options and flexibility," says Matt "Kush" Kuscher, owner/bartender/dishwasher at LoKal, which is part of Kush Hospitality Group. "We have always been very conscious of the environment and people's needs, so we have a great veggie and vegan section and do a Meatless Monday feature every week. This has been a big success with our vegetarian and nonvegetarian customers."
Like meat, buns are getting a reboot, with alternative carriers such as pancakes, arepas (corn masa), lettuce for keto and paleo diets, and garlic bread, according to Datassential.
Providing more topping options has also become a differentiator for a number of operators. Atlanta's Grindhouse Burgers, a fast-casual concept that opened in 2009 and now has seven locations, promotes a high level of customization to set itself apart. Customers can choose from beef, turkey, veggie or plant-based burgers, 6 cheeses, 7 vegetable types,
7 sauces and 12 specialty toppings like roasted green chiles, tortilla strips and brisket chili.
"What makes us one of the more popular places is the good value with consistent quality," says Alex Brounstein, founder and owner of Grindhouse Burgers. "We're not fancy, but we're different since we put our own spin on toppings."
The restaurant got its start as a lunch counter. Brounstein was a real estate agent at the time, seeking to revitalize a 100-year-old building that housed the restaurant. When he lost that job during the recession, he commandeered the site and dove headfirst into the restaurant business.
"When we had one location, we were winning awards for our burgers and chili, but because we were only open for lunch in a business district, our audience was limited," Brounstein says. He partnered with investors to open a second location in a former gas station near Georgia State University and also franchised two airport sites with Buffalo, N.Y.-based foodservice and hospitality company Delaware North. Brounstein's Athens, Ga., site opened in 2013, with a location in Decatur, Ga., opening in 2016. "Last year, I opened a Grindhouse site in Atlanta's Grant Park by the original lunch counter and we're planning to add a Brookhaven restaurant next year," he says.
All of its locations, with the exception of the lunch counter, have a full-service bar specializing in craft beer and alcoholic milkshakes. "Two of our sites have a second floor with full bars and a fast-casual restaurant with a sports bar atmosphere below," says Brounstein. "The menu is the same, but it's nice to have a family-friendly dining room as well as areas created for adults. This also helps expand our demographic."
Topping Things Off
Burger toppings are getting even more attention than the proteins, according to Datassential. "Premium ingredients are experiencing more growth than upscale meat," says Leyden. "This includes savory jams, such as tomato and onion, and sauces, including aioli and remoulades, which are growing rapidly."
The Burger Dive's burgers serve as testament to this trend. The restaurant's unique offerings have garnered awards and recognition, including its most recent first place win at the World Food Awards in 2016 for its I'm Your Huckleberry burger, which includes a barbecue sauce topping complete with Montana's state fruit.
The one-off Billings, Mont., restaurant opened in 2010 during a time when there wasn't much competition in town. That has since changed. "When we opened, we were one of the first on board with fresh ingredients and creative recipes," says owner Brad Halsten. "But in the last four to five years, the competition has become greater in our city."
What makes The Burger Dive unique is its ingredients, including signature sauces. One of its signature sauces incorporates bourbon, soda and dates. Customers who dine at counter seats in the 52-seat restaurant can watch chefs do their magic in the open kitchen.
Menu favorites include a hot dog inspired by a trip to Mexico that features pico de gallo and guacamole, as well as a spicy tuna burger made with an ahi filet topped with Asian slaw, wasabi mayo and sriracha. The Burger Dive's offerings also include a house-made veggie patty.
While menus, sauces and toppings garner much attention today, so does sustainability with some burger concepts. Farm Burger is one fast-casual burger concept with an eye on the environment. This ethical burger restaurant group was founded in 2008 as a collaboration between organic rancher Jason Mann and restaurateur George Frangos. The concept has 12 locations in 4 different states: Alabama, Georgia, North Carolina and Tennessee.
"Farm Burger has cultivated a community of farmers, ranchers, chefs and restaurateurs with a shared vision: to create a meaningful restaurant experience by honoring the integrity of ingredients, promoting sustainable practices and connecting the farmers behind the fare to the communities they serve — all at an accessible price point," says CEO David Danowitz. "Farm Burger exists as the cross point between consumers and farmers to educate communities on where their food comes from and why it matters. When you put relationships first, quality inevitably follows, which is why we're able to provide clean food that caters to everyone."
The concept's burgers are made with 100 percent grass-fed beef, dry aged and ground fresh. Other items made with locally sourced ingredients include chicken and veggie burgers, salads and sweet potato fries. It also produces cured meats, pickles, sauces, jams and preserves in-house.
Plant Protein's Popularity
Some full-service and fast-casual burger operators have begun to diversify the types of burgers they offer due to consumers seeking healthier alternatives, according to IBISWorld. These changes include providing consumers with protein choices such as beef, bison, turkey, chicken and meatless patties. While this trend gained significant traction among some operators, it has yet to catch on in the broader industry, partly due to the increased cost to operators.
Also, while the big burger chains, including White Castle, Burger King and A&W, feature plant-based meat alternatives on their menus, these items are not yet a category disrupter, according to Henkes. "One of five macro trends is the global growth of plant-based proteins and alternatives, so although consumers aren't turning into vegetarians or vegans at a faster rate than they were in the past, there is more demand for meat alternatives to satisfy flexitarians," he says.
The explosion of alternative burger proteins was apparent in the first half of 2019, Henkes adds, with several burger chains attempting to stay ahead of the trend by focusing on plant-based meat alternatives. "It will be interesting to see if McDonald's will jump on board as I believe they are testing [plant-based protein burgers] in Europe," says Henkes. "Part of the challenge is capacity issues with the imitation burger brands."
Still, there's no question plant-based burgers are growing on menus, as both the term itself and the related product brands have become more commonplace, according to Datassential. "Operators are increasing their offerings of plant-based burgers, which are up over 900 percent since 2015," says Leyden. "The term 'vegan' is also growing on burger menus, experiencing 117 percent growth over the last four years. Meat substitutes, including beet and quinoa, are also growing on burger menus."
Seeing this potential early on, Grindhouse partnered with one of the major brands two years ago. "I knew it would be big when I saw the product," Brounstein says. "We also make our own veggie burger in house, which is like a falafel burger."
Grindhouse's brand name plant-based burger outsells its house-made veggie and turkey burgers combined. "I read that, in 10 years, these plant-based proteins will replace beef," he says. "But these products are very expensive, at four times the cost of beef, and we have to pass some of that cost on to customers."
The Burger Dive also offers its own house-made veggie patty, which is a popular item. "We're still seeing a lot of the plant-based meats popping up and are often asked about our vegetarian options," says Halsten.
Farm Burger offers a plant-based burger, due to the increasing demand for beef alternatives, as well as a house-made vegan burger. "We're one of the few burger companies that will advocate for eating less meat and we believe that the burger itself has the power to transcend beef," says Danowitz. "That's why we offer chicken, pork, fish, plant-based and vegan burgers in addition to our grass-fed, grass-finished beef burgers."
Simplified Equipment
Whether preparing real beef or the plant-based version, when it comes to its equipment, Grindhouse took the same approach with the other parts of its business by not overcomplicating the back of the house.
"It's difficult to find experienced staff, so we don't want equipment that's hard to use," says Brounstein. Grindhouse locations utilize all electric cooking equipment, which has provided cost savings and a rebate from the local power company. The biggest benefit, Brounstein says, is a cooler kitchen. "Gas produces fire and heat, while electric energy is more contained," he says. "Also, gas produces open flames, so we'd get hot spots. This is why we switched to all electric equipment."
Standard cookline equipment includes a flattop grill, a fryer, a steam kettle to cook its chili and an electric bun toaster. Steam warmers keep the chili and sauces at proper temperatures. "We have one person manning the grill, another setting up the buns and one on the fryer, and that's our operation," says Brounstein. "We will never do a drive-thru because the speed isn't quite there." Employees typically get food out in 10 minutes or less.
The flattop grill also plays an integral role on the Burger Dive's cookline. "I like it for the way the patties come out, which is not charred," says Halsten. "We have fryers with canola oil for our California-inspired garlic fries and fresh sweet potato fries. We also make our own beer-battered onion rings with Angry Hank's, a local beer brewed down the road." The prep area includes a convection oven, small burners for sauces, three large refrigerators and a small freezer.
Farm Burger locations really streamline the equipment package, with a flattop grill and a fryer serving as the only cooking equipment. Locations range from 1,800 to 2,500 square feet, with a third of the space dedicated to the back of the house. "We cook our burgers to order and to temperature, and we prep everything fresh," says Danowitz. "Nothing is premade, so we don't require specialized equipment to speed things along or to keep things warm. Our biggest efficiencies come from the way we train our staff and the way they work as a team in each of our locations."