The original foodservice convenience, drive-thru options at restaurants have been a big deal for American consumers since at least the 1960s. And while the scope of convenience continues to snowball, drive-thrus remain a big deal and an increasingly critical part of the American foodservice landscape.
Burger King's new open kitchen features a double-sided line with enhanced holding equipment that helps speed service during peak periods. A second, smaller line sits near the drive-thru; large windows give drive-thru customers a peek at the action inside. Image courtesy of WD PartnersFor restaurant operators in the QSR (and, more recently, fast-casual) space, drive-thrus can be a direct route to significantly higher sales and profitability. Many leaders in the QSR segment now report their companies generate upwards of 70 percent of revenues via the drive-thru. And for consumers, what's not to love? The ability to pick up breakfast, lunch, dinner, snacks and/or beverages without having to park, go inside, stand in line and wait is more relevant than ever.
As simple and as enduring as drive-thrus are in concept, however, they're increasingly complex in design and execution. In fact, consumer expectations for convenience, speed, variety, quality and customization, coupled with game-changing new technologies and channels of convenience, make effective drive-thru design an exacting science.
Increased volume, rapidly growing delivery options and online/app ordering continue to pressure operators to configure and equip production lines differently, says Rob Seely, CFSP, senior director of operations strategy and design at Dublin, Ohio-based WD Partners. The same applies to attempts to reconcile with trends toward smaller footprints, open kitchens and greater transparency in all industry segments.
For Georgia-based QSR chain Krystal, such pressures, combined with a high percentage of older, legacy buildings, spurred a recent major initiative to remodel or, in many cases, tear existing units down and rebuild. An 85-year-old brand known for cooked-to-order sliders, Krystal operates 350 units across the Southeast.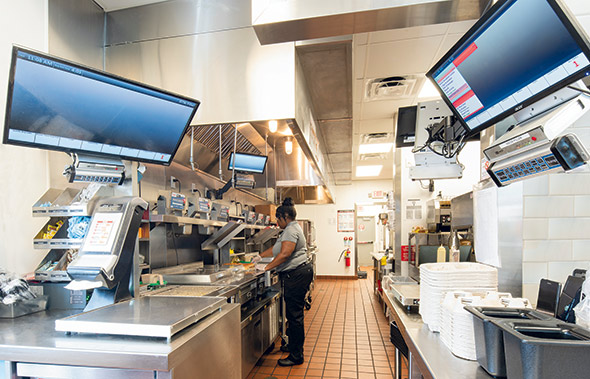 Krystal gained efficiency and reduced drive-thru wait times in part by opting for a single, higher-capacity cook line and a significantly wider drive-thru window and expo station. Photos courtesy of The Krystal Company Inc.
Since mid-2018, the chain has built 11 new units, including 2 scrape and rebuild projects. Remodels and rebuilds are underway in both franchised and company-owned locations. Around 50 percent of the design changes in the new prototype relate to the building's size (smaller, at 1,820 square feet versus the previous 2,200 to 2,400 square feet), position on the lot (reset to facilitate double drive-thru lanes funneling to a single pay window) and exterior aesthetics (a clean, updated appearance). But an equal measure of change relates to an interior design that flips the kitchen to dining-room space ratio and reimagines production lines for faster, more efficient drive-thru service.
Rethink Flow, Capacity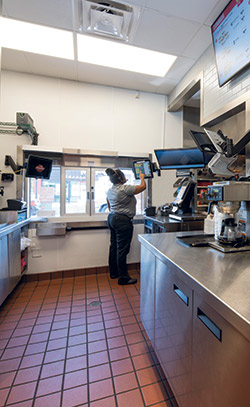 functional Krystal Kitchen 4 Wide windowMike Wood, chief real estate officer at Krystal, notes that changes made on the outside to move more cars through more quickly necessitated major changes inside, as well. "We're very compact now. We had to make the interior flow and work better," he says. "In many of our legacy stores, we had a bank of fryers and grills for the drive-thru and another bank of fryers and grills for dine-in orders. That created a lot of inefficiency. In the new design, everything is set up in a single, straight line that flows from refrigeration at one end through cooking, finishing and bagging at the other."
Krystal's new line services both the drive-thru station, which sits a step from the end of the cook line, and the front counter, just a couple of steps from the end of the cook line. With drive-thru comprising approximately 70 percent of sales and delivery now available from all units via third-party providers, the brand also expanded its cooking capacity with the redesign.
Specifically, new kitchens include eight custom steamer grills compared with six in legacy units. And hoods now extend the full length of the cook line.
"Our menu features a lot of small items that are typically ordered in multiples. Everything is cooked to order, and we do a lot of 12- and 24-packs of our Krystal sliders," Wood says. "When one of those orders comes in, it can take up an entire grill. Having additional capacity really helps to speed things up at the drive-thru."
The biggest change of all, however, was a redesign of Krystal's drive-thru window station. Previously 4 feet wide and able to accommodate one employee, it's now 10 feet wide and accommodates 3 employees who work in tandem to get orders out the window quickly and accurately. During peak periods, one takes orders and payments; a second gathers beverages, ice cream items and miscellaneous add-ons; and a third takes finished bags from the line, checks them for accuracy and hands the orders over to guests.
The extra-wide window at the drive-thru enables two employees to lean out at once — one takes payment; one hands customers their orders. Staff easily monitor orders via 19-inch screens at 3 order stations. Any of the three drive-thru employees can take orders and payments. In addition, a team member can pull down a fourth monitor, installed overhead on an extension arm, to support either the drive-thru or the front counter if necessary.
To accommodate higher volumes of orders being picked up at the drive-thru, Mark Rossi, CEO of Costa Mesa, Calif.-based Avanti Restaurant Solutions Inc., expects more brands will move to a wider drive-thru expo station and window as they redesign. Any notion of simplicity of drive-thru design is quickly going, well, right out the window, largely because of the need for operators to juggle orders coming in from multiple channels.
"We used to always hear pleas to squeeze in more seats," Rossi notes. "Now, it's not seats that are in highest demand; it's more space to design efficient production areas with greater capacity. The kitchen has to juggle more orders going out the window, including many now being picked up by third-party delivery drivers and/or guests who've placed orders via app."
Where the greatest design innovation happens, or needs to happen, Rossi adds, isn't necessarily in the cooklines, per se. Most cooklines in operations of any size or scale are well-equipped to handle increased volume of drive-thru orders. It's the expo area that really requires extra space and strategic design thinking, he says, that point where orders come together and staff package them.
"Designers need to allow for plenty of space for packaging," Rossi says. "For the past 25 years, operators have held to the adage that you can never have too much refrigeration, but that's not so true anymore. Now, that might apply to dry storage. If I have full prep tables and make lines and I understand my mix and my peak-hour usage, do I really need all that refrigeration on the line? Can I convert some of that space for packaging, where it's easily accessible? Maybe so."
With delivery increasing, operators may also change how they package foods going through the drive-thru window, Rossi adds. "You may want to keep sauces and toppings separate, for example. Which means all of a sudden you have to compartmentalize, which means you'll need more space for assembly and for more and potentially larger packaging."
Drive-thru beverage stations, too, represent a key consideration, according to Rossi. That's especially true for fast-casual operations, which typically position beverage stations as self-service offerings in the front of the house. In such cases, a secondary beverage station or a two-sided station are possible solutions to avoiding beverage-station bottleneck, he says. If the operator offers ready-to-drink beverages with delivery orders, they should also consider extra refrigeration near the drive-thru so third-party drivers can easily pick those up if they use the drive-thru window.
Design, Equip for What Matters Most
As consumers continue to opt not to dine on-site, a bigger-picture challenge emerges: how to design for what matters the most to various groups of customers. Inside the restaurant, environment, freshness cues and transparency remain important, but for customers that queue up at the drive-thru or wait at home for delivery drivers, speed of service becomes a top priority. Seconds matter, and shaving down drive-thru wait times becomes a major goal, particularly as many brands' menus are significantly more complex today than they were just a few years ago.
Operators best positioned to win at the modern drive-thru game, says Seely, show a willingness to invest in new approaches and to rethink processes to ensure faster, more efficient service.
In fast-casuals and QSRs alike, for example, freshness cues such as open kitchens and cooking or assembling to order have become key aspects of the guest experience and of quality perceptions. As drive-thru business grows, many operators grapple with how to balance the need for speed with the desire for experience.
Burger King's recent prototype redesign illustrates the pull of both forces. As WD Partners worked to design a new open kitchen, supporting BK's flame-broiled messaging and creating a "sizzling" in-store experience, the team was asked to extend that experience as much as possible to drive-thru customers as well. "We talked a lot about the fact that so much of their business is drive-thru and that they wouldn't necessarily get credit for making a large investment in this new open kitchen," says Seely. "Ultimately, we ended up installing a dual-sided assembly line for in-store and drive-thru and an additional line near the window to support peak drive-thru times. And large windows were installed along the drive-thru as a way to bring some of the in-store experience and freshness cues to guests outside."
Seely suggests operators building new units or remodeling existing kitchens carefully consider such branding needs and base decisions more on data than tradition. In attempting to support growing drive-thru sales with an additional production line, for instance, many simply duplicate what they already have. "Those duplicate lines might be scaled down a bit, but a lot of the time, they're not even operating," he says. "That's inefficient. Ideally, those second lines should be strategically and specifically designed for drive-thru support  and that can look quite different from the main production line."
Fast-casual, build-to-order brands looking to grow with drive-thru, for instance, may need to rethink straight assemble-to-order models and look at what can be done ahead of time.
"If talking about salads, how many of the basics can be preassembled? How do you hold that product, and how much capacity do you need in that equipment?" Seely says. "The idea isn't to transform fast-casuals into QSRs, but there are things that can be done that help speed service and that have no impact on food quality. At the drive-thru or for pickup and delivery orders, you're generally not getting credit for the experience of seeing the order being assembled or cooked to order anyway. As long as food quality is consistent, the drive-thru operating model doesn't have to support that same type of fast-casual customer experience."
The same can be said even of QSRs, where cooking to order in open kitchens has become a standard cue for freshness and quality. But advancements in holding equipment now create strong opportunities for more cooking ahead and assembling to order to speed drive-thru times, according to Seely. "Holding products such as cooked burger patties didn't use to be a good option. Quality suffered," he says. "But today, the equipment is so effective, you really can't tell if a patty has been held for 30 seconds or even 10 minutes. For peak periods, you can precook burgers and hold them for quick assembly. Or you can use a clamshell grill for faster cooking on the drive-thru line versus the open grill visible to dine-in guests. Even fries can now be batch-cooked and held very effectively for faster peak-hour service. The technology in the equipment has come so far. Essentially, we can have two different operational models in a single restaurant with a single menu  one line supporting the brand experience inside the store and the other ensuring fast, efficient service at the drive-thru."