Yes, America, we're aging. And quickly.
Over the past 30 years, the 65-plus age group has grown by 58 percent, and the population of those aged 85 and older has increased by 163 percent, according to U.S. Census Bureau estimates. Within a couple of decades, older people are expected to outnumber children for the first time in our nation's history — 78.0 million seniors compared to 76.7 million people under 18 years old by 2035. And, in 2050, more than 1 in 5 Americans will be 65 years old or older.
Open to the public, Garden Spot Village's marquee restaurant, The Hearth Table, features a large salad bar and multiple action stations. Photo courtesy of Garden Spot Village
Foodservice operators in the senior living industry already are busy girding themselves for a direct hit by what some call a pending "Silver Tsunami," named in part for the roughly 76 million Baby Boomers just beginning to make their presence felt. Now aged 55 to 75, they're a game-changer in every way for a segment in which the average age of entry is 75 to 84.
Healthier, more active, better traveled and more food-savvy than generations before them, they're simply not interested in and won't settle for traditional options. If and when they do decide to make a move to senior living, be it an independent living, life-plan (continuing care) retirement or assisted living community, they do it on their terms and bring with them a whole new set of expectations.
Stereotypical stodgy dining rooms that open at 5 p.m. and close at 7:30 p.m.? Limited, set menus filled with low-sodium, batch-cooked, scoop-and-plate comfort foods? That's just not how seniors — or progressive dining operators working to revolutionize senior-living foodservice — roll anymore. The industry built largely to meet seniors' needs from a safety and healthcare perspective is fast evolving into one focused on their wants as well. It's increasingly characterized by all-inclusive, amenity-rich, resort-style communities where hospitality and engagement are key.
Minto Communities' beachy, Jimmy Buffet-affiliated Latitude Margaritaville retirement communities serve as a case in point for just how dramatically the paradigm continues to shift. With locations now open in Daytona Beach and Watersound, Fla., and in Hilton Head, S.C., the concept promises active, 55-plus, independent living in paradise, complete with multiple recreation options, "FINtastic" dining, tiki huts, a pet spa, live entertainment and poolside bars. Seniors these days!
Or consider Fountaingrove Lodge, an Oakmont Senior Living property built in 2013 in northern California. It's a luxury, LGBT retirement, assisted living and memory care community where amenities include chef-driven dining, a henhouse for fresh eggs, a wine cave, day spa and salon, art studio, tavern, movie theater, orchard, resident gardens and wellness center. Oh, and there's also a 24-hour concierge and chauffeured transportation to nearby destinations.
Such examples may be on the leading edge, but even more mainstream communities and their developers get the message: Big changes are coming to the world of senior living. And many of those changes directly involve foodservice, increasingly seen as a critical differentiator for finicky Boomers accustomed to having it all and having it their way.
The Water's Edge at River Landing, residents enjoy fine wines and seasonal, chef-developed menus.
Here's a look at five big trends redefining the segment. Along with other new wrinkles, such as modern, sophisticated facility design and extensive lifestyle programming, they make the prospect of independent and assisted senior living more appetizing than ever before.
Multiple Dining Venues
"The biggest trend we've seen over the past decade is a move to provide a variety of dining venues," notes Schelley Hollyday, principal of The Hollyday Group, a Wynnewood, Pa.-based hospitality consultancy for the senior living industry. "In the old days, the typical facility would have one big, barn-like dining room, which, more often than not, was just called 'the main dining room.' Everyone would show up at 5:05p.m. and eat from a set menu with limited choices."
Residents also likely had breakfast and lunch in that same room, and likely sat in assigned seats, she adds.
In contrast, modern facilities, whether new builds or remodels, typically now include at least three main types of venues: full-service/fine dining, fast-casual bistro and pub. Marketplaces with a variety of action stations and coffee bars are also hitting the senior dining segment in a big way, giving residents foodservice choices that mirror those they're used to frequenting in the broader foodservice industry.
Assisted living and memory care units at Hacienda at the River feature small dining rooms and residential-style kitchens. Photo courtesy of Watermark Retirement Communities
Many of the table-service venues accept reservations, which residents can place online or through a mobile app portal, where they can also access information on menu specials and events.
Harris Ader, an industry veteran who founded the Senior Dining Association two years ago, says he too sees member organizations evolving their programs to provide a diverse array of dining options.
"All new-builds do this now, but even older facilities with the traditional one main dining room are breaking that down," Ader says. "They're converting those big rooms into multiple venues. They're putting the kitchen in the middle and keeping it open, and creating different dining experiences around it, from fast casual to full service. If they can't do that, they're at least creating different experiences at each meal period, setting the tables differently, having different looks on different nights, different themes and distinctive menus for each meal period versus the old-school single menu with everything on it. Some are doing pop-up culinary events and/or creating rooftop and other outdoor dining options. It's all about giving people choice and keeping things fresh."
A recent renovation at Vi at Aventura gave residents the stylish SeaView bar and restaurant.
Integral to the multivenue trend, Hollyday adds, is a shift toward retail-style branding of senior-living dining concepts, from menu design and graphics to packaging — even partnering with local food producers and coffee roasters to produce private-label products.
"Anymore, you have to have a concept and a name beyond simply 'the dining room' or the 'magnolia room,' " Hollyday says. "It's about adopting a hospitality model that's more like a country club or resort than a healthcare facility. The healthcare aspect is fundamental, but the environments around it are changing dramatically."
Garden Spot Village, a New Holland, Pa., continuing care retirement community for residents 55 and older, remodeled and revamped its foodservice program in 2013 to better appeal to next-gen seniors. Nearly a third of the people moving in over the past few years are in their late 50s and early 60s, says Scott Miller, chief marketing officer for Garden Spot Communities. "The national average for retirement communities is 82-plus, so we cater to a very young audience. We had to make changes to meet changing expectations. These new residents expect a high level of quality and diversity."
Partnering with Sodexo, Garden Spot created a diverse, market-driven foodservice model that's held up as a showcase both for the contract feeder and for where the segment is headed, Miller says. The community now includes five distinct restaurant concepts.
Its signature and most popular concept is The Harvest Table, a fast-casual lunch and dinner operation with large salad bar and several themed action stations that typically include sandwiches, hearth-baked pizza and stromboli, Lancaster County/Pennsylvania Dutch comfort foods, grilled items, pasta, stir-fry and desserts.
Other options within the independent-living area include The Terrace, a more upscale, table-service dining room with an a la carte menu; The Creamery, an "always-packed" short-order breakfast concept; a coffee bar that serves Starbucks coffee and a variety of grab-and-go food items; and The Coop, a French bistro-inspired concept located in the community's personal care (assisted living) area.
River Landing, a continuing care community in Colfax, N.C., follows a similar path, recently remodeling and recasting its foodservice program from one previously characterized by a large main dining room with a buffet and few menu choices to multiple smaller, branded restaurant venues.
Among the most popular restaurant venues is the fast-casual Bistro 1575. There, action stations offer fresh salads, sandwiches, personal pizzas and stromboli baked in a wood-fired oven, and grilled items. "We still offer a salad bar for those who want to fix their own and a small three- or four-well hot buffet for residents who want to grab something quick, but for the most part it's a cook-to-order, independent restaurant," notes Director of Dining Services Joseph Burdette, CDM, CCFP.
For more formal table-service dining, River Landing offers The Water's Edge, which includes a broad menu of sandwiches, entrees and salads, while The Wayfarer features international-inspired cuisines with themes that change every two months.
Core menus at all venues change frequently to highlight fresh, seasonal ingredients and off-menu specials help to keep the selection fresh and interesting.
Rob Bobbitt, national director of dining services at Tucson-based Watermark Retirement Communities, says his company's portfolio has grown largely through acquisitions to 58 senior living communities in 21 states. They range from stand-alone independent and assisted living options to continuing care and memory care communities in addition to Medicare-certified rehab and skilled nursing neighborhoods.
In every case, when acquiring an existing operation with limited or traditional single-venue dining, Bobbitt says his team's first goal is to find ways to carve out underutilized spaces and create alternative venues, adding a small cafe, a grab-and-go operation or a coffee bar wherever possible.
Watermark's growth more recently centers on new-build, upscale retirement and continuing care projects in which venue diversity is incorporated from the start. "We're getting ready to open a new community that will have five dining venues, from a coffee bar to upscale private dining," Bobbitt says. "That level of diversity is a first for us, but it's being incorporated into several of our new communities. We're doing it by downsizing, making the spaces more intimate and targeting them to a particular concept."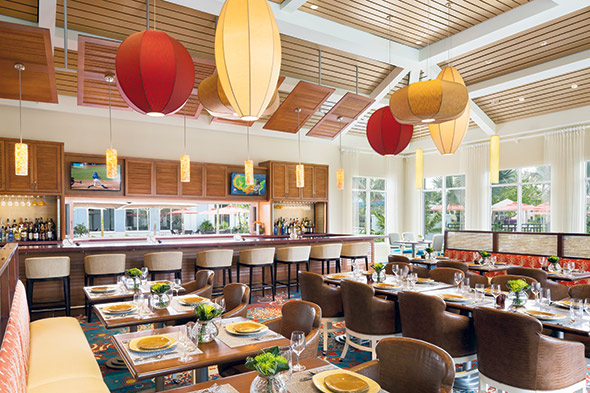 Vi at Bentley Village residents enjoy casual dining and an indoor-outdoor bar at the Lakeside Grille.
No.2: Fresh Foods, Cooked to Order
When River Landing began transitioning away from its traditional buffet-driven dining model, the culinary team introduced a small selection of a la carte options. Burdette says resident satisfaction quickly went up because residents were able to order what they wanted, how they wanted it. Since then, the culinary transformation within the community has only accelerated. Core menus now change seasonally and daily; weekly specials highlight local ingredients and fresh-catch seafood.
Dining options at Hacienda at the River's skilled nursing facility include the full-service Clubroom (shown) and a patio courtyard cafe.
Indeed, fresh foods cooked to order are now par for the course in many modern senior living operations as the pendulum swings away from institutional-style programs and instead toward chef-developed menus executed by well-trained culinary teams in kitchens designed for a la minute cooking.
All of those things, after all, are what incoming residents enjoy in the broader market and what they expect to enjoy in these environments as well.
"We no longer have menus with 30 to 40 items on it that cycle in and out and never change," says Watermark's Bobbitt. "Rather, we offer a combination of seasonal items that rotate maybe quarterly as well as a diverse selection of nightly specials. And there are many, many opportunities for customization."
Ader notes that while menus are changing most dramatically in the luxury end of senior living, traditional comfort foods continue to dominate in many mainstream operations. The difference now, he says, is a much stronger focus on culinary skills, fresh ingredients and restaurant-style, a la minute preparation. And whether high-end or mainstream, virtually every new-build facility now includes venues with exhibition cooking and interactive stations where residents can choose their own ingredients and have dishes cooked to order, he says.
Garden Spot Village takes freshness to the extreme thanks in part to an on-site, 4,600-square-foot aeroponic greenhouse. The community's chefs help to determine what grows in the greenhouse's 200 vertical towers, while staff and residents tend to the plants. At any given time, inventory might include fresh herbs, a variety of salad greens and strawberries.
Chefs at Garden Spot Village utilize fresh produce grown in the community's on-site aeroponic greenhouse. Photo courtesy of Garden Spot Village
A 2,500-square-foot garden at Hacienda at the River ensures a farm-to-table experience, with residents helping to tend the garden. Photos courtesy of Watermark Retirement Communities
Miller says Garden Spot Village's dining facilities use 80 percent of what the greenhouse produces and donates any extra to a local foodbank. In the summer, the community partners with local farmers throughout Lancaster County to source additional seasonal produce, such as corn, beans and asparagus.
Watermark is also integrating on-site food production into its properties. At the company's new Hacienda at the River in Tucson, a 2,500-square-foot "healing garden" was installed and designed in compliance with the federal Americans with Disabilities Act. It ensures a true farm-to-table experience for the assisted living center's residents, who are encouraged to help plant and tend the garden.
Depending on the season, it supplies Hacienda's culinary team with produce items ranging from citrus and stone fruits, apples and avocados to broccoli, cabbage, kale, greens, tomatoes and fresh herbs. And, importantly, it gives residents a sense of ownership, purpose and engagement by enabling safe, comfortable gardening for those for whom gardening is a therapeutic pleasure.
No.3: No Boundaries
Sure, trendy options like food trucks, wine bars, and specialty coffee kiosks and food halls have proven appeal in the broader marketplace, but they're also headed to senior living communities. As dynamics and demographics continue to change, creative efforts to make senior living less isolated and more multigenerational are ramping up. Operators are thinking outside the box to adapt market-driven services and experiences to this segment.
Fleet Landing's new food truck, The Anchor, is a huge hit with residents, family and staff, alike. Photo courtesy of Fleet Landing
A marquee example: The dining team at Fleet Landing, a continuing care retirement community near Jacksonville, Fla., rolled out its own branded food truck, The Anchor. Conceived and designed by executive chef Chris Gotschall as way to provide an alternate venue during the remodel of an older cafe, the truck is thought to be the first operated by a senior living community.
On most days, The Anchor is parked with full plumbing and electrical hook-ups just outside the old cafe location. The dining team also takes the truck to different locations within Fleet Landing as well as off campus to special events in the Jacksonville area. There, it serves as a great marketing tool, one that helps to break down preconceived notions of senior dining as stodgy, notes Bob Kinney, Fleet Landing's director of food and beverage.
"A lot of communities are now starting to bring in food trucks run by local operators for special events and grand openings, but we built and operate our own," Kinney says. "It's been a huge hit. Residents love it. When their families visit it's one of the first things that they want to show off, especially to their grandkids. The staff loves it too. It's fresh and novel, and everyone's having fun with it."
Outfitted with a full kitchen, including charbroiler, flattop grill, reach-in refrigerator and freezer, fryer, hood, roll-top prep table, and three-compartment sink, the truck's signature offerings include a lobster grilled cheese sandwich, grilled shrimp tacos and lettuce wraps. In its first two weeks of operation, during an unusually hot spell in early summer, it was averaging more than $1,000 a day in sales at lunch alone.
Kinney says daily specials are being added to the core menu, and breakfast may be added in the future as well.
At Garden Spot Village, one move in particular ensures an open flow of multigenerational experiences. All of its five restaurants serve not just residents but staff and the general public as well. It's a major differentiator and helps residents to feel not just part of the Garden Spot community but a vibrant part of the broader community.
"Family was always welcome to dine here, of course, but when we went to this new format and created the branded restaurants, we decided to open them up to the public," Kinney says. "It was the right decision. We now get a lot of people from the local community who frequent our restaurants, especially at The Harvest Table. Residents are very proud of it, and they feel more integrated into the community. What's more, we're repeatedly told by locals that it's the best restaurant in eastern Lancaster County."
Senior Dining Association's Ader sees that move — opening to the public — as a trend that will likely gain steam in the industry, noting that new developments and facility remodels increasingly are being designed to facilitate public access to dining venues.
No.4: Skilled Chefs
Serving fresh, cooked-to-order foods in the front of the house, of course, means senior living dining programs are upping their game in the back of the house as well. For staffing, recruiting efforts increasingly focus on attracting employees with experience in hospitality versus healthcare.
Elevated cuisine crafted by highly trained chefs is standard fare at Vi's upscale senior living communities. Photos courtesy of Vi
As the industry continues to evolve, the chef-centric approach is gaining traction.
Oakmont Senior Living, which operates Fountaingrove Lodge, lured Adam Hrebiniak to serve as its culinary services director. Previously, he'd spent years working alongside renowned chefs such as Wolfgang Puck, Michael Mina and Nancy Oakes. He was a sous chef and executive chef at top San Francisco restaurants and country clubs. And Rina Younan, a high-end restaurant and country club chef who has appeared in (and won) several Food Network competitions, is now Oakmont's vice president of culinary services.
Chef Chris Gotschall is a Johnson & Wales University alumnus who served as chef de partie at the Ritz-Carlton Hotel Company prior to joining the Fleet Landing continuing care retirement community.
At Chicago-based Vi, which operates 10 upscale continuing care retirement communities across the United States, Mark Southern serves as assistant vice president of food and beverage. Prior to switching to senior living in late 2017, he directed product innovation and brand programs for Hilton Worldwide and earlier spent 15 years creating and growing a regional gourmet pizza and pub chain.
Vi's food and beverage programs have long relied on trained culinarians and gourmet, scratch kitchens, Southern says, and most of its chefs came from upscale restaurants, country clubs and hotels. He adds that the need for skilled staff will only escalate as discerning Baby Boomers begin making their way into the resident population.
"We have pastry chefs on staff in every community. We make our own sauces and stocks and fabricate a lot of our own proteins," Southern says. "Our mode of food and beverage is cut not from a healthcare cloth; it's cut from a hospitality cloth. That's only intensifying as our segment continues to evolve."
Internally, Southern says, Vi is devoting greater energy and resources to training. To that end, the company partners with the Culinary Institute of America (CIA) to help develop its sous chefs and other kitchen team members. Vi's culinary leaders attend training courses at the CIA, and managers tap into video and online training materials to help develop core and incremental skills necessary for positions requiring greater specialization. Its dining directors partner with local culinary and hospitality schools as well to educate students about career opportunities in senior living.
"We often joke that senior living probably isn't the first place that newly minted culinary or hospitality school graduates set their sights on," Southern says. "But the reality is that the culinary roles with the right company are now every bit as challenging and every bit as rewarding — and maybe even more so. Our customer base is very knowledgeable and appreciative, and the quality of life for our culinary team members is much better than in many other industry segments. We find we're able to attract very high-caliber candidates to a lot of our communities once they learn what we're all about."
Culinary training also played a big role in River Landing's transition to multivenue restaurant-style dining. The operation was able to accomplish most of what it needed to do with existing staff, Burdette says, simply retraining as needed. "We had a number of employees who had been here for 12 years but who'd never worked saute before," he says. "They had always just made salads. But we showed them how to saute, how and why to clarify butter, how to cook to order. It was a big change, but they learned to be professional cooks, and they take a lot of pride in what they do."
No.5: Commercial Kitchens
Ader acknowledges that much of the industry is in learning mode, with a strong focus on training and education in order to be able to operate as restaurants, not institutional dining rooms. And as that transition continues, the focus on kitchen design and efficiency is increasing.
In the case of newer, multivenue independent living and many assisted living operations, a typical design will have a central production kitchen for the majority of prep work, with cooking to order and/or finishing done on an exhibition cooking line, at action stations and in showpiece equipment such as hearth-style pizza ovens. The change is significant and requires both a different mindset and more specialized equipment and design.
"With labor so tight and the number of venues increasing, there's a huge need for more innovation and technology in the back of the house," Ader notes. "The cooking suite has to be versatile and efficient for one or two people on the line to be able to serve a variety of venues."
With all of the changes taking place in the segment, he says the time has come for senior living facilities to rely more heavily on foodservice consultants and trained chefs when making kitchen design and equipment decisions. "There are a lot of kitchen mess-ups, and a lot of money is wasted because kitchens aren't designed to do what they now need to do," he says.
Watermark's Bobbitt agrees, noting that on new developments much of the kitchen work is still handled by the primary architect on the project as opposed to kitchen design specialists. "There's a mentality that, 'Oh, this is healthcare,' so they put their healthcare hats on and design a high-volume production kitchen. That's when we have to turn around and say, 'No, we need to make this a restaurant kitchen. We're cooking fresh foods to order. We need more burners and refrigeration on the line. We need less institutional equipment and more a la carte equipment, such as charbroilers and salamanders. We need a smoker for meats and slow-roasting vegetables.' Our operations and our menus are now much more diverse; we need a much more diverse set of equipment than in the past."