On-site diners have typically sought two things: a positive dining experience, created by good service and a pleasing environment, and a variety of high-quality menu items to choose from.
Now there is a new tribe of people for operators to consider: those who want to eat chef-made food — in the comfort of their own homes, offices or anywhere else they desire, without a lot of human interaction in the middle. They are the new version of takeout and delivery customers. Their benchmarks are convenience and quality. Satisfying their needs depends on careful thought and execution of design.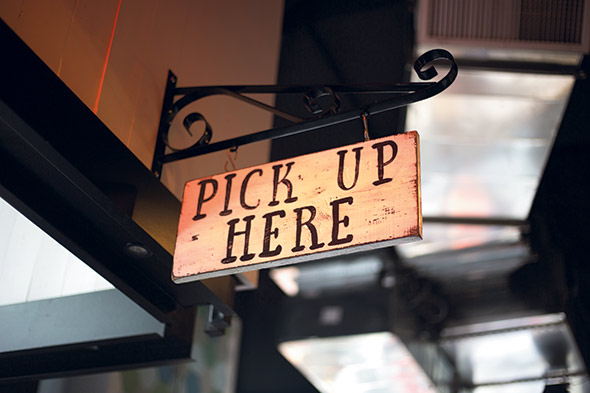 There's a tried-and-true formula to balancing the needs of both customers separately, but doing that under one operation is often quite tricky. Newer off-premise business models continue to drive change in commercial kitchens as operators look to accommodate the extra volume that off-premise business generates while driving kitchen efficiency. Two critical areas to consider: production and dispatch.
With third-party delivery especially, orders can flood in all at once, creating pressure on production. Flexible prep and production equipment can help, along with portable prep/production tables that can separate work areas for off-premise from on-site orders.
One design strategy that can support flexibility: placing all of the fixed equipment requiring a hookup of some kind around the perimeter of the kitchen, says Min An, principal of Ricca Design Studios. This approach will leave the center space open to accommodate portable tables for prep and production.
Staff Considerations
Those additional orders may also mean a need for additional staff, notes Juan Martinez, principal at Profitality, an industrial engineering consulting firm. An operation may even need to double its staff to run separate production lines, he says, at least during peak periods.
The question of additional staff really starts with how big a role delivery and takeout play in the business. Unless delivery and takeout consume large slices of the revenue pie, there may not be the need for duplicate production areas, notes John Egnor, founder and president of JME Hospitality, a design and consulting firm. He offers a caveat, however: "Every operation is unique, and I can see the potential for a duplicate operation if the volume of meals produced requires it."
In his years of experience as a foodservice designer, Egnor has found, for the most part, the most important physical change in an existing kitchen's operation is to develop a takeout and pickup area to support the increased volume. Treat delivery and takeout orders the same, he says. For many operations, that means placing those orders near the cook or expediter and bagging them for delivery or takeout.
This sketch reflects John Egnor's vision of the optimal design for a dedicated kitchen space to accommodate takeout and delivery orders.
Concepts with a large commitment to delivery, Egnor says, will develop a center of operations specifically for these customers. This includes order processing, staging and dispatch.
Order processing simply means receiving orders and issuing them to the kitchen for production. Staging involves assembling the containers that will hold the food by order. This includes keeping both hot and cold menu items at food-safe temperatures while waiting to complete and dispatch orders. Dispatch refers to the location where delivery personnel (who can be company representatives, staff from third-party delivery companies or even customers) pick up the order.
Three modes of dispatch include the host counter, a separate front-of-the-house counter space or a decided area in the kitchen. At the host counter, Egnor explains, delivery personnel mix in with on-site dining customers. This is the least optimal solution, he feels, because it often creates long lines and wait times.
If opting for a dedicated counter in the front of the house strictly for delivery and takeout, Egnor advises ensuring the area remains separate from the inflow of on-site diners.
The final option Egnor outlines creates what he feels is a perfect design solution: a dedicated area in the kitchen for dispatching orders that does not have public access. Third-party delivery companies are the primary intended user with this space, and in a perfect design, third-party delivery personnel would even have a separate entrance to pick up orders.
Chains Set for Off-Premise
Some national chains continue to raise the bar for convenience of pickup and the quality of the food being picked up. Some have special pickup areas for customers in the front of the house. Others have separate entrances or offer curbside service.
Panera Bread offers its Rapid Pick-Up service at nearly all its units. Customers create individual online accounts, which keep their order history and allow for customization of menu items. When customers place their orders, they can request immediate delivery or schedule their food to arrive at a later time. The order will be waiting in a designated spot within the operation.
Little Caesars locations have heated, self-service mobile pickup stations called Pizza Portals. Using the restaurant chain's app, customers can order right off the menu or customize to satisfy their own palates.
The app notifies customers when their orders will be ready and supplies each with a three-digit code or a QR code to enter or scan on-site at the Portal. A door leading to the order opens only for that specific customer.
Applebee's To Go features curbside pickup. After a customer places an order, Applebee's sends an email detailing the time the food will be ready for pickup. Upon arrival, each customer parks in a designated parking area and sends a text or taps "I'm here" from the email confirmation. Staff then bring the order to the car.
Packaging has also added to the success of off-premise dining, another thing to consider. In fact, IFDA (International Foodservice Distributors Association) recently polled its operator customers about whether they had changed their off-premise packaging to keep up with consumer demand for quality and quantity of restaurant takeout and delivery. Fifty-six percent of the respondents said that they had.
From packaging to curbside pickup to third-party delivery to how to execute production in the kitchen, the choices and decisions around off-premise will only grow as the medium continues to evolve.