Theater, transparency, freshness, engagement, customization — foodservice customers today want it all. Action stations occupy the unique position to satisfy those demands, bringing prep, assembly and/or active cooking out from the back of the house and into the front-of-the-house spotlight. Coast to coast, in market segments from corporate and campus dining to K-12 schools and healthcare facilities, serveries now sizzle with stations built around myriad concepts. Action stations give customers diverse choices, the ability to get what they want how they want it, and a bird's-eye view of their food prepared or assembled just for them.
From a customer standpoint, action stations are a sure bet. In campus dining, for instance, "students will gladly stand and wait in line at action stations rather than stations where items are premade and plated," says Terry Pellegrino, principal at Minneapolis-based Rippe Associates Inc. "It's all about freshly cooked foods and, in particular, the ability to customize. To that end, we now plan some sort of hood or display-cooking element at almost every concept, even salad and sandwich stations."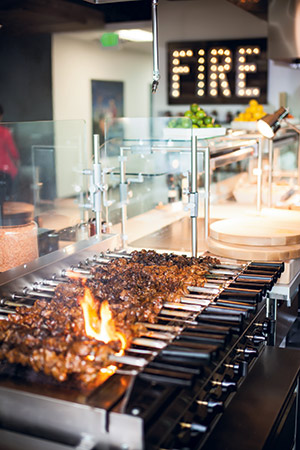 And from an employee standpoint, the stations can go a long way toward creating positive morale and fostering a sense of ownership, which are a result of working out front and engaging directly with customers, according to Pellegrino.
How Much Action?
With each action station typically offering a limited menu selection and focused theme, these stations tend to be pretty simple in concept. Despite this, designing for maximum impact and functionality requires both programming and design foresight. It starts with determining the desired and practical levels of action — with full exhibition cooking to order at one end of the spectrum and simple plating, finishing and/or self-service of batch-cooked foods at the other.
Answering the question about what level of action to incorporate depends on several key factors. Top among them: anticipated volume; desired service times during peak periods; infrastructure and/or budget for managing air quality; and availability of culinary staff to operate the stations.
Realistic assessment of such factors has many clients opting to adjust the amount of action incorporated into the stations, according to Nahum Goldberg, FCSI, LEED AP, principal at NGAssociates (NGA) Foodservice Consultants, with offices in California, Colorado and New York. "Some organizations have moved away from having live cooking stations at which everything is customized," he says. "They're still offering 'action,' but it might be something like salads tossed to order or stations where staff is doing final assembly and plating just in time. It's a shift that's being driven by labor, throughput and footprint, which in many cases is getting smaller. In highly subsidized programs, in particular, the emphasis is swinging toward economy and labor, as well as simply trying to minimize the time it takes to get people through."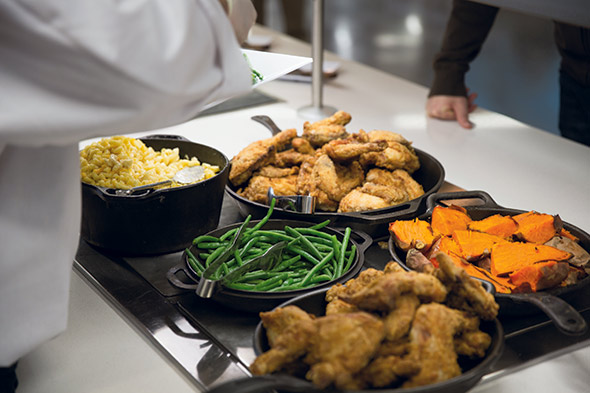 Live-action cooking stations are popular, but offering some alternatives with batch-cooked foods available for just-in-time finishing or self-service helps to minimize the customer wait times during peak periods. Photo courtesy of NGAssociates
To help ensure faster service times, chef Paul Bohbot, operations and design consultant for NGA, suggests keeping a "rule of three" in mind during action station menu planning. "In situations where you have a large volume of people needing to get through quickly, it's important to strive for three or fewer touches per menu item," he says. "Burgers, for example, would have no more than three components to them. Otherwise, customers get bogged down trying to make decisions, and cooks get bogged down trying to execute. Everyone ends up waiting."
Offering a set, featured menu item or two — in addition to items made or finished to order — represents another proven strategy for keeping lines at action stations moving. In such a scenario, Bohbot says, "customers may sub out an ingredient here or there, but they're not trying to completely customize every time they're at the station."
Mike Browne, senior project manager at Webb Foodservice Design, with offices in Anaheim, Calif., and Portland, Ore., likes that type of hybrid approach as well. And where volume and throughput are major concerns, he says batch cooking — to flow versus to order, and simply plating for grab-and-go items or letting guests serve themselves — serves as an effective strategy. "You're still doing fresh, just-in-time cooking in front of the customer at the station, but you're doing it in batches of 6, 8 or 10 portions at a time," Browne says. "Customers who want to get through quickly can do so without having to wait for everything to be cooked to order."
Design for Flow, Flexibility
Designing to flow represents another important factor. Given the propensity for lines to form at popular action stations, thinking through physical placement and adjacencies becomes critical. In particular, so-called fire-and-ice stations (where customers choose ingredients from a refrigerated front line and hand them over to a chef to add an optional protein and cook to order) are relatively slow and require plenty of independent queuing space.
"We always want to be sure that people at one station aren't lining up in front of another station," Pellegrino says. "And in general, we try not to put stations at right angles to each other, just because there's no space for one group to queue up while another is coming off the line."
Careful forethought to adjacencies can maximize opportunities to cross-utilize equipment and labor too. "We might do a comfort food station with an open kitchen right behind it. That kitchen might also support an adjacent station — maybe it's a wok station — that does display stir-frying," Pellegrino says. "The kitchen behind the comfort food station can support that station by batch cooking egg rolls, fried rice or other side items. It relieves pressure on the wok station, and it's done in the open kitchen right next door."
Such strategies get to the heart of what's increasingly important in action station design: flexibility. Whether to fully utilize labor and equipment resources or to be able to change concepts to tap the next hot food trend, versatility matters.
Keeping action station aesthetics slightly generic and not overly themed helps enable faster, more affordable changes once a particular concept has run its course. Photo courtesy of Rippe Associates Inc.
At one time, says Pellegrino, the common approach to action station design was sharply focused: wok station, saute station, charbroil station and so on. Now, planning for long-range flexibility is top of mind for designers. To that end, her team looks to maximize hood sizes/capacities above virtually all types of action stations. Aesthetics aren't overtly themed. Rippe specs display cooking sites with roughed-in utilities capable of handling several different types of equipment. These designs often place ventless equipment, such as conveyor ovens and induction burners, atop wheeled counters for quick and easy transport to different action stations.
In stations where the equipment is central to the concept, such as stone-deck pizza ovens, and mobility or easy switch-outs aren't options, the focus shifts to thinking through all of the menu possibilities to maximize efficiency and flexibility. "Are we putting in a separate area where they can do breadsticks and warm marinara sauce and things that complement that? Can we do pastas and/or individual hearth-baked casseroles? The equipment in this case may not be flexible, but we encourage operators to think outside the box and design the station in ways that let them do as much as possible from it," notes Pellegrino.
It's all about visualizing contingencies, adds Goldberg, who also advocates a plug-and-play approach to action station design. "If a menu or concept changes in the future or a piece of equipment needs to be changed out, the power, exhaust and fire-suppression systems are already configured with that sort of flexibility in mind," he says. "Doing that up front saves operators the time and expense of having to retrofit later when things change."
To enhance flexibility, NGA's Bohbot suggests smart equipment. "Depending on the programming of the space, pieces such as griddles and French tops are extremely versatile," he says. "Almost every culture uses hot, flat metal to cook on. From simple items like tacos and omelets to more complex things like fried rice, they fit the bill. They can even be used as hot holding areas."
Goldberg and Bohbot say demand remains strong for more and better modular and ventless cooking equipment suited to use in front-of-the-house action stations. And they point out that because of the high visibility of this equipment, finishes need to be "next level" and very easy to keep clean.
Given the pace of change in foodservice environments today, flexibility in action stations also impacts aesthetics and materials selection. Browne urges operators to anticipate the need to change and outfit action stations accordingly.
"Concepts today tend to be more temporary," Browne says. "You might have an Asian station that runs its course in a couple of years and the operator wants to switch it to a pasta station. That will require not only different equipment, but also a new front counter layout and finishes. As a result, we're seeing much less demand for high-end, bulletproof designs that stand the test of time and growing demand for more flexible, economical design solutions across the board."