Kosher-certified kitchens, which must follow super strict ingredient and preparation guidelines, can appeal to anyone with an interest in where their food comes from, how it's prepared and by whom. University-level dining program administrators also understand how kosher adds to campus inclusivity in the form of food.
"We were having incidents where students living with us were not able to share a meal with their peers because of the lack of a kosher facility or proper halal items for our Muslim students," says Steven Mangan, senior director of Michigan Dining. In response to that issue, the University of Michigan opened a kosher station at the start of the 2018-2019 school year. "We felt it was important to initiate a full-fledged program that will satisfy not only our students but also our faculty, staff and visitors from around the world," he says.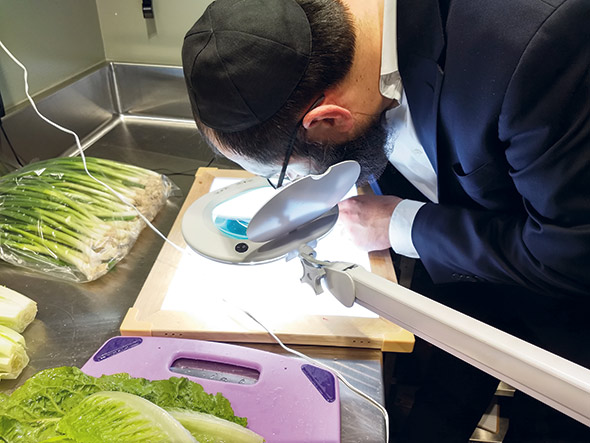 A mashgiach — a Jew who supervises any type of kosher foodservice establishment — oversees the kosher program at the University of Michigan. Here, he inspects produce after delivery to ensure it does not contain any bugs.
Since opening, Mangan adds that the kosher area has drawn interest from the greater student body because of the high-quality nature of the ingredients and the strict food safety requirements.
Maintaining a Kosher Kitchen
Keeping kosher and maintaining a kosher kitchen or food production facility is not easy, to say the least. It requires education, diligent planning, training and consistency. In order to obtain and maintain kosher certification, restaurants and kitchens at noncommercial institutions such as hospitals and universities must work with a kosher certifying agency, which then assigns a representative to inspect the kitchen setup and overall operation. This same process applies to food production facilities seeking kosher certification for packaged goods. Some restaurants, caterers and manufacturers even retain a mashgiach, or supervisor, on staff for additional oversight.
Kosher enthusiasts say the detail-oriented process can promote mindful eating and a heightened awareness about the food people put into their bodies. This relates directly to the importance of having a spiritual connection to meals, a tenant promoted by the Jewish faith and other religions. Understanding how to design, equip and/or operate a kosher kitchen offers some key lessons in not just kosher facilities but also in food separation rules that can benefit any kitchen seeking to increase food safety, include allergen-free practices and expand awareness of clean kitchen cooking philosophies.
The word "kosher" comes from the Hebrew word "kasher," which literally means "fit," as in "fit to be eaten." Jewish law lays out a specific list of what is and isn't fit to eat. The preeminent rule: Meat should never mix with milk or other dairy products in the same dish or meal. Kosher kitchens must also use separate equipment, pots, pans, utensils and dishwashing equipment/sinks for meat and dairy in order to avoid cross-contamination. Those who follow these guidelines and opt to keep kosher also follow the rule of not consuming dairy after eating meat until a period of three to six hours has passed or vice versa. Kosher guidelines additionally prohibit cheese, yogurt and other dairy products made with rennet, a byproduct of animals.
Additionally, kosher guidelines state that the only types of meat that may be eaten are cattle and game that have "cloven hooves" and "chew the cud," according to OK Kosher Certification, a major kosher certification agency. Kosher food excludes pork and camel.
All kosher animals must be raised humanely and slaughtered such that death is instantaneous and with minimal pain using a very sharp knife. This is not how most modern industrial slaughterhouses operate. After the slaughter, kosher rules call for the removal of certain fats and veins, along with the complete draining of the blood. Other religions follow different, yet similar rules on food and drinks, such as Muslims, who adhere to halal practices. Kosher- and halal-certified products share some characteristics, though not all.
Universities with a dominant Jewish student population have long followed kosher practices, but today's diversity across campuses makes including a kosher component a more relevant consideration for everyone. Following are four noteworthy examples of kosher programs at the college level, including a new offering at a Midwestern state school, a full-service program on a campus founded as a Jewish university, a decade-old kosher program that continues to reinvent and a university that finds its strict kosher dining program is a reason students choose to attend the school.
New Kosher Restaurant at the University of Michigan
A wall separates the two kosher kitchen setups at Muhlenberg College to prevent cross-contamination issues between meat and dairy items.Opened just this past fall, the University of Michigan (UM)'s new kosher mini-restaurant joins nine other micro-restaurants that make up the South Quad dining hall. In developing, designing and building out the mini-restaurant, Michigan Dining execs took a strict route by partnering with global kosher certification agency Seal-K in Chicago. Sliding doors separate the station's kitchen from other areas so that no one can enter unless the mashgiach is present. All students and visitors can purchase items at the kosher station, and prices fall in line with the other on-site dining options.
"We have people visit from all over the world, so we wanted to make sure the program could withstand the scrutiny of their food programs," says Lois Allen, assistant director of residential dining operations, who led the development and construction of the 2,000-square-foot station.
The kitchen setup includes a dairy kitchen on one side and a meat kitchen on the other, each with its own battery of equipment, such as ovens, steamers, flattop grills, four-burner stoves, pasta cookers and dishwashers, as well as color-coded utensils, pots and pans. Both kitchens can even support event catering.
To ensure proper handling, all meat and seafood come in whole or in primal cuts with the mashgiach overseeing the breakdown process. The mashgiach even inspects all incoming produce on a light table using a magnifying glass to ensure there are no bugs. Instead of maintaining separate plates and utensils, students at this station receive food on compostable disposables, which eliminates cross-contamination concerns.
In terms of menu development, Allen says the menu intentionally reflects the same options available in the main dining hall to not "make the students feel like they're eating something culturally different." That takes shape as roast turkey with mashed potatoes (made without butter or cream) and meatloaf made with kosher breadcrumbs. Allen says she's working on finding a wider range of kosher-certified desserts.
Training becomes a little more complex with a kosher kitchen; UM designates three cooks to the station, each of whom has gone through direct training with a rabbi. "They have been really engaged, especially when Rabbi Yoseph is here and they can practice different techniques and recipes and look at videos," Allen says.
In addition to the new kosher kitchen, UM's South Quad dining hall features a halal station that opened two years ago. Operation of this station is simpler and does not require supervision; however, the team must still carefully source the highest-quality halal-certified meat possible and avoid using the same equipment for halal and nonhalal foods.
A Decade of Kosher Operating Experience at Muhlenberg College
Muhlenberg College in Allentown, Penn., has two kitchens dedicated to its kosher program: one meat (Noshery South) and one dairy (Noshery North). Students and visitors can find both within the Food Gallery of the Wood Dining Commons, the main servery for the school's residential dining program. Kosher dining at Muhlenberg, which meets Star-K certification, integrates into any meal plan for any student.
"With about one-third of the student population being Jewish, it made sense to dedicate space and resources to an integrated kosher program," says Glenn Gerchman, director, Seegers Union & Campus Events, the internal dining services arm at Muhlenberg. The program is now in its ninth year but goes through regular menu and other updates each year. "Because Muhlenberg enjoys such a strong sense of community, we felt it natural to want to find a way for all our customers to break bread together in a common dining room without segregating based on the unique dietary restrictions of kosher. Both nosheries also serve to meet the needs of many of our vegan, vegetarian and gluten-free customers." The two kitchens, which each serve about 300 customers a day, also provide kosher catering and a grab-and-go line of kosher items called Nosh & Go.
A physical wall separates Noshery North from Noshery South to prevent cross-contamination, Gerchman says. The mashgiach unlocks a security gate on the kitchen each morning, then locks it each night to ensure everything remains at kosher standards. These kitchens are independent of the production kitchen for the seven other restaurants in the Food Gallery.
At Noshery South, staff use traditional ranges with extra burners to cook homemade matzah ball soup daily. They also use a charbroiler to prepare chicken shawarma and fryers to make curly fries. Separate equipment exists at Noshery North, such as kettles for pasta and food processors for Israeli salad.
"We have developed cleaning checklists for our staff to follow to maintain the equipment upkeep," says Gerchman. "We use the manufacturers' specifications to maintain the equipment and have a dedicated vendor contracted to provide preventive maintenance on equipment in both Noshery North and Noshery South."
Jewish University Roots Define Kosher Program at Brandeis University
Brandeis University's full-service kosher program rotates between meat and dairy items daily.The full-service kosher program Brandeis University, based in Waltham, Mass., alternates between offering meat and dairy meals daily. Brandeis Dining Services maintains separate meat and dairy kitchens to maintain kosher certification. Brandeis University's campus security maintains the only set of keys to the two kosher kitchens, refrigeration and storage areas.
KVH, a third-party kosher certification organization, supervises the program and sends a mashgiach to monitor the kitchens during open hours and ensure the use of only kosher-certified products. The mashgiach also inspects vegetables and ensures staff follow specific processes for washing vegetables. Only the mashgiach can turn equipment on and off.
"Brandeis was founded as a Jewish university, so there is a commitment to honoring the founding values of the college," says Andy Allen, general manager of Brandeis Dining Services by Sodexo. He notes that the kitchen also meets the requirements of students seeking to adhere to halal diets and that the university can also use the kitchen for allergy-free and other special dietary cooking.
"Some products are labeled kosher pareve, which means that they are neither meat or dairy, so they can be used in either kitchen as long as they are not mixed between the two," Allen says. "Simply put, you cannot open a can of kosher beans in the dairy kitchen, then use the remaining in the meat kitchen."
Both the meat and dairy kitchens use mostly standard equipment, including convection ovens, griddles and fryers, plus hot and cold holding equipment. The kitchens include a convection oven with a special switch that was installed to avoid equipment remaining on during Shabbat or on high holidays when stricter interpretations of Jewish law prohibit turning on and off electricity.
Staff in these kitchens make every effort to keep equipment clean and sanitized. Should someone find a nonkosher product in a kosher piece of equipment, staff must clean that equipment to the point it seems new, then the mashgiach must recertify it as kosher. The process involves immersing the equipment in boiling water, superheating it or administering a process using a torch.
Kosher Offering Part of Selection Criteria for Binghamton University — State University of New York
Roughly 35 percent of the students at Binghamton University — State University of New York (SUNY) in Binghamton, N.Y., keep kosher. The majority of the students come from New York City, according to Sam Phaffenbach, CEC, executive chef of Campus Dining Services operated by Sodexo.
"There are people who come to the university specifically because of our strict kosher dining program," says Phaffenbach. The separate meat and dairy kitchens and small pareve prep area serve about 350 students a day.
A rabbi from Orthodox Union, a New York-based kosher certifying agency, supervises production in the side-by-side kosher kitchens. The rabbi maintains keys to the locked space off of the university's main kitchen, which serves between 6,000 and 7,000 customers a day.
A wall divides the two kosher kitchens, with the equipment in the dairy and meat kitchen mirroring each other. The setup includes a double fryer, a four-burner range, two convection ovens, a steamer, a mixer and cold/dry storage. "We'll make classic dishes on the meat side like grilled ribeye tacos, burgers, hot dogs and chicken, and make mashed potatoes with a nondairy creamer," Phaffenbach says. "Because of some space restraints, we bring in presliced produce that we inspect thoroughly. We also label our beverages very carefully."
Staff clean both kitchens daily with sanitizer buckets dedicated to either the meat or dairy side. To prevent cross-contamination, kosher service includes trays with liners and plastic silverware instead of traditional silverware.
Outside of daily meals, Phaffenbach occasionally works with students from the campus Hillel, a Jewish community organization that exists at many college and university campuses nationwide. These students use the kitchen to prepare kosher meals during holidays and for other events. As of late, a group of students has been experimenting with making pareve chicken soup to send to sick students through the Jewish student organization.
---
Halal Interest Increases
A rising demand for more halal options among the many Muslims in the U.S. has created more interest in halal practices. Kosher and halal rules share some characteristics. Majdi Wadi, owner of Holy Land, a 100 percent halal-certified grocery, butcher shop, restaurant and hummus manufacturer in Minneapolis, distinguishes what makes a food halal or nonhalal.
Humanely treated animals: "Halal meat should come from animals that are free-range and vegetarian-fed and not abused or given antibiotics."
No pork, not even lard: "Similar to kosher, pork is not halal. I won't even buy pita bread or other products like marshmallow if they were made with lard or pork-based gelatin. Halal foods should not be cooked on the same flattop or grill that was used to serve a pork item."
No alcohol: "Alcohol, like liquor and wine or products made with alcohol, is not considered halal. Some Muslim extremists won't dine at a restaurant that serves alcohol or wine, but not everyone is strict about that."