Fajita Pete's Founder Pedro Mora saw the trend toward guests eating away from restaurants coming a decade ago. Now established in one market, Fajita Pete's is building the infrastructure for successful expansion.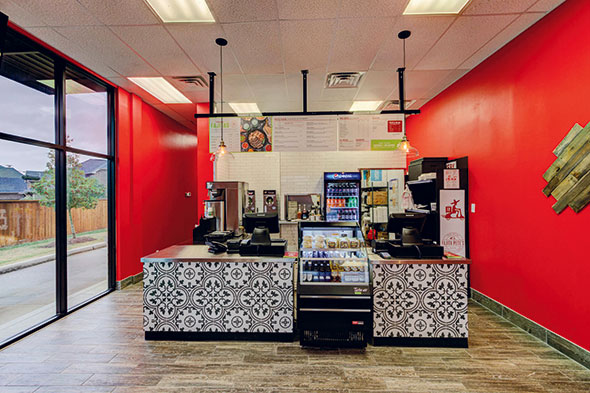 Fajita Pete's simple, basic interior instantly communicates its focus on off-premise dining.Off-premise dining continues to revamp the restaurant industry in more than just a metaphorical sense — it's literally reshaping physical restaurants. Established chains are building smaller locations, removing seats, adding additional production lines and building dedicated pickup areas for
to-go orders and third-party deliveries.
For Houston-based Fajita Pete's, though, this shift doesn't pose any operational challenges. Since the chain opened its first location in 2008, it has focused on off-premise dining with to-go, delivery and catering offerings.
According to Mora, the idea for Fajita Pete's developed from a full-service restaurant he opened in 2002, shortly after earning an entrepreneurship degree from the University of Houston. Once the restaurant was up and running, the numbers made him realize he needed another revenue stream to succeed, so he started to push its catering service. He quickly saw the service's advantages from a business perspective, including lower fixed costs and waste levels.
At the same time, Mora recognized the pace of life was only increasing and predicted a spike in demand for restaurant-quality food to go. "I realized I can't afford to catch up to trends, so I just took the lead," he explains. "I decided to try to get ahead of it and see if it was a good idea or not. I met my lease requirements at the big restaurant and then signed a small lease for a 1,200-square-foot space."
By opening in the smaller space, Mora was able to amplify the built-in advantages of to-go operations, namely in terms of capital expenditures and fixed costs.
This carried through, naturally, to the chain's kitchen. In the full-service operation, the kitchen alone was larger than Fajita Pete's to-go locations. Compared to that full-service spot, Fajita Pete's reduced its need for steam tables, cheese melters, cooked-product holders and freezer space. Its primary cooking equipment lineup now consists of just a chargrill, flattop, fryer and stove.
Matching this smaller kitchen is a smaller menu with just a few core offerings. In addition to streamlining operations, this shift helps the chain focus on food quality. "We're only making about seven items so it allows us to really focus on those. We use certified Angus beef marinated in lime and pineapple overnight. We hand-roll our tortillas and make scratch sides. It's really full-service food in a quick environment," Mora says.
Guiding Customers
Training customers on the concept did take some work, says Mora. After all, in 2008, delivery was mostly the realm of pizza and Chinese food. The idea of delivery fajitas didn't click with some people at first. To help communicate the concept and its high-quality offerings, he placed the grill and worktables in full view of customers at the front counter, helping communicate what Fajita Pete's is all about.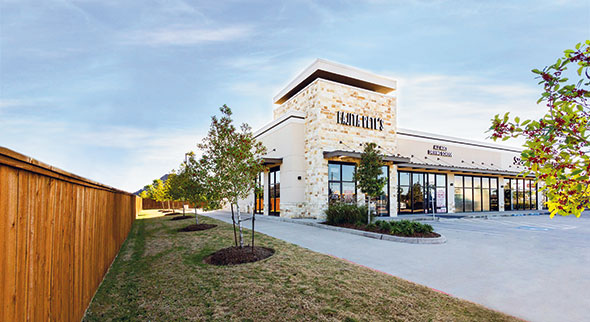 Off-premise dining has always been a key piece of growth for Fajita Pete's.On the positive side, Mora found that with just a counter, some guests grasped the idea of catered fajitas quickly. "There's a switch that goes off in people's heads when they walk in and it's just a counter and a few tables," he says. "You're now a catering company. It actually opens up the market even more."
As a catering company, Fajita Pete's attacked an underserved niche when it first opened. In 2008, says Mora, many restaurants wouldn't deliver if an order was for fewer than 40 people. Mora, then, went after catering orders for between 10 and 39 people, knowing that could lead to bigger, better opportunities down the road. "When you take the 10-person catering order, you get the 100-person order at the end of the year," he says.
That first Fajita Pete's location was also able to gain traction quickly as a to-go place for consumers in the wake of Hurricane Rita in 2008. Mora and his team cooked up much of their food and knocked on doors in the surrounding neighborhood, telling people to come by for free fajitas. That built up goodwill in the community, which soon translated into business. In fact,
consumer business now makes up about 70 percent of Fajita Pete's business, and many regular customers still talk about that free first meal, Mora says.
Looking ahead, Mora expects only good things for Fajita Pete's. Last year, he sold half of his franchising business to a private equity firm. He's using the money from that sale to get "back to basics."
Much of this revolves around training. The lone company-owned restaurant (out of 11 total locations) will serve as the chain's training store, where franchisees and their key employees will be brought up to speed. In addition, Fajita Pete's is hiring area coaches to support its franchisees and ensure that they uphold brand standards.
Other efforts are electronic. The chain is developing online training videos to teach employees exactly how to make tortillas, beans, marinades and other items. It's also rolling out online checklists for opening and closing restaurants. "I get an email of what store has done them and what store hasn't. That way, we make sure everybody is on pace to have a successful shift," says Mora.
This dedication to its processes and brand standards is matched by a similarly methodical growth plan. In 2019, the company expects to open 6 to 10 restaurants, all in the Houston area. Once it fills in that market, Mora hopes to grow in leaps in bounds in new cities.
"We're going to hold on to what we do, what makes us different, and we'll go from 20 stores [in Houston] to somebody buying 15 in Denver or something like that," says Mora. "If you set it up that way, even if you don't get those big deals right away, you're going to have successful stores, and your advertisers are going to be the happy franchisees."